Biden wrestles with politics in effort to depoliticize the Justice Department – CNN
This creates competing realities for Biden. He must get an attorney general confirmed by a Senate that could be controlled by Republicans, some of whom tell CNN they will only vote for a candidate who pledges to continue an investigation into the 2016 election.
But even more significant, Biden is also feeling pressure from top Democrats and allied groups who believe he must nominate a person of color to at least one of the top four
Cabinet posts
, likely as attorney general.
Democratic lawmakers and allied groups are pressuring Biden's transition team after Biden selected White nominees for both his top job at the
State
and
Treasury
departments. The calculation is complicated by the fact that Michele Flournoy, who is also White, is seen as Biden's leading contender to lead the Defense Department.
On the right, there's a new hurdle for Biden to clear, following the appointment of John Durham as special counsel investigating whether intelligence and law enforcement violated the law in investigating the 2016 presidential campaign. Senate Republicans are signaling they will require any attorney general nominee to commit to keeping Durham in place. A source familiar with the deliberations inside the transition said Thursday that the ongoing Durham probe "won't impact" who Biden selects for attorney general.
Biden's list of contenders for the job — from
Sally Yates
, former deputy attorney general, to Doug Jones, soon to be former senator from Alabama who was defeated in November — largely centers on former prosecutors whose history at the department could lend credibility with the public and career officials.
Others said to be in contention include Deval Patrick, former Massachusetts governor and former Justice Department civil rights chief; Jeh Johnson, the Homeland Security secretary under Obama; California Attorney General Xavier Becerra; and Lisa Monaco, a former Homeland Security adviser in the Obama White House and who previously worked at the FBI and as top national security prosecutor at Justice.
Biden, along with Vice President-elect Kamala Harris, are interviewing contenders and weighing the decision. They are not expected to announce a decision until next week at the earliest, people familiar with the matter told CNN, but with a goal of doing so well before the holidays. The timing is also contingent on the nomination of a Secretary of Defense.
The job, for whomever Biden picks, will be a heavy lift. The pick will be stepping into a Justice Department damaged by the Trump administration and with low morale among career officials, many of whom have been publicly called out by President Donald Trump, Barr and other Republicans.
Sen. John Cornyn, a Texas Republican who sits on Senate Judiciary, told CNN on Thursday that the next Attorney General nominee "absolutely" must commit to keeping Durham as special counsel.
"It's non-negotiable," he said.
The nominee will also be tasked with overseeing Biden's attempts to tackle questions about race and policing, an issue that dominated the political conversation over the summer in the wake of George Floyd's killing in May and the subsequent widespread protests, as well as calls to protect the right to vote and use the power of the Department of Justice to combat climate change.
Biden said Thursday he will make sure his Justice Department operates independently, he told CNN's Jake Tapper in an exclusive interview. "I'm not going to be telling them what they have to do and don't have to do. I'm not going to be saying go prosecute A, B or C — I'm not going to be telling them. That's not the role, it's not my Justice Department, it's the people's Justice Department."
Yates and Jones
Yates, multiple sources told CNN, had long been one of Biden's leading contenders for the job, with the longtime official reflecting Biden's focus on career officials in the picks he has already made.
But her nomination could be contentious.
Yates' order for the Justice Department to refuse to enforce Trump's first travel ban prompted her firing in January 2017, making her a "Resistance" hero to liberals and served as a highlight for Yates in a speech to the Democratic National Convention in August, during which said Trump "trampled the rule of law, trying to weaponize the Justice Department to attack his enemies and protect his friends."
As quickly as Yates has become a hero to the left, she has become a villain on the right — Barr, then a private citizen, wrote that her decision was "incoherent and untenable" — a fact that could complicate her nomination to a Republican Senate. If nominated, Republicans are likely to revisit that episode, as well as the fact that the FBI launched its investigation of ties between Russia and the Trump campaign during Yates' tenure. In recent months, Yates sat for a hearing before the Senate Judiciary Committee to discuss some of the mistakes the FBI made during that probe.
Sen. Chuck Grassley, who is in line to chair Senate Judiciary in a GOP majority, told CNN on Thursday that Durham's probe into the 2016 election will be key to the consideration of a new nominee.
"Yes, from this standpoint," Grassley said when asked if keeping Durham would be central to the nomination. "Everybody came to me when I was chairman of the committee and wanted to make sure that I would take action to make sure that Trump didn't fire Mueller."
After noting he sponsored legislation aimed at protecting special counsels, Grassley added: "What's good for the goose is good for the gander, so I want to make sure that Durham gets the same respect."
Sources also told CNN that Biden is serious about his intent to move beyond the Trump era in hopes of unifying the country and wonders whether Yates could be too divisive of a nominee to lead the Justice Department and her confirmation could be complicated by Senate Republicans.
Jones is seen as someone easier to confirm. The current senator from Alabama who lost his bid for reelection in November previously worked as the US Attorney for the Northern District of Alabama and was the lead prosecutor suing KKK members responsible for the 16th Street Baptist Church bombing, strong selling points to advocacy organizations.
Both Yates and Jones, however, are White, an issue for an incoming administration seeking diversity among its appointees that could be compounded by picks Biden has already made.
The former vice president has picked
Antony Blinken
to be his Secretary of State and
Janet Yellen
to be his Treasury secretary, and the frontrunner to be Biden's Secretary of Defense is Flournoy. All three are White.
"I don't think they can politically do that," said a source familiar with the transition. "I don't think they can get away with that."
Political considerations
Attorney General, like other nominations to the Cabinet, is hardly made in a vacuum, so the likelihood of Biden picking Johnson, Patrick and Becerra could increase if Biden has not already chosen a Black nominee for another top Cabinet post.
Biden is seriously considering Patrick, believing he could have a smoother path to confirmation, sources told CNN. Patrick was viewed to be an attorney general candidate in the latter years of the Obama presidency, but instead went into the private sector before mounting an ill-fated presidential bid late in the nomination process. His relationship with Biden could be strained, however, after Patrick largely ran for president by arguing none of the other candidates — including Biden — had what it took to beat Trump.
Johnson is someone Biden knows from his time in the Obama administration, where he led the Department of Homeland Security from 2013 to 2017 and previously as the general counsel of the Department of Defense. And Johnson is also said to be under consideration by Biden for other positions, including Defense Secretary.
"I like how Jeh Johnson handles himself," Grassley said Thursday.
But Johnson comes with some baggage for the left, particularly how the Obama administration handled the deportation of undocumented immigrants during his tenure at Homeland Security. Biden has sought to distance himself from that record, including explicitly saying he would handle deportation differently than President Barack Obama.
Becerra is also under consideration, people familiar with the matter say, and has many allies inside the Biden transition. He served in Congress for more than two decades and despite his criticism and myriad lawsuits against the Trump administration, officials believe at least a handful of Republicans would join Democratic senators in confirming him.
Monaco, like Johnson, has been considered for other Biden administration roles. If Trump fires FBI Director Christopher Wray, as he at times mused that he might, then Monaco is a top candidate as the first woman to fill that vacancy. She was on the shortlist for the job when Obama picked James Comey in 2013.
The challenges
Whoever Biden picks for attorney general will inherit a Justice Department damaged by perceptions of politicized decision-making, thanks to Trump's Twitter rantings, and low morale among career employees.
Taking on the job is likely to be a major challenge, particularly because the Justice Department's top job in recent decades increasingly has become the focus of partisan fights between Congress and the White House no matter who holds it. And many in the Democratic base want to see the Department of Justice do more to combat systemic racism in policing, protect the right to vote and crack down on the kinds of financial abuses that were seen to run rampant during the Trump administration.
After four years of Trump, some Democrats are also hungry for the Department of Justice under Biden to prosecute some of the decision made during Trump's tenure.
Biden has largely resisted those calls and plans to try to put distance between the Department of Justice and his White House by issuing an executive order "directing that no White House staff or any member of his administration may initiate, encourage, obstruct, or otherwise improperly influence specific DOJ investigations or prosecutions for any reason." The move is a rejection of the Trump administration, which saw Trump repeatedly lean on the Department of Justice for political reasons, especially under Barr.
Justice employees welcomed Barr to his second stint as attorney general, with hopes high that he would protect the department from the steady diet of attacks from Trump, who regularly criticized Jeff Sessions, his first attorney general. Instead, Barr has embraced Trump's rhetoric, doing damage to the department's reputation with the courts, the public and its own employees, current and former Justice officials say.
After months of complaining privately about career prosecutors resisting his demands, Barr used a September speech to a conservative college audience to compare career officials to Montessori pre-schoolers. The point of the speech was to underscore that political appointees are the bosses, but Barr used demeaning terms to complain about career civil servants who serve under Republican and Democratic administrations.
Barr's defenders say he has done as much as possible to keep politics out of the department in an unorthodox presidency. Under public pressure from Trump to target Biden and Obama over what Trump claims were spying violations against his campaign, Barr publicly said the department wasn't doing that. People close to Barr also say his conduct in office isn't evidence of doing Trump's bidding, but more a reflection of a deeply conservative Republican attorney general who believes the political left was out to get Trump.
Phillip Halpern, who left the department this fall after 36 years as a federal prosecutor, says one example of potential long-term damage from the Barr era comes from his push to drop charges against
Michael Flynn
, claiming in part that Flynn's lies to the FBI weren't material, or big enough, to matter.
"His excuse on the Flynn case on the standard of materiality was as stupid as what Trump said about injecting bleach into your body," Halpern said in an interview. "It's a lie, it's offensive."
A future attorney general will have to restore trust, Halpern said.
Other current and former officials say the department's civil rights enforcement and voting rights sections will require work after the Trump era. And after months of protests over police conduct and accountability, the Justice Department under Biden will be under pressure to help encourage changes to policing.
And the pick will be tasked with what to do about special ongoing probes launched under Barr, in an apparent effort to placate Trump. These include the investigation by John Durham into the origins of the Trump-Russia investigation.
And that could be the first test of Biden's pledge to take a hands-off approach with the Department of Justice.
"I will not do what this president does,"
Biden told NBC News
last month, "and use the Justice Department as my vehicle to insist that something happen."
But the special counsel investigation will now be waiting for Biden.
Politics Podcast: Did Trump Change The Rules Of Politics? – FiveThirtyEight
For the final FiveThirtyEight Politics podcast episode of the Trump presidency, the crew is joined by ABC News White House Correspondent Karen Travers to discuss Trump's legacy, how he changed politics and what the lasting effects will be. To help, they look back at an article editor-in-chief Nate Silver wrote shortly after Trump was inaugurated, "14 Versions Of Trump's Presidency, From #MAGA To Impeachment," to see what came true (and what Nate didn't predict).
You can listen to the episode by clicking the "play" button in the audio player above or by downloading it in iTunes, the ESPN App or your favorite podcast platform. If you are new to podcasts, learn how to listen.
The FiveThirtyEight Politics podcast is recorded Mondays and Thursdays. Help new listeners discover the show by leaving us a rating and review on iTunes. Have a comment, question or suggestion for "good polling vs. bad polling"? Get in touch by email, on Twitter or in the comments.
Vice-President Harris: A new chapter opens in US politics – 570 News
WASHINGTON — For more than two centuries, the top ranks of American power have been dominated by men — almost all of them white. That ends on Wednesday.
Kamala Harris will become the first female vice-president — and the first Black woman and person of South Asian descent to hold the role.
Her rise is historic in any context, another moment when a stubborn boundary will fall away, expanding the idea of what's possible in American politics. But it's particularly meaningful because Harris will be taking office at a moment of deep consequence, with Americans grappling over the role of institutional racism and confronting a pandemic that has disproportionately devastated Black and brown communities.
Those close to Harris say she'll bring an important — and often missing — perspective in the debates on how to overcome the many hurdles facing the incoming administration.
"In many folks' lifetimes, we experienced a segregated United States," said Lateefah Simon, a civil rights advocate and longtime Harris friend and mentee. "You will now have a Black woman who will walk into the White House not as a guest but as a second in command of the free world."
Harris — the child of immigrants, a stepmother of two and the wife of a Jewish man — "carries an intersectional story of so many Americans who are never seen and heard."
Harris, 56, moves into the vice presidency just four years after she first went to Washington as a senator from California, where she'd previously served as attorney general and as San Francisco's district attorney. She had expected to work with a White House run by Hillary Clinton, but President Donald Trump's victory quickly scrambled the nation's capital and set the stage for the rise of a new class of Democratic stars.
Her swearing-in comes almost two years to the day after Harris launched her own presidential bid on Martin Luther King Jr. Day in 2019. Her campaign fizzled before primary voting began, but Harris' rise continued when Joe Biden chose her as his running mate last August. Harris had been a close friend of Beau Biden, the elder son of Joe Biden and a former Delaware attorney general who died in 2015 of cancer.
The inauguration activities will include nods to her history-making role and her personal story.
She'll be sworn in by Supreme Court Justice Sonia Sotomayor, the first woman of colour to serve on the high court. She'll use two Bibles, one that belonged to Supreme Court Justice Thurgood Marshall, the late civil rights icon whom Harris often cites as inspiration, and Regina Shelton, a longtime family friend who helped raise Harris during her childhood in the San Francisco Bay Area. The drumline from Harris' alma mater, Howard University, will join the presidential escort.
She'll address the nation late Wednesday in front of the Lincoln Memorial, a symbolic choice as the nation endures one of its most divided stretches since the Civil War and two weeks after a largely white mob stormed the U.S. Capitol in an effort to overturn the election results.
"We're turning the page off a really dark period in our history," said Long Beach, California, Mayor Robert Garcia, a Harris ally. As Democrats celebrate the end to Trump's presidency, Garcia said he hopes the significance of swearing in the nation's first female vice-president isn't overlooked.
"That is a huge historical moment that should also be uplifted," he said.
Harris has often reflected on her rise through politics by recalling the lessons of her mother, who taught her to take on a larger cause and push through adversity.
"I was raised to not hear 'no.' Let me be clear about it. So it wasn't like, "Oh, the possibilities are immense. Whatever you want to do, you can do,'" she recalled during a "CBS Sunday Morning" interview that aired Sunday. "No, I was raised to understand many people will tell you, 'It is impossible,' but don't listen.'"
While Biden is the main focus of Wednesday's inaugural events, Harris' swearing-in will hold more symbolic weight than that of any vice-president in modern times.
She will expand the definition of who gets to hold power in American politics, said Martha S. Jones, a professor of history at Johns Hopkins University and the author of "Vanguard: How Black Women Broke Barriers, Won the Vote, and Insisted on Equality for All."
People who want to understand Harris and connect with her will have to learn about what it means to graduate from a historically Black college and university rather than an Ivy League school. They will have to understand Harris' traditions, like the Hindu celebration of Diwali, Jones said.
"Folks are going to have to adapt to her rather than her adapting to them," Jones said.
Her election to the vice presidency should be just the beginning of putting Black women in leadership positions, Jones said, particularly after the role Black women played in organizing and turning out voters in the November election.
"We will all learn what happens to the kind of capacities and insights of Black women in politics when those capacities and insights are permitted to lead," Jones said.
Kathleen Ronayne And Alexandra Jaffe, The Associated Press
Biden DNI pick says no room for politics in intel agencies – The Tri-City News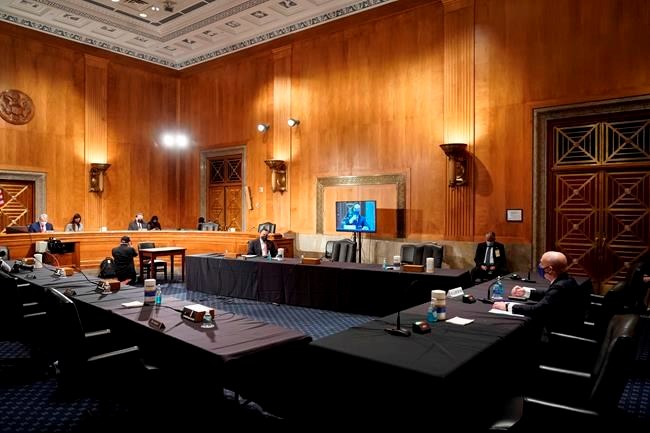 WASHINGTON — President-elect Joe Biden's nominees to lead his national security team promised a turnabout from the Trump administration's approach on the world stage, saying Tuesday they would keep partisan politics out of intelligence agencies, restore an emphasis on co-operating with international allies, and push for a stronger American leadership role.
Antony Blinken, Biden's choice to be secretary of state, pledged to repair damage done to the State Department and America's image abroad over the past four years while continuing a tougher approach to China. He said he planned to restore career officials to prominent positions in the department and strive to promote inclusivity in the ranks for the diplomatic corps.
"American leadership still matters," he said at his confirmation hearing before the Senate Foreign Relations Committee.
Neither Blinken nor Biden's other nominees for national security Cabinet posts encountered substantial opposition Tuesday.
Biden's pick to lead the intelligence community, Avril Haines, promised to "speak truth to power" and keep politics out of intelligence agencies to ensure their work is trusted. Her remarks implied a departure from the Trump administration's record of pressuring intelligence officials to shape their analysis to the president's liking.
"When it comes to intelligence, there is simply no place for politics — ever," she told the Senate Intelligence Committee.
Putting his national security team in place quickly is a high priority for Biden, not only because of his hopes for reversing or modifying Trump administration policy shifts but also because of diplomatic, military and intelligence problems around the world that may create challenges early in his tenure.
Biden's choice to head the Pentagon, Lloyd Austin, focused his opening statement on an entirely different issue — his status as a recently retired Army general, which would disqualify him from being secretary of defence without a congressional waiver of a law that prohibits a military officer from holding the job within seven years of leaving the service.
Addressing the Senate Armed Services Committee, Austin, who served 41 years in the Army, vowed to surround himself with qualified civilians and include them in policy decisions. He said he has spent nearly his entire life committed to the principle of civilian control over the military.
"I know that being a member of the president's Cabinet — a political appointee — requires a different perspective and unique duties from a career in uniform," Austin said. "I would not be here, asking for your support, if I felt I was unable or unwilling to question people with whom I once served and operations I once led, or too afraid to speak my mind to you or to the president."
Austin, who would be the first Black secretary of defence, said he understands why some have questioned the wisdom of putting a recently retired general in charge of the Defence Department.
"The safety and security of our democracy demands competent civilian control of our armed forces, the subordination of military power to the civil," he said.
The House majority leader, Rep. Steny Hoyer, indicated Tuesday that the full House would consider an Austin waiver bill on Thursday.
Although the committee gave no indication it would oppose Austin's nomination, at least one Republican – Sen. Tom Cotton of Arkansas — and one Democrat – Richard Blumenthal of Connecticut — said they would not vote for a waiver. Neither said he would vote against the nomination if he gets the waiver. Cotton said he opposes the waiver as a matter of principle, and that he regrets having voted in favour of waiving the 7-year waiting period for Jim Mattis, the retired Marine general who was Trump's first defence secretary.
Notably, the issue Austin was quizzed about most often during his hearing was sexual assault, which has been a persistent problem that previous Pentagon leaders have been unable to solve. He vowed to "fight hard to stamp out sexual assault."
Austin pledged that the Pentagon will "work hand-in-glove" with the State Department. Like Blinken, Austin said he views China as the leading international issue facing Biden's national security team.
Blinken, who previously served as deputy secretary of state during the Obama administration, said that Iran also would be a primary focus. He said he believed that the nuclear deal Trump withdrew from in 2018 should be reinvigorated with an eye toward producing "a longer and stronger agreement."
"Having said that," he said, suggesting that Iran would not be an immediate priority, "we're a long way from that."
On China, Blinken said the Trump administration was right to take a tougher stance. But, he said it had approached the matter poorly by alienating U.S. allies and not fully standing up for human rights around the world.
"As we look at China, there is no doubt that it poses the greatest threat of any nation state to the United States," he said.
Blinken said Biden would enter office with a plan to extend the New START arms control treaty with Russia that expires in February. The Trump administration made a failed last-ditch effort to extend the treaty on terms Russia rejected.
Republicans are expected to broadly support the Austin nomination, as are Democrats. Haines and Belkin encountered no significant resistance at their confirmation hearings.
Haines, a former CIA deputy director, would be the first woman to serve as director of national intelligence, or DNI — a role created after the Sept. 11, 2001 terrorist attacks.
Also testifying Tuesday at his confirmation hearing was Alejandro Mayorkas, Biden's nominee for secretary of the Department of Homeland Security. He would be the first Latino and first immigrant to lead the agency.
Sen. Josh Hawley, a Missouri Republican, said that he would block a procedural move to bypass full committee consideration of the Mayorkas nomination. The move means the nomination must go to the full Senate and there's little chance he can be confirmed by Wednesday.
In response, Biden transition spokesman Sean Savett noted that the Senate held swift votes to approve DHS secretaries on the first day of administrations in 2009 and 2017. "Senator Hawley's threat to disrupt historical practice and try to leave this vital position vacant is dangerous, especially in this time of overlapping crises when there is not a moment to waste," Savett said.
___
Associated Press writers Ben Fox, Eric Tucker and Martin Crutsinger contributed to this report.
Robert Burns, Lolita C. Baldor And Matthew Lee, The Associated Press