Billboards in B.C. from vaccine-skeptic group question COVID-19 recommendations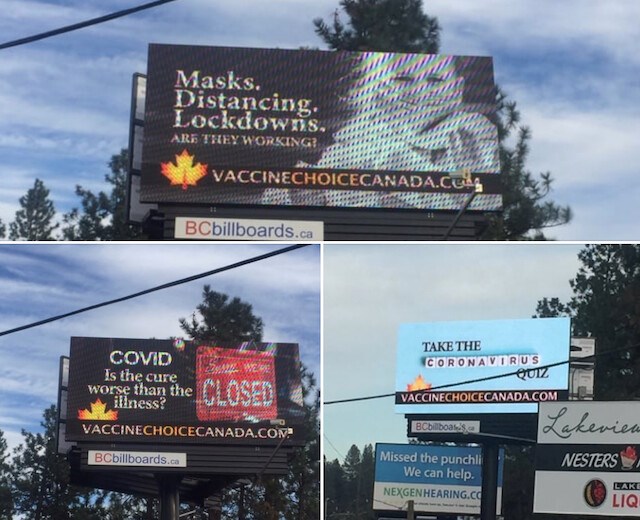 A new series of ads on a digital billboard in West Kelowna are turning heads.
The ads from vaccine-skeptic group Vaccine Choice Canada display a series of messages that are likely not all that unfamiliar to anyone who has spent any time on social media over the past six months.
"COVID. Is the cure worse than the illness?"
"Masks. Distancing. Lockdowns. Are they working?"
The ads direct people to Vaccine Choice Canada's website, where the safety of vaccines is questioned, despite a decades-old global scientific consensus that has determined them safe.
The group has recently been campaigning against the possibility of a mandatory COVID-19 vaccine, but why would it be funding ads questioning masks and physical distancing — basic tools health officials have been preaching to fight the pandemic — is not clear, but anti-vaccination signs have been a common sight at protests over COVID-19 restrictions.
The group's Okanagan chapters in Vernon and Lake Country and national headquarters did not respond to requests for comment Friday.
The billboard hosting the ad is owned by Mountain Media, which owns several billboards throughout the Okanagan.
A statement on the Mountain Media's website says "all content and copy must be approved in advance… We reserve the right to remove any offensive advertising at our sole discretion."
A sales representative with Mountain Media deferred comment to company owner Jim Wannop, who did not respond to an email from Castanet including questions on the company's decision to approve the ads.
Some supporters of Vaccine Choice Canada themselves voiced their surprise that the ads were approved when the group shared photos of them on Facebook.
"I'm surprised they let you do that!" said a comment under the Facebook post.
Facebook itself last month banned ads worldwide that discourage people from getting vaccines.
As COVID-19 case counts climb steadily in B.C. and around the world, health officials say a vaccine remains the only hope for a return to normality. But convincing all Canadians get vaccinated appears to be an impossibility.
A poll last month from Leger and the Association for Canadian Studies found that 17 per cent of Canadians will not take a vaccine while another 20 per cent were not sure. Sixty-three per cent said they would.
In a statement Friday, Interior Health said it hopes the public "will rely on trusted and accurate public health information, such as that provided regularly by Dr. Bonnie Henry, Interior Health medical health officers and the BC Centre for Disease Control."
Dr. Henry said last week there is now an "expectation" that people wear face coverings while in indoor public spaces like grocery stores.
The CDC is urging the public to wash their hands often, avoid close contact with others, cover coughs and sneezes, clean and disinfect and monitor yourself for symptoms.
Source – PrinceGeorgeMatters.com
Prairie Harm Reduction temporarily closing due to COVID-19 case – Global News
Prairie Harm Reduction (PHR) is temporarily closing its doors due to a coronavirus case.
The closure, which also affects the safe consumption site, will last for two weeks.
The Saskatoon-based organization posted on its Facebook page Monday morning that a staff member tested positive for COVID-19.
[ Sign up for our Health IQ newsletter for the latest coronavirus updates ]
PHR said the decision to close is the safest option.
The organization added that it allows for the quickest return to normalcy.
PHR's safe consumption site, the first of its kind in Saskatchewan, opened its doors last month.

1:39


Sask.'s 1st supervised consumption site opens as overdose deaths spike



© 2020 Global News, a division of Corus Entertainment Inc.
2 more New Brunswick schools confirm cases of COVID-19 – CBC.ca
Two more schools in New Brunswick have confirmed positive cases of COVID-19, bringing the total to four since last week, and nine since the school year began.
Education Minister Dominic Cardy said administrators at Montgomery Street School in Fredericton and Centreville Community School, north of Hartland, issued notices to parents over the weekend.
The two schools are now working with New Brunswick Public Health to identify students and school personnel who might have been exposed to the virus.
Over the weekend, one case of COVID-19 was confirmed at Simonds High School in Saint John and another at Hampton Middle School. Harbour View High School in Saint John confirmed a possible exposure to the illness.
Students in Grade 7 at Hampton Middle School will start virtual learning this week
But public schools won't close as they did this past spring, when COVID-19 first made an appearance in New Brunswick, Cardy told Information Morning Fredericton. Early in the pandemic, not as much was known about the coronavirus, but things are different now and such a broad shutdown of schools isn't considered necessary.
"The goal could never be to have everything completely shut down indefinitely," Cardy said.
"It was always to be as safe as possible and operating as close to normally as possible."
Cardy said there is a single COVID-19 contact at Montgomery Street School, and everyone in the school has been notified. Letters to parents have also been sent out.
"That person is being isolated. We don't believe there's a further risk at this time."
'Don't panic'
Cardy said he is trying to be as transparent as possible. And if parents haven't received any emails from their child's school or district, that's a good sign.
"When you hear from Public Health … don't panic. Just listen to what they have to say. And follow the steps."
Cardy made it clear that schools will move to online learning right away if there are any risks to students or if the number of cases increases.
He said his department has been working in conjunction with Public Health, which is " constantly looking at the data" related to COVID-19.
"We'll be ready to move on a moment's notice if they give us the word that we have to make a shift."
In July, Cardy announced all high school students in New Brunswick would have to use their own electronic devices. A $7 million subsidy program to help low- and middle-income families buy computers was launched July 31.
But Cardy also said there could be challenges with the new online system.
"Anything brand new … I'm sure there will be issues with it."
COVID-19 in schools
Cardy said he will continue working with districts and the New Brunswick Teachers' Union and representatives of other workers in the school system.
"Making sure those communication lines are working as smoothly as possible," he said.
"You've got a lot of moving pieces here."
More cases of COVID-19
New Brunswick officials announced six new cases of COVID-19 in the province Sunday.
The new cases bring the total of active infections in the province to 77. One person is in hospital related to the virus.
That announcement follows a significant rise in the Moncton and Saint John regions, including a single-day high for the province on Saturday when 23 cases were reported.
The Moncton and Saint John regions returned to tighter restrictions under the orange phase last week.
"We are not through COVID yet," he said.
Makeshift graveyard constructed outside of Alberta health minister's office – CTV Toronto
CALGARY —
Rows of cardboard grave markers lined the grass across the street from Health Minister Tyler Shandro's office in southwest Calgary Monday morning.
The signs, erected in the grass on the west side of Macleod Trail, criticized the province's response to the ongoing COVID-19 pandemic and placed blame on the provincial government for the recent spike in confirmed cases.
The individual or group responsible for the makeshift graveyard has not been identified.
The province announced 1,584 new cases of COVID-19 Sunday, continuing Alberta's four-day streak of establishing record highs for new case counts. Alberta's new case count was the most amongst all provinces.