Bills earn first sweep of Patriots since '99 with blowout win – Sportsnet.ca
FOXBOROUGH, Mass. — Josh Allen passed for four touchdowns and the Buffalo Bills became the first AFC East foe to sweep the season series with the New England Patriots in two decades with a 38-9 victory on Monday night.
A week after unseating the Patriots as AFC East division champions, the win also keeps alive the Bills' hopes of securing a top-three seed for the AFC playoffs.
The Bills (12-3) last swept the Patriots in 1999. The last division opponents to sweep the Patriots were the Jets and Dolphins in 2000. The Patriots' 19 straight seasons without losing both games to a divisional opponent was an NFL record. New England (6-9) will finish with its first losing record since Bill Belichick's first season in 2000.
Allen was 27 of 36 for 320 yards. He now has 34 touchdown passes, surpassing Jim Kelly to set a franchise single-season record. With his eighth 300-yard game, he also surpassed Drew Bledsoe's single-season team record of seven.
Stefon Diggs had nine catches for 145 yards and three touchdowns, setting a Bills single-season record for receiving yards.
The Patriots struggled to move the ball for most of the night with running back Damien Harris out for the second straight game with an ankle injury. Cam Newton had a touchdown run but was just 5 of 10 for 34 yards passing before being pulled in the third quarter for backup Jarrett Stidham.
Newton's 34 yards passing are the fewest by a Patriots starting quarterback since 1993.
The Bills had no trouble moving the ball against a depleted Patriots defence that was missing linebacker Ja'Whaun Bentley and defensive tackle Lawrence Guy, who were inactive with shoulder injuries.
Their absences were most glaring in the passing game. New England struggled to put pressure on Allen, allowing him time to find open receivers. The Patriots allowed a season-worst 474 yards total for the game.
The Patriots closed to 10-9 on Newton's 9-yard TD run in the second quarter, but Nick Folk missed the extra point and the Bills pulled away from there.
Buffalo used its passing game to march down the field on the ensuing drive. Allen completed 5 of 7 throws for 59 yards and a 4-yard TD to Lee Smith.
After a quick three-and-out by New England, the Bills went right back to work.
Allen misfired on his first pass of the drive, and then connected with Diggs for 17 yards to get the ball to midfield. Diggs got free again on the next play, slipping behind J.C. Jackson on a slant and sprinting the final 32 yards for the touchdown to make it 24-9.
The Allen-Diggs connection worked again on the opening drive of the second half. Allen found Diggs three times during an eight-play, 75-yard drive that ended with an 18-yard TD play by the star receiver.
INJURIES
Bills: S Jordan Poyer was helped off field late in second quarter to be evaluated for a head injury.
Patriots: DE Tashawn Bower left in the first quarter with a neck injury… LB Josh Uche exited in second quarter with a foot injury… LB Terez Hall left in the third quarter with an ankle injury… S Devin McCourty exited in the third quarter with a shoulder injury… C David Andrews left in the third quarter with a calf injury… RG Shaq Mason exited in the third quarter with a foot injury. … LB Anfernee Jennings left in the fourth quarter with an undisclosed injury.
MOVING ON UP
With his TD run in the second quarter, his 12th of 2020, Newton tied Steve Grogan for the franchise single-season record for rushing TDs by a quarterback. It also marked Newton's 70th career rushing TD, extending his NFL record for rushing TDs by a quarterback.
UP NEXT
Bills: Host the Dolphins on Sunday.
Patriots: Host the Jets on Sunday.
Canadiens @ Oilers recap: Young stars, newcomers shine in another win – Habs Eyes on the Prize
With a day off on Sunday, the Montreal Canadiens strolled back into Rogers Place with a massive amount of swagger following a 5-1 blowout on Saturday night. With a pair of two-goal efforts from Jeff Petry and Tomas Tatar, plus a stellar showing from Carey Price, Montreal romped through a shellshocked Oilers team.
The Oilers changed their lineup, possibly for the worse by swapping Caleb Jones and Ethan Bear for William Lagesson and Kris Russell on defence, but did add Zack Kassian back to Connor McDavid's wing.
The Canadiens turned to Jake Allen in net for his first start in a Montreal uniform, while the Oilers stuck with Mikko Koskinen despite his poor showing on Saturday.
Unlike the first contest, it was the Oilers who started the game in control, taking advantage of a poorly timed icing to start their offensive attack. The top line tried to take advantage of their matchup with the Habs' fourth line, but a strong series of saves from Allen denied them the game's opening goal.
Josh Anderson came up a bit lame after a hit deep in the Habs' zone, but his absence was immediately forgotten by what happened next. An in-zone faceoff went back to Brett Kulak at the left point. Kulak, not seeing a lane, dished it off to Alexander Romanov playing to his right. The rookie waited a second, then snapped off a quick shot that hit Koskinen, then slowly slithered through him and into the back of the net, putting Montreal up by a goal midway through the first period.
The Canadiens threatened their own lead shortly afterward, with Phillip Danault taking a two-minute stop in the penalty box for interference. Connor McDavid, bafflingly, missed a clean chance, but a second penalty on Joel Armia also gave the Oilers a short crack at a two-man advantage. An incredible solo effort from Ben Chiarot to stop a pass then maul the puck-carrier allowed Montreal to kill off Armia's holding penatly, only for Chiarot to then fire the puck out of play for a third straight penalty.
An impressive nearly seven-minute stretch of penalty-killing came to an end without a goal against, thanks to some extremely strong work across the board, but with a big nod to Jake Evans and Paul Byron during the final stretch. The heroic showing from the penalty-killers ensured Montreal took its one-goal lead into the first intermission, thanks to Romanov's first career goal.
The second period started with the Canadiens' top line nearly doubling the advantage on an ill-timed Koskinen rebound. Kulak fired a puck on net, and it dribbled to the right of the Oilers' net, but Brendan Gallagher just missed the follow-up chance with Koskinen kicking out his pad to deny the Habs winger his first goal of the season.
The rookie goal-scorer put the Canadiens short-handed early into the period, being called for a hefty crosscheck into the back of Alex Chiasson. Some impressive speed from Evans and more timely clears fended off the Oilers for a fourth time, keeping the one-goal lead intact with just over 13 minutes left to play in the second period.
Danault managed to draw a call of his own shortly after the kill, sending Adam Larsson to the penalty box and Montreal to the power play. While the Habs generated a few looks, they didn't find a breakthrough, but were given another shot late in the period after dominating possession in the Oilers zone for several minutes. The two units had plenty of chances, including Tyler Toffoli alone in the slot, and Nick Suzuki just as the penalty expired, but it was Koskinen finally coming up with a big save to keep the Habs from adding to their lead.
A badly timed late hit from Gallagher on Darnell Nurse put the Habs back on the penalty kill, however a kick save, and sprawling cover by Allen, denied Edmonton a chance to tie the game.
Then, a somewhat dubious call on Connor McDavid put the Habs back on the power play with just under two minutes left to play in the period. Devin Shore got tangled up with Jeff Petry on the ensuing attack, taking down Koskinen at the same time as Shea Weber broke in for a chance on net. He followed his own rebound, then banked the shot in off of Koskinen's head as the Oilers goalie attempted to sort himself out. It was initially called no goal on the ice, but a bold challenge by Claude Julien forced the officials to reverse their call, giving Montreal a late two-goal lead.
While Chiasson nearly scored before the clock expired, his heavy shot clanged off the post, and the Canadiens went into the second intermission with a two goal lead and a heap of momentum behind them.
Montreal started the final period slowly chipping away at the clock and keeping the Oilers' big line quiet as best they could. Another cross-checking penalty, this time on Weber put Montreal short-handed for a sixth time with 16 minutes or so left to play. Again the rolling units of the Montreal penalty kill stymied the Oilers.
The penalty parade continued between the two clubs, with Larsson drilling Evans in the numbers, taking a two-minute penalty for interference just before the halfway mark of the final period. A massive pile up in the dying moments of the man advantage looked like it gave the Habs another goal, but a last-second whistle blew the play dead just as a Montreal stick chipped it past a sprawled Koskinen.
A seventh penalty by Montreal put the inept Oilers power play back on the ice, and Montreal took that personally. Petry poked the puck away in the slot, starting a two-on-one with Artturi Lehkonen and Danault, and the Finnish winger wired his first goal of the year under Koskinen's glove to put the Habs firmly in control of the game.
A late Habs power play allowed the Oilers to get on the board, as Shore poked a puck off Jonathan Drouin's stick, breaking in on Allen and rifling one by the Habs goalie. It allowed the Oilers a chance to also pull Koskinen, but they never got closer than two goals as Montreal saw out the end of the game without issue, winning 3-1.
Montreal continues the road trip, heading to Vancouver for a three-game stint with the Canucks, with a back-to-back on Wednesday and Thursday night, and a Saturday meeting to finish the week.
Gaudreau leads Flames to win over Canucks – TSN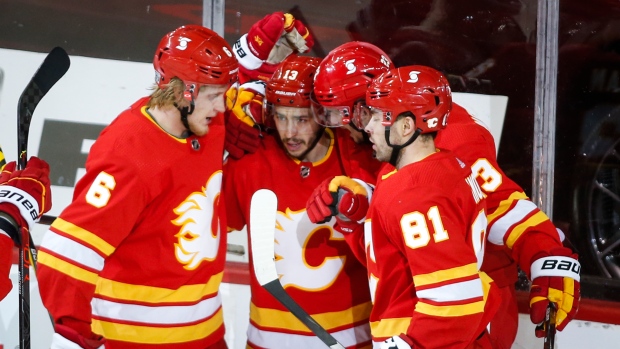 CALGARY — A first-period rescue by Jacob Markstrom and offensive wizardry from Johnny Gaudreau propelled the Calgary Flames to Monday's 5-2 win over the Vancouver Canucks.
Gaudreau scored Calgary's first goal of the game and assisted on another in the second period after Markstrom turned away 15-of-16 shots in the first.
Mikael Backlund, Elias Lindholm, Mark Giordano and Rasmus Andersson with an empty-net goal also scored for the Flames (2-0-1).
Markstrom earned a second straight win over his former team with 25 saves.
"He did everything that you want a goalie to do," Flames head coach Geoff Ward said. "He kept us in and gave us a chance to win. In the big moments when we needed a big save, he made it."
Jake Virtanen and Tyler Myers replied for the Canucks (1-3-0), who played their fourth road game in six days. Thatcher Demko stopped 27 shots in the loss.
Markstrom, a Canuck for seven seasons before signing a six-year, US$36-million contract with Calgary in October, had posted a 32-save shutout in Calgary's 3-0 win over Vancouver on Saturday.
"Right now, he deserves the contract," Lindholm said.
Demko was pulled for an extra attacker with four minutes to play, and Vancouver went to work on a two-man advantage when Calgary's Andrew Mangiapane took a tripping minor at 16:56.
The visitors didn't produce another goal, however, and Andersson scored into an empty net with 55 seconds remaining.
Vancouver's Myers scored shorthanded at 13:15 of the third period.
Giordano teed up a blast from the top of the face-off circle that Demko couldn't get his glove on for a power-play goal at 6:40 of the third period.
Outplayed in the first period, Calgary's 20-3 margin in shots in the second was bolstered by four power-play chances and winning more draws in the face-off circle.
Lindholm stretched Calgary's lead to 3-1 just two seconds before the second-period buzzer. He one-timed Gaudreau's cross-ice feed past Demko during a Calgary two-man advantage.
The hosts led 2-1 by 13:30 when Backlund scored his first goal of the season. The Swedish centre rifled a rebound over Demko.
Gaudreau pulled the Flames even at 12:05 on a give-and-go with Sean Monahan and Dominik Simon providing a screen.
"You can see when he's feeling it a little bit and those are the nights when he can take a team on his back and carry us," Ward said of Gaudreau. "Tonight he was feeling it and you could see it just building. He's such a tremendous player. He's got a special skill set."
Canucks winger J.T. Miller returned from COVID-19 protocol that kept him out of Vancouver's lineup the first three games of the regular season, but defenceman Jordie Benn has yet to play.
The visitors outshot Calgary 16-4 and dominated the face-off circle in the first period, but led just 1-0 due to Markstrom's work.
The Flames goaltender turned away five shots on a Vancouver power play starting two and a half minutes after the opening faceoff.
"Our first period was maybe our best period of the year so far and we responded in the second not very well," Myers said. "We need to get more dialed in and a little more focused on the way we have to play to win.
"We can turn things around very quickly here. It's a mindset. We've got to buy in as a group for a full 60 and not just for 20 minutes."
Virtanen's long shot from the high boards deflected off Flames defenceman Juuso Valimaki and over Markstrom's shoulder at 10:17.
The Canucks head home after three straight road losses. Vancouver hosts the Montreal Canadiens in back-to-back games starting Wednesday.
The Canucks play 11 games in their first 18 days of an NHL regular season shortened and condensed because of the COVID-19 pandemic.
"Time to get going," Demko said. "Losing three in a row is not good enough for this team. Our expectations are higher than that."
Calgary, by contrast, has a five-day break before hosting the Toronto Maple Leafs on Sunday afternoon.
Notes: The Flames signed 30-year-old defenceman Mike Stone to a one-year, two-way contract Monday . . . Canucks defenceman Nate Schmidt played his 400th career NHL game Monday.
This report by The Canadian Press was first published Jan. 18, 2021.
Maple Leafs' Andersen quells outside concern with stellar game vs. Jets – Sportsnet.ca
TORONTO — Call off the hounds.
Crazy as it might sound not even a full week into the NHL season, they had already started to gather outside Scotiabank Arena.
All it took was for Frederik Andersen and Toronto Maple Leafs head coach Sheldon Keefe to acknowledge that the goaltender was not at his best during Friday's loss in Ottawa for the whiff of controversy to waft through the air.
Presumably, now, that talk should disappear as quickly as it arrived. Andersen was rock solid during a 3-1 victory over the Winnipeg Jets that calmed the waters on a number of fronts.
"It was a much simpler game for Fred and he looked extremely confident and in control here tonight," said Keefe. "So that gives us confidence as a team and it should give him confidence, too, that whatever he has done to prepare from last game to this one, it benefitted him."
It had been an unusual 48 hours between starts: Andersen didn't dress at all for the second half of the back-to-back against the Senators, getting in extra work with goalie coach Steve Briere on Saturday morning before watching Jack Campbell play while Aaron Dell backed up.
That wiped his schedule clean of the typical game-day meetings plus the extra stretching and mental preparation the second goaltender goes through even when not likely to see any action.
"A little new thing we're trying," said Andersen. "I think it was good. … I got to stay at the hotel a little bit longer and just come for the game."
There's a decent chance it's a one-off after Dell got claimed by New Jersey from the waiver wire on Monday, leaving Michael Hutchinson to move up to Toronto's taxi squad as the No. 3 goaltending option.
That won't bother Keefe since he didn't think there was any magic in the plan.
All it did was buy his No. 1 guy more time to sharpen his game following training camp that included no exhibition games and a frantic charge towards the season. Still, it was reassuring to see Andersen confidently turn aside 27 Winnipeg shots, arguably the best of them against Mark Scheifele late in a first period where the Leafs controlled zone time but hadn't yet grabbed a lead.
"It was his best game, for sure, just the way that he tracked the puck," said Keefe. "He looked super calm in there. I think it's also not a coincidence that it was probably the easiest night he had in front of him tonight. You know we didn't give up very much at all and when we did there wasn't much by way of second chances in around the net.
"We did a much better job in that area."
There are a couple obvious reasons why Andersen's play is under such scrutiny. He's in a contract year and coming off the worst statistical season of his career, for starters. Plus the Leafs explored the goalie market for a replacement before bringing him back this fall.
But, to let you behind the media curtain, it's also because this has been a non-story for so long and the possibility of intrigue now exists.
Andersen has played 247 games for the Leafs since arriving here in 2016, with Curtis McElhinney next on the franchise's list during that period with 32 appearances. Campbell has seven games under his belt for the blue and white.
However, with huge expectations and an uncertain future beyond the summer, the tectonic plates are shifting beneath the surface. Any existing loyalties aren't likely to outlast a run of substandard performance.
And for an offensively-inclined team that has historically struggled to lock games down, you can't have a goalie fumbling away strong efforts like the one we saw against Winnipeg. That's where Andersen made some big strides. The Leafs controlled puck possession and the entirety of the second period and still found themselves in a tight 2-1 contest with 20 minutes to play.
"If anything, it made it harder for us in the third period," said Keefe. "I think hard is good for our team with where we need to grow."
Andersen is a stay-in-the-moment performer, the kind who would never let you know if he felt outside pressure. That doesn't mean it wasn't there.
He turned aside 12 third-period shots and took a second star turn when the buzzer sounded.
There will be more nights off for him than usual with a compressed schedule that includes four games in six days this week, but performances like this will quell the outside concern.
"Freddie's one of the best in the league," said Leafs captain John Tavares. "We've got so much faith in him. … Just being well sorted defensively without the puck and working to get it back will make life easy on him because we know he's going to make the saves when it's predictable and he's able to challenge and be aggressive and be the netminder that he is."