BioNTech says it can't ramp up production fast enough to fill demand for coronavirus vaccine – CP24 Toronto's Breaking News
Douglas Busvine, Reuters

Published Friday, January 1, 2021 7:11AM EST


Last Updated Friday, January 1, 2021 12:50PM EST

BERLIN, Jan 1 (Reuters) — BioNTech is working flat out with partner Pfizer to boost production of their COVID-19 vaccine, its founders said, warning there would be gaps in supply until other vaccines were rolled out.
The German biotech startup has led the vaccine race but its shot has been slow to arrive in the European Union because of relatively late approval from the bloc's health regulator and the small size of the order placed by Brussels.
The delays in rolling out the home-grown vaccine have caused consternation in Germany, where some regions had to halt vaccinations within days of starting an inoculation drive.
"At the moment it doesn't look good – a hole is appearing because there's a lack of other approved vaccines and we have to fill the gap with our own vaccine," BioNTech CEO Ugur Sahin told news weekly Spiegel.
Sahin founded BioNTech with his wife, Oezlem Tuereci, who is the company's chief medical officer. Both faulted the EU's decision to spread orders in the expectation that more vaccines would be approved quickly.
The United States ordered 600 million doses of the BioNTech/Pfizer shot in July, while the EU waited until November to place an order half that size.
"At some point it became clear that it would not be possible to deliver so quickly," Tuereci told Spiegel. "By then it was already too late to place follow-on orders."
After publication of the interview, BioNTech said it was in talks with Brussels on boosting output
"We are in productive discussions with the European Commission on how to make more of our vaccine in Europe, for Europe," a spokeswoman said.
NEW PRODUCTION
BioNTech hopes to launch a new production line in Marburg, Germany, ahead of schedule in February, with the potential to produce 250 million doses in the first half of 2021, said Sahin.
Talks are also under way with contract manufacturers and there should be greater clarity by the end of January, he added.
Health Minister Jens Spahn said on Twitter that German authorities would do everything possible to enable a swift start in Marburg.
The federal government, which has backed BioNTech with 375 million euros ($458 million) in funding, has resisted calls from opposition leaders to speed production of its vaccine by issuing compulsory licenses to other drugmakers.
Another vaccine from Moderna is expected to be cleared by the European Medicines Agency (EMA) on Jan. 6.
Spahn has also urged the EMA to quickly approve the Oxford University-AstraZeneca shot cleared by Britain. The EU timeline for that treatment remains uncertain.
That vaccine was approved by India's drug regulator on Friday for emergency use, two sources with knowledge of the matter told Reuters.
VIRAL VARIANT
Sahin said the BioNTech/Pfizer vaccine, which uses messenger RNA to instruct the human immune system to fight the coronavirus, should be able to cope with a new, more contagious variant first detected in Britain.
"We are testing whether our vaccine can also neutralize this variant and will soon know more," he said.
Asked about coping with a strong mutation, he said it would be possible to tweak the vaccine as required within six weeks – though such new treatments might require additional regulatory approvals.
Sahin also said BioNTech would make its vaccine, which requires storage at about minus 70 degrees Celsius (minus 94 Fahrenheit), easier to handle, adding that a next-generation vaccine could be ready by late summer.
Explained: What the Pfizer shortage means for Canada's vaccine rollout – CTV News
TORONTO —
Canada won't receive a single vial of the Pfizer-BioNTech vaccine this week due to an international shortage that has prompted finger-pointing in Ottawa and forced provinces to temporarily delay their vaccine rollouts.
For the next four weeks, Canada's vaccine deliveries will be cut in half with up to 400,000 doses delayed, according to Maj.-Gen. Dany Fortin, who is leading the country's vaccine rollout. Canada won't receive any new deliveries from Pfizer this week, and only one-quarter of the previously promised delivery next week.
Pfizer advised Canada earlier this month that upgrades to its plant in Belgium would temporarily slow production and reduce doses delivered to every country except the United States, which has its own production facility. The factory is expected to return to full production on Feb. 15.
The upgrades are expected to help boost Pfizer's annual production capacity from 1.3 billion shots in 2021 to up to 2 billion, which would be enough to cover about 13 per cent of the world's population.
Prime Minister Justin Trudeau spoke directly to Pfizer's CEO last week and said he was assured that, despite the slowdown, the company will fulfil its contractual promise to deliver four million doses to Canada by the end of March.
The next shipment of Canada's second approved vaccine, from Moderna, is expected in the first week of February and will include an estimated 230,400 doses.
In the meantime, the temporary shortage has forced provinces and territories to pump the brakes on their vaccine rollout plans. Opposition parties have accused the Liberals of mishandling the vaccine rollout and pointed to other countries, including the U.S. and the U.K., where more people have received their shots.
WHAT DOES THIS MEAN FOR THE VACCINE ROLLOUT?
Federal health officials overseeing Canada's vaccine plan insist the Pfizer delay is temporary and will not hamper the country's long-term goal of vaccinating every Canadian by Sept. 30. Fortin said future shipments and "a rapid scale-up of deliveries in the upcoming weeks" will make up for the current shortage.
For now, provinces have started retooling their vaccination plans to prolong the time between vaccinations and, in some cases, are turning people away from new vaccine appointments.
Ontario Premier Doug Ford called the Pfizer shortage "a massive concern" and announced that the province will no longer be able to meet its goal of vaccinating all residents and staff in long-term care homes by Feb. 15.
Ontario, Quebec, Nova Scotia, New Brunswick, Saskatchewan and British Columbia will all slow down their vaccine schedules to stretch whatever vaccine supply they have on hand. The provinces will delay second doses up to 42 days, with Quebec prolonging the wait up to 90 days.
The National Advisory Council On Immunization has advised that the wait period between first and second doses could be extended up to 42 days.
In Alberta, officials have paused new appointments for those looking to get their first vaccine. Manitoba temporarily stopped booking new appointments but is expected to resume this week.
WILL THE SHORTAGE MEAN LONG-TERM DELAYS?
The federal government insists that the country's long-term vaccine rollout remains on track. Officials released projections last week that suggest Canada will still meet its goal of vaccinating 3 million people by the end of March, accounting for eight per cent of the entire population. A total of 36 million Canadians are expected to be vaccinated by the end of September.
Even if Canada doesn't approve any more vaccines by the fall, estimates suggest that doses from Pfizer and Moderna will cover 13 million Canadians, or 34 per cent, by June and 36 million, or 95 per cent, by September 30.
Canada's vaccine rollout could happen even faster if more vaccines are approved. The projections suggest that, based on all vaccines Canada has procured but have yet to be approved, as many as 23 million Canadians could be vaccinated between April and June, accounting for 61 per cent of the population. Canada could have enough doses for up to 73 million people between July on September. In such a scenario, there would be more than enough vaccines for everyone who wants one.
HOW DOES CANADA COMPARE TO OTHER COUNTRIES?
So far, 761,530 people in Canada have received at least their first shot of either the Pfizer or Moderna vaccine, accounting for roughly two per cent of the population.
In the United States, about six per cent of the population has received at least their first shot. However, the U.S. is lagging when it comes to administering available vaccines, with only about half of all shots available still undistributed.
In Israel, which secured a large stock of Pfizer vaccines from the get-go, more than 2.5 million of the country's 9 million people have been vaccinated. Teenagers between 16 and 18 are now receiving vaccines on the condition that they receive parental permission. https://www.ctvnews.ca/world/israel-expands-vaccination-campaign-to-teens-1.5279506
Canada's rollout is more on par with countries such as Finland, Austria, Poland, Switzerland and Estonia, all of which have vaccinated around two per cent of their populations.
Canada is hardly alone when it comes to the delays. Mexico, Saudi Arabia, Bahrain and several European countries have all begun slowing down vaccinations, and Italy has threatened to sue Pfizer.
In Ottawa, the Liberals have been criticized for how they're managing the rollout. Some members of the opposition have called on Trudeau to ask U.S. President Joe Biden for help.
NDP House Leader Peter Julian said the Liberals need to explain the situation to Canadians.
"Why are other countries ahead?" Julian said. "That's the question that the government will have to respond to. And we believe that the government needs to very clearly spell out their plan to accelerate the vaccine distribution across the country."
The government says it has worked hard to secure as many doses as possible and signed multiple contracts in anticipation of multiple vaccine candidates booming available in the coming months.
With files from The Canadian Press
Ontario working to adapt to the delay of Pfizer BioNTech vaccines: Public health officials – SooToday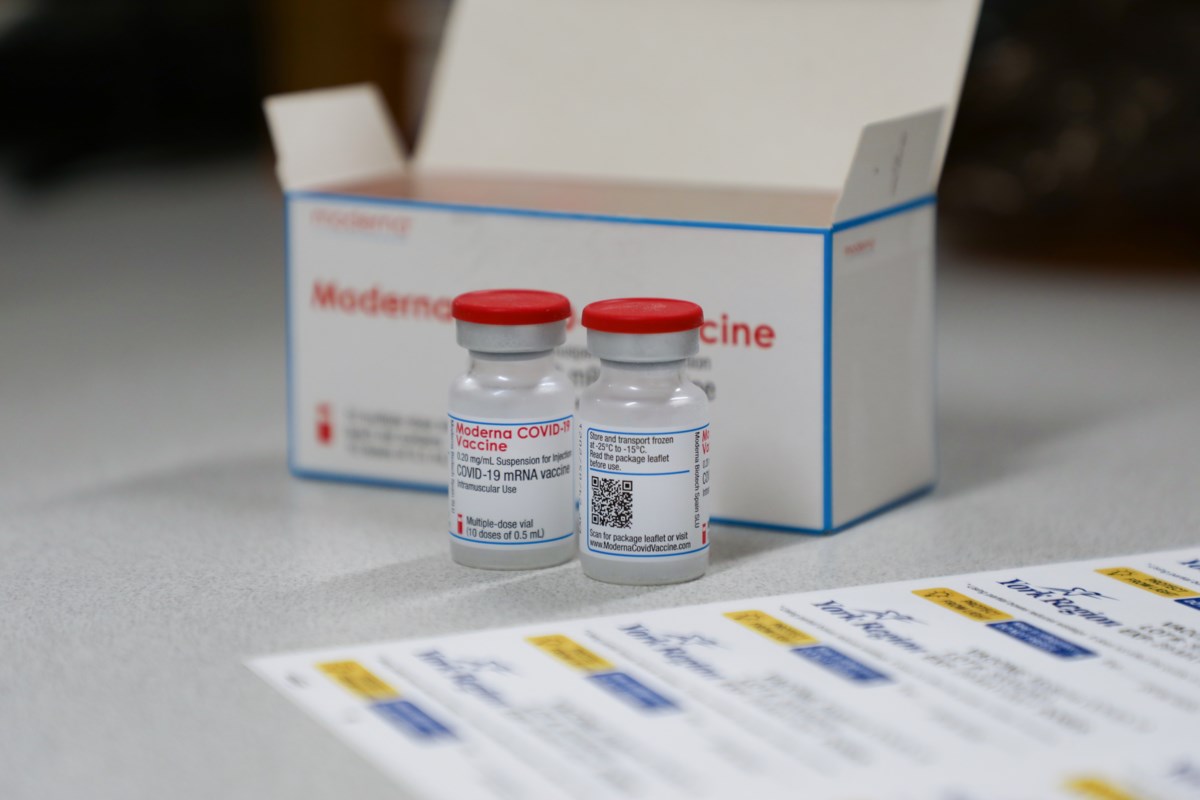 In response to the Pfizer BioNTech delay in delivering vaccines to Ontario, public health officials in this province could extend the interval between the two doses that are given to some less-vulnerable vaccine recipients. Pfizer revealed last week it had to shut down production for one week so it could scale ups European manufacturing capacity.
Both the Pfizer BioNTech and Moderna vaccines that are provided in Ontario are double-dose vaccines, meaning the first dose is administered one day and then the follow-up second dose is delivered 21 to 28 days later.
Despite the shortage, Ontario officials told a technical briefing Monday that the plan is to accelerate the vaccines going out to long-term care homes, to high risk retirement homes and to First Nations elder care homes.
"With uncertainty and reduced allocations we will be reallocating vaccines to 14 public health unit regions that haven't received any vaccine yet so that they can begin to vaccinate their vulnerable populations, starting this week," said a public health official.
She said Ontario is working on a new strategic approach. This will include a focus on areas where Ontario can reduce risk of illness and death for the most vulnerable populations.
"We're accelerating the vaccination of residents in long-term care homes, high-risk retirement homes and First Nations elder care homes," she added.
Ontario is also planning to expand the time allocation between first and second dosages on the Pfizer BioNTech vaccine.
"We will be extending the interval between doses in some situations and only as needed to support the vaccinations of the most vulnerable populations. For resident groups, in long-term care, in high-risk retirement homes and elder care homes, we will be maintaining the recommended maximum interval of 21 to 27 days and for all other groups, we will expand that interval to no more than 42 days."
The idea of expanding the time interval was taken into account during the vaccine trial studies and was proven effective with time intervals from 19 days to 42 days, the briefing was told.
The health ministry official said this measure is supported by the World Health Organization as well as the Centers for Disease Control, based in the United States.
The effort is also being accelerated for remote and isolated First Nations communities.
Despite the one-week delay from Pfizer, the company has stated it will live up to the contractual obligation to provide Canada with a total of four million doses of vaccine by the end of March, the briefing was told.
In response to a media question about the reliability of the Moderna vaccine delivery, the briefing was told that Moderna delivers its vaccines every three weeks, and in both instances, the vaccines from Moderna had arrived on time in Ontario. The next delivery, of about 80,000 doses, is expected on Monday February 1, 2021. There has been no indication that Moderna's delivery schedule will be changed.
Pfizer presses Health Canada to increase doses taken from each vial – The Globe and Mail
Pfizer-BioNTech is pushing Health Canada to amend its COVID-19 vaccine label and formally recognize that each vial contains six doses rather than five, which would allow the company to send fewer vials to Canada but could complicate the vaccination program.
Pfizer submitted a request to Health Canada on Friday to amend the vaccine label, company spokesperson Christina Antoniou said on Tuesday. The company's contract with Canada is based on delivering doses, rather than a set number of vials, she said.
"Obtaining six doses from the current multi-dose vial … can help minimize vaccine wastage and enable the most efficient use of the vaccine," she said.
Canada-China vaccine collaboration began to fall apart days after Ottawa announced clinical trials
How many coronavirus cases are there in Canada, by province, and worldwide? The latest maps and charts
COVID-19 news: Updates and essential resources about the pandemic
Medical staff in Canada have sometimes been able to withdraw six doses, but officials have said it's not consistent. However, Pfizer said with specialized syringes, a sixth dose can be reliably pulled from each vial. These syringes are in short supply around the world.
The United States and European Union have already accepted the requested change.
Canada is buying 40 million doses from Pfizer. If Health Canada approves the change, Canada could get about 6.7 million vials rather than eight million. The change could increase the number of people who can receive the vaccine worldwide. However, it could also be a challenge for Canada's vaccination program, which has already hit several speed bumps.
SQUEEZING EVERY LAST DROP
Each dose of Pfizer's COVID-19 vaccine must be 0.3 ml. The company says if low-dead space syringes are used then six doses can be withdrawn from each vial of the vaccine. However, if standard syringes are used then medical professionals may only be able to extract five doses.
0.092 ml of fluid retained
THE GLOBE AND MAIL, SOURCE:
PUBLIC HEALTH ENGLAND
SQUEEZING EVERY LAST DROP
Each dose of Pfizer's COVID-19 vaccine must be 0.3 ml. The company says if low-dead space syringes are used then six doses can be withdrawn from each vial of the vaccine. However, if standard syringes are used then medical professionals may only be able to extract five doses.
0.092 ml of fluid retained
THE GLOBE AND MAIL, SOURCE: PUBLIC HEALTH ENGLAND
SQUEEZING EVERY LAST DROP
Each dose of Pfizer's COVID-19 vaccine must be 0.3 ml. The company says if low-dead space syringes are used then six doses can be withdrawn from each vial of the vaccine. However, if standard syringes are used then medical professionals may only be able to extract five doses.
0.092 ml of fluid retained
THE GLOBE AND MAIL, SOURCE: PUBLIC HEALTH ENGLAND
Shipments from Pfizer have had delays, and Canada will get no shots this week. Officials hope vaccine candidates from Johnson & Johnson and AstraZeneca will soon be approved in Canada, but so far no delivery is expected before April.
A spokesperson for Procurement Minister Anita Anand said she could not comment until Health Canada decides whether to change the product information.
Late Tuesday, Martin Bégin, a spokesperson for Health Canada, confirmed the regulator has received Pfizer's request. He was unable to provide a timeline for a decision.
In a statement to The Globe on Monday, Health Canada spokesperson Maryse Durette said the extra volume per vial acts as "a safeguard against potential loss of volume that can occur during storage, preparation and administration of the vaccine, and can result in overages that may amount to an extra dose or two. The monograph of the product would not change because of extra volume in the vial."
If health professionals use what's called a low dead space syringe to extract each dose, Ms. Antoniou said, six doses can be consistently drawn. Dead space is vaccine that is left in a syringe after an injection. "If standard syringes and needles are used, there may not be sufficient volume to extract a sixth dose from a single vial," Ms. Antoniou said. Some needles can limit dead space.
Pfizer did not provide The Globe with the data to show how often six doses are retrieved from a vial. The Globe asked the Ontario, B.C. and Quebec governments, but they did not provide such information.
The low dead space syringes are a "niche" item, said Troy Kirkpatrick, a spokesperson for BD, the medical technology company supplying the United States with syringes. BD is selling syringes to Canada, but not low dead space ones. The federal government was unable to tell The Globe which company supplies those.
Of the 145 million syringes Canada has bought for the vaccination program, 37.5 million are the kind that would be required if Health Canada approves Pfizer's request, Ms. Anand's office said. Her office was unable to say on Tuesday when they would all be delivered.
Ms. Antoniou said six low dead space syringes are needed for each vial.
Until now, the syringes "have historically had low demand," Mr. Kirkpatrick said, and "no vaccine manufacturer identified the need for these types of devices when production capacity was increased." He said the company is meeting its current contracts, and advising governments it will "take time" to increase production.
Canada has also bought 40 million vaccine doses from Moderna. On Tuesday, the company said its shots require standard syringes.
At the University Health Network in Toronto, one of Canada's largest hospital groups, Emily Musing, a vice-president and professional pharmacist, said staff have been able to "more consistently" get a sixth dose when using a one-milliliter syringe.
However, the hospital ran out and had to use three-ml syringes. "We found with the larger syringes, we were not able to pull up as many sixth doses," she said.
Neither of those is as reliable as the low dead space syringe, Ms. Antoniou said.
Even without the requirement for the specialized syringe, some public health units were facing supply challenges. In Ontario, one health unit is asking pet clinics for syringes that are specialized enough to get a sixth dose from a vial.
"With an aim to maximize the efficiency of our approach to vaccine delivery, we have reached out to local veterinary clinics and community partners to ask for contributions of syringes," said Piotr Oglaza, medical officer of health at Hastings Prince Edward public health, which includes the city of Belleville.
Andrew Blais, who works for a pet hospital in the region, said he was shocked to receive a request from the health unit on Monday for the clinic to donate 1 cc-size syringes. "It felt outrageous that they were even thinking about veterinary clinics," he said. "I would have thought maybe they would start with public health agencies or other government-funded [agencies]."
"There was definitely a feeling of panic to it," he said.
Alexandra Hilkene, a spokeswoman for Ontario Health Minister Christine Elliott, said it's Ottawa's responsibility to procure syringes for vaccinations. However, she said the province can get additional supplies to help local public health units. She said Ontario sent three-ml syringes to Hastings Prince Edward on Jan. 22 and 25 for a total of 1,000. But those are not the specialized syringes to extract six doses.
Alberta's health authority said it is buying low dead space syringes and other supplies to supplement shipments from Ottawa.
The federal government has not disclosed how much it is paying Pfizer for the vaccines. A New York Times report suggests that the reduction in vials shipped by Pfizer won't change how much the U.S. pays. Reuters reports that Sweden is withholding payment until it gets clarity on Pfizer's billings. The company told a local newspaper it charged for six doses per vial.
With reports from James Keller, Andrea Woo and Les Perreaux.
Our Morning Update and Evening Update newsletters are written by Globe editors, giving you a concise summary of the day's most important headlines. Sign up today.