Blockbuster Andy Warhol exhibit to feature famed Marilyn Monroe, Chairman Mao art in Toronto – Toronto Star
Andy Warhol fans in Toronto are in for a tense year, waiting for a new blockbuster exhibit of the legendary artist's works. Four decades of Warhol will be explored at the Art Gallery of Ontario's new show, titled simply Andy Warhol, coming in March 2021.
Warhol's images are instantly recognizable, and this exhibit is set to look at the personal, social and political backdrop that influenced his art. He brought a unique perspective to the 20th-century canon: he was shy, gay and from a working-class, East European immigrant background. Warhol's parents were born in the village of Mikova, Slovakia, but moved to the U.S. and to Pittsburgh, Pa., where Andrew Warhola was born in 1928.
"Warhol came into the art world from the outside," says Kenneth Brummel, the AGO's associate curator of modern art, who'll be overseeing the exhibit. "While we generally associate Warhol with the 1960s and Pop, his art, when seen as a whole, has much to say about belief, identity and desire that is as relevant and contemporary now as it was when it was made in the '60s, '70s and '80s."
His art's themes addressed synthesized consumer culture, art history, countercultural activities and Catholicism, while also reflecting cultural transformations going on around the world at the time, as well as influencing and fuelling those transformations.
In this context, get set to see some of his early drawings, iconic images of Marilyn Monroe, experimental films and the floating work "Silver Clouds" (1966).
Warhol's work was always experimental, blurring boundaries in multimedia, music, live performance and publishing. One particularly exciting part of the AGO show will combine film projections, strobe lighting, dancers and the sounds of the rock group The Velvet Underground — longtime collaborators with Warhol — to restage his psychedelic multimedia environment the "Exploding Plastic Inevitable" (1966) alongside the floating metallic pillows of "Silver Clouds."
His Pop period will be featured with "Marilyn Diptych" (1962) from the Tate Modern, "100 Campbell's Soup Cans" (1962) from the Museum fur Moderne Kunst, Frankfurt and "Elvis I and II" (1963/4) from the AGO's own collection.
Another theme that will feature in the exhibition is Warhol's sexuality, including a selection of early nudes he drew in the 1950s; "Sleep," a 1963 film starring his lover John Giorno; and his 1975 series "Ladies and Gentlemen," paintings which memorialize members of New York City's transgender community.
The exhibition is being co-organized by the Tate Modern and Museum Ludwig in Cologne, in collaboration with the AGO and the Dallas Museum of Art and features loans from museums and private collections in Europe, Asia and North America.
Admission to the show is included in the $35 AGO annual pass which is free if you are 25 years and under.
Get more of the Star in your inbox
Never miss the latest news from the Star. Sign up for our newsletters to get today's top stories, your favourite columnists and lots more in your inbox
JOIN THE CONVERSATION
Q:
Will you see the Andy Warhol exhibit? Share your thoughts
Conversations are opinions of our readers and are subject to the
Code of Conduct
. The Star does not endorse these opinions.
Arts Everywhere for everyone – GuelphToday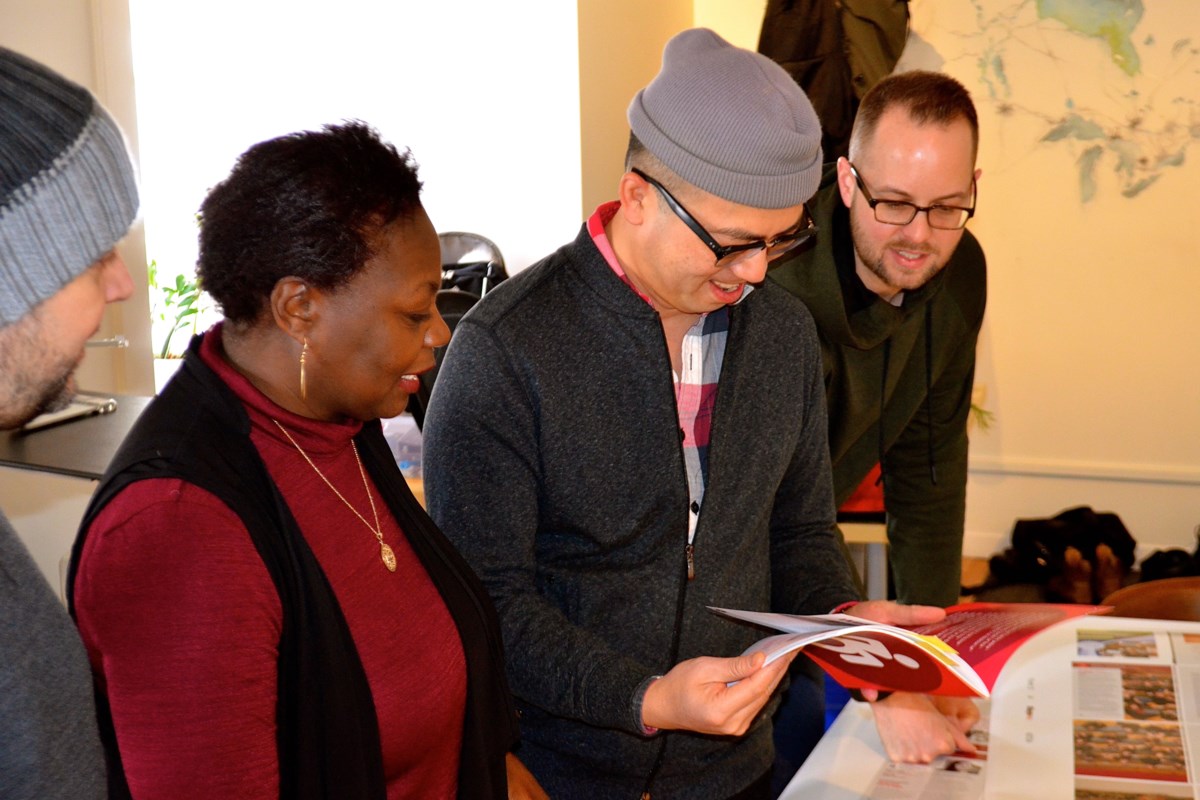 Spiritualist writer Thomas Merton wrote "Art enables us to find ourselves and lose ourselves at the same time."
Art in all its forms helps to define us culturally and expand our relationships to each other. It should, therefore, be accessible to everyone and that is why accessibility and inclusion are the central themes of the Arts Everywhere Festival this year.
"We are looking forward to a number of things and one of the main pieces is the importance of access for members of our community," said festival director and program curator, Marva Wisdom.
"We are very excited to be able to bring a festival that is intentional in how we approach access and inclusion whether individuals face barriers around economic, cultural and physical abilities, sensory or otherwise."
The festival runs from Jan. 22 to Jan. 26 and features performances, exhibits, workshops and activities that celebrate the diversity of creative expression through music, literature, ceremony, spoken word and visual arts.
"The presenters will be coming from different parts of the world, so, local and international," said Wisdom. "We really want to inspire our community and recognise the importance of the arts and the changes it can make in our society."
Those changes are reflected in the artists featured this year and in the efforts made to ensure each event is as inclusive and each venue is as accessible as possible. They even prepared an accessibility guide that among other things lists all the accessibility features of every venue in the festival.
"We have not done anything like this before," said Wisdom. "We spent a fair bit of time at the venues for what we call an embodied audit. We took photos. We had great conversations with staff members, managers and owners about access."
Festival staff and team members received accessibility training.
"We participated in a workshop from Tangled Arts and learned a lot about access and how you make events more accessible," said Wisdom. "This all came about through work over the years with Bodies in Translation and at the University of Guelph. They have been tremendously helpful in pointing the Arts Everywhere Festival along this journey."
There will be live captioning (surtitles) for many of the events as well as ASL (American Sign Language) interpretation and earphones to amplify or reduce sound.
"If you tell them you have sensitivity to certain sounds or light, if you are in a powered wheelchair and need more width or maybe you have a hearing impairment, you don't even have to share that with us, you just need to show up," said Wisdom. "If you feel more comfortable knowing ahead of time we have someone you can speak to and when you arrive we have access ambassadors that will help you navigate the entire festival."
They have even made efforts to accommodate people who experience anxiety in public or crowded spaces.
"We have relax spaces and quiet rooms because some people get over stimulated and they don't come to these events because they think it is going to be too much," said Wisdom. "People can go on our website and see the information."
Accessibility and culture of care lead Coman Poon hopes their efforts will act as a seeding initiative for growing accessibility culture and he invites other festivals to use the Access Guide for planning future events.
"It is not a proprietary document," said Poon. "It is not just for this festival. We welcome others to use it as a free tool that challenges prejudice against people with disabilities or 'able-ism'."
Poon is the point person for all accessibility inquiries and can be contacted at access@artseverywhere.ca or 647 575-4202.
The festival opens Wednesday, Jan. 22, with a free event at the Art Gallery of Guelph curated by poet, author and visual artist Taqralik Partridge.
"It is her image we are using on our poster and on the front of our program," said Wisdom. "She is going to be our featured literary artist at the event Friday night at the River Run as well."
Partridge's image of a damaged door with limited access on the side of a poorly maintained home is an apt metaphor for the challenges we face as we strive to improve access and include everyone in the conversation about something that should unite us all — art.
Walt Humphries' art comes home to roost at Yellowknife show – Cabin Radio
As Walt Humphries surveyed his own exhibit, the self-taught artist and self-declared doodler recalled when bureaucrats told him he should be "locked up" for his art.
Humphries has been capturing the mood of Yellowknife since his arrival in 1969: raucous scenes at the Gold Range Bar and Miner's Mess, contemplative pieces on the "temporary" neighbourhood of Northlands, apocalyptic scenes between warring Old and New towners.
All are now hung at Yellowknife's Prince of Wales Northern Heritage Centre.
"One bureaucrat came in the coffee shop one time," Humphries recalled, "and said, 'You should be locked up. You shouldn't be allowed to create work like this.'
"And I said, 'It's a free world.'
"It's funny how what's radical one day becomes accepted, and becomes part of the history of the place."
Longtime Yellowknifer Bill Braden approached Humphries about doing a show during a recent trip on the beer barge – itself a piece of the city's history, an annual celebration of Yellowknife's barging tradition.
Unbeknownst to Braden, newcomer to town and art writer Sarah Swan had also become hooked on Humphries' art and wanted to stage a show.
Swan had happened upon the works after seeing Humphries' long-running column in the Yellowknifer newspaper, Tales from the Dump. The two joined forces and embarked on a search for Humphries originals stretching back to the 1970s.
Bill Braden, left, Walt Humphries, Diane Baldwin, and Sarah Swan at the Life's Like That exhibit, in a photo supplied by Braden.
When the curators put a call out for "lost" Humphries originals, the response was immediate. Collectors came out of the woodwork – many in Yellowknife, but farther afield as well – and the curators ended up with too many paintings to show. The finished exhibition displays a selection of 39 pieces.
Humphries, meanwhile, had to sit back and let curators pick and choose which of his "children" would get into the show. (He was happy that at least one alien made it in.)
For Braden, the scenes from bars and haunts of Yellowknife's golden days are his favourites. He says they capture the mood of the town's halcyon days.
"I grew up with these places. They're institutions, they're part of me," he said. "I can smell the stale smoke and the spilled beer in the Gold Range and the mediocre coffee in the Miner's Mess. I can hear the chatter, the music."
Swan picks out the work depicting anti-bureaucratic sentiment or tension between different factions – paintings like The Houseboat Wars, which is held in the Prince of Wales Northern Heritage Centre's permanent collection, or Old Town Versus New Town.
Finding the original of this second piece was a big moment for Swan.
"When you look at that, you may feel your latent anarchic tendencies start to ignite," she says.
"You might feel, for example, like spray-painting the anarchy symbol on City Hall, or stealing a shopping cart from Walmart at least."
Humphries' own favourites are many – "I like them all," he complained – but he feels nostalgia in his depictions of camp life.
"I spent a lot of time out in the bush living in a tent just like that. And so it brings back my youth," he said. "That's part of what art does. At different stages in your life, you get different things out of them."
Admirers of Walt Humphries' work at the Prince of Wales Northern Heritage Centre. Emelie Peacock/Cabin Radio
The search for lost works uncovered stories of ways in which Humphries' paintings travelled and inspired others.
One print of The Houseboat Wars, situated in an outhouse, helped a young boy forget his fear of the wolves and other scary creatures outside by delving into the details of the work.
However, another Humphries work – remembered by Braden from his time as a reporter at the Yellowknifer – has perhaps been lost forever. In 1992, the paper turned 20 and asked Humphries to portray the city 20 years on.
"He came up with this fantastic drawing of the city of Yellowknife under a massive glass dome. It was of course to keep us warm in winter and keep the bugs out in the summer," Braden said.
"Maybe some lucky scavenger has it somewhere, some other lucky scavenger, and maybe it'll surface one day."
Humphries said he would have trimmed his beard had he known this photo would be reproduced at this size. Emelie Peacock/Cabin Radio
Humphries is recovering from sepsis, which struck just as the exhibit was being moved and mounted. He admitted he had spent time in hospital wondering whether he would, in fact, make it to his own show.
"I was thinking it would be a real bummer if I missed my own art show," he said. "It would bring a whole new dimension to the show's title." (The show is entitled Life's Like That.)
Humphries hopes to eventually see a public art gallery in Yellowknife for shows like this. "It really helps define a place, the art people see," he said. "It's important for people's well-being, as much as is exercise, sports, and entertainment."
Life's Like That is on display at the Prince of Wales Northern Heritage Centre until June. An art party at the centre is happening on Sunday, where Humphries will join fellow Yellowknife artists Alison McCreesh, Tracey Byrant, Sarah Swan, and Cody Fennell for short demos and guided tours of the exhibit.
Related
South River's sound art group hosting 19th annual festival – NorthBayNipissing.com
SOUTH RIVER — New Adventures in Sound Art, also known as NAISA, is presenting the 19th edition of its Deep Wireless Festival of Radio and Transmission Art from now to March 30 at the NAISA North Media Arts Centre in South River.
Deep Wireless opens with Art's birthday celebrations in mid-January and continues to the end of March with performances, special radio broadcasts, interactive installations and workshops.
The experience of radio does not have to be limited to one-way communication (i.e., passive listening). Some of the early innovators of radio thought of it as a two-way interactive medium. This year's Deep Wireless artists use wireless technology to explore interactivity between participants and the artworks while using the theme of transformation to suggest alternative paths of expression and communication. The installations and performances invite participation, but they also consciously allow for the public's input to be transformed into unexpected outcomes.
Songs of Ice on exhibit until March 30
Songs of Ice brings together the work of Michael Waterman and Jesse Stewart, two Ottawa-based interdisciplinary artists who have a shared passion for sonic exploration. In this exhibition, they explore the sonic properties of ice in both solid and melting forms while creating a two-way interaction between an outdoor geodesic dome and an indoor exhibition area at NAISA. Elements of the work will be developed through a two-day workshop with students from the South River Public School.
Re-Collect / Re-Told: Your Stories of New And Old until March 30
NAISA will once again present its ongoing collection of stories as told by children, parents and grandparents in the region in this interactive exhibit matched with historic photos of South River to tell the story of our community and our place in the Near North. Come add your voice to the mix. Added to this year's story collection at the end of February will be A Good Ways North by Peterborough podcaster and radio artist Ayesha Barmania, who will be the first artist-in-residence at NAISA to create a radio art work from the Re-Collect / Re-Told story collection. She will be giving an artist talk and presenting her work on Feb. 29 at 2 p.m.
The 2020 edition of the Deep Wireless Festival of Radio and Transmission Art is funded in part by the Canada Council for the Arts, the Ontario Arts Council and the Department of Canadian Heritage.
New Adventures in Sound Art is a non-profit organization originally located in Toronto but since 2017 is now based in South River at the NAISA North Media Arts Centre. NAISA produces performances and installations spanning the entire spectrum of electroacoustic and experimental sound art. Included in its productions are: Deep Wireless Festival of Radio and Transmission Art, Springscapes, Sound Travels Festival of Sound Art and the SOUNDplay Festival.
Darren Copeland is the artistic director for the New Adventures in Sound Art.