Blue Jackets' Korpisalo chooses great time for hottest run of career
TORONTO — It's starting to look like Joonas Korpisalo might be the only thing that can save us from 2020.
The stoic Finn has certainly had a significant hand in getting the Columbus Blue Jackets to where they are in these bubble-bound playoffs, tied 1-1 with the Tampa Bay Lightning and seemingly getting stronger with each test of mental fortitude.
This is the stuff that legends are made of.
Korpisalo, at age 26 and with more than 180 professional games on his resume, has timed the hottest run of his NHL career with the first six career starts he's ever made in the Stanley Cup Playoffs.
"It's just awesome to have him in net," teammate Oliver Bjorkstrand said after Thursday's 3-1 victory over the Lightning.
From the Stanley Cup Qualifiers to the Stanley Cup Final, livestream every game of the 2020 Stanley Cup Playoffs, blackout-free, on Sportsnet NOW.
As committed and stout as Columbus plays defensively, they've needed some help. Korpisalo turned aside 36 shots in Game 2 against Tampa, bringing his total to 154 in the last three outings alone.
And no, that's not a typo.
His recent body of work includes a shutout to eliminate the Toronto Maple Leafs — one of two he posted in that qualifying series — and a record-setting 85-save masterpiece during Tuesday's quintuple overtime loss to Tampa.
"You just try to go save by save. Not thinking too much and just grinding through it," Korpisalo said by way of explanation for how he kept his concentration into the eighth period.
Losing in that manner could easily break the spirit of some players and teams, especially when Tampa surged ahead on a Nikita Kucherov goal less than six minutes into Game 2. But Korpisalo didn't let another puck get past him, giving teammate Pierre-Luc Dubois time to find his legs and the chance to set up Ryan Murray and Bjorkstrand for big goals, before Alexander Wennberg iced it with a glorious individual effort in the third period.
Korpisalo has a .962 save percentage to show for these playoffs so far and it would be unreasonable to expect him to continue allowing fewer than two goals per game with this much work.
But sustainability is a concern for another day.
The Blue Jackets rank 22nd of 24 teams with an expected goals percentage of 40.51 at even strength during this return-to-play and yet they've managed to outscore opponents 13-7 in that game state.
No wonder the Leafs have already gone through end-of-season media availabilities and the Lightning are having to answer questions about why this series won't end up being a repeat of last year.
Korpisalo backed up Sergei Bobrovsky during the sweep of Tampa in April 2019 and got the nod from John Tortorella to start this post-season largely out of loyalty. The Blue Jackets coach wanted to reward the work he put in during four seasons as the backup and ended up going to Elvis Merzlikins for a game and a half in the Toronto series, only to see Merzlikins get injured.
Now he needs Korpisalo. The Blue Jackets have recently flown Veini Vehvilainen to Toronto in order to have him enter the NHL bubble, observe quarantine and give them a third goaltending option behind Matiss Kivlenieks
But they only have six games of NHL experience between them.
Fortunately, Korpisalo has been more than up to the task for a Jackets team that has already played 28 periods of hockey in its seven playoff games.
"We all know in the dressing room that he's one of the best goalies in the NHL and he's feeling really good right now," said Dubois. "Every time we make a little mistake he's there to stop the puck and give us confidence to try plays and that's all you can ask from a goalie.
"He's been, since Game 1, since he started, he's been amazing for us."
Do you need further proof?
With Thursday's performance, Korpisalo became the first goalie in NHL history with 121 saves through two games of a playoff series, surpassing Curtis Joseph's 118 for St. Louis against Toronto in 1993.
Source:- Sportsnet.ca
Stamkos out for remainder of playoffs – TSN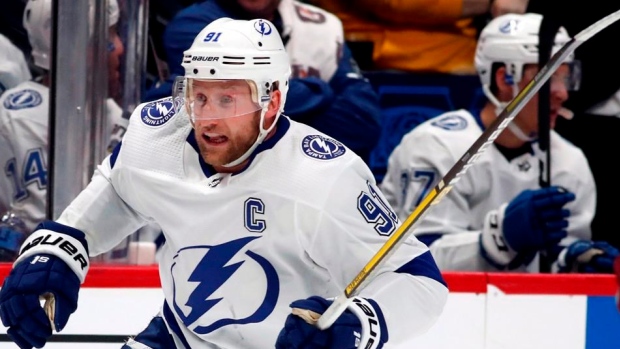 Tampa Bay Lightning head coach Jon Cooper said forward Steven Stamkos will not return in the Stanley Cup Playoffs. "Hopefully next time we see him on the ice is during the trophy presentation," Cooper said.
The 30-year-old returned to the Lightning lineup for the first time since February in Game 3 and scored a goal, but only had five shifts, playing just 2:47.
Stamkos skated off gingerly at the end of his final shift in the first period and was not on the bench for the start of the second. He returned to the bench and took a few twirls to test out the injury but did not return and was deemed "unfit to play" for Game 4.
Stamkos, who last played Feb. 25, had surgery in early March and aggravated the injury at least once over the summer.
Tampa Bay leads the series 3-2.
French Open begins as top players grumble over cold weather – CNN International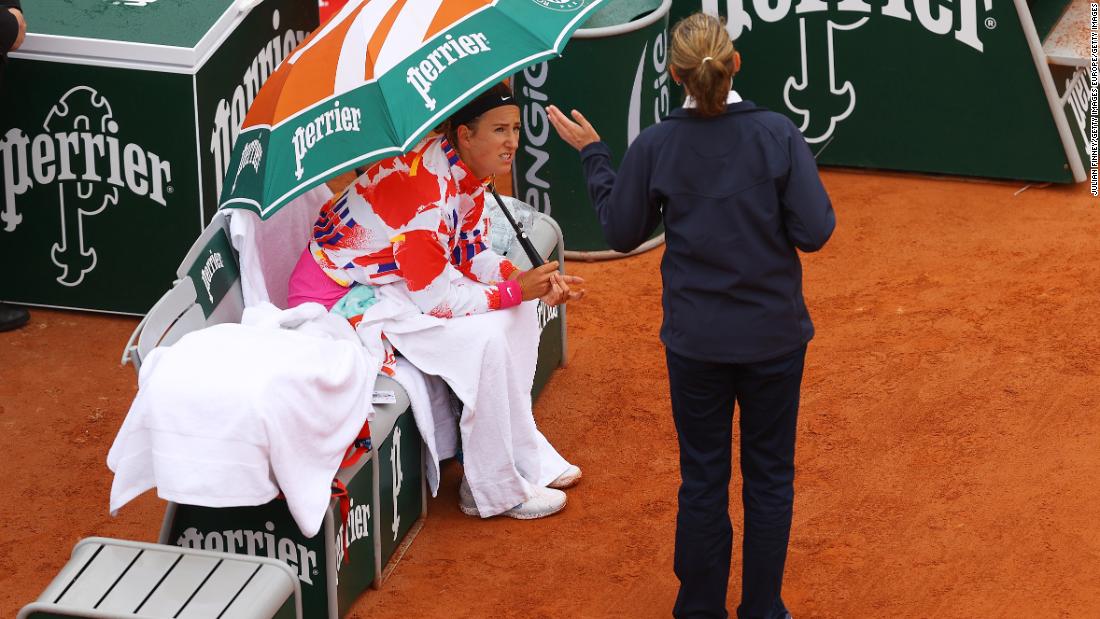 The tournament's 10th seed was 2-1 up against Montenegro's Danka Kovinic in the first round when she took matters into her own hands after light rain paused the match.
When she was asked to remain on court by a match official while a decision was taken about whether play should continue, the Belarusian tennis player said she would not carry on waiting outside.
"I'm not going to sit here because I'm going to get frozen," she told the supervisor.
After complaining that it was only 8 degrees Celsius (46.4 degrees Fahrenheit), the two-time grand slam winner said she lived in Florida and was "used to hot weather."
"It's ridiculous, it's too cold. What's the point? Sitting here like ducks," Azarenka added.
When the match resumed 50 minutes later, the Belarusian quickly took control of the game, beating her opponent 6-1 6-2 in just over an hour. Her victory was watched by just nine spectators,
according
to Reuters.
Speaking about the interruption, Azarenka said: "I think it's very tricky at the moment to have these conditions. So definitely not going to sit here and complain, but sometimes I think there are smarter ways to handle situations."
Over in the men's draw, Spain's Rafael Nadal, who is hoping to win his 13th French Open title, has also stressed that conditions are different this year, after the clay tournament was delayed from May to late September because of the coronavirus pandemic.
"The ball is super slow, heavy. It's very cold. Slow conditions," Nadal said.
The Spaniard also said that he has "always" been "beatable" on clay, commenting that Novak Djokovic has defeated him "a lot of times" on the surface.
Nadal's opening match against the Belarusian Egor Gerasimov is scheduled for Monday.
Tonight's lineup: Zeuch starts – Bluebird Banter
It looks like there has been a change in starting pitcher for tonight. I thought Matt Shoemaker was to start, but now the Blue Jays are saying T.J. Zeuch gets the start.
I hope there isn't a injury reason for the switch. Charlie Montoyo is to talk to the media soon so we'll hear why the change was made.
Bo Bichette and Randal Grichuk both sit today. Joe Panik plays short and Jonathan Davis is in center.
Update:
No injury to Shoemaker:
All's well with Matt Shoemaker, per Blue Jays manager Charlie Montoyo. Club held him out of today's start to preserve rotation options for wild card series. He threw a side session instead.

Blue Jays now have Hyun-jin Ryu, Taijuan Walker & Shoemaker all available to pitch Game 1

— Arden Zwelling (@ArdenZwelling) September 26, 2020