Blue Jays officially sign Shun Yamaguchi to two-year deal – Sportsnet.ca
The Toronto Blue Jays officially signed right-handed pitcher Shun Yamaguchi to a two-year deal worth $6.350 million, the team announced Saturday.
Yamaguchi, 32, has spent 14 years playing professionally in Japan. Last season was one of his best years, in which he posted a 16-4 record, 2.78 ERA and 9.6 strikeouts per nine in 181 innings.
He was available to the Blue Jays (and other MLB clubs) this off-season after being posted by his Japanese team, the Yomiuri Giants. Under the posting system, the Giants are entitled to 20 per cent of Yamaguchi's first $25 million in earnings from the signing club, as Sportsnet's Shi Davidi recently noted.
Yamaguchi has several years of experience as both a starter and a reliever. If he does become a starter for the Blue Jays, he'd join fellow off-season acquisitions Hyun-Jin Ryu, Tanner Roark, and Chase Anderson in Toronto's new-look rotation.
Hamilton wins Portuguese GP to break Schumacher's F1 record – TSN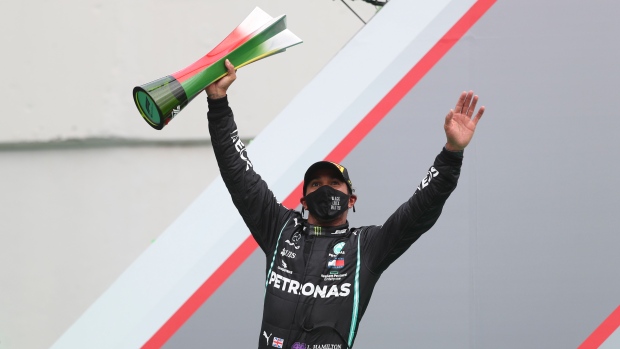 PORTIMAO, Portugal — British driver Lewis Hamilton made Formula One history on Sunday, winning the Portuguese Grand Prix for a 92nd career victory to move one ahead of German great Michael Schumacher.
Hamilton finished nearly 25.6 seconds ahead of Mercedes teammate Valtteri Bottas and 34.5 clear of Red Bull's Max Verstappen for his eighth win of another dominant season. He also took an extra point for the fastest lap to extend his huge championship lead to 77 points over Bottas with just five races left.
Hamilton won his first F1 race in 2007 and first title the following year. But his career really took off when he replaced the retired Schumacher at Mercedes in 2013. Hamilton added five more F1 titles and the runaway championship leader is now set to equal Schumacher's record of seven.
"I could only ever have dreamed of being where I am today," an emotional Hamilton said. "It's going to take some time to fully sink in. I can't find the words at the moment."
Shortly after crossing the line and celebrating with the team's mechanics and engineers, Hamilton paused to share a long hug with his father, Anthony Hamilton, who then filmed the scene on his i-pad as Hamilton celebrated on the podium while the crowd cheered him loudly.
Then it was time for the traditional Champagne spraying, although Verstappen and Bottas had the last word this time, as Verstappen poured the bottle over Hamilton's head and Bottas sprayed him good-naturedly in the face with his.
Hamilton took a record-extending 97th career pole position, starting ahead of Bottas and Verstappen on a track being used for the first time in F1.
McLaren's Carlos Sainz Jr. briefly held the race lead and then Bottas led until Hamilton passed him on Lap 20.
After that Hamilton coasted to the finish line and into the record books.
The only thing that did trouble him was a bout of cramp in his right calf muscle, but that did little to deter him.
Plenty of mask-wearing fans sat in the stands around the undulating 4.6-kilometre (3-mile) circuit in Portimao. The track has frequent elevation changes and notably caused drivers problems with grip —among them Charles Leclerc but the Ferrari driver did well to finish fourth in an uncompetitive car. AlphaTauri's Pierre Gasly made a great late overtake on Racing Point's Sergio Perez to take fifth place.
Hamilton made a hesitant start while Bottas was overtaken by Verstappen only to gain the position back and then overtake a surprisingly cautious Hamilton as rain started falling.
"I had a huge oversteer," Hamilton said. "I backed off massively."
But Sainz Jr. zoomed up from seventh to first on the quicker soft tires, until Bottas passed him on Lap 6, Hamilton did so on Lap 7 and Verstappen on the next.
Perez had a lucky escape at the start when he made contact with Verstappen and flew sideways off the track, without getting hit by another car. Kimi Raikkonen went from 16th to sixth with some typically daring moves but the 41-year-old Finn started to drift back while, up ahead, Bottas led until Hamilton overtook him.
Racing Point's Lance Stroll, from Montreal, made a reckless move on the left of Lando Norris and went off track after clipping the McLaren on Lap 19. Stroll was given a 5-second time penalty.
Toronto's Nicholas Latifi was 18th in his Williams Mercedes.
Hamilton's speed advantage was such that he was soon well clear of Bottas, whose rear right tire was graining. He perhaps gambled on Hamilton losing tire grip himself, but the gap was 10 seconds when Hamilton pitted for new tires on Lap 41.
Bottas came in on the following lap and when he came out he was caught in traffic and struggling for rhythm.
The day belonged to Hamilton, and it appears inevitable that title No. 7 will follow suit.
After which, the only thing left will be 100 victories on his way to setting another record for titles.
His first win came in Canada, 13 years ago, when driving for McLaren, and the team sportingly sent Hamilton a Tweet featuring a bottle of Champagne and the words "You never forget your first."
Khabib Nurmagomedov ends career with perfect record, perfect timing – MMA Fighting
The timing of Khabib Nurmagomedov's retirement may have been surprising, but given how he's dictated his entire career, it shouldn't have been.
Forget going 30-0. Forget potential legacy fights, grudge matches. Forget the money. Nurmagomedov picked the perfect time to walk away.
His hand raised, victorious in a place that idolizes him, a dangerous opponent vanquished, Nurmagomedov took even stronger hold of a moment that he had already seized and ended things on his terms.
"It was my last fight," Nurmagomedov stated, shortly after submitting Justin Gaethje in the main event of UFC 254.
He went on to explain how difficult it was to go forward with Saturday's fight in the wake of the passing of his father Abdulmanap, a monumental figure not just in Nurmagomedov's life but for the entire Republic of Dagestan. He promised his mother that the next one would be his last and he intends to keep that promise. He also took a swipe at past opponents Dustin Poirier and Conor McGregor, reminding everyone that they'd fallen before him just as all the others did.
Those are a couple of reasons to believe that this retirement will stick. Another is that Nurmagomedov has always been clear with his intentions, and even with everyone knowing what his plan—Father's Plan—was both inside and outside the cage, not a single soul could stand in its way.
Certainly, there are unanswered questions. That's how these things go. But he's done just about everything in his power to guarantee that he's included in any serious conversation regarding who is the greatest fighter of all-time. Realistically, that's all anyone can ask for given how comparing different eras is an imprecise science.
Even if you're not wowed by the 29-0 record (an odd thing not to be wowed by), the quality of his victories stands out. He dominated the very best competition in MMA, including Gaethje, Poirier, McGregor, and Rafael dos Anjos, all of whom held UFC gold themselves at one point in their careers. And when we talk about Nurmagomedov's domination, we have to look beyond the scorecards. He made the best of the best look average compared to him.
Saturday's win showed there was still plenty of room for growth for Nurmagomedov, who turned 32 this past September. Rather than immediately go to his wrestling, Nurmagomedov charged at the hard-hitting Gaethje and pressured him non-stop in the standup. In the standup, with Gaethje of all people. So much for the narrative that Nurmagomedov isn't much of a striker.
He got it done with his grappling in the end, turning Gaethje into a white belt volunteering for a jiu-jitsu demonstration, and if this was the only Nurmagomedov fight you'd learn quickly how he earned his fierce reputation. It was as fine an exclamation point as any for one to close their career on and even if this isn't truly the end, Nurmagomedov picked a hell of a good time to take a break.
What fresh fights are left that fans are just dying to see? Would-be UFC 254 replacement Michael Chandler? Charles Oliveira? Dan Hooker? Kevin Lee? All respectable names, all of whom would have far more to gain from a fight with Nurmagomedov than Nurmagomedov himself. Even those with a fondness for old-fashioned resume building have to admit that any future fights would be more for fan-fulfillment than Nurmagomedov's self-fulfillment.
The two biggest missed opportunities are his cursed series of scheduled bouts with Tony Ferguson and a bout with retired legend Georges St-Pierre that both men expressed having a strong interest in. You can blame the mischievous MMA Gods for the first one not coming to fruition, and the tight purse strings of the UFC for the second. Either way, one can make a strong argument that Nurmagomedov has surpassed Ferguson at this point, and a win over a 40-year-old "GSP," no matter what weight class it took place at, would be more of a luxury item than an essential piece of the Nurmagomedov collection.
Looking back, all the talk of what UFC President Dana White's super secret special plans were for Nurmagomedov seems silly, given that it was always Nurmagomedov and his team who were going to decide his future. At Saturday's post-fight presser, White seemed resigned to that fact that this might truly be the last time we see Nurmagomedov compete inside the octagon. For better (Nurmagomedov refusing to fight McGregor a second time regardless of the potential payday) or worse (Nurmagomedov going nuts at UFC 229 after fighting McGregor the first time), Nurmagomedov calls the shots when it comes to when and why he fights.
I'm not ruling out a comeback. This is an extraordinarily emotional and difficult time for billions of people all over the world, including Nurmagomedov. Much like St-Pierre, Nurmagomedov has been singularly focused for so long on one goal—a goal with constantly shifting parameters, mind you—that if he can bring things to a halt for just a moment, he should. There's no way for any of us to know what Nurmagomedov's exact mental state was in the lead-up to his final fight. There's no way for us to know where his head will be at tomorrow. And two years from now? Who's to say that someone else doesn't rise up through the ranks to challenge his GOAT status, prompting him to dust off his papakha for one last ride.
Is he the best ever? Does it matter? He wins any hypothetical matchup at 155 pounds, and that includes prime versions of B.J. Penn, Frankie Edgar, Benson Henderson, Eddie Alvarez, Shinya Aoki, and whatever other lightweight great you want to throw in the mix. You can take just about any fight from his career and use that as a snapshot for what a relentless winner he was. The most controversial fight of his career, a striking battle with Gleison Tibau at UFC 148, ended with Nurmagomedov earning 30-27 scores from all three judges. Even at his "worst," Nurmagomedov won big.
UFC 254 was Nurmagomedov at the peak of his powers. If he was to lay his gloves down, he made sure it was after reminding everyone what it looked like when he got his hands on his opponents. Question what more he could have done if you want, question if this retirement will stick, but one thing you can't question is the man's timing. After another flawless performance, nobody can argue that "The Eagle" hasn't picked the highest possible point from which to soar off into the sunset.
Hubbard runs for 139 yards as No. 6 Oklahoma St. beats Iowa St – TSN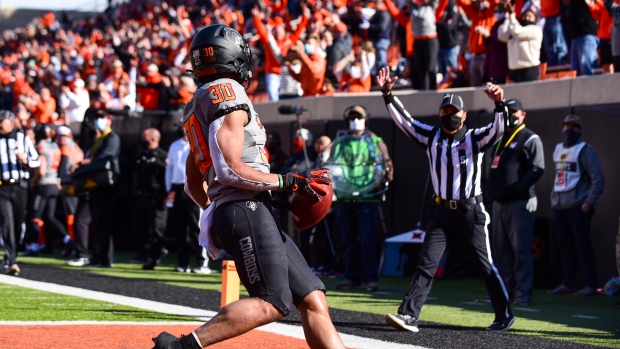 STILLWATER, Okla. — Spencer Sanders passed for 235 yards and ran for 71 and a touchdown in his return from injury, and No. 6 Oklahoma State defeated No. 17 Iowa State 24-21 on Saturday.
Sanders had been out since injuring his right ankle in the season-opener against Tulsa.
Chuba Hubbard ran for 139 yards and a touchdown for Oklahoma State (4-0, 3-0 Big 12). With the win, the Cowboys joined Kansas State as the only remaining undefeated teams in conference play.
The Cyclones (3-2, 3-1) vaulted onto the national radar by beating Oklahoma earlier in the month and were seeking their first ever 4-0 start in league play. Iowa State's Breece Hall, who was second nationally in yards rushing per game, ran for a career-high 185 yards.
With Oklahoma State leading 14-7 late in the second quarter, Iowa State drove deep into Oklahoma State territory but had to settle for a field goal attempt. Connor Assalley's 33-yard kick bounced off the right upright with 1:22 left in the first half. It was his second missed field goal of the first half, and Oklahoma State took its seven-point lead into the break.
Hall broke away for a 66-yard touchdown run in the third quarter, and the Cyclones tied the game at 14.
Sanders' 14-yard touchdown run on the next possession gave the Cowboys the lead again, and Alex Hale's 31-yard field goal pushed the lead to 24-14.
Brock Purdy threw a 20-yard touchdown pass to Xavier Hutchinson with 49 seconds remaining to trim Oklahoma State's lead to 24-21. Oklahoma State recovered Iowa State's onside kick, and the Cowboys ran out the clock.
THE TAKEAWAY
Iowa State: The Cyclones entered the game wanting to go beyond the team that pulls an occasional upset and become a league leader that others chase. The passing game struggled, and outside of two long runs by Hall, so did the running game.
Oklahoma State: The Cowboys learned that they can lean on their defence against a quality Big 12 opponent. Purdy passed for just 162 yards. The Cowboys were ranked second nationally in scoring defence and No. 6 in total defence.
UP NEXT
Iowa State visits Kansas on Saturday.
Oklahoma State hosts Texas on Saturday