Boeing's failed Starliner mission strains 'reliability' pitch – Reuters Canada
SEATTLE/CAPE CANAVERAL (Reuters) – Boeing Co's (BA.N) stunted Friday debut of its astronaut capsule threatens to dent the U.S. aerospace incumbent's self-declared competitive advantage of mission reliability against the price and innovation strengths of "new space" players like Elon Musk's SpaceX.
The Boeing CST-100 Starliner spacecraft, atop a ULA Atlas V rocket, lifts off for an uncrewed Orbital Flight Test to the International Space Station from launch complex 40 at the Cape Canaveral Air Force Station in Cape Canaveral, Florida December 20, 2019. REUTERS/Thom Baur
Boeing, the world's largest aerospace company, has anchored its attempt to repel space visionaries like Musk and Amazon.com (AMZN.O) founder Jeff Bezos partly on its mission safety record built up over decades of space travel.
While SpaceX and Bezos' Blue Origin are racing to send their own crewed missions to space for the first time, Boeing or Boeing heritage companies have built every American spacecraft that has transported astronauts into space. And the single-use rockets it builds in partnership with Lockheed Martin Corp (LMT.N) have a virtually unblemished record of mission success.
"We are starting from a position of mission reliability and safety," Boeing Chief Executive Dennis Muilenburg told Reuters earlier this year when asked about SpaceX and other insurgents aiming to disrupt Boeing on everything from astronaut capsules to rockets to satellites.
"There is a difference between putting cargo in space and putting humans in space, and that's a big step. Our very deliberate, safety-based approach for things like CST-100, that will be a differentiator in the long run," Muilenburg said.
The actual technical glitch that stunted Friday's CST-100 Starliner mission to the International Space Station was a timer error though Boeing said it was too early to determine the exact cause of the fault.
Boeing was already working to surmount other technical and safety-related challenges on the multibillion-dollar NASA human spaceflight program. A government watchdog report in November found Boeing demanded "unnecessary" new contract funds from NASA.
Friday's glitch adds to a year of intense scrutiny over how Boeing developed its money-spinning 737 MAX jetliner following twin crashes that killed 346 people in five months.
While there is no link between the 737 MAX crashes and the Starliner setback, one rocket industry executive told Reuters that in both cases problems arose as Boeing was racing to catch up with fast-moving rivals.
Boeing had no immediate comment.
"From a public relations standpoint, this error makes them not look so good because of all the 737 MAX issues," said Teal Group space analyst Marco Caceres. "If you look at this in isolation, I don't think of it as a massive problem for Boeing. There are only two companies picked for this program – that is an enviable place for Boeing to be, as long as nothing tragic happens."
SpaceX successfully launched its own rival Crew Dragon astronaut capsule on a roundtrip journey to the ISS earlier this year, though it faces its own technical problems.
It is challenging Boeing's space business more broadly by slashing the cost of accessing space with pioneering reusable rocket technology.
Bezos' Blue Origin is also developing rockets and capsules for human and cargo space flights.
SpaceX is working toward a manned mission in first-quarter 2020. It declined to comment on Boeing's setback.
There is no overlap between Boeing and SpaceX's separate rocket-and-capsule systems.
But Boeing's woes raise the stakes for SpaceX to perform successfully on upcoming tests as Boeing works to pinpoint the root cause, which may trigger months of delays and new costs if NASA requires design tweaks and a redo of Friday's mission.
Slideshow

(5 Images)
"SpaceX continues to move forward even if Boeing has a setback, NASA chief Jim Bridenstine told reporters on Friday. "And, back in April, SpaceX had a setback and Boeing was continuing to move forward."
Bridenstine added that NASA has a number of options on the table to make sure the impact of Boeing's test failure does not cut off access to the space station.
"There are other companies that want to be a part of commercial crew," Bridenstine added, citing Lockheed's Orion capsule for eventual lunar missions.
Reporting by Eric M. Johnson in Seattle and Joey Roulette in Cape Canaveral, Florida; Additional reporting by Mike Stone in Washington; Editing by Greg Mitchell, Tim Hepher and Alistair Bell
Elephants counted from space for conservation – BBC News


.css-94m6rd-HeadingWrapperborder-bottom:solid 1px #BABABA;padding-bottom:1.5rem;.css-94m6rd-HeadingWrapper > *:not([hidden]):not(style) ~ *:not([hidden]):not(style)margin-top:1rem;.css-vk3nhx-ComponentWrappermargin:1.5rem 0;
.css-2y05cd-StyledFigurefont-family:ReithSans,Helvetica,Arial,freesans,sans-serif;font-weight:400;font-size:0.875rem;line-height:1.125rem;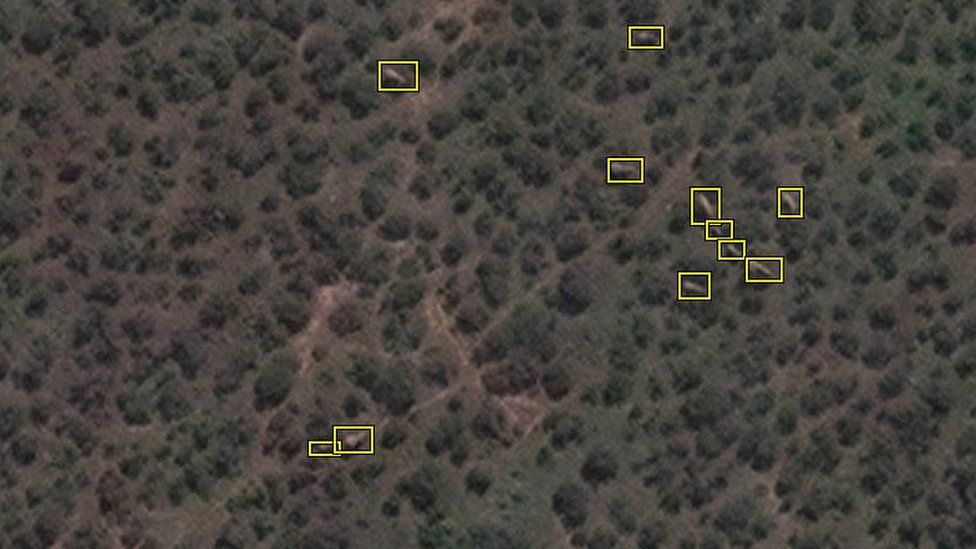 .css-uf6wea-RichTextComponentWrappermargin:1rem 0;max-width:36.25rem;
.css-83cqas-RichTextContainercolor:#3F3F42;.css-83cqas-RichTextContainer > *:not([hidden]):not(style) ~ *:not([hidden]):not(style)margin-top:1rem;
.css-14iz86j-BoldTextfont-weight:bold;At first, the satellite images appear to be of grey blobs in a forest of green splotches – but, on closer inspection, those blobs are revealed as elephants wandering through the trees.
And scientists are using these images .css-1xgj2ad-InlineLink:linkcolor:#3F3F42;.css-1xgj2ad-InlineLink:visitedcolor:#696969;.css-1xgj2ad-InlineLink:link,.css-1xgj2ad-InlineLink:visitedfont-weight:700;border-bottom:1px solid #BABABA;-webkit-text-decoration:none;text-decoration:none;.css-1xgj2ad-InlineLink:link:hover,.css-1xgj2ad-InlineLink:visited:hover,.css-1xgj2ad-InlineLink:link:focus,.css-1xgj2ad-InlineLink:visited:focusborder-bottom-color:currentcolor;border-bottom-width:2px;color:#B80000;@supports (text-underline-offset:0.25em).css-1xgj2ad-InlineLink:link,.css-1xgj2ad-InlineLink:visitedborder-bottom:none;-webkit-text-decoration:underline #BABABA;text-decoration:underline #BABABA;-webkit-text-decoration-thickness:1px;text-decoration-thickness:1px;-webkit-text-decoration-skip-ink:none;text-decoration-skip-ink:none;text-underline-offset:0.25em;.css-1xgj2ad-InlineLink:link:hover,.css-1xgj2ad-InlineLink:visited:hover,.css-1xgj2ad-InlineLink:link:focus,.css-1xgj2ad-InlineLink:visited:focus-webkit-text-decoration-color:currentcolor;text-decoration-color:currentcolor;-webkit-text-decoration-thickness:2px;text-decoration-thickness:2px;color:#B80000;to count African elephants from space.
The pictures come from an Earth-observation satellite orbiting 600km (372 miles) above the planet's surface.
The breakthrough could allow up to 5,000 sq km of elephant habitat to be surveyed on a single cloud-free day.
.css-1pzprxn-BulletListContainermargin-left:1.5rem;.css-1pzprxn-BulletListContainer *:not([hidden]):not(style) ~ *:not([hidden]):not(style)margin-top:1rem;.css-1pzprxn-BulletListContainer ullist-style-type:disc;.css-1pzprxn-BulletListContainer ollist-style-type:decimal;
.css-18mjolk-ComponentWrappermargin:1.5rem 0;max-width:50rem;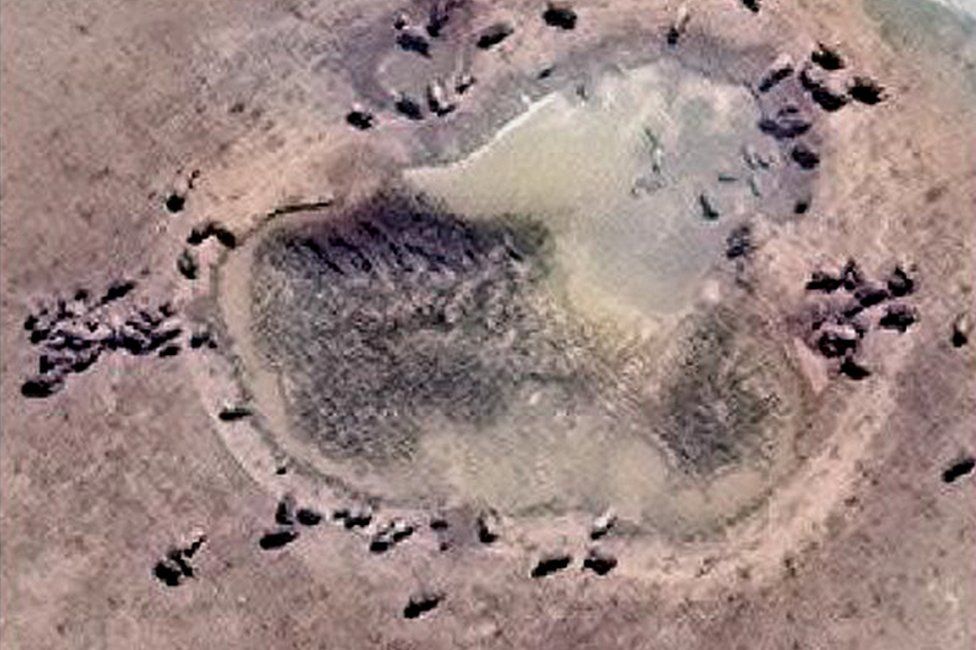 "We just present examples to the algorithm and tell it, 'This is an elephant, this is not an elephant,'"Dr Olga Isupova, from the University of Bath, said.
"By doing this, we can train the machine to recognise small details that we wouldn't be able to pick up with the naked eye."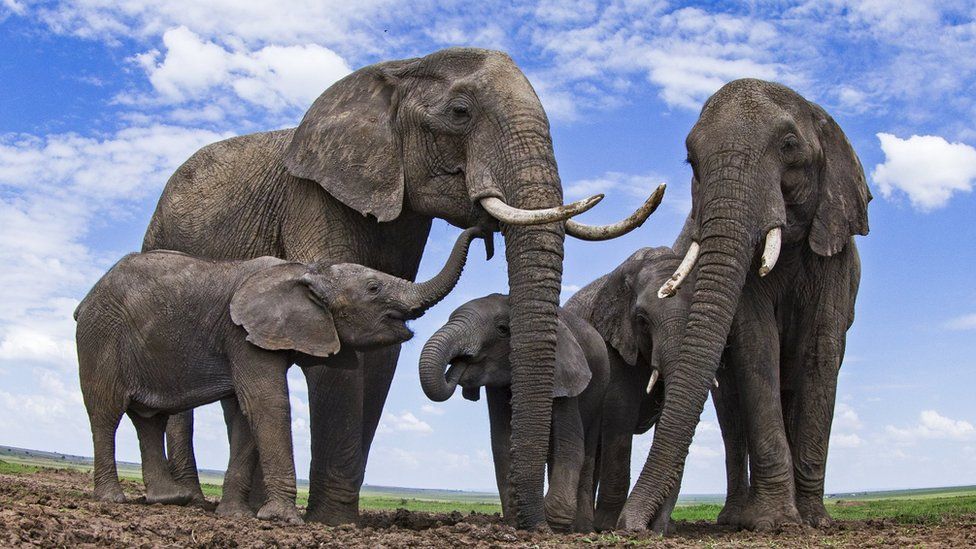 The scientists looked first at South Africa's Addo Elephant National Park.
"It has a high density of elephants," University of Oxford conservation scientist Dr Isla Duporge said.
"And it has areas of thickets and of open savannah.
"So it's a great place to test our approach.
"While this is a proof of concept, it's ready to go.
"And conservation organisations are already interested in using this to replace surveys using aircraft."
Conservationists will have to pay for access to commercial satellites and the images they capture.
But this approach could vastly improve the monitoring of threatened elephant populations in habitats that span international borders, where it can be difficult to obtain permission for aircraft surveys.
.css-mysbf6-ComponentWrapper-CrossheadComponentWrappermargin:1.5rem 0;max-width:50rem;padding-top:1rem;max-width:36.25rem;
.css-qozapo-StyledHeadingfont-family:ReithSerif,Helvetica,Arial,freesans,sans-serif;font-weight:500;font-size:1.5rem;line-height:1.75rem;color:#3F3F42;@media (min-width:37.5rem).css-qozapo-StyledHeadingfont-size:2rem;line-height:2.25rem;.css-qozapo-StyledHeading:focusoutline-style:none;.css-qozapo-StyledHeading:focus-visibleoutline-style:auto;
'Cutting-edge techniques'
The scientists say it could also be used in anti-poaching work.
"And of course, [because you can capture these images from space,] you don't need anyone on the ground, which is particularly helpful during these times of coronavirus," Dr Duporge said.
"In zoology, technology can move quite slowly.
"So being able to use the cutting-edge techniques for animal conservation is just really nice."
.css-kqym7f-SectionWrappermargin:1.5rem 0;padding-top:1.5rem;font-size:0.875rem;line-height:1.125rem;
Canadians Can Now Sign Up for Starlink Internet Beta Without an Invite, If Eligible – iPhone in Canada
SpaceX has made changes to its Starlink internet beta website, to now allow sign-ups without an invite, if your address is eligible for service, reports Tesla North.
Previously, Starlink website sign-ups for the beta program would be contacted via email to let them know about eligibility. But as of Wednesday, users in Canada and the United States can enter their address on the Starlink website—and if eligible, sign up right away.
All you have to do is visit the Starlink website here, enter your email and your home address. You'll be able to confirm your exact location with a pin on a map.
After that's done, you'll then be notified instantly if you can sign up for the internet beta program. If you are eligible, you'll be able to place an order right away for the Starlink hardware package, which contains a dish and router.
Tesla North reports Canadians in Ontario, Manitoba and Alberta were able to sign up today or received emails to join the Starlink beta. Eligible latitudes seen so far have been in the range of 43.1 to 45.3, and 50.01 to 50.71.
As for Starlink internet pricing in Canada? The dish is priced at $649 CAD, while the service is at $129 CAD per month. Starlink is targeting those in rural areas, lacking high-speed access.
Starlink internet beta invites hit Canada back in September. The low-Earth orbit satellite internet offers lower latency and faster download speeds compared to traditional satellite internet. This is because Starlink internet satellite constellations are hovering 550 km above Earth, whereas conventional satellite internet is at roughly 35,700 km above the globe, resulting in slow speeds with high latency.
[embedded content]
On Thursday morning, SpaceX's Falcon 9 rocket launched 60 more satellites into orbit, resulting in over 1,000 Starlink satellites in space. SpaceX has plans to launch 12,000 satellites and at its current pace, has a leg up on competitors.
The first location in Canada to use Starlink internet was the Pikangikum First Nation.
In Canada, the federal government recently inked a $600 million deal with Ottawa-based Telesat for its low-Earth orbit satellite internet. So far? There's only one Telesat satellite in space, but plans are to send more into orbit in 2021 aboard Amazon-backed Blue Origin rockets. Telesat satellites at 800 kg each, weigh more than three times that of a Starlink satellite, at just 227 kg.
Moreover, Telesat will sell its satellite internet services to internet providers, who will then sell directly to consumers. This is different than Starlink's direct-to-consumer business model, mirroring Tesla. Time will tell if $600 million of your tax dollars will see Telesat compete with SpaceX's Starlink internet.
For rural Canadians, Starlink internet will allow for high-speed internet connectivity that's unheard of, allowing for video conferencing and also streaming 4K video and playing video games. Beta testers have seen download speeds of 150 Mbps or higher.
Were you able to sign up for Starlink internet beta via the website?
Paleontologists finally have their first good look at a dinosaur's butt – CNET
Paleontologists spend their entire academic careers studying the anatomy of dinosaurs. Now a team of scientists from the University of Bristol has finally described in detail a dinosaur's cloacal or vent, which is used for everything from defecation and urination to attracting a mate to breed with (or, less scientifically, a jack-of-all-trades butthole).
In a new study, published in the journal Current Biology on Tuesday, Scientists revealed a range of theories about the cloacal vent on a dog-sized dinosaur called Psittacosaurus, a relative of Triceratops from the early Cretaceous era, which lived about 120 million years ago.
"I noticed the cloaca several years ago after we had reconstructed the color patterns of this dinosaur using a remarkable fossil on display at the Senckenberg Museum in Germany which clearly preserves its skin and color patterns," Dr. Jakob Vinther from the University of Bristol's School of Earth Sciences said in a statement on Tuesday.
"It took a long while before we got around to finish it off because no one has ever cared about comparing the exterior of cloacal openings of living animals, so it was largely unchartered territory," Vinther added.
The researchers reveal the dinosaur's cloaca has similar features as cloacas on alligators and crocodiles. The dino's outer cloaca areas were also likely highly pigmented. This pigmentation may have been used to attract a mate, much like baboons use theirs.
"We found the vent does look different in many different groups of tetrapods, but in most cases, it doesn't tell you much about an animal's sex." Dr. Diane Kelly from the University of Massachusetts Amherst said. "Those distinguishing features are tucked inside the cloaca, and unfortunately, they're not preserved in this fossil."
It's not just the appearance of the dino's vent that got the attention of mates, but also its smell. The large, pigmented lobes on either side of the cloacas could have also included musky scent glands to get the attention of a mate.
"Knowing that at least some dinosaurs were signaling to each other gives palaeo-artists exciting freedom to speculate on a whole variety of now plausible interactions during dinosaur courtship," palaeo-artist and study artist Robert Nicholls said in a statement.
"It is a game-changer!"