Bonds are sending a stark message about the economy – CNN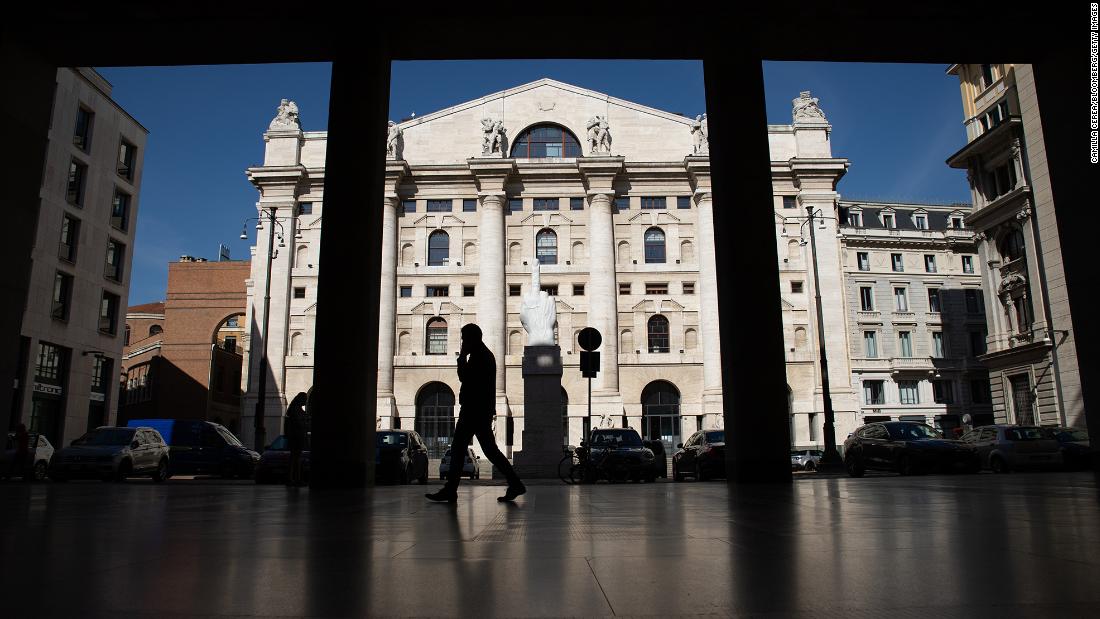 What's happening: The yield on benchmark 10-year US Treasuries — which moves opposite prices — jumped to 3.36% on Monday, its highest level since 2011.
But the yield on the 2-year Treasury climbed even higher as investors dumped those notes, too. That created an unusual phenomenon known as a "yield curve inversion."
Breaking it down: Usually, the yield on longer-dated bonds is higher than that on shorter-dated bonds. It's harder to predict what will happen further into the future, and investors want to be compensated for that extra risk.
Rate Shock Slows Global Economy – S&P Global Rankings – Net Newsledger
NEW YORK – BUSINESS – "Things have changed, and not for the better," says S&P Global Chief Economist Paul Gruenwald. "The main twist has been the about-face in the inflation narrative. With the wisdom of hindsight, we now see that central banks waited too long to raise rates, putting too much weight on supply-side explanations, or putting too much weight on labor market outcomes, or both."
S & P Global Rankings report, "We have cut our 2022 growth forecasts for most large economies, outlined in a report we published today, "Global Economic Outlook Q3 2022: Rates Shock Puts The Economy On A Slower Path."
"China has had the biggest downward revision. The country's economy will likely expand 3.3% this year, a 0.9 percentage point drop from our growth assumption in May. We attribute this low growth to the effects of COVID-lockdowns.
"Economic momentum should protect the U.S. economy from recession in 2022. But the weight of extremely high prices is damaging purchasing power and, as aggressive Federal Reserve policy increases borrowing costs, it's hard to see the economy walking out of 2023 unscathed.
"We have lowered our GDP growth forecasts modestly for the eurozone economy, largely on heightened inflation expectations".
This report does not constitute a rating action.
Trump's Billionaire Neighbor Warns US Economy Is In An "Omnibubble" – Forbes
Jeff Greene, who made his first fortune shorting subprime mortgages during the Great Recession, sees trouble ahead for real estate and no relief for crypto or tech stocks.
---
During the last major recession from 2007 to 2009, a little-known entrepreneur named Jeff Greene made billions of dollars by buying credit default swaps on subprime mortgage-backed bonds as the housing bubble collapsed.
Now Greene, a Palm Beach-based real estate mogul with an estimated $5.1 billion fortune, thinks the economy is going through another bubble in assets ranging from crypto and SPACs to overvalued tech stocks and real estate. "We've been in an omnibubble, there's no question about it," Greene, 67, told Forbes in a phone call from his Hamptons estate, something he's been saying for months now. "If you spend trillions and trillions of dollars in every advanced economy in the world and have coordinated fiscal and monetary stimulus, obviously you're going to create bubbles and inflation."
Asked when he thinks a recession will hit, Greene guessed it might come in the first or second quarter of 2023. "Next spring [we'll] definitely be in a much slower economy," he said. "If this recession really happens, you'll have all kinds of people stopping their construction projects and laying people off and [you'll] start to see unemployment creep up quickly."
More than a decade ago, Greene made a fortune from the wreckage of the housing market and reinvested some of his profits into apartments and condominiums, eventually building a residential real estate empire concentrated in south Florida and Los Angeles. But despite skyrocketing prices for real estate across the country, Greene thinks the boom will soon turn to bust. "The real estate market is in a bubble," he said. "We're way overbuilt and you're going to see a lot of people have problems with their real estate developments," he posited, referring to residential real estate.
He also sees a parallel between the subprime mortgage crisis of 2007 and the booming stock market and crypto wave of 2021. "It's like when I was doing the subprime short [betting that the value of subprime mortgages would fall] and I remember saying, 'Who's on the other side of this trade?' These mortgage-backed securities had almost no possibility of being paid back," he said.
"It's the same thing with people saying, 'Well I have to buy equities because I don't want to make one percent [return with low interest rates] so I'm going to put my money in something that's highly inflated," Greene said. "And they bought crypto, SPAC shares, houses to flip, equities and private equity investments at unprecedented multiples of revenue with no prospect of earnings whatsoever."
While he still invests in a range of stocks and private equity, he told Forbes he's now more risk averse than he was a decade ago, with little debt on his real estate projects in Florida and New York, where he recently finished construction on a 30-story residential building in lower Manhattan. He's also turned down several offers to sell his buildings for cash or invest in highly-valued private companies in early funding rounds. (He won't say which particular companies have approached him.)
Unlike his successful bets against the housing market in the Great Recession, Greene isn't shorting anything this time around. Asked what he would do if he was more open to taking risks, he outlined a potential strategy. "If I were more aggressive, because I saw this [bubble] happening, I would have sold more at the top. I would have built a war chest and been sitting here waiting for opportunities [to buy at lower values]," Greene said. "The kinds of deals that people were bringing to me to invest in some of these tech companies, I was getting calls [saying] 'I can get you into this special round at a billion dollars, the company is doing $40 million in sales.'"
He found those offers to be overpriced: Greene thinks many of those tech companies are bound to run into difficulties as the stock market continues to drop and the economy enters a recession next year. "[I'm] thinking, 'Who's doing this?'" he said, referring to investing in startups at sky-high valuations.
"I have friends who are very smart people that were doing this and everybody thought they were going to be the next Zoom. A lot of these companies lose money and now they're cutting expenses and trying to make it through this period," he said. "You can be sure that there are companies that are going to be up against the wall. You'll be able to get into some of these—what I call 'science projects' [because] they're just sort of ideas that are unlikely to become huge—at very favorable terms. And people will make a lot of money, one of them will be the next Google or Amazon. In those spaces, there'll be opportunities."
Still there is no doubt that Greene is a beneficiary of the bubble. Greene, who's lived in Palm Beach since 2009, pointed out the increasing exodus of billionaires and wealthy investors leaving northern states to relocate to south Florida, where property prices have soared since 2020. And it's not just billionaires who are moving to the Sunshine State: rents in Miami rose nearly 26% on a year-on-year basis in the second quarter of 2022—higher than all major U.S. metro areas—and demand for apartments is near record levels, according to Marcus & Millichap.
"There's just extraordinary migration to our area, which has put tremendous pressure on [real estate] values," said Greene, who cited the recent announcement that billionaire Ken Griffin plans to move his hedge fund Citadel from Chicago to Miami as providing yet another boost to the local economy.
The influx of the superrich to Palm Beach has also increased enrollment at the Greene School, a nonprofit pre-K-through-high school in Palm Beach that Greene founded with his wife, Mei Sze, in 2016. There are now 150 students enrolled at the school, up from 123 in the 2019-2020 school year.
"The kinds of families who are moving into our town and putting their kids in our school, it's like the all-star team," he said, citing a pre-K class with parents including several Ivy League-educated hedge fund founders. "These are people that will create all kinds of jobs and businesses that are going to juice the Palm Beach county economy. I'm very bullish long-term on the economic growth and the value of my holdings there."
Greene estimates that he owns "virtually all of the remaining high-rise development sites on the water" in Palm Beach, much of which he acquired after the housing market crash in 2009 when land values were cheap. But even if the property market in south Florida is still booming, Greene sees dark clouds ahead if, as he expects, the economy tips into a recession in early 2023—particularly for real estate investors who are highly leveraged.
Even among fellow billionaires, Greene has seen the impact of recession fears on their high-spending lifestyles. "I was at Hotel du Cap with a bunch of superrich people [two weeks ago], one of the most expensive hotels in the world in Antibes, France, and everybody's saying 'Oh my god, I've lost 30% of my net worth.' But they'd already booked the hotel," he said. "Those days are going to be over this winter. You're going to start seeing people spending less money and the recession will kick in."
MORE FROM FORBES
Canada's economy grew in April, but May contraction expected – CBC News
Statistics Canada says real gross domestic product grew 0.3 per cent in April.
The agency says the growth was led by the mining, quarrying and oil and gas extraction sector and client-facing industries.
However, its early estimate for May indicates the economy contracted by 0.2 per cent for the month. The official reading for May is expected on July 29.
"If the May drop holds, it would represent only the second monthly GDP decline in a year (January also fell on Omicron restrictions)," BMO chief economist Doug Porter said in a commentary.
For April, Statistics Canada said the mining, quarrying, and oil and gas extraction sector grew by 3.3 per cent, as oil and gas extraction gained 3.9 per cent.
Oilsands extraction rose 5.6 per cent, the largest monthly increase since September 2020, while oil and gas extraction excluding the oilsands grew 1.6 per cent.
The accommodation and food services sector added 4.6 per cent, as food services and drinking places grew 3.5 per cent to top pre-pandemic levels. Accommodation services rose 7.2 per cent.
The arts, entertainment and recreation sector rose 7.0 per cent, but was still 12 per cent below its February 2020 level.
Real estate slowdown
Porter said the drop in May looks to be due to broad weakness in the goods-producing sectors, even as many beaten-down service sectors likely recovered further.
"Resources, construction and manufacturing all are expected to slip," he said.
"Another big weight in coming months will be the deepening dive in home sales. Real estate agent activity fell 15 per cent [month over month] in April alone and is now down 25 per cent [year over year] from the blistering levels of a year ago."
CIBC's Andrew Grantham said that second-quarter GDP appears to be tracking just below an annualized pace of four per cent, lower than the six per cent rate the Bank of Canada forecast back in April.
"However, other than perhaps a quicker retreat in housing activity, the slower than projected growth appears to be due to supply rather than demand-side factors," Grantham said. "As a result, it will do little to ease the Bank of Canada's concerns regarding current inflationary pressures."