Braid: Russia's economy is too small and weak to sustain Putin's delusions – Calgary Herald
Russia's economy is both fragile and pathetically small for a giant nation with such abundant resources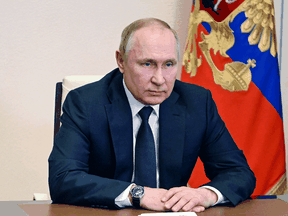 Article content
Vladimir Putin's Russia looks big and tough these days, a malign giant on the world stage.
Article content
There's no doubt about the bigness. Russia has the largest area of any nation, 17 million square kilometres, followed by Canada, with nine million.
Russia occupies about 10 per cent of the world's inhabitable land mass. The Soviet Union was even more vast, with 22.4 million square kilometres.
Putin appears to fret because his is no longer that much bigger than ours.
Russia also has a large, well-equipped military backed by nuclear weapons. This makes the Putin regime dangerous and murderous, as Ukrainians know all too painfully.
But behind the appearances lies reality: Russia's economy is both fragile and pathetically small for a giant nation with such abundant resources.
The Russian system not only fails to create wealth by any standard of international success, but also diverts vast sums of existing resources to oligarchs.
Article content
"Russia has about two per cent of the world economy," says U of C economist Trevor Tombe.
"Canada's is slightly larger, just above two per cent. That sort of puts things in perspective."
The comparison doesn't mean Canada is economically weak, however. We do much more with our two per cent to generate wealth and benefit citizens. And our economy is the world's ninth largest.
Among the rich G7 nations, Canada had a competitive per capita GDP of $43,000 in 2020, according to the World Bank. The U.S. ranked highest with $63,000.
Russia's GDP per capita was only about $10,000. That's after it fell by one-third during the era of low oil prices beginning in 2014.
Many countries large and small have higher per capita GDP than Russia, including Finland, with $48,000.
Article content
That's one reason the Finns fear an invasion. Finland is a rich prize that the Soviet Union already tried to grab once, in the early months of the Second World War.
The first act was to bomb Helsinki and kill civilians. Twenty-one Soviet divisions swarmed into Finland. Sounds familiar.
But Soviet forces stalled miserably in the face of fierce resistance.
Soviet Leader Josef Stalin, worried that the West would intervene, eventually reached a settlement. The same scenario could play out now.
From another angle — total GDP by country — Canada still ranks above Russia, with $1.6 trillion compared to $1.5 trillion.
The numbers vary somewhat among sources, but the relationship doesn't change: Canada's economy is larger than Russia's.
Article content
That's true even though Russia's population of 146 million is nearly four times Canada's 38 million.
Russia strives to expand and conquer with even less economic power behind it than Canada would have, should this nation suddenly be stricken by steroid psychosis.
Wider comparisons also illuminate the weakness behind Putin's pretensions.
The total GDP of the United States is about $20 trillion, more than 10 times Russia's.
The U.S. spends a mammoth $778 billion on its military. Russia spends $61 billion, the world's fourth-highest amount.
But America's defence spending, gigantic though it is, amounts to only 3.7 per cent of its GDP. Russia's military budget is 4.3 per cent of that country's GDP.
The economic output of all 30 NATO countries facing Putin, including Canada and the U.S., is nearly $35 trillion.
And there's Russia, with $1.5 trillion.
Economic strength and military might are not equivalent, of course. A dictator with ultimate power and dreams of conquest can do enormous harm.
But Putin is reaching far beyond his country's capacities. That will do him in eventually.
Meanwhile, how tragic it is that Ukrainians suffer and die for his transitory delusions.
Don Braid's column appears regularly in the Herald
Twitter: @DonBraid
Facebook: Don Braid Politics
Covid has hit China's economy harder than expected – CNN
Hong Kong (CNN Business)China has reported disappointing economic data for the month of April, underscoring the extensive damage Covid lockdowns have wreaked on the country.
The world's second largest economy reported shocking drops in retail sales and factory production, widely missing market expectations.
Retail sales plunged 11.1% in April from a year ago, according to China's National Bureau of Statistics on Monday. That was well below the 6.1% drop forecast in a Reuters survey of economists, and also much lower than the 3.5% decrease seen in March.
Industrial production fell 2.9% last month from a year earlier, reversing a 5% gain in March.
This marks the worst contraction in industrial production since February 2020, when China's economy
came to a near standstill
during the initial coronavirus outbreak.
Unemployment also surged to the second highest level on record.
The urban jobless rate hit 6.1% in April, up from 5.8% in March — which was already at a 21-month high. The only time China's jobless rate was higher was in February 2020.
Young people have been finding it especially hard to find jobs, the data showed, with the unemployment rate for those between 16 to 24 years of age rising to 18.2% — the highest ever.
Rising unemployment is a warning sign for the ruling Communist Party given the risk of social and political instability.
"After all, zero-Covid at the cost of surging unemployment is a hard sell politically," said Larry Hu, chief China economist for Macquarie Capital.
The government expects the economy to rebound this month.
"Economic performance" in May will improve, said NBS spokesperson Fu Linghui on Monday.
"As the outbreaks are under control and people's life return to normal, pent-up consumption will be gradually released," he said.
Increased investment in infrastructure projects will also support the recovery, he added.
Hefty blow
But Beijing's efforts to curb its worst Covid outbreak in two years have
dealt a hefty blow to activity
since March, and economists now expect GDP to shrink this quarter.
So far, at least 31 cities in the country remain under full or partial lockdown, according to CNN's latest calculations. Shanghai, the country's financial center and
a
manufacturing hub, has been under lockdown for
more than six weeks.
During this period, many companies have been forced to suspend operations, including automakers
Tesla
(TSLA)
and
Volkswagen
(VLKAF)
and iPhone assembler Pegatron.
"We think Q2 GDP growth will likely turn negative," said Zhiwei Zhang, president and chief economist for Pinpoint Asset Management, on Monday.
"The government faces mounting pressure to launch new stimulus to stabilize the economy," Zhang said.
The leadership in China is aware of the economic pains and has taken some steps recently to bring relief.
The People's Bank of China announced Sunday that it would cut the mortgage rate for first-time homebuyers, in a move to lift the ailing property market.
Separately, the Shanghai government said the city will gradually open shops, restaurants, and salons from Monday, which will be a relief for its 25 million residents.
The government has also recently pledged to prop up the economy through
more infrastructure spending
and targeted monetary easing to support small businesses.
Monday's data showed investments in manufacturing increased 12.2% from a year ago. Infrastructure investment, meanwhile, rose 6.5%.
But "the risks to the outlook are tilted to the downside, as the effectiveness of policy stimulus will largely depend on the scale of future Covid outbreaks and lockdowns," said Tommy Wu, lead China economist for Oxford Economics, on Monday.
"We forecast GDP to grow 4% this year, with a quarterly contraction in the second quarter before returning to growth in the second half."
— CNN's Beijing bureau contributed to this report.
US Recession Risk, Wheat Watch, Chinese Economy Jolt: Eco Day – Bloomberg
Rural development grants to spark Nicola Valley economy – Global News
The province announced on Friday a series of rural development grants in the Nicola Valley to support economic development and diversification.
This is the next step in the StrongerBC Economic Plan and the ongoing recovery efforts in Merritt following the floods in November last year.
"People in Merritt have been through a lot in the past year, and they know how important business recovery is for community rebuilding," said parliamentary secretary for rural and regional development Roly Russell in a press release.
The provincial government is providing a $1-million rural development grant to the Small-Scale Meat Producers Association to build a community abattoir in the Merritt area.
This will provide meat processing and cut-and-wrap services to local farmers and ranchers.
"This project represents significant job and economic opportunities for the region, while ensuring local ranches, abattoirs and businesses are part of a strong, resilient B.C. food system," said minister of agriculture and food Lana Popham in a press release.
"With the recent changes to B.C.'s meat-licensing system and investments in facilities like the Nicola Valley community abattoir, this revitalization of the small-scale meat industry makes it easier to produce, buy and sell B.C. meat in our rural communities, and helps strengthen our food security and food resiliency."
The abattoir will be a government-inspected licensed facility with a full range of services to process red meat.
According to the province, local producers have been impacted by the lack of processing capacity. Julia Smith who is a pork and beef producer in Merrit is hopeful this new facility will help her business as well as other local producers.
"My partner and I moved to the Nicola Valley in 2016 planning to expand our business to meet the growing demand for well-raised, local meat. But we soon found that the processors we relied upon were not able to keep up with our production and we had to scale the business back instead of growing it."

2:14


More than 900 people still displaced following Merritt flooding last fall



"We were on the verge of giving up. But now we are ready to press on, because this facility will allow us, and other local family farms and ranches, to grow and thrive while providing greater food security for the community."
The province is providing a $1-million rural development grant to the Scw'exmx Tribal Council toward Gateway 286 in Merritt.
"After an unbelievable year of fires, floods, and a pandemic, we welcome the B.C. government's $1-million grant that will bolster our rural community, support good-paying jobs and much-needed economic development," said Spayum Holdings LP director and Scw'exmx Tribal Council Terrence (Lee) Spahan in a press release.
"The Gateway 286 project is a 30-plus-year vision of past and present Nicola Valley Indigenous Chiefs and these monies will take our commercial and tourism development one more step closer to reality. This project will enhance the experience of the [traveling] public by providing much-needed services, and it will provide good-paying jobs and entrepreneurial opportunities for the residents of the Nicola Valley."
Meanwhile, the City of Merritt is receiving a $500,000 grant related to economic recovery for communities that were affected by the flooding. The grant will go towards completing economic development projects and initiatives to support long-term economic recovery.
This is in addition to $329,000 in provincial funding for the City of Merritt to update flood-hazard mapping and develop new flood-mitigation plans.

2:13


Anger grows over Merritt evacuations