Brandon teepee art project celebrates strength, resilience during Truth and Reconciliation Week – CBC.ca
Weaving together truth, reconciliation and healing, community members in Brandon created a commemorative teepee Saturday.
The art project for the upcoming Truth and Reconciliation Week in the southwestern Manitoba city was designed by Canupawakpa Dakota Nation visual artist Jessie Jannuska.
"The piece is called Coming Together, and I really hope that people do come together when they look at this teepee and they feel strength and resilience, and just feel honoured," Jannuska said.
The teepee will be displayed at Brandon's Riverbank Discovery Centre for Truth and Reconciliation Week, which officially begins Monday and leads up to the National Day for Truth and Reconciliation on Sept. 30, also known as Orange Shirt Day.
In Brandon, there will be events at the Discovery Centre every day from Tuesday to Sunday.
The teepee will be used by the Brandon Friendship Centre's Sixties Scoop support program to share teachings, promote healing and encourage reconciliation, said program co-ordinator Julia Stoneman.
During what's referred to as the Sixties Scoop — which actually began in the early 1950s into continued into the early 1990s — child welfare authorities took thousands of Indigenous children from their families and communities, and placed them with non-Indigenous foster or adoptive parents.
Stoneman described it as a continuation of the residential school system.
The message behind Coming Together is a critical part of truth and reconciliation, Stoneman said, because it encourages people to join in learning the stories, history and experiences of people affected by residential schools, the Sixties Scoop and other colonial traumas.
Hearing the experiences of survivors adds a human face to that history, she said, making reconciliation a personal experience for people.
Jannuska hopes that people who see the art project will feel the strength and resilience of Indigenous people in Canada.
"You can't just keep people in the dark.… You need to let people speak about their truth," Jannuska said.
"I think these families are really sad. They are estranged. They want their children back, they want the connectivity, they want the love back."
Events like the teepee community art project serve as a way to honour and acknowledge their experiences, she said, while strengthening cultural identity and self-love.
There is a strong Indigenous presence in Brandon and the community is rallying to support reconciliation, Stoneman said, by encouraging people to live as their authentic selves.
"This is our way of honouring those people and helping them to find their identity and their community and their culture again … because they lost that too when they were sent away," Stoneman said. "Now they're able to come together and they're able to learn that."
Jannuska will be at the Discovery Centre on Friday afternoon to participate in an Orange Shirt Day walk and to answer any questions people have about the Coming Together teepee.
"This community project is an act of healing.… It can be a communal, cathartic thing that the community can jump in on," she said.
A week for education, celebration
The roots of this week's events go back to the creation of the Brandon Urban Aboriginal People's Council in late 2010, said council co-ordinator Michèle LeTourneau.
"It included Indigenous organizations and governments and institutions and organizations that were non-Indigenous, all coming together to work together to ensure that Indigenous people are reflected in their community," she said.
Those efforts culminated in Brandon's Truth and Reconciliation Week in 2021, centered on the principles of "commemoration, education and celebration."
The goal of the week's events is to inspire the entire community to work together in the pursuit of reconciliation, which "is something that we all need to do together, Indigenous and non-Indigenous," LeTourneau said.
"We can create lines of respect, of friendship, of working together to make Brandon a better place for everyone."
Educational opportunities have been woven into programming to help attendees better understand Canada's colonial past. The conversations sparked during Truth and Reconciliation week are part of a bigger question — how to keep reconciliation alive every day of the year, LeTourneau said.
"It really starts within each of us, whether Indigenous or non-Indigenous, and it's a sort of an inner reconciliation with our own selves," she said.
"That carries forward into … changing thoughts, changing minds and hearts and then, you know, that seeps into your daily existence."
She encourages those who attend any of the free events to come with an open heart and open mind.
That includes Friday's Orange Shirt Day Walk, honouring residential school survivors and those who did not make it home. It begins at the Riverbank Discovery Centre at 1 p.m. and continues to the former Brandon residential school site.
Sioux Valley Dakota Nation survivors will be at the site, LeTourneau said, to see "the mighty support that the people of Brandon have for them."
Saturday marks a day of celebration of Indigenous culture with an event titled Healing by the River.
"I call it an evening of ceremony and performance, and that is celebrating the rich, rich culture that was almost extinguished but was not," LeTourneau said.
"It's a really beautiful way to bring everyone together to celebrate."
Diplo 'Wins' Art Basel Miami by Topping ATM's Leaderboard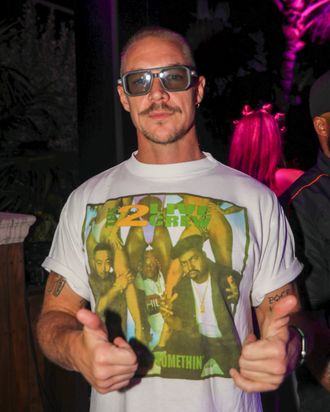 Photo: Thaddaeus McAdams/Getty Images for Ocean Drive
Diplo has about $3 mil in the bank, FYI. The celebrity DJ who once streamed Sophie Turner's wedding to Joe Jonas (remember that?) claimed to have "won" Miami Art Basel this year. One of the most talked-about pieces at the annual art fair is an ATM that posts your picture and bank balance if you use it. The ATM has a leaderboard, which Diplo topped on December 2. At the time he posted his "high score" on social media, Diplo had $3,004,913.06 in his account. So we know his cash assets, but do we know if he's in on the joke? This piece is from Brooklyn art collective MSCHF, who are known for their trolly stunt art. "ATM Leaderboard is an extremely literal distillation of wealth-flaunting impulses," MSCHF co-founder Daniel Greenberg said on NPR. "From its conception, we had mentally earmarked this work for a location like Miami Basel, a place where there is a dense concentration of people renting Lamborghinis and wearing Rolexes." The piece is goofing on ostentatious displays of wealth, Diplo. Having the most ostentatious display isn't the flex you think it is. The ATM was a collab between MSCHF and the gallery Perrotin. They had the banana duct taped to the wall, to give some more context on where everyone involved stands on the art vs. prank spectrum.
Free Press celebrates launch of art exhibit
The Winnipeg Art Gallery has opened its doors to an exhibition focusing on the Winnipeg Free Press and its 150th anniversary.
Headlines: The Art of the News Cycle, which includes works from seven artists from across North America as well as archival material from the Free Press and the gallery's permanent collection, looks at the many changes that have taken place in how the Free Press and other news organizations let their readers know what's going on in the world around them.
The exhibit runs through to May 21, 2023 at the Winnipeg Art Gallery.
— with files from Alan Small
Inuk art scholar makes leap to National Gallery of Canada
The National Gallery of Canada is home to a rich contemporary Indigenous international art collection, as well as important collections of historical and contemporary Canadian and European Art from the 14th to 21st centuries. (Photo by Christine Mastroianni)
Jocelyn Piirainen, from Cambridge Bay, will help the gallery curate its Indigenous and Inuit art collection
Jocelyn Piirainen is bringing an Inuk voice to the way the National Gallery of Canada acquires and exhibits Inuit and Indigenous artwork.
The arts scholar and former Cambridge Bay resident was appointed in early November to the role of associate curator for the gallery.
Piirainen brings experience from her previous role as associate curator of Inuit art at the Winnipeg Art Gallery's Qaumajuq museum, which she has held since March 2019. Qaumajuq is a collection of almost 14,000 contemporary Inuit art pieces, making up the largest collection of its kind in the world.
Curators organize and set up exhibits, said Piirainen in an interview from her home in Winnipeg.
"The curator is really there to allow artists to tell their stories," she said.
"If there's a specific carving that has a story or legend associated with it, you know, you want to tell the public about it."
Piirainen joins the national gallery's recently formed Indigenous Ways and Decolonization department. It has a mandate to amplify the voices of Indigenous artists, curators and scholars.
In an email, Michelle LaVallee, director of the department of Indigenous Ways and Decolonization, recognized Piirainen's skill as a collaborator in her work with arts and culture professionals and Indigenous communities to highlight Inuit artistic and cultural practices.
"I am excited about her lived and professional experience as an Inuk curator which she brings to the national gallery," she said.
Piirainen is joining the gallery as some controversial changes are taking place there. The Globe and Mail and other national media reported last month the departure of four curators from the gallery's Indigenous Ways and Decolonization department. A former senior curator, Greg A. Hill, tweeted he was fired because he disagreed with the "colonial and anti-Indigenous ways" the department was being run, the Globe reported.
Piirainen said the Canadian art world needs more Inuit curators and art professionals. She credits a government-funding initiative, called Inuit Futures, for leading the way in that respect.
Inuit Futures in Arts Leadership: The Pilimmaksarniq/Pijariuqsarniq Project supports Inuit and Inuvialuit by giving them access to the training, mentorship and professional opportunities necessary to find success in the arts industry.
Piirainen was invited to be a mentor in the Inuit Futures program in 2019, where she was paired with mixed-media artist Aghalingiak (Zoe Ohokannoak). Aghalingiak, who identifies as they/them, is in their fifth year of study of fine arts at the Nova Scotia College of Art and Design.
Aghalingiak said in an interview that being a participant in the Inuit Futures program as a research intern and mentee has been both challenging and a confidence boost, accelerating their development as an artist.
In April 2022, they curated their first exhibition at the Winnipeg Art Gallery's Qaumajuq Museum under the mentorship of Piirainen. The exhibition is called Kakiniit Hivonighijotaa: Inuit Embodied Practices & Meanings.
"I didn't think that I would ever be curating exhibitions at this point," Aghalingiak said, reflecting on their recent solo exhibition and their experience with Inuit Futures.
As Piirainen prepares to move to Ottawa in January, she acknowledges that although this appointment provides an opportunity to be part of the national gallery's efforts to ensure Inuit art and culture are appropriately represented, her hiring is not a solution in and of itself.
"There is also a lot of pressure that comes to that, to be kind of representing all Inuit, but I am aware that I can't do that either," she said.