Brees sets NFL all-time TD mark as Saints crush Colts – Sportsnet.ca
NEW ORLEANS — Drew Brees became the NFL's all-time leader in touchdown passes, throwing for four scores to lead the New Orleans Saints to a 34-7 victory over the Indianapolis Colts on Monday night.
The scoring strike that broke Peyton Manning's record of 539 career touchdown passes came in the third quarter, when Brees hit tight end Josh Hill for a 5-yard score. Brees' next pass in the game was the 541st scoring toss of his career, a 28-yard TD to reserve QB and utility player Taysom Hill that put the Saints up 34-0.
"It was special, everything about the night," Brees said. "It just kind of makes your whole life and career flash before your eyes, because I never thought I'd have a chance to be part of something like this."
The 40-year-old Brees came into the game already holding NFL records for completions with 6,792 and yards passing with 72,577 — and built on those numbers by also setting a record for completion percentage in a game. He completed 29 of 30 passes — 96.7 against Arizona last season.
"He had a hot hand, obviously," Payton said. "Guys were making plays, but that's awfully difficult to do."
The victory kept the Saints (11-3), who'd already won the NFC South, in the running with San Francisco (11-3) and Green Bay (11-3) for one of the top two seeds in the NFC playoffs. The Colts (6-8) were eliminated from playoff contention after losing their fourth straight and sixth out of seven.
"There's a lot at stake right now relative to these games when you look at the top of the NFC," Payton said. "It's about winning and winning and winning and trying to give yourself the best chance in the post-season."
Jacoby Brissett struggled at times with accuracy and finished 18 of 34 for 165 yards against a Saints defence looking for redemption after allowing 48 points in a loss to the 49ers a week earlier.
Meanwhile, Colts defenders had no answer for Michael Thomas, who caught 12 passes for 128 yards, including a 15-yard touchdown. Thomas' eighth game this season with at least 10 catches give him 133 for the season, which is also the fourth-highest single-season total in NFL history.
With four more catches, Thomas will pass Antonio Brown and Julio Jones for second most in a season and needs 11 to eclipse Marvin Harrison's record of 143 from 2002.
Tre'Quan Smith caught a 21-yard touchdown pass for New Orleans.
Jordan Wilkins scored the Colts' lone TD on a 1-yard run in the fourth quarter.
FLUID RECORD
While Brees holds the career touchdown pass record for now, the Patriots' Tom Brady is only three behind at 538.
"It's a fluid record," Payton said. "There's still another quarterback in New England, so that will go back and forth as long as those two are playing."
The next-closest active player is Rivers with 395.
INJURIES
Colts: Reserve safety Rolan Milligan left the game with a foot injury in the first half. Cornerback Quincy Wilson left with a shoulder injury.
Saints: Right guard Larry Warford needed help to the sideline with a left knee injury early in the third quarter. Defensive back C.J. Gardner Johnson left the game with a concussion in the fourth quarter.
UP NEXT
Colts: Host Carolina on Sunday.
Saints: Visit Tennessee on Sunday.
Jimmy Butler steals the show on NBA media day with 'emo' phase look following Damian Lillard's trade to the Milwaukee Bucks
Whether or not Miami Heat's golden child Jimmy Butler's new "emo" look is just a phase, the NBA star carried it off with some aplomb, drawing plenty of laughs from his teammates.
One year on from his memorable fake dreadlocks look, the 34-year-old outdid himself by turning up at the Heat's media day on Monday sporting a straightened fringe, piercings in his eyebrow and lips and painted black nails.
Butler said he's now "emo" and after the summer he and the Heat have had, who can blame him?
After former Portland Trail Blazers guard Damian Lillard and his agent publicly stated on numerous occasions that he would only want to play for Miami, it seemed like a matter of when, not if, the 33-year-old would end up in South Beach.
Butler led the Heat to an improbable NBA Finals appearance as the eight seed last season, so it's easy to imagine his excitement at the prospect of Lillard's addition to the roster pushing the team over the top and to its first title in the post-Lebron James era.
However, the Milwaukee Bucks swooped in last week with a package that blew Miami's out of the water, meaning Lillard will now be plying his trade in Wisconsin and not Florida.
"Yeah, yeah, yeah, laugh it up," Butler said as he entered his press conference, pushing his fringe out of his eyes. "I'm emo. This is my emotional state, I'm at one with my emotions so this is what you get."
Despite failing to acquire Lillard and losing key contributors Gabe Vincent and Max Strus, Butler remains confident ahead of the upcoming season, telling reporters the Heat are going to win it all.
If it's good news that he's now at one with his emotions, Butler might just also be a gifted method actor and isn't actually going through a belated "emo" phase. The six-time All Star could be heard saying "don't make me break character" as he entered the press conference.
His new character was certainly a hit with his teammates and had Bam Adebayo crying tears of laughter as the pair were having their photos taken for the new season – which means, yes, Butler will have this hair in official photos for the entire year.
Certainly not someone to do things by halves, Butler was fully immersed in his new state and even posted songs from emo bands on his Instagram story throughout the day.
Finding Your Perfect Match: The Best Ways to Choose an Online Sportsbook
In the ever-expanding world of online sports betting, selecting the right sportsbook is crucial. This is to ensure an enjoyable and secure gambling experience. With numerous options available, it can be challenging to find the perfect fit. For instance, you can be looking into sites like BestOdds to find a sportsbook to go with but do not know what exactly to check.
This article will explain the basics of finding an excellent online sportsbook.
Licensing and Regulation
The first and most critical factor when choosing an online sportsbook is ensuring it operates in a legal and transparent manner. A reputable sportsbook should possess a valid license from a recognized regulatory authority. These licenses indicate that the sportsbook adheres to strict standards, including fair play, responsible gambling and financial security.
Before registering, check for the sportsbook's licensing information. In most cases, you will find this in the footer of their website. Some of the most reputable regulatory bodies for online sports betting include the United Kingdom Gambling Commission (UKGC), the Malta Gaming Authority (MGA) and the Isle of Man Gambling Supervision Commission.
Additionally, research the sportsbook's track record for regulatory compliance and any previous non-payment or unethical practices incidents. User reviews and industry news sources can provide valuable insights into the sportsbook's reputation.
Odds and Betting Markets
The quality of odds and the variety of betting markets offered are key factors in determining the suitability of an online sportsbook. Competitive odds provide better potential returns for your bets, while a wide range of markets allows you to explore different betting options.
Compare odds from multiple sportsbooks to ensure you get the best bet value. Some websites and apps even offer odds comparison tools to make this process more convenient.
Moreover, consider the breadth of sports and events covered by the sportsbook. Whether you're into mainstream sports like football, basketball, or soccer or niche sports and events, the sportsbook should offer diverse markets to cater to your preferences.
Security and Payment Options
Security is paramount when sharing personal and financial information with an online sportsbook. Look for sportsbooks that employ the latest encryption technologies, such as SSL (Secure Socket Layer), to safeguard your data. Consider factors like two-factor authentication (2FA) to enhance account security further.
Payment options are another critical aspect. Ensure the sportsbook offers convenient and secure methods for depositing and withdrawing funds. Common payment methods include credit/debit cards, bank transfers, e-wallets (like PayPal or Skrill) and cryptocurrencies (like Bitcoin). Choosing a sportsbook that supports your preferred payment method is essential to streamline your betting experience.
As LeBron James enters Year 21, the theme of Lakers media day was passing the torch and sharing the load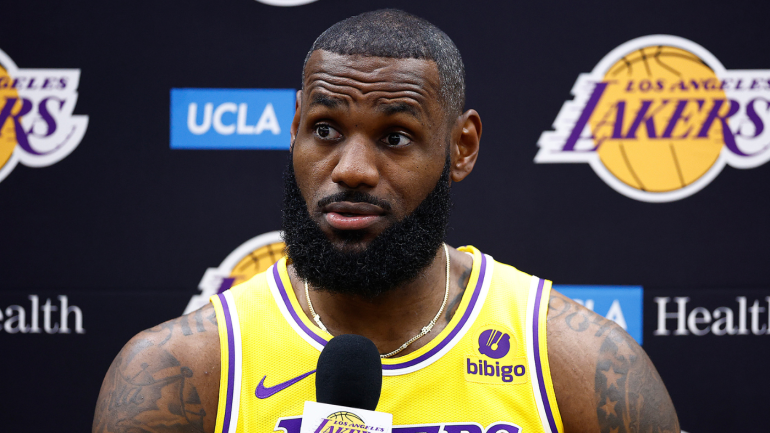 Getty Images
The budding relationship between fifth-year forward Rui Hachimura and four-time MVP LeBron James has been one of the stories of the offseason for the resurgent Los Angeles Lakers. Stories of the two working out together have become commonplace. "I call him my Daniel-san and I'm Mr. Miyagi," James joked at Lakers' media day Monday. It was an appropriate comparison not just between James and Hachimura, but the legend and his entire team.
Now that Udonis Haslem has called it a career and Andre Iguodala is seemingly headed in that direction, James is officially the NBA's oldest active player. He proved that he is still a superstar on the court last season, but aside from Anthony Davis and Taurean Prince, all of his Laker teammates are at least a decade his junior. In a perfect world, the days of James pushing for 30-point triple-doubles on a nightly basis are now over. He has a group of young teammates eager to learn from his example and lift him up when he needs it.
"I think with this team we have the most depth," new Lakers big man Christian Wood said Monday. "No team in the league has more depth than we have." This was the goal of the Lakers' offseason. Though they didn't make any particularly splashy additions, six of the seven Lakers to play at least 200 postseason minutes are back this season. Joining them are Gabe Vincent, a starter on Miami's finalist from a season ago, and Wood, one of the NBA's most dynamic scoring big men. Rounding out the new-look bench are former first-round picks Taurean Prince (29), Cam Reddish (24) and Jaxson Hayes (23). That youth-oriented approach was no accident, as Lakers coach Darvin Ham explained Friday.
"Now that we have, top-to-bottom, what we feel is a highly balanced, skilled, athletic, younger team of guys that have logged a ton of NBA minutes, we can surround both he and AD with these players who are coming in eager to contribute, eager to show that they can impact winning," Ham said. "That's gonna allow us to be able to be more efficient with his game-to-game minutes."
Managing James' minutes was difficult last season. The Lakers lacked depth on a roster depleted by the Russell Westbrook trade, and when Davis was hurt, James needed to carry a remarkable burden just to keep the Lakers afloat. He averaged 24.1 shots and 34.6 points per game between Dec. 18 and Jan. 24, Davis' longest extended absence of the season. Roughly one month later, he suffered the foot injury that hampered him for the rest of the season. It's an outcome Davis is hoping to avoid this time around.
"It's my goal every year to play 82," Davis said. Though likely unobtainable, keeping Davis on the floor will be essential to the Lakers' championship hopes this season. In fact, James might even argue that his co-star's health is more important than his own. "He is the face [of the franchise]," James said at media day. For stretches last season, he was among the NBA's best players. Between Nov. 13 and his own injury on Dec. 13, Davis averaged 32.4 points per game while doubling as the league's best defensive player.
But for the Lakers to realize their considerable potential, he'll have to sustain that dominance for longer stretches. The supporting players, who were so instrumental in lifting the Lakers from out of the top-10 in the West and into the Western Conference finals, will have to continue to benefit from James' presence as Hachimura has. The Lakers went from cellar-dweller to contender last season when they morphed from an older, star-driven roster to a younger, balanced one, and whether that means Davis stepping into James' role as the focal point of the team or the role players improving with another year in the system, the Lakers made it clear at media day that they plan to continue that transformation.