Bringing Together Art & The Cosmos | astrobites – Astrobites
Anyone who has seen an image from Hubble knows that space is downright beautiful. It's almost no surprise that the wonders of the cosmos have inspired art and culture for much of humanity's history. Science art is both valuable for and created by scientists, science communicators, and really anyone with any interest in space. In today's Beyond Bite, we'll look at the role and importance of science art in modern astronomy, as well as hear from many science artists about what motivates them to create.
The Value of Science Art
Science is inherently creative
Although science is often thought of as separate from and more objective than art, people are finally breaking down that idea. Science is done by people, for people, and inherently includes all the complexity that comes along with that. Science also requires a great deal of creative thinking, a fact that is integral to the popular STEAM (Science, Technology, Engineering, Arts, and Math) framework of education. This educational strategy incorporates both arts and science into a holistic education, building students' critical thinking, problem solving skills, and creativity.
Visual art also comes into play in part of the scientific process: data visualization. Designing engaging, understandable, and appealing plots is akin to a creative art practice, and there are even contests for the best plot art, such as the John Hunter Excellence in Plotting Contest. Sometimes, the mistakes of data visualization create abstract art on their own, too, as displayed in @accidental_art.
Art bolsters wellbeing
From art therapy to adult coloring books, there is ample evidence of the benefits of practicing art on peoples' mental health and overall wellbeing. Science, on the other hand, has a history of being hard on mental health (especially in graduate school!) and encouraging poor work-life balance. Research has shown that having hobbies, such as creative and artistic pursuits, can lower stress levels and improve people's sense of work-life balance. Although hobbies and art certainly have value outside of their use in science, they can also help scientists find new creative inspiration to solve problems and even improve their productivity in the long run. Scientists can also share their hobbies and art as part of their science communication, breaking down harmful stereotypes and even boosting their credibility and effectiveness in connecting with various public audiences.
Science communication through art
One of the most often cited reasons for making science art is that it helps share science in a fun way that engages broad audiences. Only a fraction of the science being done makes it to the public, partially due to the fact that many audiences harbor mistrust of scientists or are simply unfamiliar with scientific thinking and methods. Another problem is the widely used "deficit model" of science communication, in which people need to simply be given objective information to change their views and learn.
Instead of seeing emotionality as simply a barrier to objectivity, we can harness emotion to engage audiences and build trust, often through art. Art can open the door to a different model of communication—two-way engagement, in which people actively ask questions and participate in understanding scientific discovery. Nature has even recently extolled the virtues of artist-scientist collaborations, describing the results as "exhilarating, challenging, enlightening, stimulating, inspiring, fun."
A 2016 study of science communication found that art is increasingly being incorporated into science communication and outreach efforts through artist residencies, classes, exhibitions, and more, although physical science lags behind other disciplines in its use of science art. Dedicated science art galleries and events are also growing, such as the The Art of Planetary Sciences show at the AAS Division for Planetary Sciences yearly meeting and the STARtorialist booth at the AAS bi-annual meetings. Some institutions, such as Caltech, also have art installations within their academic buildings.
Stories from Science Artists
Although research has looked into the value of scientific art, it's impossible to truly understand the impacts and motivations to make astronomical art without actually talking with the people involved. Below are quotes from many different science artists, describing their "why" for creating art based on outer space or telling stories about ways science art has enriched their lives, careers, and more.
"I'm pretty into space cross stitch…I realized the pulsar plot profile would work perfectly, and it turned out awesome so I made a second when Jocelyn [Bell Burnell] visited our department for her! The pulsar plot profile I made her is of the first pulsar she discovered. Think I reached my peak nerd in that pic of the two of us for sure. She loved it!" — Dr. Yvette Cendes @whereisyvette [Images below courtesy of Dr. Yvette Cendes]
"I make my little astronauts because they remind me to explore in wonder, to appreciate having a breathable atmosphere, and to remember what we can do when we collectively aim ourselves at a goal!" — XXYXXYART @xxyxxyart
"I think it's very important for artists to make the huge universe something that everyone can relate to and enjoy in tangible ways." — Yugen Tribe @yugentribe
"There are a lot of cool images in the Hubble archive that don't make it out to the public in a meaningful way, so I try to find those and bring them out. Other than that, it's a fun way to explore and begin to understand astronomy and astronomers." — Judy Schmidt @SpaceGeck
"Space is vastly interesting…I usually am inspired by whatever I am learning about as my amateur astronomer/space lover self. Oppy up there [in the image] was in order to keep busy while I was worried about the dust storm. New Horizons was designed just after flyby, and I worked on Juno while watching it arrive at Jupiter." — Alyshondra Meacham @AlyshondraM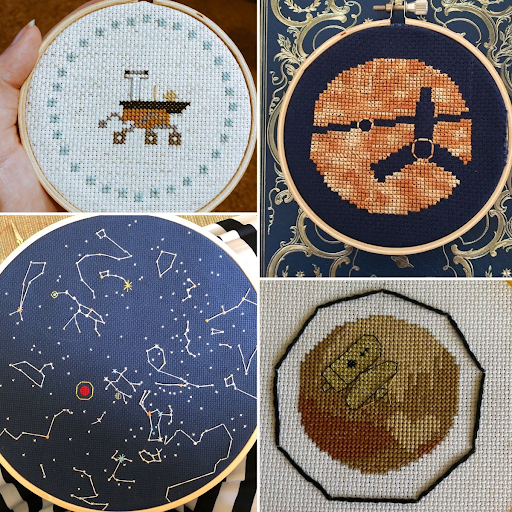 "I do a lot of sci art because I want people to appreciate the things I study in a way where they might not normally see them…I think also a big thing for me too is I love defying expectations, and I'm so tired of seeing scientists depicted in such one-dimensional ways…we have other passions, especially in the arts, and I think the two go hand-in-hand. I think being solely invested in a singular science is not sustainable and is more susceptible to burnout." — Marina Dunn @Astro__Marina
"I've tried my hand at some astro artwork as part of our #AstroOnTap LA [outreach] posters (for Caltech Astro)…it's nice to take a break from science to work on these. They're a labor of love." — Cameron Hummels @astrochum [Images below courtesy of Cameron Hummels / Caltech Astronomy on Tap]
"In a nutshell, I find it hard to communicate ideas verbally. I'm very socially anxious, too, but I appreciate that science communication is extremely important. This [art] was my attempt of using the knowledge and toolset I have to communicate science and my research." — Soheb Mandai @TheAstroPhoenix
"I just recently became a science artist…When COVID took over and we self-isolated, I knew the only way I'd be able to get through it would be creativity and connections. I sent out over 300 postcards (mostly astronomy and famous women in science) all over the world. Then someone said I should make my own postcards…I began making Afronaut Space Art postcards that I send out to my patrons once a month. I love it. I never imagined I could be a space artist and now here I am doing it." — Astronaut Dr. Sian Proctor @DrSianProctor
"I do #sciart for three reasons: 1) When the universe is trying to kill you, sometimes you just need to find zen in the art of planetary sciences. 2) Not all news stories have good art to go with them and I fill gaps. 3) The income makes a difference." — Dr. Pamela L. Gay @starstryder
"10 years ago I needed an illustration for a book I wrote on astronomy in national parks. That illustration was so popular with park rangers it launched a career that eventually let me retire as a professor to pursue science outreach through art full time." — Tyler Nordgren @NightSkyPark [Images above courtesy of Tyler Nordgren]
"Creating sci art gives me another way to communicate science to the public. As an astrophysicist, I'm passionate about science, but it's nice to be able to take a visual approach. I enjoy making distant phenomena more tangible through a painting, like an exoplanet landscape of clouds on a brown dwarf." — Dr. Lacy Brock @stellerarts
"I've always had an interest in science fiction pop culture, mostly inspired by stories of lone astronauts bravely fighting against the unknown. They hit close to home a few years back, when my dad was dying from cancer and it felt like everyday I was facing new, intimidating worlds. A lot of my work at that time shows small astronauts alone on fracturing moons. But despite all that threatens them, they stand and face the uncertainty. The setting of space is a great backdrop for stories about confronting change bravely and to express empathy for people whose experiences and struggles seem so distant from our own." — Amy Hill @amyraehill
Astronomical art illustrates the importance of creativity in science, and has a number of benefits to both its creators and viewers, enriching lives, creating community, and more. Art can help us share science in new and engaging ways, and together with art we can gain a deeper appreciation of our place in this vast universe.
Edited by Luna Zagorac
Featured image courtesy of Dr. Yvette Cendes
Thank you again to everyone who shared their experiences and stories with science art for this Bite! If you're on the lookout for more science artists, check out this list of science artists, curated by the SETI Institute.
Art heist at Kelowna gallery takes four minutes – Vancouver Sun
The stolen sculptures included bronze, stone, and glass pieces. Altogether, the pieces weighed more than 300 pounds.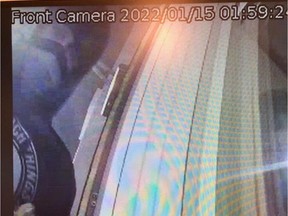 Article content
KELOWNA — Art thieves were in and out of a Kelowna gallery in four minutes early Saturday morning, stealing 11 sculptures worth almost $70,000.
Article content
Two masked men broke into Gallery 421 in the South Pandosy business district, triggering an alarm at 1:58 a.m. They fled at 2:02 a.m., according to a surveillance camera.
"It was most definitely targeted. They knew exactly what pieces they wanted to steal," gallery co-owner Kelly Hanna said Monday. "They were fast, but their movements were deliberate. It wasn't helter-skelter."
The stolen sculptures included bronze, stone, and glass pieces. Altogether, the pieces weighed more than 135 kilograms.
"We're going to put the word out to other galleries, pawnshops, and art houses about what was stolen," Hanna said. It's most likely the thieves will try to sell the pieces outside of Kelowna, either in Vancouver or the U.S., she said.
Article content
One thief was 5-foot-10, medium build, and wore a grey hoodie. The other was 5-foot-6, also of medium build, and was wearing blue pants with white runners.
The stolen pieces included works by artists Vilem Zach, Michael Hermesh, Vance Theoreet, and Jeff Holmwood.
Hanna and co-owner Ken Moen are offering a $1,000 reward to anyone providing information with police that leads to an arrest.
Hanna and Moen bought the gallery, which opened in 2001, two years ago. Hanna said there have been smash-and-grabs of items such as computer equipment before, but never thefts of works of art.
---
More news, fewer ads, faster load time: Get unlimited, ad-lite access to The Vancouver Sun, the Province, National Post and 13 other Canadian news sites for just $14/month or $140/year. Subscribe now through The Vancouver Sun or The Province.
Can New Technology Bring Authentic And Transparent Trust To The Art World? Like VIN Numbers For Art-Works. – Forbes
In 1987, I was lucky enough to attend the auction of Vincent Van Gogh's Vase With Fifteen Sunflowers at Christie's in London. At the time, the sale price of $39.7 million was staggering. Inflation- adjusted, that's $127 million today. Two years later, in 1989, the Dallas Cowboys were sold for $140 million. In November 2017, Leonardo Da Vinci's, Salvator Mundi, was sold for over $450 million. The prestige associated with rare assets (Forbes estimates that the Dallas Cowboys are now valued at over $5.7 billion) has a lot to do with the market value of uncommonly traded assets. Still, authenticating the origin and history of a sports team is easy. But to do the same thing for expensive artworks has always been incredibly difficult.
The art market has seen extraordinary growth in its size and the value of its assets over the past 25 years and longer. Living artists are now able to sell their artworks at significant values at market entry – what are called primary market sales – during their lifetime and to see significant rises in the value of their art including in the secondary market. This is a relatively new experience for the market. History's old masters and more modern artists never got to experience these trends during their lifetimes. Art market auction sales tipped $50 billion in 2021, and the unofficial private sector of the market is probably another $50 billion. Think about a $100 billion annual sales industry, that is based on trillions of dollars of assets, that all need to be authenticated, secured and monitored for many different purposes ranging from insurance to sales values and other market opportunities.
Our guest for today's podcast is Lawrence Shindell, he is the Chairman, President and CEO of LMI Group International, Inc., headquartered in New York. LMI Group is a strategic investment bank-like firm that represents artwork owners and investors in the authentication underwriting and market release of major orphaned artworks – artworks that the data strongly indicate are by blue-chip artists and have expected market values between $15,000,000 and $200,000,000. A trial lawyer by background, Mr. Shindell holds licenses in a number of U.S. jurisdictions including admission to the Bar of the Supreme Court of the United States. Before founding LMI Group in early 2018, Mr. Shindell served as the Chief Executive Officer of a regulated U.S. title insurance company catering to the international art industry.
His insights about the art market and its needs and trends over the next decade – ranging from technologies to solve the challenges of art object identification and authenticity to NFTs – provide a glimpse into a very complex industry sector. It is often said that the world's art serves as the tree rings of society. Advances in technologies can bring efficiency to this market sector just as technology has brought efficiency to other markets, and can give us a sense of comfort about the integrity of these high value assets as we visit art museums, collect art, invest in art, or engage in and around art in many other ways.
Artwork, both old and new, and both digital and physical, make up a huge market that offers cultural engagement as well as incredible economic upsides for investors who invest in art. Improvements in four areas can change the level of comfort for investors.
Anti-money laundering – legislation that is increasingly offering transparency but also putting pressure on market actors to verify source of funds, and seller and purchaser legal status and identity, whether for purchasing or selling art or using art as collateral for loans, for example.
The advent of the blockchain and more recently NFTs are revolutionizing the ways in which we link irrefutable identifying references to physical and digital art, as these assets journey through the market via purchases, gifts, sales, exhibitions and events of condition-conservation among other events, and in the case of NFTs, especially as a medium in which to create art in the first instance, as a means to create verifiable fractional and complete ownership interests.
Different technologies will separately allow us to imprint identifications on existing, secondary market physical works that can distinguish these objects from copies and also enable a conclusive linking of the information around the object captured via the blockchain to the exact physical object.
Advances in artificial intelligence and machine learning science and technologies that can aide traditional measures to appraise and verify art in complement with these other technologies.
The idea of reliable object identification is nothing new. We use VIN numbers for automobiles and CUSIP numbers for the securities industry. And we use DNA markers to authenticate the origin and history of, for example, cloning material.
Hollywood has been using tales of the historical art world for decades, the most known example is perhaps the 1999 version of The Thomas Crown Affair, starring Pierce Brosnan and Rene Russo in the lead roles. While interests and tastes in the art world have evolved from old masters to modernists to an expansive contemporary art market today, the art market as a whole shows no signs of slowing down.
We can expect to see continued rapid growth including with the introduction of NFTs and factional ownership options. Each of the issues just highlighted are central to LMI Group and its specialization in authenticating to conclusive factual standards culturally and historically important works of art that have been lost to history but can reliably be reintroduced to the cultural sector, and in applying its expertise to cultural heritage initiatives that involve complex authentication of historical objects and information.
LMI Group is at the forefront of advances that are designed to enable objective, data-based analyses and decision-making in the art and cultural heritage sector.
Artists Invited To Enter Artwork In Florida Strawberry Festival Fine Art Show – Osprey Observer
A call to artists has been issued by the East Hillsborough Art Guild (EHAG) for the 2022 Florida Strawberry Festival Fine Art Show, which runs from Thursday, March 3 through Sunday, March 13 at the Festival Grounds in Plant City. The show will be held in the Milton E. Hull Building.
Adults are divided into professional groups (entry fee is $15) and amateur groups (entry fee is $12). Adults can enter oils, acrylics, watercolors, graphic/mixed media and sculptures. The entry fee for miniature art (2D media) and sculptures (3D art) is $12.
The youth divisions are by ages. Youth can enter oils, acrylics, watercolors, graphic/mixed media and sculptures. The entry fee is $5.
Adults can enter up to four entries, but no more than two in the same division. Youth can enter up to two entries.
Entries are eligible for substantial monetary awards. This includes $100 for the Strawberry Theme Award (an entry must include strawberries or reflect the current festival theme of '#1 for FUN!'). There is also $300 for Best of Show.
There are prizes for first ($150) and second ($100) place in all adult and youth divisions. Adult amateurs, miniature and sculpture entries receive $100 for first place and $75 for second. Adults who receive third and fourth place receive rosette ribbons.
For youth, first place receives $25 and second place receives $15. Entries who win third and fourth place receive a rosette ribbon. All youth participants receive participation ribbons.
Artists who do not win one of the above prizes are eligible for a Business Leaders Choice Award. Area residents can also become sponsors for the In Honor Award and select a winning artist who will receive a ribbon and $50.
Space is limited and entries are accepted on a first-come, first-serve basis. Early entries are accepted until Friday, February 11. Artists can mail their entry form and fee to East Hillsborough Art Guild, P.O. Box 3055, Plant City, FL 33564. Artwork must be brought to the Festival Grounds on Saturday, February 19 from 12 Noon-6 p.m.
Chairperson Karen Crumley said, "Our entry day was moved to Saturday to allow easier access to more working people or parents with school age children."
Entry forms and rules can be found at www.flstrawberryfestival.com. If you have questions, please email Crumley at kscrumley@yahoo.com or call 924-3829.