Brookfield's REIT issue may spur investment, demand in Indian commercial real estate: Experts – Economic Times
New Delhi: Global investment firm Brookfield's proposal to launch REIT public issue for raising over Rs 4,000 crore augurs well for the future of India's office market and will boost investment as well as demand-supply in this segment, according to realty experts.
Institutional as well as retail investors are likely to take positive view on the Brookfield issue, driven by successful listing of the first two Real Estate Investment Trusts (REITs) — Embassy Office Parks and Mindspace Business Parks, they said.
Brookfield last week filed draft document with market regulator Sebi to launch its REIT issue and monetise commercial real estate. It plans to list the REIT by end of this year.
This will be the third REIT IPO to hit the market after Embassy Office Parks and Mindspace Business Parks REITs. In April last year, Embassy REIT raised Rs 4,750 crore, while Mindspace raised Rs 4,500 crore in August this year through their issues.
In response to a PTI query on impact of Brookfield's proposed REIT issue on commercial real estate, top real estate consultants and players noted that this demonstrates the strength of the office market.
Anshuman Magazine, Chairman & CEO – India, South East Asia, Middle East & Africa, CBRE, said the REIT continues to be viewed as one of the favoured investment avenues given the comparatively resilient underlying cash flows.

"We are hopeful that investors will look at REITs as a stable income generator driven by strong occupancies in India's office market backed by lease commitments from corporate occupiers. This should also structurally drive office absorption and create opportunities across the commercial real estate market moving forward," he added.
Anarock Chairman Anuj Puri said the successful launch of India's second REIT (Mindspace) despite the ongoing pandemic has sent out positive signals and paved the way for others to follow suit.
"The major positive of the recent listing is that the geographical spread of the overall REIT portfolios has been widened. While Embassy REIT largely focused on southern markets and K Raheja towards the western market, the Brookfield REIT has assets in the north and eastern region," he said.
JLL India CEO and Country Head Ramesh Nair said: "With the success of Embassy and Mindspace REITs, the interest from both institutional and retail players is expected to be very positive. REITs not only offer quarterly dividends, but also growth in capital values."
He said the only concerns that investors may have at this stage could be rental escalations and mark to market opportunities.
Mumbai-based Kalpataru Ltd Managing Director Parag Munot said: "It augurs well for Indian commercial real estate and will enthuse more developers to enter into premium commercial real estate development."
Nidhi Marwah, MD South Asia & GCC, The Executive Centre, said the industry has witnessed the encouraging performance of both Raheja REIT and Embassy REIT in the backdrop of a global pandemic and economic instability.
"Brookfield would be the third REIT to be listed in recent times. This will further embolden the industry, taking us one step closer to a post covid market," she said.
Hong Kong based-TEC provides premium serviced office to corporates.
Knight Frank India CMD Shishir Baijal said the Brookfield filing for REITs is a great indicator of the strong future that commercial real estate has in India.
"After the successful listing of Embassy and Mindspace REITs, this rides high on the long-term investor confidence. REITs will help raise capital and improve the fund flows into the sector as well as allow greater participation from retail investors in the asset class," he said.
Baijal expects more players to enter the REITs market to monetise their office assets.
Savills India CEO Anurag Mathur said: "The listing of two REITs and now the upcoming third one by Brookfield clearly demonstrates that the long-term hope on commercial office market remains strong and that investors have far greater faith in such organised investment tool as compared to investing in physical real estate."
He said it re-enforces REITs as a viable investment alternative and re-affirms the strength of the commercial office real estate.
Mathur said the past two performances have also instilled confidence among investors of REITs being a viable investment option.
"Most importantly, it has also opened up new avenues for retail investors to own a piece of real estate by shelling out a small amount which would not have been possible otherwise," he added.
Piyush Gupta, MD, Capital Markets & Investment Services at Colliers International India, said the commercial real estate segment continues to show strong interest from domestic and international investors.
"The REIT listings provide a great avenue for Grade A asset development as a defined exit route for all local players is being established," said Saurabh Shatdal, MD-Capital Markets, Cushman and Wakefield.
Tushar Mittal, managing director, Studiokon Ventures — which is into designing of office interiors, said India is emerging as the most attractive and cost-efficient destination for MNCs.
"Given the talent pool and tech savvy generation, demand for Grade-A office is expected to increase, once we overcome the coronavirus pandemic. This shift in demand will work to the advantage of REIT and the commercial real estate ecosystem," Mittal said.
Shrinivas Rao, CEO-APAC, Vestian said the possible impact of COVID-19 on Brookfield's office portfolio will certainly make it an interesting REIT offering for the analysts to take a call on.
Net office space leasing stood at an all-time high of 45-50 million sq ft in 2019 but the absorption is expected to fall 30-50 per cent this year due to COVID-19 pandemic.
Real estate investment trust (REIT), a popular instrument globally, was introduced in India a few years ago aimed at attracting investment in the real estate sector by monetising rent-yielding assets.
It helps unlock the massive value of real estate assets and enable retail participation.

Buying Bitcoin 'Like Investing In Google Early Or Steve Jobs And Apple,' Predicts Wall Street Legend And Billionaire Paul Tudor Jones – Forbes
Bitcoin has come a long way in the ten years since it was created but, for some, it still feels early.
The bitcoin price, climbing to year-to-date highs this week and recapturing some of the late 2017 bullishness that pushed it to around $20,000 per bitcoin, has found fresh support from Wall Street and traditional investors this year.
Now, Wall Street legend and billionaire Paul Tudor Jones, who made headlines when he revealed he was buying bitcoin to hedge against inflation earlier this year, has said buying bitcoin is "like investing with Steve Jobs and Apple
AAPL
or investing in Google early."
"Bitcoin has a lot of characteristics of being an early investor in a tech company," Jones, who's known for his macro trades and particularly his bets on interest rates and currencies, told CNBC's Squawk Box in an interview this week, adding he likes bitcoin "even more" than he did when his initial bitcoin investment was announced in May this year.
"I think we are in the first inning of bitcoin," he said. "It's got a long way to go."
Back in May, Jones revealed he was betting on bitcoin as a hedge against the inflation he sees coming as a result of unprecedented central bank money printing and stimulus measures undertaken in the wake of the coronavirus pandemic.
Jones compared bitcoin to gold during the 1970s and said his BVI Global Fund, with assets worth $22 billion under management, could invest as much as "a low single-digit percentage exposure percentage" in bitcoin futures.
"I've got a small single-digit investment in bitcoin," Jones said this week. "That's it. I am not a bitcoin flag bearer."
However, Jones said he sees great potential in bitcoin and people who are "dedicated to seeing bitcoin succeed in it becoming a commonplace store of value, and transactional to boot, at a very basic level."
"Bitcoin has this enormous contingence of really, really smart and sophisticated people who believe in it," he said. "I came to the conclusion that bitcoin was going to be the best of inflation trades, the defensive trades, that you would take."
Jones' latest comments come as payments giant PayPal
PYPL
has this week announced it will allow its 346 million users to buy and spend bitcoin and a handful of other major cryptocurrencies.
The development has been taken as vindication for long-time bitcoin believers—many of whom see PayPal as an enemy of bitcoin.
Alongside PayPal's support of bitcoin and cryptocurrencies, a number of publicly-listed companies have added bitcoin to their treasuries in recent months, with U.K.-listed bitcoin-buying app Mode becoming the first publicly-traded British company to put bitcoin on its books—making the announcement hot on the heels of Jack Dorsey-led payments company Square
SQ
.
Did You Participate In Any Of Caribbean Investment Holdings' (LON:CIHL) Incredible 853% Return? – Yahoo Finance
InvestorPlace
Hardware is becoming software, so investors are dumping hardware. At the same time, software is moving to the world of the cloud. These trends undeniably shape what tech stocks you should be buying.
Most computer chip companies today are "fab-less," based not on manufacturing, but designs written in software. That is why Nvidia (NASDAQ:NVDA) today is worth more than Intel (NASDAQ:INTC).
At the same time, open-source software is replacing proprietary software, especially in the clouds, where the money is made. That is why Facebook (NASDAQ:FB) is worth more than Oracle (NYSE:ORCL).InvestorPlace – Stock Market News, Stock Advice & Trading Tips
What does this mean for companies in the business of making computer hardware? It means they need to find new paths to profit. And that also means software names are the best tech stocks to buy.
The biggest hardware makers are aware of this. The hope investors have for them is they can execute and return to prominence. Until they do, however, their growth and valuations will lag the market.
7 Airline Stocks to Buy on Pelosi Stimulus Hopes
For now, keep an eye on these six tech stocks as they pivot to the software world:
International Business Machines (NYSE:IBM)
Dell Technologies (NYSE:DELL)
Cisco Systems (NASDAQ:CSCO)
Nokia (NYSE:NOK)
Ericsson (NASDAQ:ERIC)
Workhorse (NASDAQ:WKHS)
Tech Stocks: International Business Machines (IBM)
Source: JHVEPhoto / Shutterstock.com
Former IBM CEO Virginia Rometty missed the cloud. Under her watch, IBM went from being the world's unquestioned technology leader to a laggard. Facebook is now worth over six times more.
IBM has recognized its mistake. Rometty gave up the CEO chair in April to Arvind Krishna, who was running its cloud operations. He named Jim Whitehurst from Red Hat, the leading open source company in the world, as president.
Since Krishna took over, however IBM stock has barely budged. Despite the cloud experience of its new leaders, IBM remains a hardware company. Its primary profit center remains its Z Series mainframes, and the proprietary software that runs on them. After delivering new versions in the second quarter, systems sales jumped 69%, year over year, to $1.9 billion, and profits rose 4.3%.
But that profit center has been milked dry. Getting rid of older workers just drained its talent pool, and put the government's eyes on it.
It will take tricky financial engineering for IBM to find the cash flow needed to compete. It could sell the hardware units to private equity, spin out Red Hat, or spin its cloud operations into a REIT, as companies like Equinix (NASDAQ:EQIX) have done.
For now, IBM says it's focusing on "hybrid cloud." Here, enterprises retain their own data centers built to cloud standards, then arbitrage larger public clouds like those of Amazon (NASDAQ:AMZN), Alphabet (NASDAQ:GOOG, NASDAQ:GOOGL) and Microsoft (NASDAQ:MSFT). It's also pushing its quantum computing efforts, although they won't contribute to profit for years.
Dell Technologies (DELL)
Source: Jonathan Weiss / Shutterstock.com
Dell Technologies is even bigger than International Business Machines and even more undervalued.
The story starts in 2016, when Dell bought EMC, which controlled VMware (NYSE:VMW), for $67 billion. Four years later, $45 billion of the debt remains on Dell's books. That means the "enterprise value" of Dell, including its debt, is $95 billion. The same calculation, applied to IBM, leads to an enterprise value of $165 billion, on revenue of $77 billion.
VMware and IBM's Red Hat are valuable because they offer virtualization and other cloud infrastructure software. It's the kind of franchise the market often values at 10 times revenue. VMware had sales of about $11 billion for its fiscal 2020.
Here is the problem. Because of the funky corporate structure, it is hard to value Dell. What is it really worth without its massive stake in VMware?
The answer is to break Dell up again. Analysts think both companies would be worth more separate. Dell had fiscal 2020 net income of $4.6 billion. VMware could be worth $15-$20 per share more, nearly $10 billion. VMware CEO Pat Gelsinger says VMware could tie up with more hardware vendors if it were independent.
Selling VMware would also bring Dell enough cash to retire its debt and compete more closely against Hewlett Packard Enterprise (NYSE:HPE). HPE is currently killing it in "hyperconverged" hardware, a key data center market, and now matches it in server market share.
A spinoff is planned, with Dell and hedge fund partner Silver Lake maintaining a majority stake. The big issue? The move will not raise cash to pay down debt. Moreover, the split wouldn't happen until September 2021.
Even so, analysts call this a big win that will unlock Dell's value in hardware, where many of its products are considered leaders. Take it all together, and a patient investor should do well buying Dell here. But you're buying financial engineering, not the real kind.
Tech Stocks: Cisco (CSCO)
Source: Sundry Photography / Shutterstock.com
Cisco Systems has been adrift ever since Chuck Robbins became CEO in 2015
Robbins' strategy has been to shift Cisco's revenue from expensive networking gear to software subscriptions. It's not working. The revenue today is the same as it was in 2016. Profits have been uneven. Still, the stock's low price has analysts pounding the table for it, calling it cheap and undervalued.
But that's not how tech stocks work. When a company stops growing, it starts dying. A small cut tells the sharks to feed.
Cisco has made a half-dozen security acquisitions since Robbins took over, and 11 acquisitions since the start of 2019. But it's not solving the problem. The number of bugs hitting Cisco software is increasing. Some impact key products like its high-end switches.
BabbleLabs is one of these recent deals, bought to improve its videoconferencing experience. But that only serves to underline Cisco's weakness. Cisco practically invented videoconferencing. But when the pandemic hit, Zoom Video (NASDAQ:ZM) became a verb. Cisco is now worth only 15% more than Zoom, which came public in April 2019 and covers just one of Cisco's product niches.
Competitors can smell blood in the water. Hewlett Packard Enterprise finished its acquisition of Silver Peak, a software-defined networking company that will be part of its Aruba unit. The move accelerates the shift of networking from a product to a service. It increases the pressure on Cisco.
Nokia (NOK)
Source: RistoH / Shutterstock.com
The move of hardware to software, and of software becoming open source, has also hit the telecom equipment market hard.
Nokia lost its niche in cell phones, bought into the equipment market, and is now seeing its lead there threatened.
Part of the threat comes from China's Huawei, which can make equipment for less and has been making inroads into the carrier market as a result. Nokia's response is to support OpenRAN, a common set of interfaces for Radio Access Networks.
Nokia has been using OpenRAN support mainly to compete with Huawei and its Scandinavian rival, Ericsson. It says a complete set of OpenRAN interfaces will be available next year.
The hope now is that small, OpenRAN companies can be bought out, or parts of the emerging standards held back. That would let Nokia limit competition while still claiming openness. A short price war, initiated by the larger vendors, could quickly finish off the OpenRAN folks, analysts believe.
But there's another threat.
Microsoft has already bought Affirmed Networks and Metaswitch, making its bid for an OpenRAN company look likely. Facebook is backing the Telecom Infra Project, the consortium that created OpenRAN. Open source, in other words, is coming.
Will Nokia be able to main relevance among tech stocks?
Tech Stocks: Ericsson (ERIC)
Source: rafapress / Shutterstock.com
While Nokia has been beating a drum for OpenRAN, rival Ericsson has been dismissing the threat.
Ericsson is copying the strategy of Qualcomm (NASDAQ:QCOM), which has patents, copyrights and trademarks for all modem buyers to take its licenses. Importantly, these licenses come at a cost that makes rivals uncompetitive. But Qualcomm fought a bitter five-year legal war on three continents to achieve its dominance. Ericsson lacks that time, and it lacks that money.
Ericsson insists that OpenRAN has security issues. It has already made its own equipment fully compliant with existing security and encryption standards. It has introduced an integrated packet core firewall to boost security further. This also increases its proprietary advantage.
What might settle the dispute between open source and proprietary would be for Ericsson to buy Nokia.
Rumors of such a deal were floated in February. President Donald Trump has been pushing for more control over the 5G equipment market, even suggesting Cisco Systems should buy one of the two Scandinavian companies.
All this is leading to a new technology, Cloud RAN. This idea should dominate the new market for managed services, which is growing rapidly. What is this? The idea is to run radio networks according to what are called "cloud principles." Ericsson is already pushing its own proprietary framework for this "journey."
Workhorse (WKHS)
Source: rblfmr / Shutterstock.com
Tesla (NASDAQ:TSLA) became the most valuable car company in the world by proving that cars represent technology, not manufacturing.
This has spurred interest in other electric car companies like Workhorse.
Since late June, WKHS stock has skyrocketed. Why? The reason is a U.S. Postal Service contract, which Workhorse has yet to win, for 140,000 electric mail trucks. Workhorse is one of three finalists. Its C1000 design features a light body with 1,000 cubic feet of storage, and a short range that recharges overnight.
There is more than hype involved here. Workhorse's first vans have traveled 8.5 million miles. It's been in this niche for a decade. The trouble is its batteries are not yet competitive with gasoline engines. At the present price of $300 per kilowatt hour, a battery-powered van costs $30,000 to make.
If Workhorse wins the postal contract, and if other last-mile companies follow suit, WKHS stock will be a big winner.
But that's a lot of ifs. This makes Workhorse less an investment than a speculation. Don't bet any money on this stock you can't afford to lose.
There's reason to speculate. It's probable that, over the next decade, electric vehicles will take over the market. It's likely that, in last-mile delivery, with a limited number of players, this can happen quickly. Contracts offered at scale are always valuable, and often profitable.
But there is a lot of wishful thinking going on here. If the niche Workhorse is focused on proves out, why won't Tesla just take it?
At the time of publication, Dana Blankenhorn held long positions in AMZN, NVDA and MSFT.
Dana Blankenhorn has been a financial and technology journalist since 1978. His latest book is Technology's Big Bang: Yesterday, Today and Tomorrow with Moore's Law, essays on technology available at the Amazon Kindle store. Follow him on Twitter at @danablankenhorn.
More From InvestorPlace
Why Everyone Is Investing in 5G All WRONG
Top Stock Picker Reveals His Next 1,000% Winner
Radical New Battery Could Dismantle Oil Markets
Revolutionary Tech Behind 5G Rollout Is Being Pioneered By This 1 Company
The post 6 Tech Stocks Every Investor Should Watch appeared first on InvestorPlace.
Toronto's latest investment in affordable housing – CityNews Toronto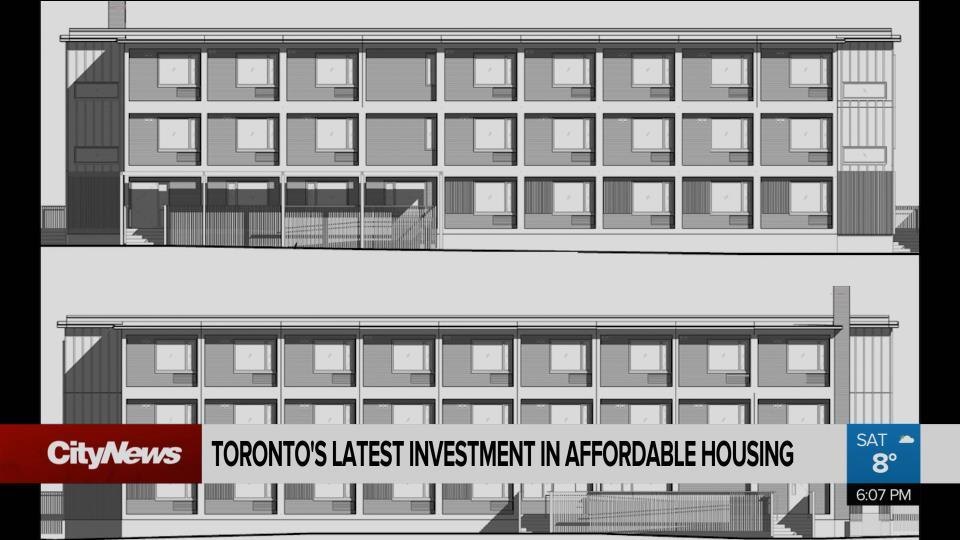 * public_profileBlurb *
* public_name *
* public_gender *
* public_birthdate *
* public_emailAddress *
* public_address *
* public_phoneNumber *