Buy now, pay later? Instalment payment services for online shopping come to Canada – CBC.ca
Online shopping has exploded during the current pandemic, as have the options to pay for purchases.
In addition to the usual debit and credit options that pop up when a customer's about to buy, a number of services have set up shop in Canada recently that give customers the option to pay in instalments — spreading the cost of shopping trip over multiple payments.
While they all work a little differently, services such as Afterpay, PayBright, Sezzle, Klarna, QuadPay, Splitit, Affirm and others give users the options to pay for purchases over time. Most have lower rates and fees than would be accrued by putting the item on a credit card. Indeed, some have no fees at all — on the user's side, at least.
Afterpay quietly launched in Canada this past August. While the company is far from a household name here, that isn't the case in Australia, where the company launched five years ago. It's grown to have 10 million customers there.
The company has signed deals with dozens of retailers operating in Canada, including American Eagle, Ardene, BikeExchange, Dermalogica, FragranceX.com, Herschel Supply Co., Huda Beauty, GOLI, Maëlys Cosmetics, Native Shoes, Nixon, Perfume.com and Roots.
Would-be customers open an account linked to a bank or other payment account, and the company handles the rest.
The way it works is simple, CEO Nick Molnar said in an interview with CBC News.
"If you're buying a pair of shoes for $100, instead of paying $100, the customer pays four payments of $25 every two weeks," he said. "We then pay the retailer the next day. They ship the product up front and we assume all the risk."
There's no interest rate added on to the purchase, nor are there any added fees or penalties for late payments. If a buyer stops paying back their purchase, Afterpay simply cuts off their account. But they don't send the account to a collections agency.
Service free for consumers
The company boasts that less than one per cent of customers fall behind on their payments. Molnar says the system works because it works for both sides — the consumer and the retailer.
"The vast majority of instalment providers across the world have been traditional credit products that rely on very high interest rates to make their business models work," he said. "[But] we have flipped the model on its head where we charge the retailer a small fee, which means it is completely free for the consumer."
Returning to the shoe store example, Molnar says the retailer would pay Afterpay between four and six per cent of the sale — a price they are happy to pay because the payment firm assumes all the risk of nonpayment, and the store gets the cash up front.
Some Canadian retailers are so far pleased with the service. The pandemic has been tough on Native Shoes, a Vancouver-based seller of children's shoes, as it has on many others. But online selling has grown significantly during the pandemic, something the company credits partly to services like Afterpay, in a time when everyone is watching their spending.
"I think it's one more option for the customer to be able to choose how they want to pay — the buy now, pay later kind of platform just gives them a little bit more flexibility," company president Kyle Housman said in an interview.
Native has been using Afterpay since it launched in Canada. The company says only about five per cent of customers currently use it to pay, but it expects that ratio to grow.
While the fee is higher than they'd pay with some other options such as debit and credit , the company is OK if the service grows and expands in part because they have noticed that Afterpay customers tend to buy more than others do — about 25 per cent more, Housman says, either through buying more pairs of shoes, or more expensive ones.
In too deep
But such services can have their drawbacks, according to Shannon Lee Simmons, a financial planner and founder of the The New School of Finance, a financial planning firm.
She's in favour of anything that can get Canadians away from accumulating too much credit card debt, but says instalment systems can still allow consumers to let their spending get ahead of their income.
"If you're not doing that mental math, then you're going to have a problem," she said in an interview. "You're going to start owing money before you even get paid."
And that tendency people may have to buy more when using instalment services could become a problem in the long run.
"They're banking on that money behavior of [saying] 'I want this now and I can't really afford it so I'm going to do it and then I'm just going to break it out over my different paychecks,' which is a dangerous game for anyone to play," Simmons said. "They're really hoping you're going to spend more than you normally would."
Alberta asks federal government, Red Cross for field hospitals as COVID spreads – CBC.ca
As COVID-19 cases soar in Alberta and hospital capacity is stretched, the province has reached out to the federal government and the Canadian Red Cross for help, CBC News has learned.
A federal source with direct knowledge of the situation says Alberta has asked the federal government and the Red Cross to supply field hospitals to help offset the strain COVID-19 is having on the health-care system.
The source said Alberta would likely receive at least four field hospitals — two from the Red Cross and another two from the federal government. The source, speaking on condition of confidentiality, said there was no request for human resources to staff the hospitals and no request for support from the military.
The source said a formal request has still not been sent by the province, but officials have been discussing in detail the level of support Alberta could receive.
Federal Health Minister Patty Hajdu is scheduled to speak with Alberta Health Minster Tyler Shandro on Wednesday to discuss the requests and what other supports Ottawa can offer the province during the pandemic.
A provincial government official confirmed to CBC News that a request had been made for field hospital help, but said the request represented contingency planning only at this point.
The official said Alberta Health Services is gathering resources and materials it may need, but there is no plan yet to staff or construct the hospitals.
An official from Public Safety Canada said they have not received any requests for field hospitals from any other provinces or territories.
Alberta continues to set new daily COVID-19 infection records and leads the country in the number of active cases per capita. It has also sometimes led the country in total active cases. For example, on Tuesday, there were 16,628 active cases in Alberta, compared to 14,524 in Ontario — a province with more than three times as many people.
On Tuesday, the province reported 1,307 new cases and a test positivity rate of 8.4 per cent. Alberta has reported more than 1,000 cases each day for nearly two weeks.
There were 479 people in hospital and 97 in ICUs on Tuesday, but the province will update those numbers on Wednesday afternoon at a news conference to be attended by both Premier Jason Kenney and Chief Medical Officer of Health Dr. Deena Hinshaw.
CBC News will carry that news conference live here at 3:30 p.m. MT/5:30 p.m. ET.
The last time Kenney appeared at a COVID-19 update was on Nov. 24 when he introduced new restrictions on social gatherings, among other measures, in an attempt to stem the rising tide of cases while continuing to focus on the province's economic health.
He said those restrictions would be revisited on Dec. 15 and stricter measures could be imposed if cases continue to rise.
Critics have called those measures insufficient.
Since then, doctors have warned of overburdened hospitals and ICUs and the province has taken the step of double-bunking some patients in ICU rooms as part of its plans to deal with a surge.
On Nov. 27, Alberta Health Services sent a memo to staff asking them to conserve oxygen supplies as demand increases.
What does the Pfizer vaccine approval in the U.K. mean for Canada? – CTV News
TORONTO —
Following news that the United Kingdom has authorized a COVID-19 vaccine for use, questions are emerging about what the new approval could mean for other countries looking to secure a vaccine candidate in the race against the novel coronavirus.
Britain gave the green light to the COVID-19 vaccine candidate from American drugmaker Pfizer and Germany's BioNTech on Wednesday and expects to start its first vaccinations in the country within days.
Canada's Minister of Health Patty Hajdu took to Twitter on Wednesday to say that the U.K.'s approval of the Pfizer vaccine is "encouraging" and that Health Canada will complete its review of the candidate "soon." She did not provide further details.
"Making sure a COVID-19 vaccine is safe before approving it is Health Canada's priority, and when a vaccine is ready, Canada will be ready," Hajdu tweeted.
Chief medical advisor at Health Canada Dr. Supriya Sharma said at a public briefing on Nov. 26 that Canada plans to make a decision on the Pfizer vaccine around the same time that the U.S. Food and Drug Administration (FDA) and the European Medicines Agency do.
Those decisions are expected to be made sometime in December, with FDA having set a meeting on Dec. 10 during which they will make a final call on the vaccine.
However, Health Canada has its own approval processes, designed to ensure vaccines are safe and effective.
Sharma said Canada's review of Pfizer's vaccine, which began on Oct.3, is the most advanced out of the current candidates, but still ongoing.
"While significant time and resources are being devoted to expediting the scientific review of COVID-19 vaccines, the decision on whether they will be authorized will ultimately depend on assessment of the data, including the complete information from clinical trials, which is still coming in," Sharma said.
Sharma said Canada "will only authorize a vaccine if its benefits clearly outweigh its risks."
"While we are working hard to give Canadians access to COVID-19 vaccines as quickly as possible, we will not compromise our safety, efficacy and quality standards. Protecting the health and safety of Canadians is our top priority," Sharma said.
While Pfizer's vaccine may be furthest ahead in Canada's review process, AstraZeneca, Moderna and Janssen's vaccine candidates have also been submitted to Health Canada for approval.
Pfizer announced in November that results of clinical trials that showed its COVID-19 vaccine was 95 per cent effective and offered "significant protection" for older people. However, the candidate needs to be kept at -70 C during transportation and storage to remain effective, posing logistical problems.
VACCINE FAST-TRACKING
Infectious disease specialist Dr. Abdu Sharkawy told CTV's Your Morning on Wednesday that news of Britain's approving the Pfizer COVID-19 vaccine is "exciting." He expects other vaccine candidates to be approved in Western countries in the coming weeks.
Sharkawy said the approval adds to the "sense of optimism" around a successful coronavirus vaccine.
"If the data has been looked at very carefully by one regulatory body, like the MHRA in the U.K., then certainly the FDA and Health Canada should be able to do the same thing," Sharkawy said
"I would be surprised if Health Canada did not follow suit with approval very, very soon," he added.
However, in a statement to CTV News, Pfizer Canada said on Wednesday that "an approval in one jurisdiction does not equate to an approval in another."
Despite being approved in the U.K., infectious disease specialist Dr. Isaac Bogoch says Pfizer's vaccine candidate won't land on Canadian soil anytime sooner.
Bogoch told CTV News Channel on Wednesday that regulatory bodies are "working at different paces" and said the U.K.'s approval does not mean that Health Canada should rush its own decision.
"I really hope that they do their job in a very fair manner without any external pressure, and I really hope that it doesn't push them to do their job faster," Bogoch said. "If it's a day, a week, a couple of weeks longer, [that's] fine, as long as they do a thorough job and ensure that Canadians get access to safe vaccines that are effective."
Bogoch explained that Health Canada not only has to look at the data from a vaccine's clinical trials, but the agency also has to consider the manufacturing process of that vaccine.
Bogoch said it is likely that Health Canada will approve the Pfizer vaccine in the "coming weeks." However, once the vaccine arrives in Canada, Bogoch said the country needs to have programs already in place to ensure the shots are immediately rolled out.
"It's not quite clear when the vaccine will land on our doorstep but when it does, we better work really, really hard right now to sort out how we're going to ship this," Bogoch said, adding that Pfizer's temperature requirements do pose a challenge.
"This is that one where it requires [-70 C] freezing, so the logistics of getting this around the country are hard. I hope that process is underway because we might get access to this sooner than we think," he said.
VACCINE ROLLOUT
Canada has secured access to a total of 414 million doses of COVID-19 vaccines from different sources including 76 million from Pfizer, but just four million of those are expected to land in the country by the end of March.
Deputy Chief Public Health Officer Dr. Howard Njoo said on Nov. 26 that while there will be early prioritization of who gets vaccinated based on the limited initial supply, Canada will have enough doses to "provide access to every Canadian who wants one in 2021."
However, Kerry Bowman, a bioethicist and assistant professor at the University of Toronto's faculty of medicine, says he is concerned that vaccine access may be limited throughout the next year if a proper rollout plan is not in place.
Bowman told CTV News Channel on Wednesday that there is "a lot of confusion and ambiguity" as to when provincial health authorities will have a COVID-19 vaccine so inoculations can begin.
Bowman's remarks come on the heels of weeks of moving targets and changes in messaging from federal and provincial officials about Canada's vaccine standing and timelines.
"So many of the people in Canada and the provinces, if they're going to be prepared for this they do need dates and they do need numbers. How do you prepare without that?" Bowman said.
While he acknowledges that administering a vaccine nationally "isn't easy," he said there needs to be more transparency from government officials about current rollout plans to ensure that Canadians aren't hesitant to get vaccinated once they can.
"We really, really need to build trust with Canadians right now so that when the vaccine is available that people are trusting of that," Bowman said.
Speaking virtually at the Canadian Immunization Conference, Chief Public Health Officer Dr. Theresa Tam said Canada's vaccine rollout requires a "complex response" since the country has invested in a range of vaccine candidates that all have their own needs.
Tam said on Wednesday that Canada has ordered 126 freezers with various temperature capabilities for the vaccine, many of which she says have already been delivered.
She acknowledged that it is "very important" to be transparent with Canadians about the status of vaccine candidates and their subsequential rollout.
"It is important for all of us to get knowledgeable about the process of development and that the regulatory process is rigorous and that we would only provide vaccines that have gone through safety evaluations and efficacy evaluations," Tam said.
Tam said the federal government will be using "behavioural insights" and other strategies such as sharing testimonials and using social media influencers to help address misinformation and "boost vaccine confidence among the population."
However, Tam maintained that Canada will only approve a COVID-19 vaccine after thorough reviews are completed.
"We still have to look at the clinical trial results in depth. These initial vaccine candidates have reported good efficacy and provide hope for a new way forward in not just this pandemic, but for future," Tam said.
The latest news on COVID-19 developments in Canada – Richmond News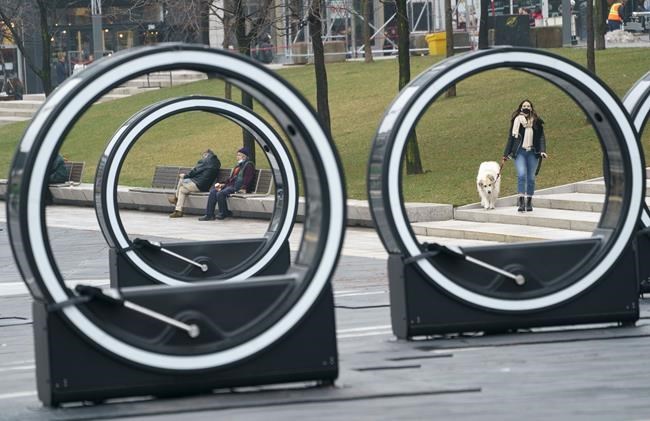 The latest news on COVID-19 developments in Canada (all times Eastern):
3:17 p.m.
Health Canada says a review of a COVID-19 vaccine approved for emergency use in the United Kingdom is expected to be completed soon.
British officials gave the go-ahead for a vaccine developed by American drugmaker Pfizer and Germany's BioNTech today.
Health Canada says its independent review of the vaccine is ongoing.
It says the review started Oct. 3.
Canada has a purchase deal to buy at least 20 million doses from Pfizer and the option to buy another 56 million.
The first four million are supposed to arrive between January and March.
—
2:45 p.m.
Saskatchewan is reporting 238 new cases of COVID-19 and two more dead.
Health officials say those who died were 60 and older and their deaths bring the province's death toll since the start of the pandemic to 53.
There are 132 people in hospital, with 26 people receiving intensive care.
Saskatchewan's seven-day average of new daily cases sits at 274.
Premier Scott Moe says although he expects high case numbers for weeks to come, he hopes community transmission rates will be lowered enough to loosen household gathering restrictions in time for Christmas.
—
2:21 p.m.
Public health officials in New Brunswick are reporting six new cases of COVID-19 in the province Wednesday.
The Moncton, Saint John, Fredericton and Edmundston regions each had one case, while there were two in the Bathurst region.
There are now 119 active cases in the province.
There has been a total of 514 cases and seven deaths since the pandemic began.
—
1:43 p.m.
Manitoba is reporting 277 new COVID-19 cases and 14 deaths.
Chief public health officer Dr. Brent Roussin says the daily case count has dropped in recent days, but the health-care system is still being strained.
Almost half of the 106 intensive care beds being used in the province are occupied by people with COVID-19.
—
1:36 p.m.
Nova Scotia is reporting 17 new cases of COVID-19, bringing its total of active cases to 127.
Sixteen are in the Halifax area, including a case at St. Margaret's Bay Elementary school that was reported late Tuesday.
Health officials say the remaining case reported today is in the northern health zone and is related to travel outside of Atlantic Canada.
Nova Scotia Health Authority labs completed 3,295 tests on Tuesday.
—
1 p.m.
For the first time, Nunavut's COVID-19 recoveries outnumber its active case count.
The territory announced 11 new cases of COVID-19 today for a total of 80 active cases and 113 recovered.
Dr. Michael Patterson, Nunavut's chief public health officer, says cases will go up and down as his team continues to contact trace.
A two-week lockdown to slow the spread of COVID-19 lifted today in all communities except Arviat, which has 65 active cases.
—
12:50 p.m.
There is one new case of COVID-19 in Newfoundland and Labrador.
Health officials say the new case is related to travel and involves a man between 20 and 39 years old in the eastern part of the province.
There have been 340 confirmed cases of COVID-19 in Newfoundland and Labrador since the onset of the pandemic.
—
11:10 a.m.
Quebec is reporting a record number of new daily COVID-19 cases, with 1,514 infections added today.
The Health Department also reported 43 new deaths linked to the novel coronavirus, including nine in the past 24 hours.
The province's previous high for daily cases was reported Saturday, when the province hit 1,480 new cases.
Hospitalizations have increased by 21 for a total of 740, with one more patient in intensive care for a total of 99.
—
10:45 a.m.
Ontario is reporting 1,723 new cases of COVID-19 today, and 35 new deaths due to the virus.
Health Minister Christine Elliott says there are 500 new cases in Peel Region, 410 cases in Toronto, and 196 cases in York Region.
The province says it has conducted 44,226 tests since the last daily report.
In total, 656 people are hospitalized in Ontario due to COVID-19, including 183 in intensive care.
—
9:50 a.m.
Quebec's deputy premier says that beginning Friday, stores and malls will have to enforce strict limits on the number of people allowed inside if they want to remain open.
Genevieve Guilbault says maximum capacity will be set according to a store's total surface area, and the allowable number of customers will be clearly posted.
Distancing and mask-wearing must also be enforced for customers waiting in line, and Guilbault says those not respecting the rules could be subject to fines of between $1,000 and $6,000.
Guilbault says the situation remains fragile in Quebec, hinting that COVID-19 numbers to be released later this morning will show that.
This report by The Canadian Press was first published Dec. 2, 2020.
The Canadian Press