Buying Used: 2015-2020 Ford Mustang – Wheels.ca
Besides being Snoop Dogg's one-time golfing buddy, the late Lee Iacocca was also known as the father of the Mustang, Ford's popular sports coupe that arrived just as the first Baby Boomers were graduating from driving school.
Henry Ford II was looking for a winner after the Edsel debacle and dispatched Iacocca to Europe in 1960 to check out the Taunus, Ford of Germany's first front-wheel-drive car that was being considered for the U.S. market. Iacocca was underwhelmed, finding the car small and homely.
Back in Detroit, he proposed creating a sporty coupe out of the compact Ford Falcon. By adapting its chassis and drivetrain, Ford could turn out a fresh model for a mere $75 million (1964 dollars) rather than $400 million required to engineer an all-new automobile. But not everyone was on board.
In his autobiography Iacocca recalled a Ford product planner who had griped that making a sports car out of a Falcon "was like putting falsies on grandma." After banishing that image, stylists managed to pen a winning design. When the Mustang debuted in April 1964, four million people visited Ford dealerships (not websites) that first weekend.
The Sixth-Gen Mustang
Remarkably, the all-new-for-2015 Mustang is only the car's sixth generation in 50 years. The previous model employed Ford's Thunderbird chassis for a decade, and the one before that used the Fox platform (remember the Fairmont?) for 25 years. This time the Mustang got a new platform that was 90 kg lighter to bring it closer to fighting trim.
The introduction of an integral-link independent rear suspension, a feature only found previously in the rare 1999-2004 SVT Cobra model, improves the handling and ride comfort of every sixth-gen Mustang. The front end uses a double-pivot MacPherson strut suspension, similar to that used by many BMWs. The wheelbase and overall length are much like the old car, but the new one sits 4 centimetres lower and has an 8-cm-wider rear track. It remains steadfastly rear-wheel drive only.
The cabin feels more spacious thanks to a slimmer centre console and less imposing dual-cowl dashboard. It pays homage to the past while accommodating all the latest tech gear. The Sync voice activation system simplifies operation of the audio, phone and navigation systems, but the optional MyFord Touch interface is trickier. Users find operating the system's touchscreen can be distracting.
Outward visibility is better than in a Chevy Camaro or Dodge Challenger, although the thick C-pillars still block everything over the driver's shoulders. The quality of the interior materials has generally improved, though not everyone is enamoured with the optional Recaro seats, which can feel overly bolstered and constrictive for some body types. The steering wheel finally has a telescoping function in addition to tilt adjustment.
The Mustang retained its coupe and convertible body styles, both considered four-seaters, but the cramped back seats remain a kids zone exclusively. The coupe's trunk provides 13.5 cubic feet of cargo space, while the convertible offers 11.4 cubes. Standard split-folding rear seats in the coupe extend the cargo capacity.
Ford should be lauded for giving sports-car enthusiasts the choice of a four-, six- or eight-cylinder engine. Buyers could select the aluminum 3.7-litre V6 with 300 hp and 280 lb-ft of torque in the base Mustang, the EcoBoost is a 2.3-litre turbocharged four-cylinder engine packing 310 hp and 320 lb-ft, while the GT boasts a 5.0-litre V8 with 435 hp and 400 lb-ft. Any engine could be paired with either a Getrag six-speed manual gearbox or six-speed automatic.
Subsequent model years provided a steady stream of improvements and updated equipment. For 2016, the much-maligned MyFord Touch infotainment system was replaced by the Sync 3 touchscreen with its simplified interface and iPhone-like pinch-and-swipe finger commands.
The Mustang earned a significant refresh for 2018, which included styling tweaks, a retuned suspension with newly available adaptive suspension dampers for improved ride quality, and a new 10-speed automatic transmission that provides quicker shifts and refined operation. An optional fully digital LCD instrument cluster allows the driver to customize the display information.
More changes are found under hood. The aging V6 engine was retired, while the EcoBoost four-cylinder gained 30 lb-ft of torque for a total of 350 lb-ft. The GT's 5.0-L "Coyote" V8 gained direct and port injection, along with other mechanical changes, to raise the output to 460 hp and 420 lb-ft of grunt.
The commemorative 2019 Bullitt model finished in Highland Green was largely a cosmetic exercise, although the Bullitt's V8 saw a 20-hp bump to 480 hp – thanks to a modified intake manifold – while torque remained pegged at 420 lb-ft.
Driving The Legend
With three distinct engines, the Mustang's flavours range from mild to wild. The V6-powered base model – surprisingly, the lightest of the bunch – gets to 97 km/h in a speedy 5.5 seconds, which is barely slower than the EcoBoost model, albeit without the stickier tires and sport suspension bits.
The 2.3-litre EcoBoost delivers on its performance promise with a 5.2-second run to highway velocity. If there's a down side to the four banger, it's that it delivers a wholly unsatisfactory exhaust note that's sure to disappoint enthusiasts. The 2018 and newer EcoBoost with more torque, shorter gearing and the new 10-speed autobox shrinks the acceleration time to 5.0.
The V8-powered GT attains an acceleration time of 4.5 seconds in standard trim with the six-speed manual gearbox. The 2018 and newer GTs equipped with the 10-speed can rocket to 97 km/h in a blistering 3.8 seconds, while the manual requires 4.3 seconds – a vivid demonstration of why the stickshift is disappearing.
Beyond the horsepower, owners agree America's original pony car is a quiet and comfortable GT tourer that no longer beats up its occupants. The fully-independent rear suspension has transformed the Mustang by giving it a world-class ride that rivals that of the European brands. The handling is immensely sticky, supple and confident. Mustang owners finally have a refined sports car they don't have to apologize for.
"If you don't see yourself as a Mustang type, go test drive a new BMW 5-Series and then try the Mustang – it's cheaper, better looking, better to drive and generally mullet-free," noted one owner online.
Owners Talk Reliability
Sixth-generation Mustang owners rave about the performance levels of their cars, the unexpected refinement and comfort found in the retro-styled cabin, and the car's practical tech features. Demerits include the tiny back seats, the long, unwieldy doors and stiff ride furnished by the optional performance suspension.
Reliability-wise, the Mustang is reasonably well put-together at its assembly plant outside of Detroit, but there are some reoccurring themes in the complaints found online. Principally among them are concerns about driveline vibration when being driven at speeds between 70 and 100 km/h, as well as an associated rumble or boom.
"It's so bad my right foot and hands go numb," posted the owner of a 2015 model. "The dealer has been trying to fix it for 10 days. Balanced wheels, swapped wheels from a similar vehicle, tried a driveshaft from another vehicle, changed differential – which made it better, but tech said it's still not right."
Ford issued a technical service bulletin (SSM 45938) for 2015-2017 Mustangs, which outlined service steps for technicians: inspect the driveshaft for damage, undercoating, incorrectly seated universal joints; rotate the driveshaft by hand to feel for any binding or end play in the universal joints; correct any tire balance problems; and balance the driveshaft. Prior to the service bulletin, dealers typically replaced the driveshaft.
Another common concern is reports of doors opening randomly while the car is underway. Ford instituted a recall campaign of selected 2011-2015 Ford and Lincoln vehicles to address faulty door latches. Safety recalls 15S16 and 16S30 were issued to replace door latches with latch pawl spring tabs that are susceptible to cracking due to high ambient temperatures and solar heating.
Early builds of the 2015 Mustang exhibited paint defects on the aluminum hood, allegedly attributed to poor metal preparation. Another issue seen in early cars is a brake light switch plunger that can break off the brake pedal, causing the brake lights to constantly illuminate and potentially cause driveability issues.
Other mechanical issues used buyers should be aware of include premature air conditioner failures, broken power windows, malfunctioning radios and back-up cameras, oil leaks and random stalling exhibited by the four-cylinder EcoBoost engine.
Report: New Nintendo Switch With 4K Output, OLED Screen Will Release Before Christmas – Kotaku
Last year, Bloomberg reported that a new model of the Nintendo Switch would be out sometime in 2021. Today, they're reporting some more specific details, like the size of the screen and some 4K news.
The original report was very light on details, saying only that Nintendo "has looked into including more computing power and 4K high-definition graphics", but that has now been clarified to say that this new model will feature an OLED screen made by Samsung, which will be seven inches across (current Switch models are 6.2 and 5.5 inches for the regular and Lite respectively) and feature a 720p resolution.
It will also, perhaps even more importantly, output 4K visuals when connected to a TV, which will make for one hell of a resolution change when switching between docked and handheld mode.
Bloomberg's report says production on the new screens will commence in June, with the "displays slated for shipment to assemblers around July", meaning this new model would be ready "in time for the holidays".
Nintendo reportedly plans to release new Switch with larger Samsung OLED display – MobileSyrup
It seems there might be at least some level of truth to rumours that Nintendo is working on a new version of the Switch.
According to a recent report from Bloomberg, the company plans to release a new version of the Switch with a larger display in time for the 2021 holiday season.
This time around the console's 7-inch, 720p display will be OLED and manufactured by Samsung Display. Bloomberg says that the displays are set to ship in July to the various companies that assemble the Switch.
Making the jump to OLED would give the Switch better battery life and likely improve the screen's contrast ratio. The current version of the Switch features a 6.2-inch LCD screen, while the Switch Lite's LCD display measures in at 5.5-inches.
Though the current Switch's LCD screen is passable, moving to a Samsung panel would almost certainly improve its overall picture quality given the South Korean company's prowess in the TV and smartphone display space.
The report also mentions that this new version of the Switch will be capable of outputting 4K visuals to a television, hinting that at least its dock will feature a faster processor. While interesting, this could potentially splinter the Switch's installed base and result in few developers taking advantage of the increased graphical power, similar to the 3DS and the New 3DS.
It's unclear if anything else about the actual Switch console will change beyond the larger screen and the 4K output. Though the Switch continues to sell well and recently hit 79.87 million consoles sold as of February 1st, it faces stiff competition from Microsoft's more recent Xbox Series X/S and Sony's PlayStation 5.
This could be an effort on Nintendo's part to build excitement surrounding the home console-portable hybrid system while moving into the holiday season.
However, Shuntaro Furukawa, the Japanese gaming giant's president, recently stated that Nintendo has no plans to announce a new version of the Switch "anytime soon."
Last year The Wall Street Journal reported that Nintendo was working on two Switch models, the Switch Lite and the Switch Pro. Though the Switch Lite eventually released, the company has repeatedly denied a more powerful Switch is on the way.
According to previous rumours, the upgraded version of the Switch features a more powerful processor, an improved design and possibly a dock with built-in hardware.
Source: Bloomberg
Nintendo Plans Switch Model With Bigger Samsung OLED Display – Bloomberg

Follow Bloomberg on Telegram for all the investment news and analysis you need.
Nintendo Co. plans to unveil a model of its Switch gaming console equipped with a bigger Samsung OLED display this year, hoping the larger touchscreen can prop up demand in time for the holidays, people familiar with the plan said.
Samsung Display Co. will start mass production of 7-inch, 720p-resolution OLED panels as early as June with an initial monthly target of just under a million units, said the people, who asked not to be identified discussing internal matters. The displays are slated for shipment to assemblers around July, the people said. Representatives for Nintendo and Samsung Display declined to comment.
Nintendo seeks to sustain a Switch lineup that continues to sell well against the Xbox and PlayStation, thanks to pandemic-era breakout hits like Animal Crossing and a chip crunch that's plagued supply of rival devices. But the gadget is now into its fifth year, while Microsoft Corp. and Sony Corp. both have new and more powerful machines in the market.
The gaming community has speculated online about the introduction of an OLED or organic light-emitting diode screen, but Nintendo has stayed mum and President Shuntaro Furukawa said in February his company has no plans to announce a new Switch "anytime soon." Samsung's involvement is the strongest indication that Nintendo is serious about updating the console, and on a large scale.
Shares of the Kyoto-based games maker fell 3.6% in Tokyo on Thursday amid a wider market selloff.
What Bloomberg Intelligence says

"The release of a more premium version of Nintendo's Switch console with an OLED display and support for 4K graphics for the holiday 2021 selling season could drive the company's sales above consensus for the fiscal year ending March 2022 and extend the life cycle of the Switch platform for many more years."

– Matthew Kanterman and Nathan Naidu, analysts

In February, Nintendo raised its annual forecasts after the Switch helped the company to its best quarterly earnings since 2008. The games maker hopes to sustain that run in 2021 despite stiffening competition and an ebbing pandemic.
Read more: Nintendo Raises Outlook After Surpassing High Expectations
"The OLED panel will consume less battery, offer higher contrast and possibly faster response time when compared to the Switch's current liquid-crystal display," said Yoshio Tamura, co-founder of display consultancy DSCC.
Nintendo decided to go with rigid OLED panels for the new model, the people said, a cheaper but less flexible alternative to the type commonly used for high-end smartphones. The latest model will also come with 4K ultra-high definition graphics when paired with TVs, they said. That could intensify a longstanding complaint of developers, who have struggled with the difference in resolution between handheld and TV modes and now face a bigger gap between the two.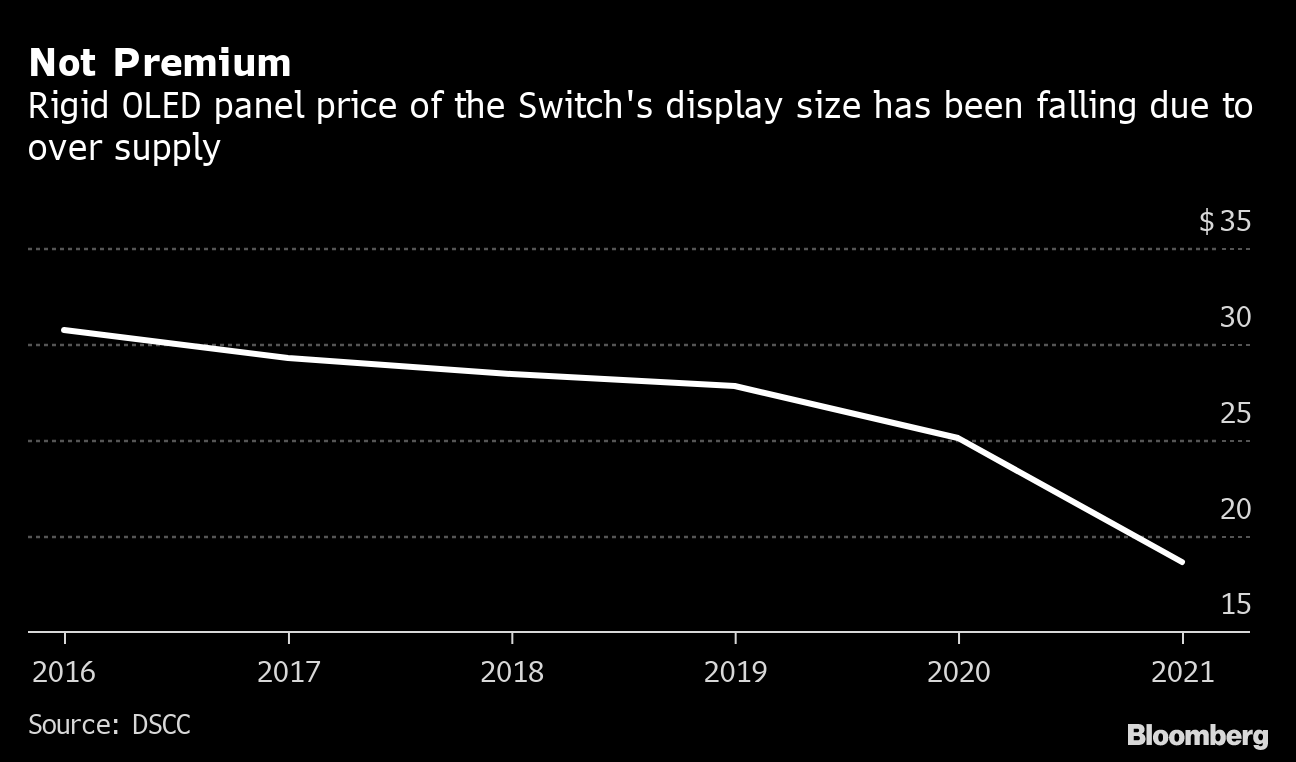 The deal benefits Samsung Display because market prices for so-called rigid OLED panels have been falling due to excess supply. Winning a customer like Nintendo also helps the Korean giant — an affiliate of Samsung Electronics Co. — firm up production plans. Nintendo in turn secures a valuable partner and supplier at a time semiconductor shortages are squeezing the supply of display-related components.
The new display's resolution mirrors the current Switch and Switch Lite but is an upgrade from the Switch's 6.2-inch and Lite's 5.5-inch size. If the console's housing remains unchanged, the new Switch is likely to sport a thinner bezel.
(
Updates with share price and analyst comment
)