Camera Comparison: 2020 iPhone SE vs. iPhone 8 and iPhone 11 Pro – MacRumors
Apple last week launched its new 2020 iPhone SE, a low-cost $399 smartphone that features ‌iPhone‌ 8 components upgraded with the same A13 chip available in Apple's flagship iPhones. We did a full hands-on video back on Friday, but we took the weekend to see how the ‌iPhone‌ SE's camera measures up to the ‌iPhone‌ 8 and iPhone 11 Pro.
Subscribe to the MacRumors YouTube channel for more videos.
Based on an iFixit teardown that looked at the base camera hardware, the ‌iPhone‌ SE is using the same camera sensor as the ‌iPhone‌ 8, a 12-megapixel lens that features an f/1.8 aperture and a 28mm focal length, narrower than the 26mm focal length of the 12-megapixel wide-angle in Apple's flagships.

Though equipped with ‌iPhone‌ 8 hardware, the ‌iPhone‌ SE has more advanced photographic capabilities that are enabled by the powerful A13 Bionic chip inside, such as Portrait Mode and Smart HDR, so for the most part, the ‌iPhone‌ SE's camera quality is superior to the ‌iPhone‌ 8 but inferior to the iPhone 11 and 11 Pro.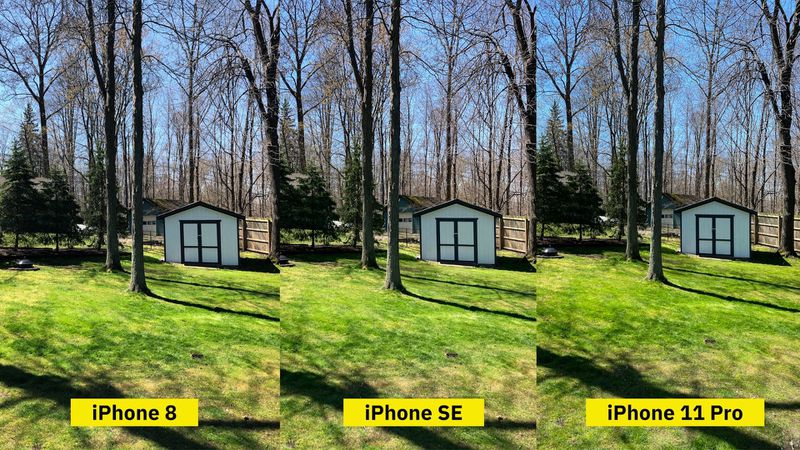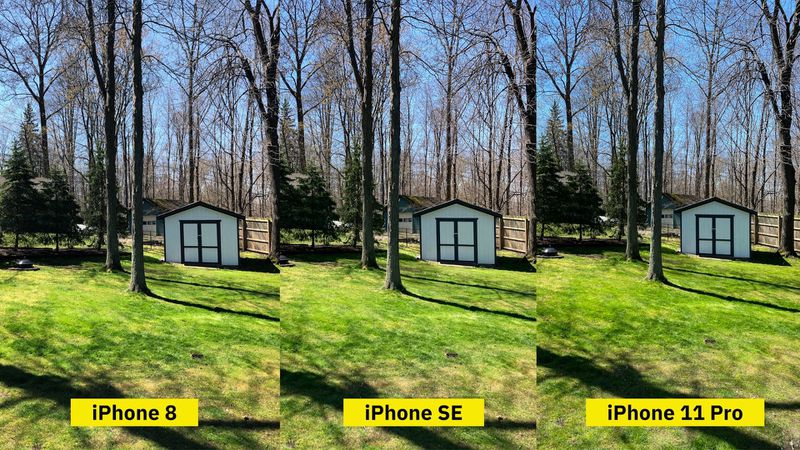 When it comes to photos with good lighting (aka, bright lighting indoors or out), all three iPhones put out similar, decent images because there's not a lot of work needed behind the scenes for improvement. The ‌iPhone‌ 8 and the ‌iPhone‌ SE photos are a little bit warmer than the cooler ‌iPhone 11 Pro‌ images, and you can see that what's coming out of the ‌iPhone 11 Pro‌ is a bit crisper, which is no surprise.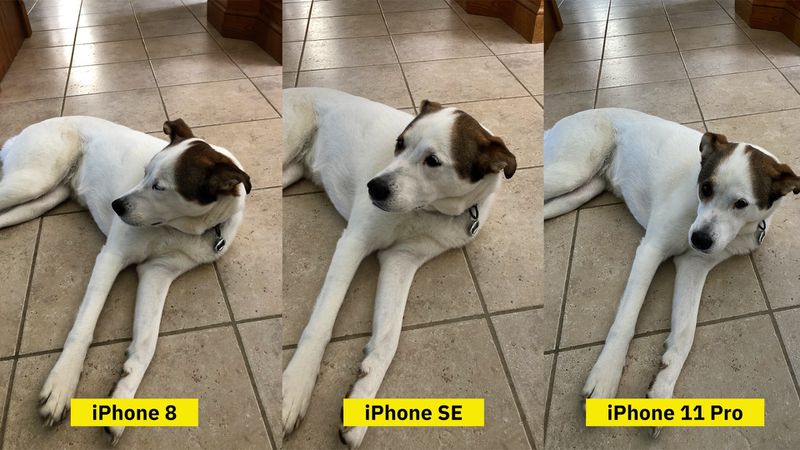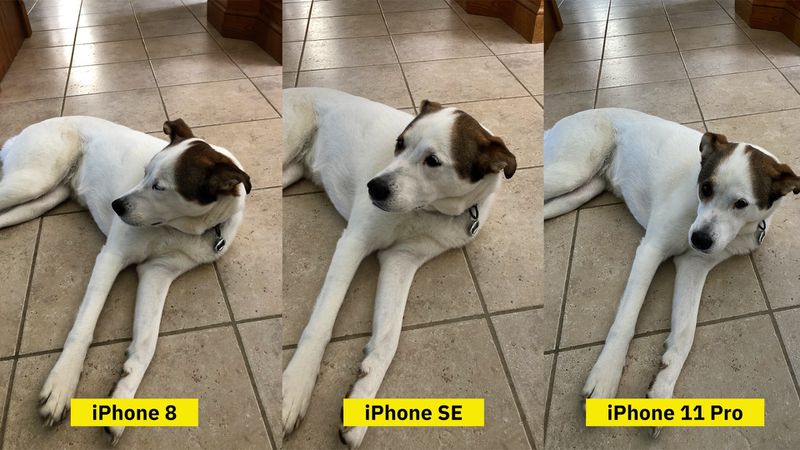 The ‌iPhone‌ 8 struggles with highlights being blown out or overexposed in some situations, and that's where you can see the Smart HDR in the ‌iPhone‌ SE shine. While the ‌iPhone‌ SE was fine in bright lighting, it definitely struggled in low lighting conditions compared to the ‌iPhone 11 Pro‌.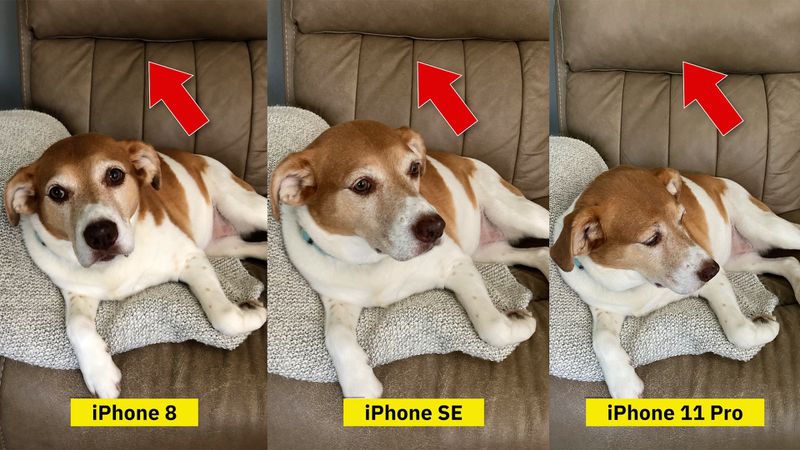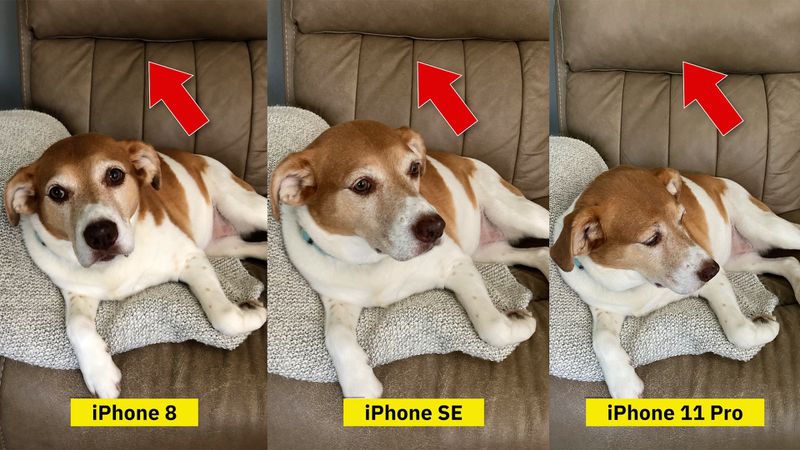 Both the SE and the ‌iPhone‌ 8 had a hard time with low lighting situations, but the ‌iPhone‌ SE's images came out a bit better because of the A13 chip. The ‌iPhone 11 Pro‌ has Night Mode, a feature not available on the ‌iPhone‌ 8 or the ‌iPhone‌ SE, so it of course vastly outperformed the ‌iPhone‌ SE in photos with poor lighting.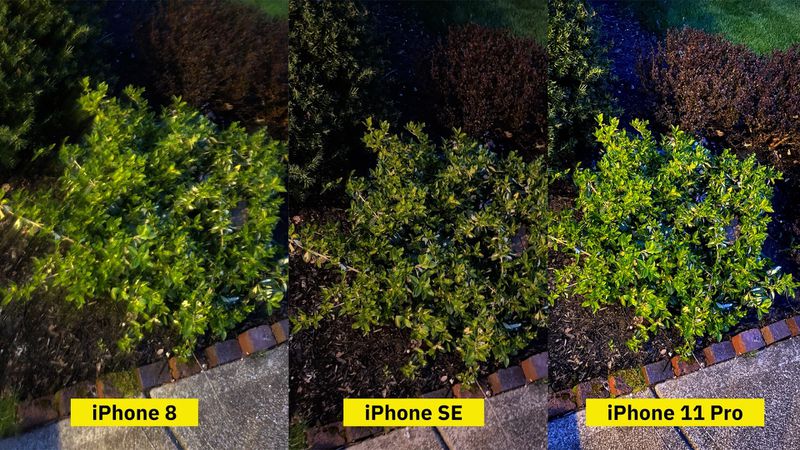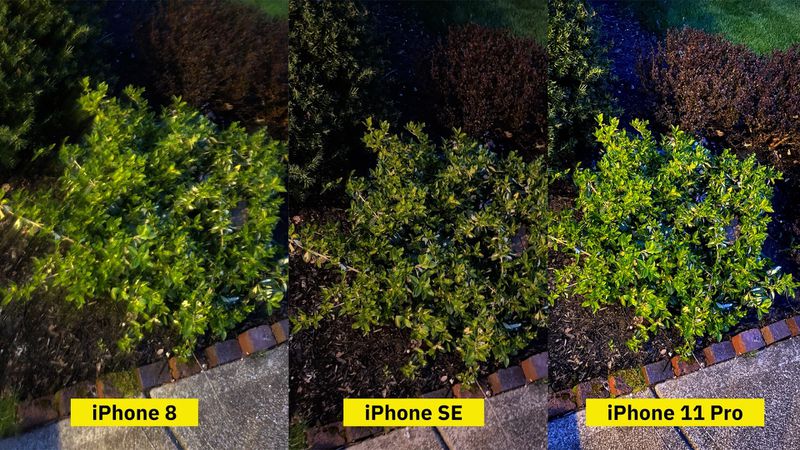 The ‌iPhone‌ SE features Portrait Mode much like Apple's higher-end iPhones, but it's the first of Apple's iPhones to entirely rely on software to generate Portrait Mode images and Portrait Lighting features. Since the ‌iPhone 11‌ and 11 Pro have two and three cameras, respectively, their hardware-based Portrait Mode images come out better, but the ‌iPhone‌ SE does a respectable job.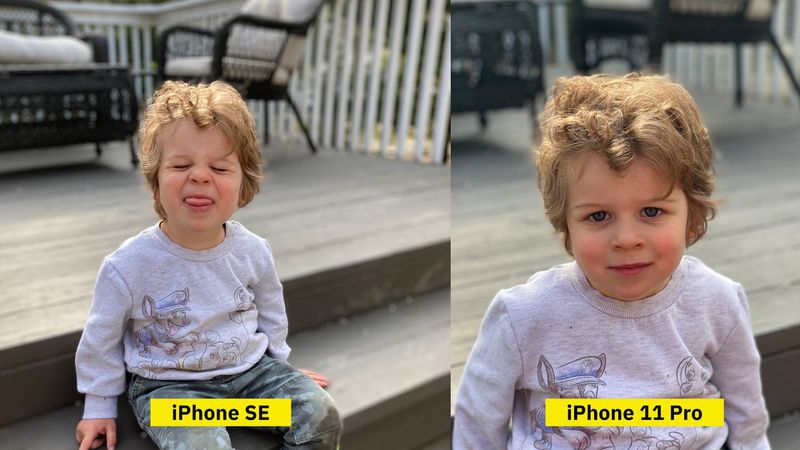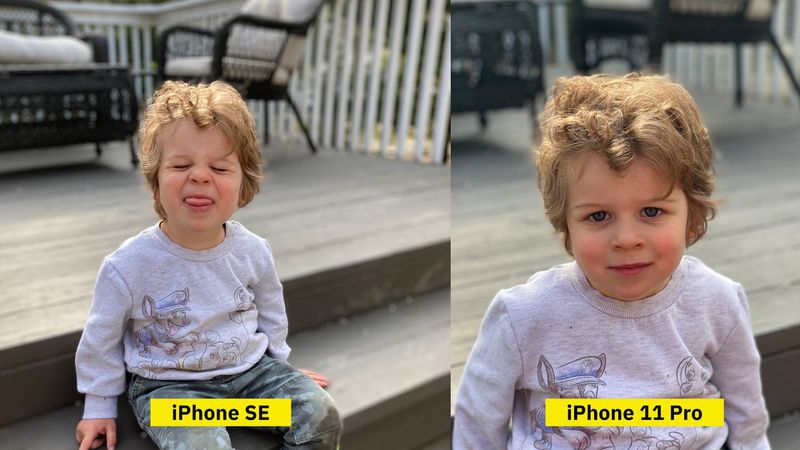 Portrait Mode in the ‌iPhone‌ SE is limited to people because the neural network that powers the feature needs to detect a person to blur out the rest of the image. It's not going to work with pets, food, or other objects like it does on the ‌iPhone 11 Pro‌.
Because the ‌iPhone‌ SE's Portrait Mode is using 2D images to create a depth map, there's a unique ‌iPhone‌ SE feature – you can take a Portrait Mode photo of a photograph that already exists. It doesn't work great all the time, but it's an interesting way to jazz up some older photographs and add background blurring.
Like the ‌iPhone 11‌ and 11 Pro, the ‌iPhone‌ SE supports 4K video at 60fps, which is an impressive feature for a $399 smartphone. A video comparison between the ‌iPhone 11 Pro‌ and ‌iPhone‌ SE showed little difference in quality. Both looked great and the optical image stabilization worked well.
The ‌iPhone‌ 8 doesn't support 4K video at 60fps so we compared using 4K video at 24fps, and again, image quality was similar, but stabilization on the ‌iPhone‌ SE seemed to be better and the audio quality is superior.
The ‌iPhone‌ SE has a plain 7-megapixel front-facing camera that also supports a software-based Portrait Mode, which is not available on the ‌iPhone‌ 8. The front-facing camera is fine, nothing spectacular, but it works well enough for FaceTime and selfies and was comparable to the front-facing cameras of the ‌iPhone‌ 8. The ‌iPhone‌ SE doesn't support the wider angles available with the front-facing camera on the 11 Pro, and the 11 Pro selfies looked a bit better.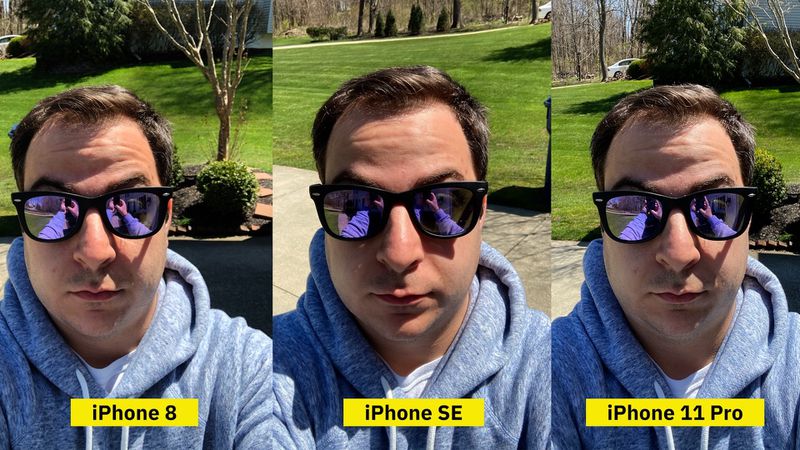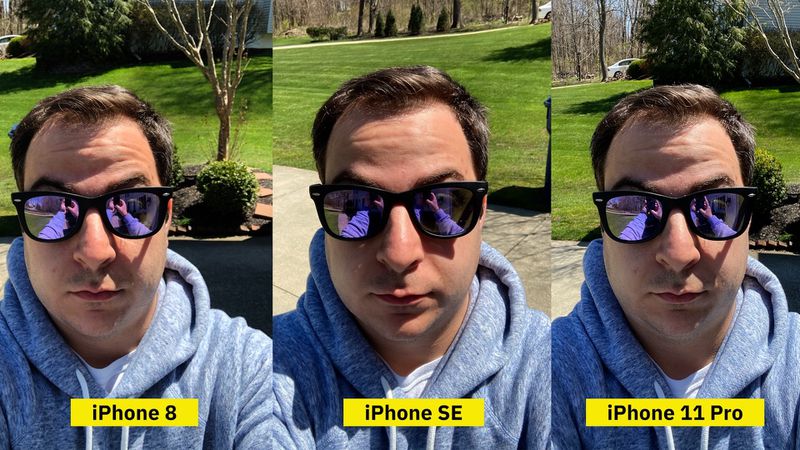 For videos with the front-facing camera, both the ‌iPhone‌ 8 and the ‌iPhone‌ SE had a hard time with bright lights, overexposing the video the entire time. The ‌iPhone 11 Pro‌ did a much better job.
It's worth noting that the ‌iPhone‌ SE also supports QuickTake for both the front and rear-facing cameras. QuickTake lets you hold down the camera button when in picture taking mode to quickly capture a video without the need to swap over to video mode.
All in all, the ‌iPhone‌ SE's camera does produce pictures fairly similar to the pictures produced by the ‌iPhone‌ 8, but the A13 chip is doing a lot in the background to make those photographs look better. The ‌iPhone‌ SE also isn't too far off from the ‌iPhone 11‌ and ‌iPhone 11 Pro‌ when it comes to images taken in bright lighting, but that's where the similarities end.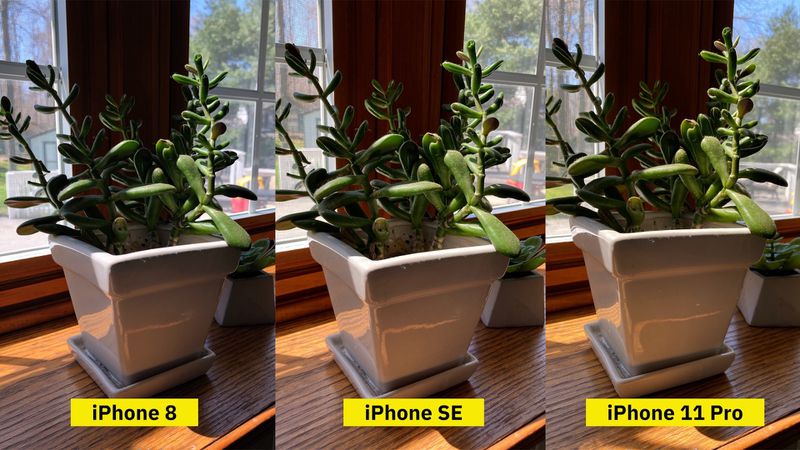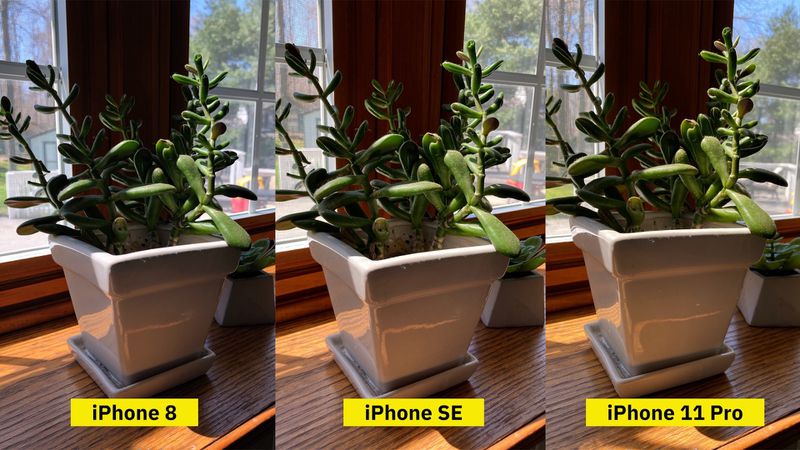 It's a single-lens camera rather than a dual or triple-lens camera so it doesn't have the versatility enabled by additional lenses, there's no optical zoom, software-based Portrait Mode is not as good as hardware-based portrait mode, and there is no ‌Night Mode‌ to use for low light images.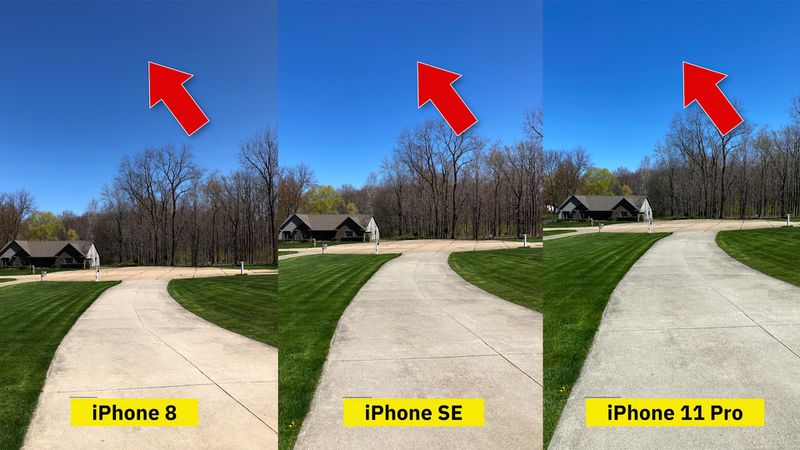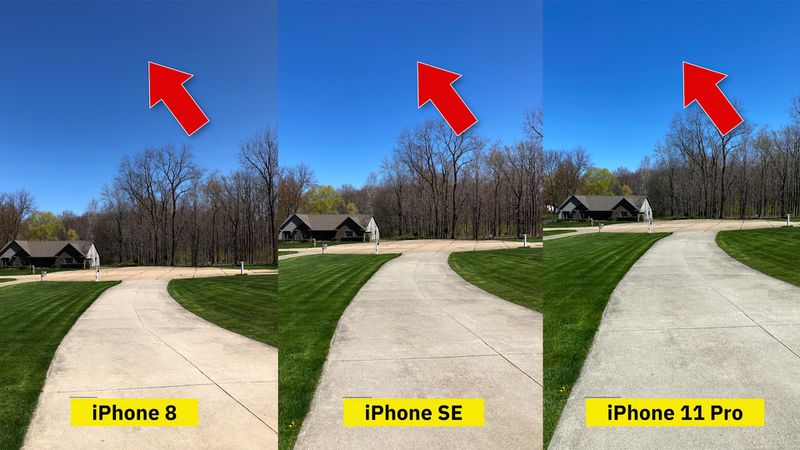 The ‌iPhone‌ SE is a passable camera of course that's going to take great every day shots, but those seriously interested in better ‌iPhone‌ photography should take a look at the ‌iPhone 11‌ over the ‌iPhone‌ SE.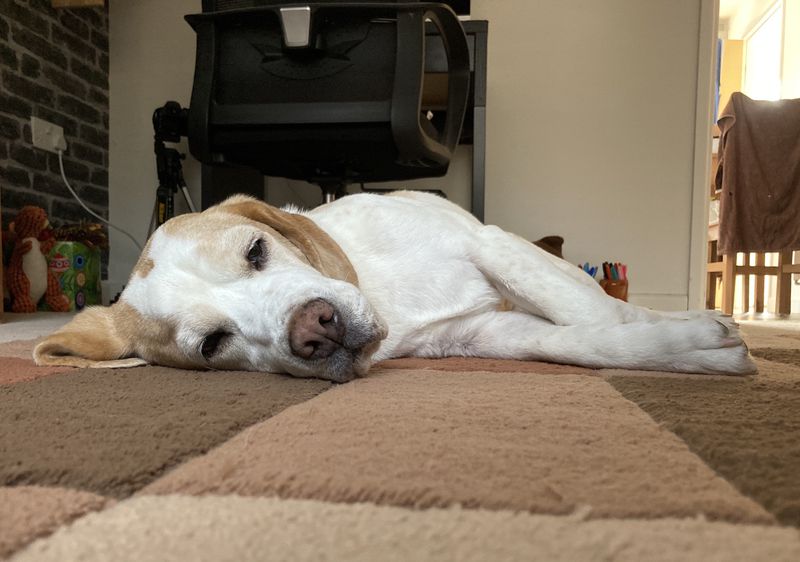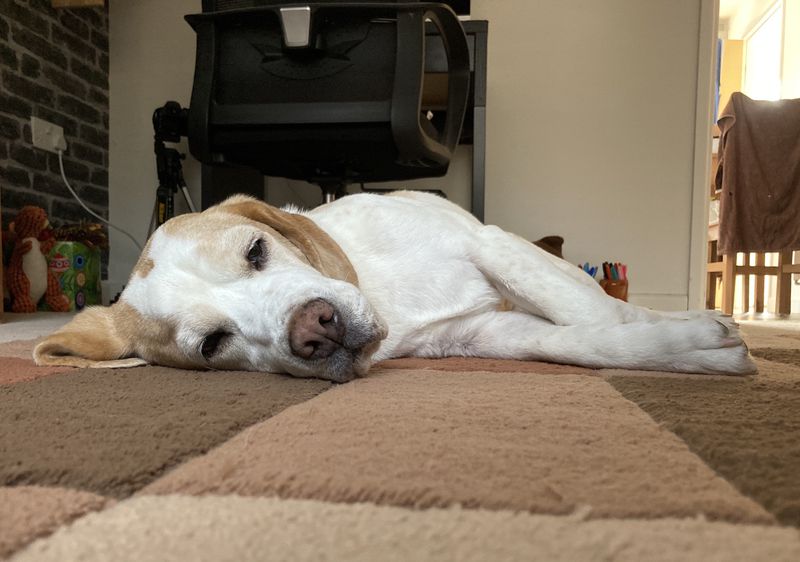 Image from MacRumors reader oVerboost
If you want to see more great photos taken with the ‌iPhone‌ SE to see just what it's capable of, make sure to check out the MacRumors forums where new ‌iPhone‌ SE owners are sharing their pictures.
Nintendo will release a free version of 51 Worldwide Games on the eShop – Video Games Chronicle
Nintendo" href="https://www.videogameschronicle.com/platforms/nintendo/">Nintendo has announced a free 'Pocket Edition' of 51 Worldwide Games.
Pocket Edition will be available to download alongside the full game on Friday, June 5 and allow users to play locally with another player who owns the full version of the game.
The Pocket Edition will also include four single-player games for free: Dominoes, Four in a Row, President and Slot Cars.
51 Worldwide Games (or Clubhouse Games: 51 Worldwide Classics as it's known in the US) is a compilation of classic games such as Chess and Solitaire, regional oddities such as Nintendo's heritage game Hanafuda, and modern 3D takes on the likes of Bowling and Darts.
In VGC's 51 Worldwide Games review, our critic called the Switch exclusive "a polished package of classic and modern games the entire family will enjoy."
"If you'll forgive us for digging out a tired cliché, there really is something for the whole family in this Nintendo Switch" href="https://www.videogameschronicle.com/platforms/nintendo/switch/">Nintendo Switch package and it's expectedly presented with the level of polish, clarity and warm personality that has become synonymous with the Japanese giant."
.cls-1fill:url(#linear-gradient).cls-2fill:#fff
Successful investors are using big data and machine learning—now you can, too – Financial Post
This article was created by StackCommerce in partnership with Content Works, Postmedia's commercial content division. While Postmedia may collect a commission on sales through the links on this page, we are not being paid by the brands mentioned.
The concepts of "Big Data" and "Machine Learning" can be intimidating for beginners, especially if you don't have a background in complex math and programming.
But if you're thinking about investing in stocks, it's time to learn about these important tools for investing.
Interpret data for smarter investments
Together, big data and machine learning have become the backbone of the financial sector. Investors use big data analysis to find patterns within massive amounts of data on an ever-increasing scale. In turn, big data analytics uses machine learning algorithms to enable machines to come up with smarter decisions.
Successful financial firms know how to utilize big data and machine learning. Now you can start learning what they already know with The Complete 2020 Big Data and Machine Learning Bundle. This 10-course bundle is $39.99 and comes with entry-level courses like the Machine Learning For Absolute Beginners-Level 1 and The Keras Bootcamp for Deep Learning and AI in Python. After completing these courses, you'll be familiar with the basic definitions of these concepts and ready to apply your knowledge.
Avoid the herd market mentality
It's human nature to be influenced by others' opinions. Unfortunately, just listening to others won't help you with your investing decisions.
It's important to come up with your own conclusions about what to invest in, using data, and then ask around for opinions. Try taking the Taming Big Data with MapReduce and Hadoop, included in the bundle, to learn more about data management concepts. This course will help you quickly learn these two technologies fundamental to big data and you'll walk away with mastering the art of framing data analysis problems.
Remember, only use opinions to verify that your decision is solid, or if you've missed something in your analysis. Don't fall victim to the herd mentality or else you'll most likely be investing in market bubbles and crashes.
Understand global trends
Using data to identify trends can yield high profits. Once you can see a clear trend around consumer habits or supply and demand, for example, then you can make educated inferences. Spotting these trends early can give you superior returns on your investment.
While some trends are harder to see than others, learning Elasticsearch, Keras, and Apache can prepare you to find the sweet spots ripe for investing. These hot and highly valuable skills, and more, are all available to you in The Complete 2020 Big Data and Machine Learning Bundle, now just $39.90.
Prices subject to change.
Sonos Arc is available to buy in Canada on June 10th – MobileSyrup
Sonos has just released its latest soundbar the Arc, alongside a new Sonos Five speaker and Sub. below is when they'll become available to purchase in Canada.
You might start seeing more and more reviews popping up about the speaker, and if you want to order one right now, you can pre-order them on Sonos' website.
All speakers come in either 'Black' or 'White', and they go on sale on June 10th. They'll also run on Sonos' new S2 app platform, which you can learn more about in our explainer.
Sonos Arc
Arc is the latest and greatest in Sonos soundbars and includes a vast soundstage and Dolby Atmos.
The Arc costs $999 CAD. The company also sells an optional wall-mount that costs $89.
Sonos Sub
The tricky part about the new Sonos Sub is that it looks exactly like the older model, but it has an updated chipset. Therefore the new one should get software support for a longer time.
If you have a Sub, it handles the low-frequency sounds allowing your other speakers to provide more range within the mids and high notes. If you want a full Sonos surround sound system, the Sub is part of that.
Sonos Five
This is the company's studio-quality speaker that's aimed music lovers. This is also one of the only speakers with an Aux port so you can plug in an outside source of media and play it via the Sonos Five
The Sonos Five costs $599 in Canada.
You can learn more about the Sonos Five and Sub by reading our prior report, and you can read my hands-on review with the Arc, which is live now.
Source: Sonos Store