Camila Cabello apologizes for posting racist social media posts – Global News
On Wednesday, Cuban-American pop icon Camila Cabello issued an official apology for previously using "horrible and hurtful language" on social media.
The Havana singer was met with a mass wave of backlash from cynics and offended supporters alike earlier this week after a series of controversial Tumblr posts published when she was a teenager resurfaced to the public.
Not only did Cabello, 22, use racially-insensitive language in some of her own since-deleted posts, but she also shared a variety of derogatory memes to her account which played on common racial stereotypes.
After being called out for her "uneducated and ignorant" behaviour by thousands of users on various social media platforms, Cabello shared a lengthy statement apologizing for the posts.
She attributed her actions to being "embarrassingly ignorant and unaware" in her adolescence.
"When I was younger," wrote Cabello in the post, "I used language that I'm deeply ashamed of and will regret forever. I was uneducated and ignorant, and once I became aware of the history, the weight, and the true meaning behind this horrible and hurtful language, I was deeply embarrassed I ever used it."
The musician added: "I apologized then and I apologize again now. I would never intentionally hurt anyone and I regret it from the bottom of my heart.
"As much as I wish I could," she continued, "I can't go back in time and change things I said in the past. But once you know better, you do better, and that's all I can do."
"I'm 22 now," said Cabello. "I'm an adult and I've grown, learned and am [now] conscious and aware of the history and the pain it carries in a way I wasn't before."
"Those mistakes don't represent the person I am or a person I've ever been," she concluded.
"I only stand and have ever stood for love and inclusivity, and my heart has never, even then, had any ounce of hate or divisiveness."
Cabello's apology, for the most part, was not received well over social media. Many continued to brand her as a "racist," and many questioned how she could be so "ignorant" as a teenager.
"The stuff Camila Cabello shared online is nothing short of FRIGHTENING," tweeted one user.
"It's horrific and no amount of apologies can make up for a mentality like that. I'm not even sure a mentality like the can fully change," they concluded.
Here's what some more Twitter users had to say:
Though the majority of response was negative, some dedicated fans of Cabello weighed in to defend the singer, saying that she should be forgiven after acknowledging her youthful mistakes.
Here's what they had to say:
© 2019 Global News, a division of Corus Entertainment Inc.
Sir David Amess: Priest quits social media over MP last rites abuse – BBC News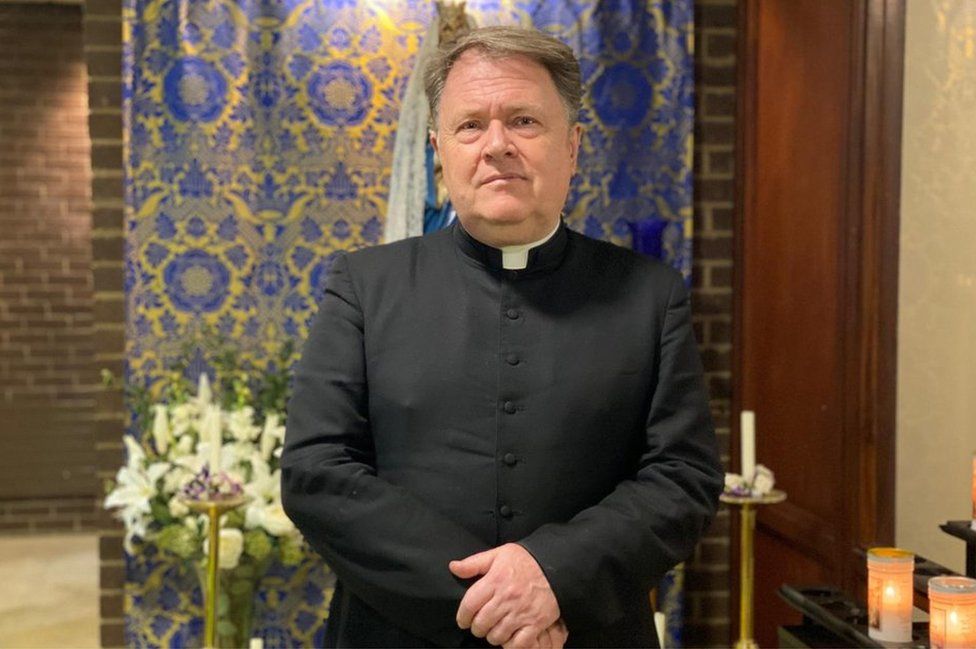 A priest said he felt forced to delete his Twitter account after being accused of not doing enough to administer last rites to Sir David Amess.
Fr Jeffrey Woolnough said he rushed to the scene on 15 October when he heard the MP – a devout Catholic – had been stabbed in Leigh-on-Sea, Essex.
Fr Woolnough said criticism he had since received was "hurtful".
"Most people have been so kind with messages of support, others have accused me of capitulating at the scene," he said.
"The police have a job to do. When I say I have to respect it, it doesn't mean I agree with it.
"But I have to respect as a law-abiding citizen that the police would not allow me in and I had to find plan B, and plan B for me was prayer, and I had to pray on the spot, pray on the rosary."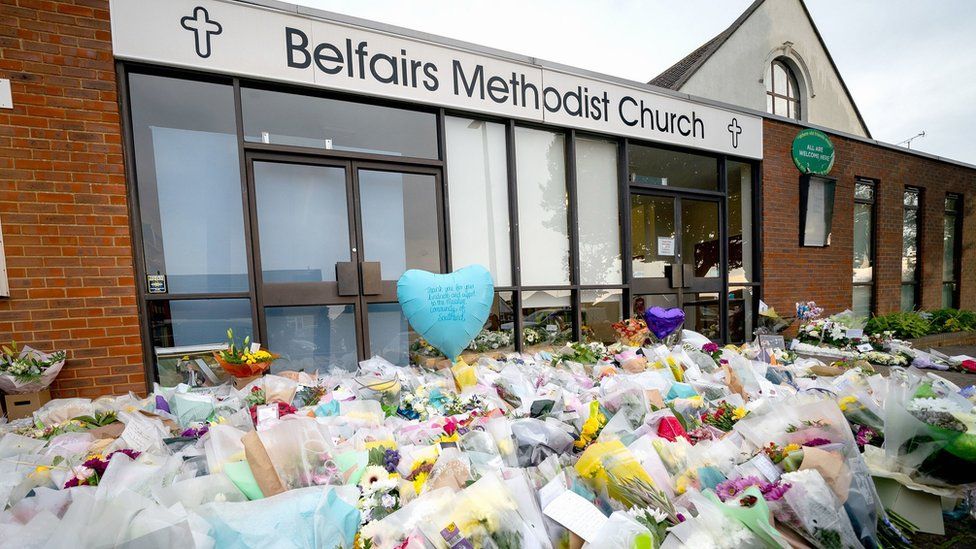 Fr Woolnough is the parish priest at St Peter's Catholic Church, Eastwood, Southend, close to where Sir David was killed.
He said he "foolishly" tried to defend his actions on social media but it "stirred up a hornet's nest" so he deleted his Twitter account.
"I was trying to let people know I had tried my very best but apparently my best wasn't good enough," he said.
Fr Woolnough said he had since had telephone conversations with "some really top priests in the hierarchy" who told him he "did the right thing".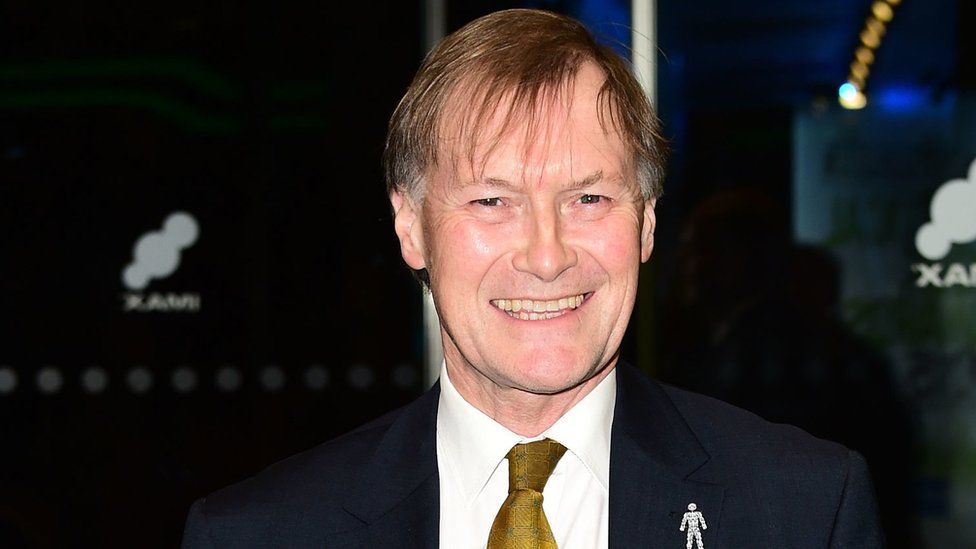 The intention is to add it to the Police, Crime, Sentencing and Courts Bill.
The man accused of killing Sir David will face trial next year. Ali Harbi Ali, 25, of Kentish Town in north London, is charged with murder and the preparation of terrorist acts.
An inquest into the death of Sir David is due to be opened by the Essex coroner on Wednesday.

Media Advisory: Minister Abbott to Introduce New Accessibility Legislation – News Releases – Government of Newfoundland and Labrador
The Honourable John G. Abbott, Minister of Children, Seniors and Social Development, will be available to media to discuss proposed new accessibility legislation prior to debate in the House of Assembly today (Monday, October 25) at 12:00 p.m. in the media centre, East Block, Confederation Building.
The event will be live streamed on the Government of Newfoundland and Labrador's Facebook, YouTube and Twitter accounts.
Media covering the announcement will have the opportunity to join in person in the media centre or by teleconference. Media planning to participate should register with Khadija Rehma (khadijarehma@gov.nl.ca) by 10:00 a.m. today (Monday, October 22).
Technical Briefing
Prior to the announcement, a technical briefing for media will be provided at 11:00 a.m.
Media participating in the briefing will also have the opportunity to join in person in the media centre or by teleconference. Media who wish to participate in the technical briefing should RSVP to Khadija Rehma (khadijarehma@gov.nl.ca), who will provide the details and the required information.
Media must join the teleconference at 10:45 a.m. (NST) to be included on the call. For sound quality purposes, registered media are asked to use a land line if at all possible.
– 30 –
Media contact
Michelle Hunt Grouchy
Children, Seniors and Social Development
709-729-5148, 682-6593
michellehuntgrouchy@gov.nl.ca
Racism allegations on social media defamed Ottawa women, judge rules – CBC.ca
A judge has ordered an Ottawa woman to pay $100,000 in damages for embarking on what he called a "brutal and unempathetic campaign" against two women in a defamation case centred around a video posted just days after the murder of George Floyd by a Minnesota police officer.
The defendant's lawyer, Cedric Nahum, says he plans to appeal the decision, which also subjects his client to a permanent injunction that limits her speaking about the case.
"We found the decision quite disappointing. I think it could do a lot to muzzle conversation in relation to race issues," said Nahum.
He also says the judge didn't adequately take into account the perspective of his client Solit Isak, who identifies as Black, in the context of George Floyd's death in interpreting the case.
The other side, meanwhile, called the judge's decision a "vindication of their reputation" after a traumatic experience that included the loss of employment and threats against them and their family.
Allegations of racism on social media
The case followed a social media firestorm in June 2020 after a screenshot from the Snapchat account of Shania Lavallee was taken from a May 30 video of her sister Justine being pinned down by Shania's boyfriend Gilmour Driscoll-Maurice — who held her hands behind her and had his knee on her back.
Isak saw the screenshot just days after Floyd was murdered by Minneapolis police officer Derek Chauvin, who pressed his knee on Floyd's neck.
Isak, who admitted to never seeing the video, proceeded to make more than 100 social media posts accusing the women of mocking Floyd's death, tagging their employers, and encouraging other people to do the same and share information about them.
Those posts were also republished and amplified.
On June 1, Shania issued an apology online, saying in part, "I meant absolutely no disrespect and didn't mean to hurt or offend anyone. In the video, they were play fighting as they always do and in retrospect I can see how the video could be taken out of context given the current situation and I now see how insensitive it is.
"It was wrong of me to be inconsiderate of the sensitive times at hand and by no means did I use this as a representation of what happened with George Floyd."
Shania lost her job at Boston Pizza in Orléans, as well as a teaching job offer at the Ottawa Catholic School Board. Justine lost her job at the Canada Border Services Agency, as well as failed a character check in her application for work with the Royal Canadian Mounted Police.
The Lavallees said they also had to leave their home to avoid death threats and vandalism.
On June 5, the sisters' lawyer asked Isak to take down her posts and issue an apology threatening to sue for defamation. Isak had filed a counterclaim by the end of that month.
In the summary of his decision, Justice Marc Smith said Isak "blindly embarked on a brutal and unempathetic campaign to destroy the lives of two young women" and didn't have the factual basis for her claims of racism.
Shania had told court they had posted similar "play fighting" videos in the past and at no point in the video did they mention Floyd or refer to "police brutality."
While they were not able to recover the video, which Snapchat deletes automatically after 24 hours, the plaintiffs provided statements from two friends who saw the video supporting that claim.
The judge accepted the plaintiff's story and it wasn't challenged by the defendant.
However, Isak's lawyer said the particulars of the video were less important than the context of when it was published.
The defendant's submissions noted around the same time, other viral images were being circulated online of a so-called "George Floyd challenge" where social media users appeared to imitate the kneeling position in jest.
"I don't think that the judge was able to put himself in the place of a young Black person in the days after the murder of George Floyd," Nahum said.
"He likely wouldn't be able to do so as a white judge."
Sisters 'sensitive' to acts of racism
The Lavallees' lawyer Charles Daoust said it has been a "long, traumatic year for them, but they are happy now to be able to vindicate their reputations."
"The message from the court is clear that people really should be careful before levelling very serious accusations on the internet, especially to have evidence," said Daoust.
In a statement, the sisters said as members of the Indigenous community they are sensitive to acts of racism, but the events in 2020 "did not, in any way, relate to racism."
In court, the plaintiffs filed Native Alliance of Quebec (NAQ) membership cards to claim they are Inuit. NAQ cards are not federally recognized identification.
The CBC asked which land claim organization they belong to, which is how official identification as Inuit is recognized, and Daoust said his clients had no further comment.
Limits of free speech
Isak is not required to issue an apology, but the permanent injunction prevents her from publishing any further "defamatory statements" about the Lavallees.
Nahum said his client is now saddled with $100,000 in debt at the beginning of her adult life and this raises concerns about other people who might seek to speak out against racism.
"When we're looking at who has been told not to speak here, we're looking at the voice of a young Black woman, as opposed to all the other news media outlets or other people who had commented on the situation," Nahum said.
Hilary Young, a law professor at the University of New Brunswick, argued she doesn't think the decision will have a chilling effect on people calling out racist behaviour.
"I think the law is clear that if there is some basis for you to conclude that someone is racist, there are protections of fair comment that will protect your right to state that opinion. But that's not unlimited." she said.
"If you harm someone's reputation, your good intentions aren't good enough to get you off the hook."
Young said the judge did weigh Isak's intention of denouncing racism in assessing damages and didn't call for punitive damages to be paid on top of the general damages.
Social media has increased the use of permanent injunctions so defamatory posts can be removed in an effort to repair damaged reputations, she said.
It's also become more common for private individuals to be involved in defamation cases, which used to primarily play out between public figures and journalists or publishers.
"Now in the internet era, you see a lot more cases where you just have individuals making allegations about other individuals and they haven't done their research or done a lot of effort to get their facts right," Young said.
Employers' due diligence
The judge also said third parties not directly involved in the case should have done more diligence to review the evidence and the sisters' version of the story.
Daoust said his clients are considering their options regarding the employers who fired the sisters or rescinded offers of employment.
In a statement, the Canada Border Services Agency said as a law enforcement agency its employees must be held to the highest standard of conduct, including in day-to-day activities. The agency said it has "no intention of revisiting its decision in this case."
The RCMP said it could not comment on an individual's security clearance for privacy reasons, and should an individual re-apply they would be evaluated according to Treasury Board standards.
The Ottawa Catholic School Board declined to comment on the judge's decision. Boston Pizza did not respond to CBC's request for comment.
Ottawa Morning7:54Racism allegations on social media defamed Ottawa women, judge rules
A judge has ordered an Ottawa woman to pay $100,000 in damages for embarking on what he called a "brutal and unempathetic campaign" against two women in a defamation case centred around a video posted just days after the murder of George Floyd by a Minnesota police officer. 7:54