Can Casinos Be Art Galleries? | Smart News – Smithsonian Magazine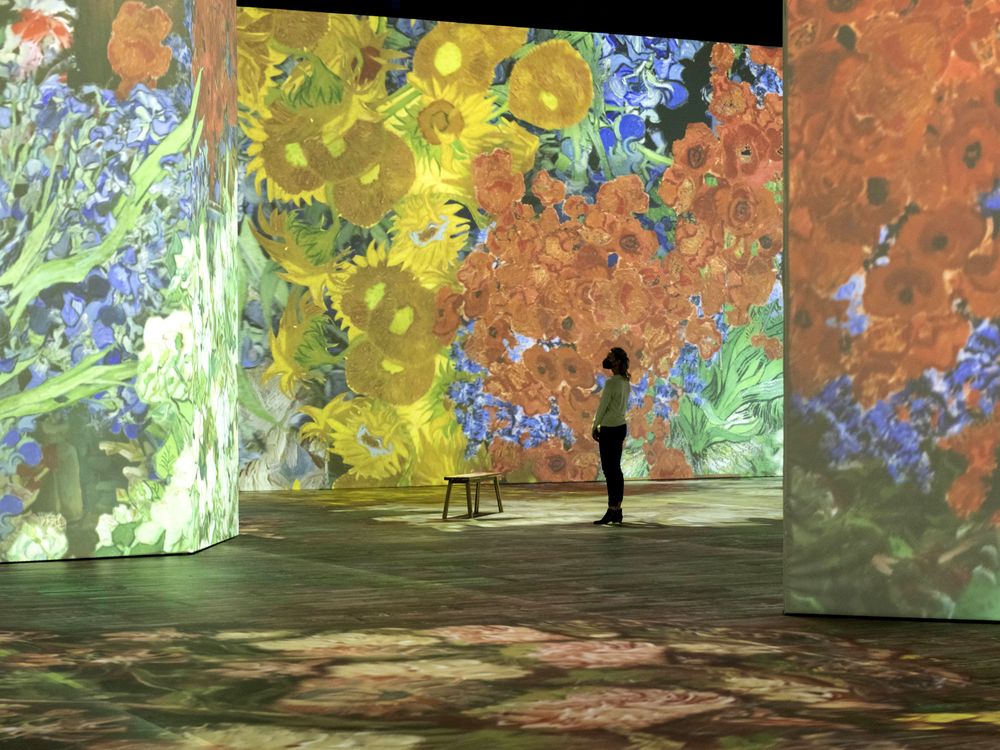 If guests at Atlantic City's Hard Rock casino venture to the second level, just above the table games and slot machines on the lavishly decorated casino floor, they will find 30,000 square feet of swirling colors projected onto the walls and floors of a ballroom.
This is an art gallery—as seen through the filter of Atlantic City extravagance.
"Beyond van Gogh: The Immersive Experience" projects elements from Vincent van Gogh's paintings onto the space. Stars flicker in and out; vases of flowers flow into each other. The traveling exhibition, which opened in Atlantic City this month, is expected to draw some 100,000 visitors to the New Jersey casino, per Philadelphia Weekly's Chuck Darrow.
The show's goal is to make Atlantic City more than "just a gaming destination," casino president Joe Lupo tells Wayne Parry of the Associated Press (AP). "The van Gogh exhibit has been successful in every major market in the country, and Atlantic City needs to be looked at as one of those major markets."
Across the country, casinos like the Hard Rock are hoping to lure new audiences with fine art and immersive art experiences, reports the AP. In Las Vegas, the Bellagio Gallery of Fine Art has displayed works by van Gogh, as well as Pablo Picasso, Claude Monet and Andy Warhol. In London, the Hippodrome Casino hosts an art competition that it bills as a chance for artists to display their work "at one of the most prestigious casinos in the world."
As part of a $620 million renovation, Palms, the iconic Las Vegas casino and resort, opened a collection of contemporary and street art in 2018, featuring more than 100 works by the likes of Warhol and Jean-Michel Basquiat, reported CNBC's Jimmy Im at the time. The following year, Palms announced it would hang Las Vegas' first permanent Bansky piece in its lobby restaurant.
"We're seeing more and more that guests … want to be impressed visually and experientially," creative director Tal Cooperman told CNBC. "We are in a hyper-visual society that has created even more interest in art."
These new galleries perhaps align with broader trends in casino design. Until recent decades, the biggest name in casino design psychology was Bill Friedman, who studied dozens of Nevada casinos to determine what makes people spend money. His conclusion: Low ceilings and labyrinthine layouts beat lavish decor, and the design's exclusive purpose should be to place the gambling machines front and center. As Friedman told the New Yorker's Jonah Lehrer in 2012, casinos should draw people in and make it hard for them to leave.
But these days, casinos have moved toward an opposing philosophy, sometimes dubbed "playground design." Championed by designer Roger Thomas, the idea is to surround guests with extravagance and luxury; in these spaces, they are more likely to spend money and take risks.
"[T]he traditional layout makes no sense," Thomas told the New Yorker. "People don't want to make bets when they feel trapped or overwhelmed or confused."
Instead, he argued, "People tend to take on the characteristics of a room. They feel glamorous in a glamorous space and rich in a rich space."
Surrounding guests with famous art could be a step in this direction. For "Beyond van Gogh," at least, the goal is very much tied up with how the displays make people feel. Even though no original paintings are on view, the exhibition is billed as an "experience," a chance for visitors to feel immersed in famous art. (Whether "Beyond van Gogh" and similarly immersive experiences constitute fine art is another debate entirely.)
"The whole point of an experience like this is to bring people in," Fanny Curtat, the exhibition's art historian, tells the AP. "For a lot of people, museums are intimidating. It's all about exploring and having more ways of experiencing art."
Curtat argues that displaying art in casinos will appeal to audiences in both directions. If casinos can make gamblers out of art lovers, perhaps they can make art lovers out of gamblers, too.
"Beyond van Gogh: The Immersive Experience" is on view at the Hard Rock casino in Atlantic City, New Jersey, through August 28.
Chapel Hill Art + Transit partners with local artists for LGBTQ+ themed designs – The Daily Tar Heel
Chapel Hill's Art + Transit program unveiled a new LGBTQ+ themed bus and bus shelter after partnering with two local queer artists.
The bus, titled "Can't Stop Pride," is a collaboration between Art + Transit and the Town's LGBTQIA+ Employee Resource Group.
Staff members of the group chose Durham artist Wutang McDougal for the bus' design, which features LGBTQ+ imagery within a bright color palette. McDougal did not respond to The Daily Tar Heel's requests for comment.
Raleigh-based installation artist Jane Cheek designed the bus shelter, "We Knew Intersectionality Was the Way Forward," which features overlapping circles that display the colors of the Progress Pride Flag.
Including the Pride installation, nine new bus shelters and one art bus now join the more than 30 art installations on local transit infrastructure. Art + Transit, an initiative led by Chapel Hill Community Arts & Culture and Chapel Hill Transit, began its initiative in 2018 to make commutes more vibrant through bus and bus shelter art.
Steve Wright, the public art coordinator for Chapel Hill Community Arts & Culture, said Art + Transit wanted to focus specifically on LGBTQ+ Pride.
"For the bus wrap, we definitely knew we wanted to have a wrap themed for Pride," Wright said.
In their artist statement, McDougal said they wanted to represent pride in Black queerness, the transgender community and queer love through the design.
Cheek said that while the Town didn't give specific thematic guidelines for the piece, her focus involved building community and increasing queer visibility.
"I know for me personally, one of the things that makes me feel welcomed or safe is seeing Pride flags," Cheek said. "So incorporating that into my work has been kind of a theme recently."
Brian Litchfield, Chapel Hill's transit director, said the Art + Transit program centers around enlivening the community, making art more accessible for community members and supporting local artists.
"This year one of our focuses was on supporting local artists and also providing an opportunity to express our support and values related to the LGBTQIA+ community," he said.
The other new bus shelter installations feature varying themes, ranging from Antonio Alanis' "Sun," which draws inspiration from Latin American designs, to Sally Gregoire's "Barning Around in North Carolina," which is an acknowledgment of the agricultural history of North Carolina, according to her artist statement on the piece.
Collage artist and photographer Sara Roberts said her installation, "Blooms Over Chapel Hill," was primarily aimed at bringing joy to community members. Roberts said her art is heavily inspired by her time spent in nature while growing up in North Carolina.
"For this particular installation, I just wanted to capture the bright things in the community," Roberts said. "I just wanted people to find some light."
Her floral design incorporates Chapel Hill landmarks like the Old Well and Varsity Theatre, and each petal features her original photography from the area.
Roberts said a large part of the project involved giving back to the community in a way that was readily accessible.
"As artists, we love people," she said. "And the best way we can give back to people is through public art, and I think it's super, super important."
Wright said Art + Transit plans to continue its public art initiative in the spring when there will be a new round of bus shelter installations and an additional art bus.
@DTHCityState | city@dailytarheel.com
To get the day's news and headlines in your inbox each morning, sign up for our email newsletters.
Tehran Unveils Western Art Masterpieces Hidden for Decades – Voice of America – VOA News


TEHRAN, Iran —
Some of the world's most prized works of contemporary Western art have been unveiled for the first time in decades — in Tehran.
Iranian President Ebrahim Raisi, a hard-line cleric, rails against the influence of the West. Authorities have lashed out at "deviant" artists for "attacking Iran's revolutionary culture." And the Islamic Republic has plunged further into confrontation with the United States and Europe as it rapidly accelerates its nuclear program and diplomatic efforts stall.
But contradictions abound in the Iranian capital, where thousands of well-heeled men and hijab-clad women marveled at 19th- and 20th-century American and European minimalist and conceptual masterpieces on display this summer for the first time at the Tehran Museum of Contemporary Art.
On a recent August afternoon, art critics and students were delighted at Marcel Duchamp's see-through 1915 mural, "The Large Glass," long interpreted as an exploration of erotic frustration.
They gazed at a rare 4-meter (13-foot) untitled sculpture by American minimalist pioneer Donald Judd and one of Sol Lewitt's best-known serial pieces, "Open Cube," among other important works. The Judd sculpture, consisting of a horizontal array of lacquered brass and aluminum panels, is likely worth millions of dollars.
"Setting up a show with such a theme and such works is a bold move that takes a lot of courage," said Babak Bahari, 62, who was viewing the exhibit of 130 works for the fourth time since it opened in late June. "Even in the West these works are at the heart of discussions and dialogue."
The government of Iran's Western-backed shah, Mohammad Reza Pahlavi, and his wife, the former Empress Farah Pahlavi, built the museum and acquired the multibillion-dollar collection in the late 1970s, when oil boomed and Western economies stagnated. Upon opening, it showed sensational works by Pablo Picasso, Mark Rothko, Claude Monet, Jackson Pollock and other heavyweights, enhancing Iran's cultural standing on the world stage.
But just two years later, in 1979, Shiite clerics ousted the shah and packed away the art in the museum's vault. Some paintings — cubist, surrealist, impressionist, even pop art — sat untouched for decades to avoid offending Islamic values and catering to Western sensibilities.
But during a thaw in Iran's hard-line politics, the art started to resurface. While Andy Warhol's paintings of the Pahlavis and some choice nudes are still hidden in the basement, much of the museum's collection has been brought out to great fanfare as Iran's cultural restrictions have eased.
The ongoing exhibit on minimalism, featuring 34 Western artists, has captured particular attention. Over 17,000 people have made the trip since it opened, the museum said — nearly double the footfall of past shows.
Curator Behrang Samadzadegan credits a recent renewed interest in conceptual art, which first shocked audiences in the 1960s by drawing on political themes and taking art out of traditional galleries and into the wider world.
The museum's spokesperson, Hasan Noferesti, said the size of the crowds coming to the exhibition, which lasts until mid-September, shows the thrill of experiencing long-hidden modern masterpieces.
It also attests to the enduring appetite for art among Iran's young generation. Over 50% of the country's roughly 85 million people are under 30 years old.
Despite their country's deepening global isolation, and fears that their already limited social and cultural freedoms may be further curtailed under the hard-line government elected a year ago, young Iranians are increasingly exploring the international art world on social media. New galleries are buzzing. Art and architecture schools are thriving.
"These are good works of art, you don't want to imitate them," said Mohammad Shahsavari, a 20-year-old architecture student standing before Lewitt's cube structure. "Rather, you get inspiration from them."
The Lake Country art gallery is selling some absolutely terrible art – Kelowna News – Castanet.net
Photo: Lake Country Art Gallery
It's your chance to get your hands on what the Lake Country Art Gallery is calling terrible art.
"Most art galleries ask artists to donate a piece of one of their treasured artwork but not us at the Lake Country Art Gallery; we've asked for — Terrible, Horrible, Absolutely No Good, Awful Drawings — drawings so bad they're good," said the art gallery in a news release.
The art gallery will be hosting a night time picnic fundraiser Wednesday August 17 featuring a variety of art, vendors and music. For $25 you can guarantee yourself a piece of bad art to take home or you can prepare to bid up to $500 for your favourites.
All available artwork will be donated to the art gallery fundraiser from local artists, gallery staff, and members including sketches, paintings, lino prints, etchings, photographs and more.
Your $25 donation gets you a random piece of bad art, but if you want to choose one for yourself you'll have to be the highest bidder by the end of the event.
The fundraiser kicks off at 5:00 p.m. and runs until 10:00 p.m.