Can Industrial Policy Save The American Economy? – Forbes
As the US continues struggling with Covid-19 and economic recovery, debate is growing about the revival of "industrial policy"—government -led efforts to favor certain industries over others, in contradiction to market fundamentalist approaches. An important new forum in the Boston Review takes on these issues and is well worth your attention. For our future prosperity, these issues are more important than just arguing about deficits and taxes. (Disclosure: I've coauthored a piece in the forum.)
In the battle over President Biden's economic proposals, most commentary focuses on whether the price tag of over $3.5 trillion is too large. How much should be paid for? Which taxes should go up or down? Senator Joe Manchin (D-WV), the key Democratic vote for Senate passage of the Biden plan recently called it "the largest single spending bill in history with no regard to rising inflation, crippling debt or the inevitability of future crises."
But there's a second debate hidden behind these budget numbers—how and whether government should deliberately foster some industries and withdraw support from others. Although simple introductory economics textbooks say government intervention is always "second best" to markets, in the real world government is constantly favoring some industries over others.
So the debate is really about what type of industrial policy we are going to have, not whether it exists. The Review's forum centers on an excellent piece by economist Marianna Mazzucato and colleagues—"Industrial Policy's Comeback." They flatly (and correctly) say "market fundamentalism has failed to improve economic and social conditions," calling for "a mission-oriented approach to the economy that embraces an active role for government in spurring growth and innovation."
Mazzucato is one of our best thinkers on the complex relationships between government and the private sector. Her 2013 landmark book, The Entrepreneurial State: Debunking Public vs. Private Sector Myths showed how government investment undergirded the tech revolution, with Apple and other firms adapting technology developed and paid for by the government, often through military spending.
Economists have long known that industrial policy is central to modern economies. In 2008, Harvard's Dani Rodrik asked readers to imagine "a set of policy interventions targeted on a loosely-defined set of market imperfections…implemented by bureaucrats…and overseen by politicians" while subject to "rent-seeking by powerful groups and lobbies."
Yikes! Rodrik says those sound like good reasons that "governments should stay away from industrial policy." But he then turns the tables, saying he's not describing industrial policy. Rather, those complicated conditions hold for "long-standing areas of government intervention such as education, health, social insurance, and macroeconomic stabilization." And no one thinks we should stop those policies just because they are complicated and sometimes contentious.
So complexity, political debate, attempts to capture benefits at the costs of general prosperity, and addressing critical problems possessing lots of uncertainty characterize all modern social and economic policy. Hence Mazzucato's emphasis on developing clear "missions" for industrial policy, with government setting overall directions and goals while avoiding "excessively top-down planning by an overbearing state."
There's a lot of deep thinking and clear argument in the Boston Review forum, from a wide range of viewpoints, and I won't try to summarize it all here. Read the forum (and buy the new book the Review is publishing on this topic.)
My contribution to the forum, co-authored with my colleague (and spouse) Teresa Ghilarducci, emphasizes the central role workers and labor unions must play in any successful industrial policy. We hearken back to the great economist John Kenneth Galbraith, who after World War II focused on how the large firms needed to foster innovation and growth could be kept from purely self-interested behavior.
Galbraith's answer was in the title of his 1952 book—American Capitalism: The Concept of Countervailing Power. Without government and union countervailing power, "private decisions could and presumably would lead to the unhampered exploitation of the public."
Ghilarducci and I argue that successful industrial policy "promotes unionization and shared economic returns," not just technical innovation where the gains are captured by a narrow slice of wealthy tech and finance owners. And the politics of industrial policy mean it won't be enacted without union and popular support.
So as you follow the twists and turns of Biden's economic plan, where the cable news and commentary are dominated by spending, taxes, and deficits, spare a thought for what that money will be spent on. Senator Manchin correctly warns about "the inevitability of future crises," but those aren't mainly budgetary issues. They are structural problems that need industrial policy solutions.
Our economy faces a short and long-term crisis of innovation, climate change, and racial, gender, and economic inequality. Industrial policy is critical to building a long-term, sustainable, and equitable prosperity. I commend the Boston Review forum and book to you as a way to understand this critical issue.
Top economists call for radical redirection of the economy to put Health for All at the centre in the run-up to G20 – World Health Organization
The COVID-19 Pandemic has brought into focus the stark reality of the large and growing inequities across the globe in access to health care and health products: for every 100 people in high-income countries, 133 doses of COVID-19 vaccine have been administered,
while in low-income countries, only 4 doses per 100 people have been administered.
Yet, to date, the world continues to follow the same economic paradigm that doesn't change the underlying finance structure and applies outdated thinking on economic development, which stands in the way of Health For All. As the G20 Summit approaches
in Rome from 29-31 October, where, first, health and finance ministers, and then heads of state and government, come together, there is a window of opportunity for a radical redirection from health for the economy to the economy for health for all.
The critical challenge is both to increase the magnitude of the finance available for health and to govern it in a more directed and effective manner.
The World Health Organization (WHO) Council on the Economics of Health For All (WHO Council on the Economics of Health For All) calls now, more than ever, for clear, ambitious goals to mobilize and focus investments towards health, considering financing for health as a long-term investment and not
a short-term cost. The Council's new brief on Financing Health for All prioritizes two key dimensions: more finance and better finance and lays out the way forward through three pathways to action:
Creating fiscal space by easing artificial constraints imposed by outdated economic assumptions and reversing the harmful effects of reforms that lead to big health cuts, allowing spending and investments towards Health For All to
increase significantly;
Directing investments to ensure Health for All becomes the central purpose of economic activities, and increase public leadership and dynamic state capabilities to create a conducive regulatory, tax, industrial policy and investment
environment; and
Governing public and private finance by regulating the functioning and financing of private health markets through measures that crowd in and direct private finance towards improving health outcomes globally and equitably.
The Council believes that a new paradigm must be pursued that avoids macroeconomic policies and assumptions that move us away from Health For All. This means designing policies to reach health for all now and in the long-term and realigning finance from
all sectors and sources through conditionalities that fuel symbiotic gains in the public interest. Not only more financing of the health sector, but better-quality finance is crucial to deliver Health For All, which must be equitable and ensure a
sustainable impact on peoples' lives.
The challenge is to change mindsets within countries that impose internal constraints on spending and to transform externally-imposed conditionalities that hinder spending on what matters for health and promote Health For All. Changing the rules of the
game is a fundamental priority of any strategy to deliver Health For All, and policymakers have the ability to rethink finance now.
"The COVID-19 pandemic has demonstrated that the financing of health systems needs to change radically to protect and promote the health of all people," said Dr Tedros Adhanom Ghebreyesus, Director-General of WHO. "The latest report
by the Council on the Economics of Health For All makes a clear and compelling argument for the need for sustained financing to be directed to achieving health for all people, and for investments to be understood as long-term gains for national and
global development."
"While health systems are under-resourced, more finance is not the only solution. The work of the Council stresses the need to reform and redirect finance in radical ways so that the objective is Health For All is designed into the financial structures,
the conditionalities and the partnerships between business and the state," said Professor Mariana Mazzucato, Chair of the Council.
By way of background, the WHO Council on the Economics of Health For All was established in November 2020 by WHO Director-General Dr Tedros Adhanom Ghebreyesus. The Council's core mission is to rethink how value in health and wellbeing
is measured, produced, and distributed across the economy. It will recommend a new way to shape the economy with the objective of building healthy societies that are just, inclusive, equitable, and sustainable. Made up of ten of the world's
most eminent economists and health experts, the Council works on four areas on how to rethink measurement of economic development, financing, capacity, and innovation with the aim of achieving Health for All. Briefs in each of these areas, and a comprehensive
final report to be produced in 2023, will be used to build momentum amongst finance ministers, heads of state/government, as well as other decision makers such as other financial authorities and international development authorities, towards changing
the structure of economic activity in favor of Health For All.
The members of the Council are Professor Mariana Mazzucato (Chair), Professor Senait Fisseha, Professor Jayati Ghosh, Vanessa Huang, Professor Stephanie Kelton, Professor Ilona Kickbusch, Zelia Maria Profeta da Luz, Kate Raworth, Dr Vera Songwe and Dame
Marilyn Waring (see bottom of page: WHO Council on the Economics of Health For All).
Swiss National Bank Warns of Risks With Green Economy Push – Bloomberg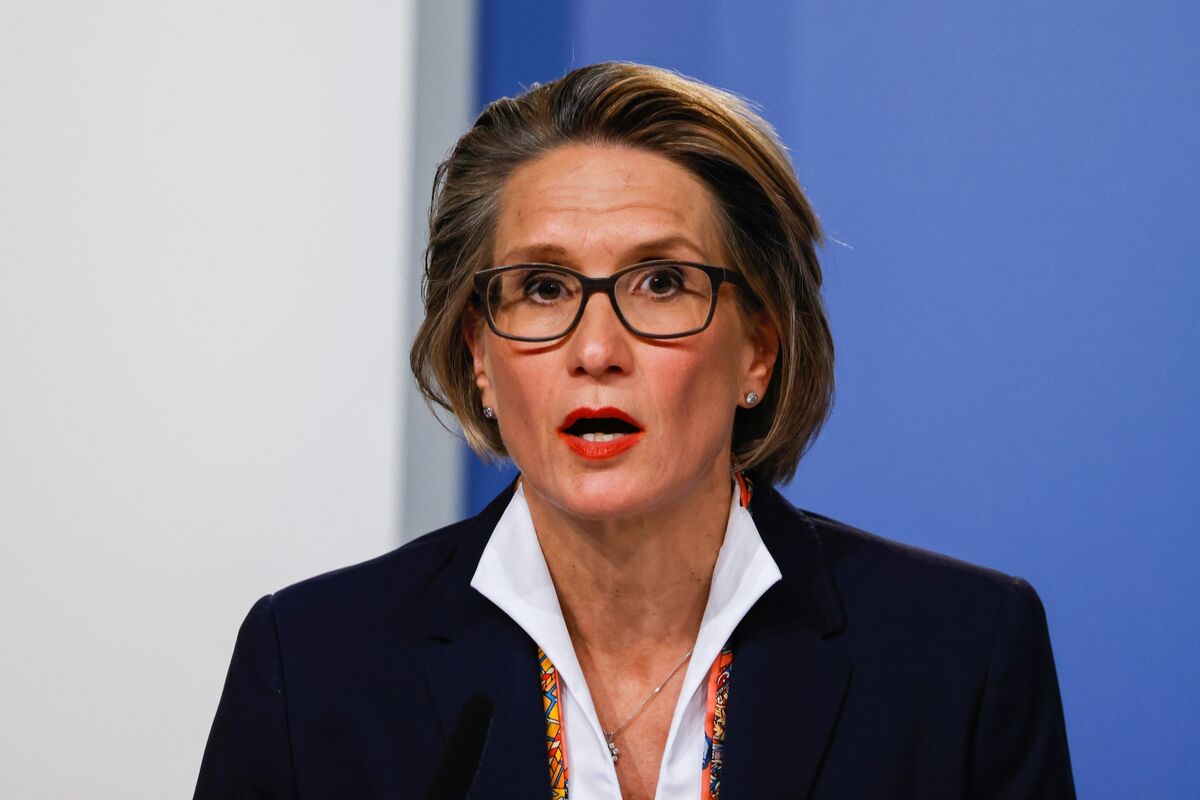 Want the lowdown on European markets? In your inbox before the open, every day. Sign up here.
Actively pushing for a green transformation of the economy could undermine the effectiveness of the Swiss National Bank's monetary policy, Governing Board Member Andrea Maechler said.
UBS logs surprise 9% rise in Q3 net profit
UBS posted a 9% rise in third-quarter net profit on Tuesday, as continued trading helped the world's largest wealth manager to its best quarterly profit since 2015.
Its third-quarter net profit of $2.279 billion far outpaced a median estimate of $1.596 billion from a poll of 23 analysts compiled by Switzerland's largest bank.
"Our business momentum, our focus on fueling growth, on disciplined execution and on delivering our full ecosystem to clients – all of this led to another strong quarter across all of our business divisions and regions," Chief Executive Ralph Hamers said in a statement.
In each of the last four quarters, UBS saw double-digit percent gains in net profit as buoyant markets helped it generate higher earnings off of managing money for the rich.
From July through September, favourable market conditions, and higher lending and trading amongst its wealthy clientele, unexpectedly helped raise earnings over the bumper levels reported in the third quarter of last year.
(Reporting by Oliver Hirt and Brenna Hughes Neghaiwi; Editing by Michael Shields and Edwina Gibbs)