Canada hunts for gold after passing every 'test' at world juniors with ease – Sportsnet.ca
EDMONTON — We keep saying it, as the 2021 world junior hockey championship grinds lopsidedly towards its conclusion. "THIS will be a true test for Canada." And when we smoke Finland by three goals we point to Russia:
"OK, but THIS team will be a true test."
Nyet.
Canada rolled into the gold-medal game with a decisive shellacking of Team Russia, a nation that is supposed to be able to play with our boys but barely caused them to break a rhetorical sweat. In the end, Mother Russia was outscored 5-0 and outshot 35-28 in one of the more lopsided Canada-Russia games ever to play out at a world juniors — or anywhere, for that matter.
Remember Russian goalie Ilya Bryzgalov at the 2010 Olympics, when he said that Team Canada had come out "like gorillas out of a cage?"
Well, it was 1-0 just 59 seconds into Monday's semi-final when Alex Newhook rifled a shot home with such speed, no one in the building saw its flight under the crossbar. Video replay was required to confirm the snipe, and the rout was on.
"Canada always has a good team," said defeated Russian Mikhail Abramov. "I can say we just had a bad start…"
The score was 3-0 after 20 minutes, and with only one contest left to play the Canadians have yet to trail in a game for even a second. Nor has Canada surrendered a five-on-five goal yet in this tournament. They have outscored their opponents 33-0 at even strength, 41-4 overall.
This unbeaten Canadian team, it seems, is as good as any we've sent to this tournament — maybe ever.. Now, we'll see if they can finish a perfect 7-0 tournament, with the gold-medal game set for Tuesday night at 9:30 ET against Team USA.
Bear Facts
Head coach Andre "Bear" Tourigny has been a Canadian assistant coach at four previous tournaments, winning gold last year after a pair of silvers and a fourth place finish.
He knows what awaits in Tuesday night's gold-medal game, an evening of hockey that will be burned into Team Canada's collective memory for the rest of their lives.
"It's a lot of pressure, and a lot of emotion in that tournament," Tourigny said. "You want to be in the last game. You see your players putting their hearts into it every day, working extremely hard… You want to be part of something special, and that last game will be something special."
It can be special. It can also be heart breaking.
"I've been on both sides of that game, and the right side is way more fun," he said after the semi-final win. "Let's keep working at it. We have a lot of business still to do."
This will be Canada's 15th appearance in a gold-medal game in the past 20 tournaments.
Shutout Shout Out
The 28-save performance was goalie Devon Levi's third shutout of this WJC — in just six games — tying the record set by Canadian Justin Pogge in Vancouver back in 2006. Pogge would go on to play most of his career in Europe, enjoying just seven National Hockey League games. He currently resides in Leon Draisaitl's hometown, minding the nets for the Cologne Sharks.
"I'll always remember it. The group of guys we had, closing out that final game in GM Place. It was surreal," the Maple Leafs draft pick told me once, in the book "Road to Gold — The Untold Story of Canada at the World Juniors." "I'll always be so proud when I get to tell my son those stories, and he can see the tournament. See how big of a deal it is."
What's it like challenging Pogge's shutout record?
"I'm not playing for a shutout record. I'm playing for a gold medal," Levi said. "It's something maybe to look at after the tournament. The job's not done yet."
He's playing fantastic, smothering pucks and giving up nothing to the opposition shooters. Remember, Levi only ever played Junior A hockey, and has yet to play his first game for Northeastern University.
Is this the best zone he has ever been in?
"Ummmm, I think so," he wondered. "I'm just playing hockey and every game feels the same — whether it's in Junior A, Midget or one of these games. The back checking is unreal. It's amazing to see how much help that every guy on the ice is giving."
He's a household name now, Devon Levi. Then again, so was Justin Pogge.
"The best feeling is being able to represent my country," said Levi, who has a .975 save percentage and a 0.53 goals-against average. "Going out and play the game I love. That's what it is about for me."
Buffalo hopes rising as Bills turn back clock – The Globe and Mail
On Saturday morning, Terry and Kim Pegula will board the Bills' charter flight to Kansas City, he with lucky socks and her with cookies she baked for players and coaches. This has become a routine for the couple who own Buffalo's beloved football franchise.
Terry has worn the same argyle socks every game day since Nov. 29 and since then the Bills have won eight straight. Kim started baking on Sunday mornings to burn off nervous energy, posting pictures on social media. Since this is Buffalo, hundreds of others began to do the same, sending her photos of their own pregame Oreo truffles, Snickerdoodles and white chocolate blondies.
This is something you have to understand about Bills fans. There is almost nothing they won't do to celebrate their team, even leaping onto flaming folding tables after drinking too much beer.
The devotion is born from a few things. Buffalo exudes the closeness of a small town, and is also a place where sports teams have mostly failed. The Bills last won a league championship in 1965 when they were in the old American Football League. Does that count? The Sabres have been in the NHL a half-century but haven't won a Stanley Cup. Buffalo was also home to an NBA team that never won there or in the other two cities to which it has moved.
So it is understandable that the city and the NFL team's followers – they call themselves the Bills Mafia – are delirious. With a victory over Kansas City on Sunday night, they will be the nearest they have been to winning a Super Bowl since January, 1994, when they lost a fourth consecutive NFL championship game. Most infamously when the field-goal kicker missed what would have been the game-winner with eight seconds left.
The Pegulas, who also own the Sabres, two professional lacrosse teams and an American Hockey League franchise, have lived in Buffalo since 1993 and bought the Bills in October, 2014. Kim was installed as their president.
"When you own a team, there is no manual," she says cheerfully. "What we were taking on was completely unknown. We owned the Sabres, but with the NFL we were elevated to such a bigger stage."
The season had already begun, so for the first year she went to games and tried to learn the inner workings of the league. She has since taken a more active approach, even sitting in on the pre-draft interview the team conducted with its star quarterback, Josh Allen.
Ms. Pegula has spent the past two weeks making plans in the event the Bills reach the Super Bowl. It has heightened her anxiety. All she wants is for Sunday's game to be over, and for the city to be rocking afterward.
The Bills Mafia formed in 2011, when three friends started a fan club as a joke. There are legions of followers now, but since this is Buffalo, they are no ordinary fans.
When quarterback Josh Allen's grandmother died late last year, they raised $675,000 and donated it to a children's hospital in her name. A week ago, when Baltimore quarterback Lamar Jackson suffered a concussion during a loss to the Bills, one Mafia member started a movement to donate to a charity of Jackson's choice. Almost $500,000 has already been raised.
Dan Kanopski, the fellow who chipped in the first $25, says if he hadn't done it someone else would have. He lives in Niagara Falls, and lost his job last year as part of the fallout from COVID-19.
"For the last year, the shining light for me has been the Bills," Kanopski says.
Win or lose, Bills fans are irrepressible. Wolf Blitzer, the CNN anchor, grew up in Buffalo. On Jan. 6, the night of the elections in Georgia, he opened a segment with, "This just in. Go Bills!" Last week, he appeared on a Buffalo sports radio talk show and talked about the perils of being a fan.
"We have known some winning, but we have known a lot of losing, too," he said.
Dan Mitchell grew up Buffalo, but has lived in Myrtle Beach, S.C., the past 26 years. He recalls having his heart ripped out by the Bills when he was a kid. And later as an adult, too.
Last year after a few drinks he started a Bills fan podcast that now has more than 11,000 subscribers.
"No matter how hard the Bills are performing, my PTSD from them kicks in and I wonder when everything is going to go down the drain," he says. "This is the culmination of everything I wanted this team to be. It's a swan song of my fantasy."
Greg Tranter was eight years old when he went to his first Bills game on Oct. 24, 1965. As he and his father watched from Row 28 in Section 14 at War Memorial Stadium, Jack Kemp threw two touchdowns and Wray Carlton ran for two others in a 31-13 romp over the Denver Broncos.
The youngster went home with a bobblehead and a program that day, his romance with the team under way. He is 64 now and has been a Bills season-ticket holder since 1984, even though he's lived in Boston the past 35 years.
In that time he's missed three home games – one when his mother had cancer surgery, another when his wife had pneumonia, and the last for an important business meeting.
A former insurance executive, Tranter donated more than 100,000 Bills artifacts he had collected since childhood to the Buffalo History Museum, for which he serves as president of the board of managers. An appraiser estimated the items' combined value at more than US$1-million.
It includes the bobblehead and $4.50 ticket stub from that first game, the helmet that Scott Norwood wore when he missed the 47-yard field goal that would have won Super Bowl XXV, a box of Doug Flutie Flakes, a garden gnome, hand puppets, a snow blower and lapel pins shaped like footballs that Secret Service agents wore during the 1996 presidential campaign while protecting Kemp, the vice-presidential nominee to Robert Dole.
Tranter has programs from every Bills game played dating from their inaugural campaign in 1960 in the AFL and says he caused a ruckus watching from home this season as the Bills won 15 of 18 games.
"I am so excited, I am just blown away," he says.
Tranter has been to every Bills Super Bowl, and he and three friends have tickets to the game on Feb. 7 in Tampa.They bought them early, without knowing if the Bills will be there, just in case.
If the Bills lose on Sunday, Tranter says he will probably sell his ticket, which cost him upward of US$7,000. The matchup he dreams about is Buffalo against Tampa Bay.
"If we beat Tom Brady, it would make up for 20 years of misery," Tranter says.
How the NFL averted a quarterback crisis – theScore
The NFL has always been a quarterback-driven league. Yet five seasons ago, even as the league experienced an unprecedented boom in passing volume, it also faced the possibility of a quarterback crisis.
"As the 2015 NFL season begins," then-Wall Street Journal reporter Kevin Clark wrote, "the league's decision-makers say they are daunted by what they see as a widening gulf between the college game and the pro game, one that has existed for a while but is now starting to affect the quality of the league's most cherished commodity: Quarterbacks."
More than ever, quarterbacks in the 2010s were putting up big numbers, with Clark noting in 2015 that "the five most productive individual passing seasons in history have happened since 2011." But many QBs were increasingly relying on short, quick throws while taking advantage of rule changes designed to protect quarterbacks and pass-catchers, changes that, in turn, hindered defenses.
At the same time, a yawning talent gap developed. While several quarterbacks who entered the league before 2006 were still thriving into the late 2010s and even winning championships, the younger cohort was mostly bereft. Chase Stuart of Football Perspective ran the numbers in 2020, going so far as to dub the group of QBs who turned pro from 2006-15 "the missing generation." It was a period that featured a staggering number of first-round busts, and the best quarterback of that draft era – the Seattle Seahawks' Russell Wilson – had slipped all the way to the third round.
Fast forward to 2021. Remarkably, oldsters like Drew Brees, Philip Rivers, and Ben Roethlisberger all led their teams to the playoffs once again, though Rivers just retired while Brees and Roethlisberger have noticeably declined. Tom Brady of the Tampa Bay Buccaneers (drafted in 2000) and Aaron Rodgers of the Green Bay Packers (2005) are still here, though, and they're set to meet Sunday in the NFC Championship Game.
But the AFC title matchup between the Buffalo Bills and Kansas City Chiefs features Josh Allen (2018) and Patrick Mahomes (2017), providing a stark reminder that the NFL is now stocked with a solid core of young quarterbacks. The QB crisis has been averted, and the future of the position is in good hands, in large part because coaches and front offices have adapted.
For far too long, NFL decision-makers were wedded to the idea that quarterbacks had to primarily operate from the pocket or play in a "pro-style" offense instead of the spread systems that were proliferating at the lower levels. There were occasional exceptions over the years, with certain mad scientists allowing dual threats like Fran Tarkenton, Randall Cunningham, Kordell Stewart, Robert Griffin III, and Colin Kaepernick to play a more wide-open game. But these experiments were often quickly abandoned or dismissed as finesse or gimmickry. The stubborn thinking at the pro level was that football had to be about brawn and power.
"According to coaches, general managers, and players I spoke to over the course of training camp, teams spend too much time on what the offense looks like and far too little on how the quarterback is processing it," Clark wrote for The Ringer in a 2017 piece about the NFL's collectively declining ability to evaluate QBs.
More than any other coach, the Chiefs' Andy Reid changed this kind of thinking. It was Reid who figured out how to make do with the sort of offensive player the game's lower levels were producing, as opposed to trying to pigeonhole those players into "pro-style" systems. If college QBs are playing the spread, Reid's thinking went, why shouldn't we incorporate the spread into what we do?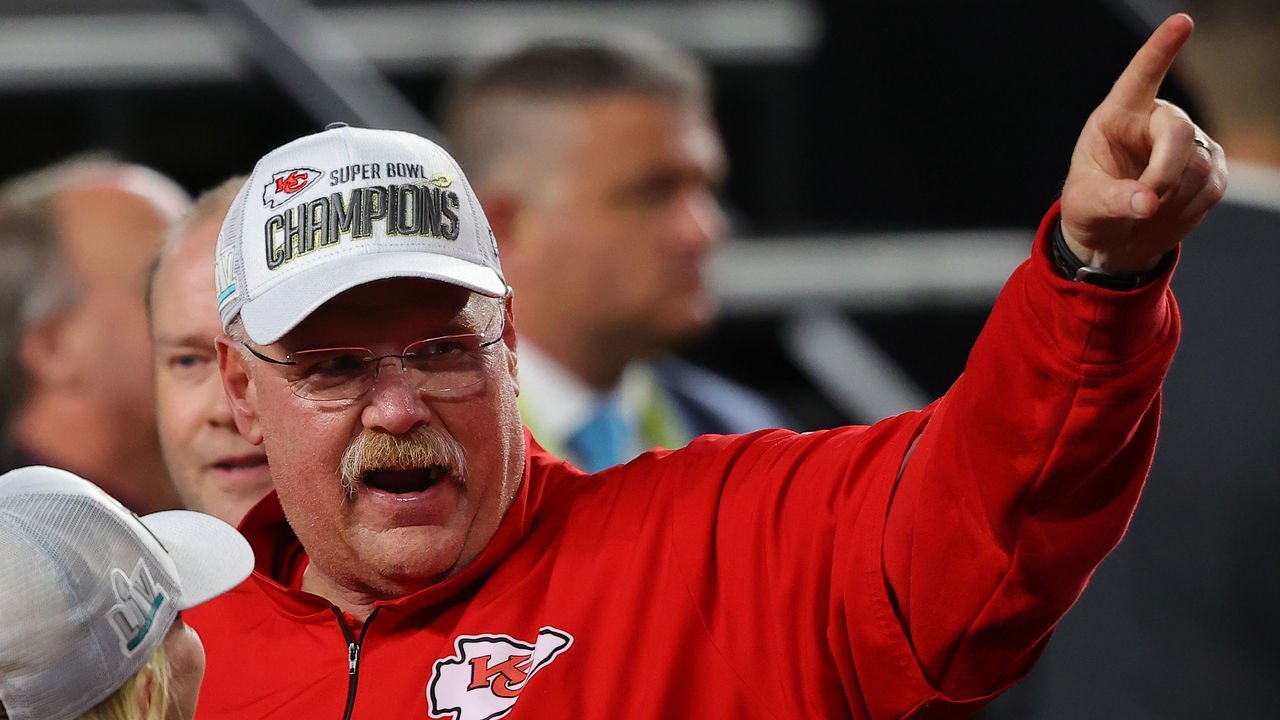 Reid had long been a tinkerer and an innovator who looked to the college game for inspiration. But he leaned fully into adapting his thinking in 2017 when the Chiefs decided to trade up from No. 27 to No. 10 to draft Mahomes. The draft consensus was that Mahomes had boom-or-bust potential and would likely be selected toward the end of the first round. The Chiefs saw something other teams didn't.
Kansas City already had Alex Smith, but then-co-director of player personnel and current general manager Brett Veach had become smitten with Mahomes. And so a plan was hatched to trade up and get him, as Jayson Jenks, Dan Pompei, Mike Sando, and Nate Taylor of The Athletic detailed this week. Mahomes sat behind Smith that first season, but Reid signaled to the world in the 2017 season opener his willingness to adapt. He rolled out a game plan heavy on college concepts: at-the-snap motion, jet sweeps, read-options, and myriad wide-open formations, including the pistol. Kansas City, behind Smith, steamrolled the mighty New England Patriots 42-27. A new day had dawned in the NFL.
It was also in 2017 that wunderkind head coach Sean McVay took over the Los Angeles Rams and inherited quarterback Jared Goff. The No. 1 pick of the 2016 draft had endured a rookie season under the stodgy Jeff Fisher that had put him on a path to become just another draft bust. But McVay tailored his offense to Goff's strengths as an accurate passer, relying heavily on play-action, motion, and run-pass options while getting Goff out of the pocket by design. Goff would reinvent himself, and the Rams made the playoffs.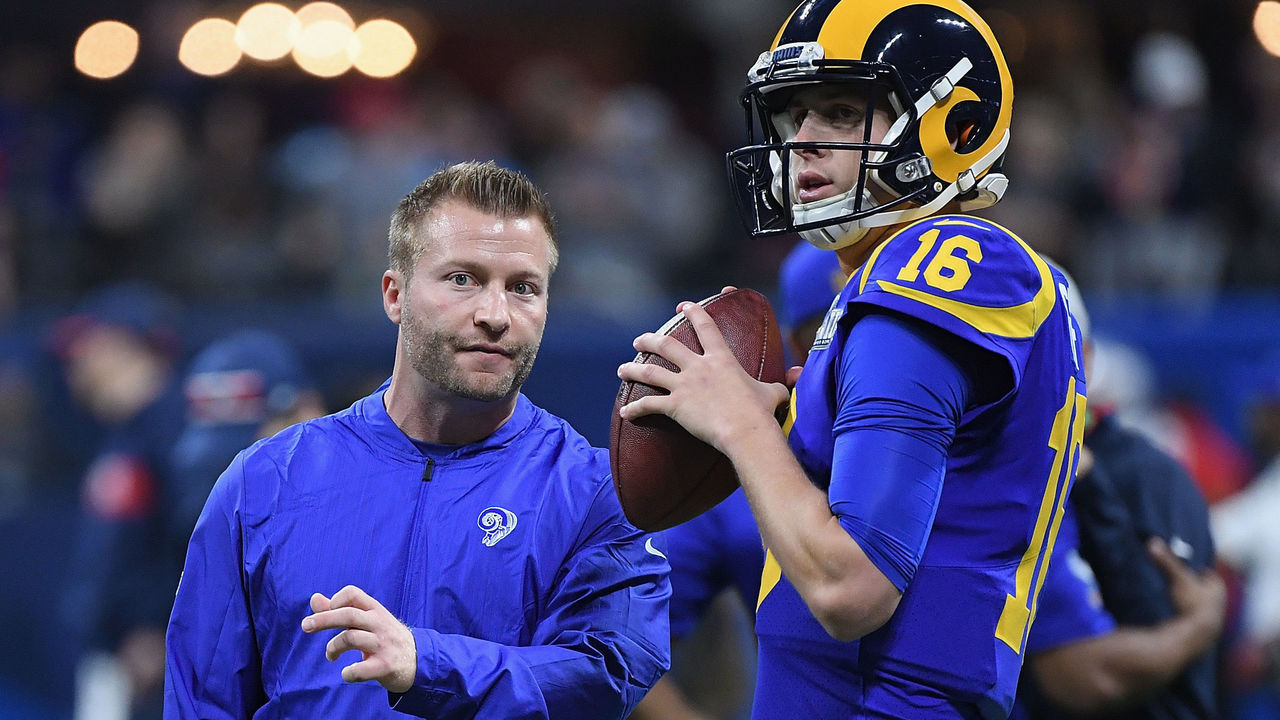 But it wasn't just the Chiefs and Rams. Beginning in 2017, coaches around the league stopped fretting about the hands they were dealt – which included collectively bargained limitations on padded practices and on offseason practice time – to instead work with what they had. That season's Super Bowl saw the Philadelphia Eagles upset the Patriots 41-33 in what looked like a video game.
The Chiefs handed Mahomes the keys to their offense in 2018; he promptly went on to become league MVP, and a year later, he won the Super Bowl. Sunday will mark his third straight AFC Championship Game appearance, all at home. His potential seems limitless.
Allen, meanwhile, looked like a missed opportunity for the Bills during his first two seasons. He was a big-armed quarterback with accuracy issues and the potential to make game-breaking mistakes – exactly the kind of QB who traditionally struggled to adjust in the pros. But the Bills went all-in on Allen by trading for star wideout Stefon Diggs, and offensive coordinator Brian Daboll – a journeyman who's bounced around the NFL's coaching ranks – cooked up a system that exploits Allen's scrambling ability while also scheming him into easy throws. It should be noted, as The Athletic's Robert Mays recently wrote, that Daboll's own evolution as a play-designer and play-caller really took root after he spent the 2017 season working with Nick Saban at Alabama.
Lamar Jackson, selected with the final first-round pick of the 2018 draft, has guided the Baltimore Ravens to the playoffs in all three of his pro seasons, and in 2019 he was named league MVP. Kyler Murray, Joe Burrow, and Justin Herbert have all displayed high-ceiling ability, too.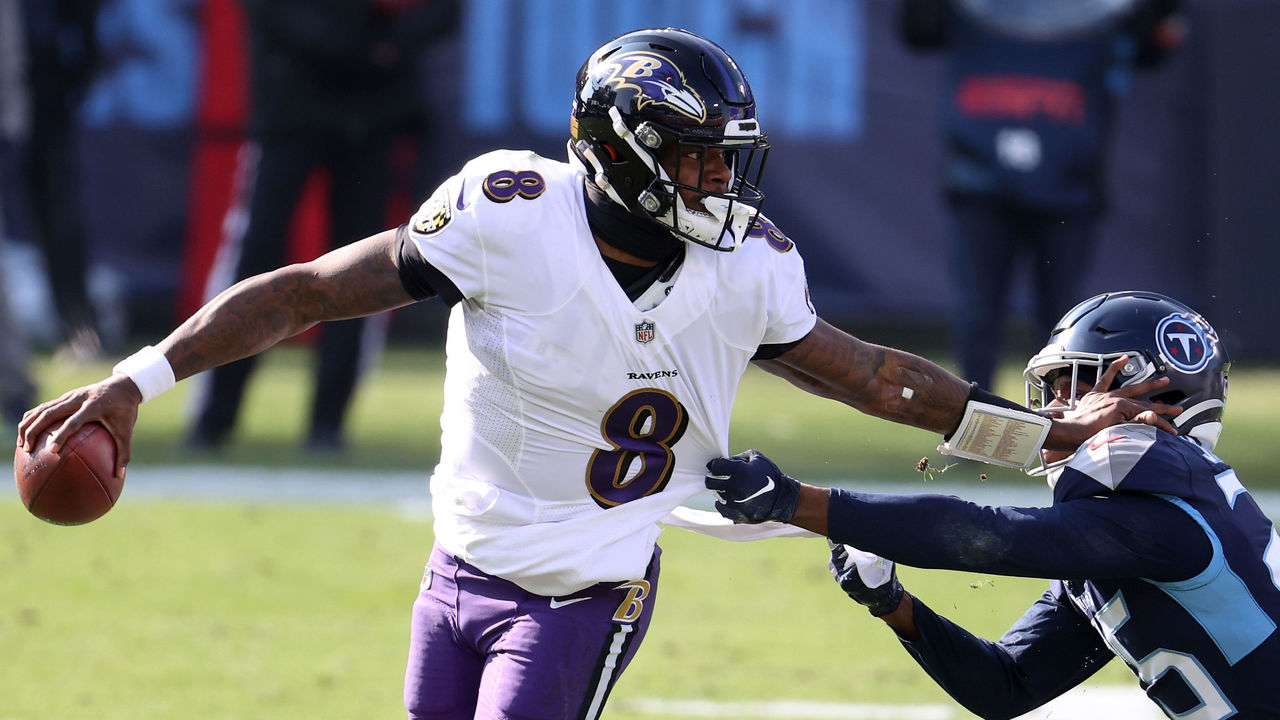 Baker Mayfield, the No. 1 overall pick in 2018, flashed as a rookie before getting caught in the Cleveland Browns' maw of suck a year later. But the Browns got things right by hiring head coach Kevin Stefanski this season, and Cleveland won a playoff game for the first time in 26 years.
The Tennessee Titans' Ryan Tannehill seemed like another lost first-rounder of that 2006-15 era during his early years with the Miami Dolphins. But under the forward-thinking tutelage of offensive coordinator Arthur Smith, Tannehill reinvented himself into one of the league's most efficient passers. He led the Titans to last year's AFC Championship Game and an AFC South title this season.
Though they both missed this year's postseason for decidedly different reasons, the Dallas Cowboys' Dak Prescott – a fourth-round pick in 2016 – and the Houston Texans' Deshaun Watson have both shown the ability to be franchise quarterbacks. Prescott led Dallas to the playoffs twice and was putting up huge numbers in 2020 before breaking his ankle in Week 5. Watson had a phenomenal 2020 season, but he's in a terribly dysfunctional situation in Houston. It's stunting his chances to win in his prime – further proof that sometimes the problem isn't the quarterback but rather a team's decision-makers.
And then there's Rodgers. Though he's long been perhaps the league's most gifted all-around quarterback, Rodgers and the Packers often underachieved in the decade following their Super Bowl XLV win. But in the two seasons since head coach Matt LaFleur arrived with an offense heavy on motion, play-action, and other bells and whistles, Rodgers, too, has reinvented himself. At age 37, he remains an unstoppable force, and the Packers are in the NFC title game for the second year in a row.
Brady? You know about him and how he chose to leave New England for Tampa Bay – in no small part because of the Buccaneers' collection of talented skill players. Tampa's coaching staff wants him to take aggressive shots downfield while also trusting him to know when to rein things in and play it safe. Brady, 43, is under contract for another year. He'll probably still be here to challenge the next generation, too.
Dom Cosentino is a senior features writer at theScore.
Patrick Mahomes, Kansas City Chiefs favourites to punch ticket back to Super Bowl against Bills – TSN
Championship Weekend has arrived, and it sure looks like it won't disappoint.
On the AFC side, we see the Kansas City Chiefs host their third-consecutive AFC Championship game, this time against Josh Allen and his Buffalo Bills.
After leaving Sunday's divisional round game with a head injury, quarterback Patrick Mahomes told reporters on Friday that he has cleared the NFL's concussion protocol and is good to go for Sunday.
Allen and the Bills enter this week on the heels of the franchise's first two playoff wins since 1995, and need just two more to capture their first Super Bowl in franchise history.
These two teams met earlier in the season, with Kansas City getting the better of Buffalo 26-17 in Week 6.
Allen's 122 passing yards that night was the lowest number he posted all season, however, the playing conditions weren't the best and Mahomes was held to a 225 yards – one of his lowest numbers on the season as well.
We have come a long way since Week 6, and have a lot to dive into, so let's get going.
Buffalo Bills vs. Kansas City Chiefs -3, O/U 53.5
ALL I DO IS WIN
The formula for success has been pretty easy for the Kansas City Chiefs in recent years.
Starting Patrick Mahomes equals winning games.
Since entering the league, Mahomes is 38-8 in the regular season as a starter, and 5-1 in the playoffs.
The only blemish on his playoff resume came in just his first season as a starter, when Dee Ford lined up offside, negating a Tom Brady interception, leading to a Patriots win and Super Bowl.
But let's get back to this season.
Before exiting the game with a concussion, Mahomes was hobbled by a foot injury that clearly had the superstar quarterback a bit limited with his mobility.
And yet, Mahomes started six drives on Sunday, two of which ended in touchdowns, three of them ended with field goals and one ended with a missed field goal.
Mahomes looked physically limited, but it really had no effect on his game, as he completed 21 of his 30 passes for 255 yards, threw for a touchdown and rushed one in.
Meanwhile, the Chiefs defence continued its solid play against the Browns, holding them to just 17 points and keeping Baker Mayfield to just 204 yards and forcing two turnovers.
Kansas City's defence has been very opportunistic this season and has forced a turnover in 15 of their 17 games.
Meanwhile, the Bills had 22 turnovers in the regular season, and Josh Allen has fumbled in both playoff games as well.
I think Buffalo has been fortunate to be on the right side of a number of plays in their last two games, and this Kansas City offence (and defence) won't make the same mistakes that Indianapolis and Baltimore made.
A few weeks ago it was tight end Jack Doyle having a big day with seven catches for 70 yards, while Michael Pitman Jr. added five receptions for 90 yards.
The winds in Buffalo didn't allow much success in the passing game last week, but wideout Marquise Brown had four catches for 87 yards and Mark Andrews had a touchdown go off his hands late in the fourth quarter.
I expect Travis Kelce and Tyreek Hill to be just fine Sunday night coming off a combined 16 catches for 219 yards and a touchdown against Cleveland.
Speaking of Buffalo…
ANYWAY POSSIBLE
The Buffalo Bills have played two playoff games this season.
In those two games, they have been outgained 812-521, have gone just 6-22 on third down conversions and have gotten three kicks to doink off the uprights in their favour.
Yup, after a staller 13-3 regular season campaign, the Bills have won in the playoffs, but it hasn't been pretty.
That being said, what has been pretty has been the connection between quarterback Josh Allen and wide receiver Stefon Diggs.
Diggs has caught 14 passes for 234 yards and two touchdowns in Buffalo's two playoff wins, and after failing to record a catch against the Colts, John Brown chipped in with eight catches for 62 yards last week in the win over Baltimore.
But the Bills' passing game has taken a hit in the playoffs due to Cole Beasley dealing with a knee injury.
Beasley, in his second season with the Bills, was the perfect No. 2 to Diggs' No.1 this season.
He finished second on the team with 82 catches, and 967 yards.
But his production has taken a hit since injuring his knee in a Dec. 28 win over the Patriots.
The 31-year-old had just three catches for 17 yards in that Week 16 win, was held out of the lineup in Week 17, had seven catches for just 57 yards against the Colts, and was targeted just twice Saturday night, with no catches.
The 5.67 yards per reception in Week 16, and 8.14 yards per reception during the Wild Card Round were the two lowest numbers he posted all season, until he failed to bring in a pass the following week.
On top of that, the team remains without Zack Moss after he was injured against the Colts.
Moss had emerged as the team's top back late in the season, and got the start in the playoffs, he had seven rushes for 21 yards, with four catches for 26 yards before exiting the game.
Last week, the Bills had just six rushing yards at halftime and ended the game with a grand total of 32 yards on the ground.
I think this is finally the week everything catches up to the Bills.
Pick: Chiefs -3