Canada needs to build millions — not thousands — of EV charging stations, industry group says – CBC.ca
The federal government is promising to spend close to $880 million over the next four years to build about 65,000 new charging stations for electric or fuel cell-powered passenger vehicles.
But an industry group representing some of Canada's biggest automakers says Canada needs to be building millions of stations.
Brian Kingston, president of the Canadian Vehicle Manufacturers Association, said a national electric-charging network needs years of careful planning to ensure the charging stations are available when and where people need them.
"We haven't done the planning and we haven't put the investment into a charging network," he said.
Why a charging station network is needed
Canada is mandating EV sales — 50 per cent of new cars sold in 2030 must be emissions-free, growing to 100 per cent in 2035 — but nobody is taking the lead to make sure people know what that means in terms of how much electricity, or how many charging stations, will be needed, said Kingston.
The association represents three of Canada's biggest automakers — Ford, GM and the new multinational Stellantis, formed earlier this year in a merger that now represents brands such as Dodge, Jeep and Chrysler.
Kingston said automakers are committed to the transition to electric — the three companies the association represents are investing $100 billion US in electrification over the next few years, with plans to bring 120 new EV models to the market.
But he said new models and more supply would solve only one piece of the electric transition, because if the charging networks don't keep pace, people aren't going to make the switch.
Or, even worse, they're going to switch back, he said.
What happens if enough chargers aren't built
A study published in the journal Nature Energy last spring said as many as one in five zero-emission vehicle owners went back to gas because of inconvenient charging access.
"So I just use that as a caution to government that, you know, we better start planning this like tomorrow," he said.
He argues Canada hasn't done the planning and instead has a fractured response, with very low ambitions, compared to the rest of the world.
Canada currently has about 15,000 public or semi-private chargers available, and at least another 2,000 are in various stages of construction with public funding. Natural Resources Canada has another $180 million in the existing budget to build 17,000 or so more in the next three years.
The Liberals promised to spend another $700 million by 2026 to build an additional 50,000 new ones.
How Canada compares with other countries
Kingston said to keep pace with Europe's goal of having one public charger for every 10 EVs, Canada will need almost four million chargers by 2050. To get to California's goal of one for every seven vehicles, that's closer to six million needed in Canada.
An analysis done for Natural Resources Canada recently suggested Canada will need, on average, one charger for every 20 EVs by 2025, and after more EVs roll on to streets, the ratio would fall to about one in every 49 vehicles by 2050.
"It's obvious that we don't have an ambitious enough plan to build charging infrastructure," Kingston said, adding overbuilding is needed at first to encourage EV adoption.
The Natural Resources analysis also notes that longer term, it's more likely that public chargers will need to be high-speed, capable of recharging a car in less than an hour.
The International Energy Agency said this year Canada has about 0.06 publicly available chargers for every EV on the road, ranking about 20th in the world, neck and neck with the United States as a whole.
In November, an Ernst and Young analysis of the EV readiness of the world's 10 biggest auto markets said Canada was in the bottom three, largely because of low demand and a lacklustre charging system. China is on top, followed by Sweden and Germany.
Wilf Steimle, president of the Electric Vehicle Society, said charging is one of the biggest concerns raised by people thinking about making the switch.
"What owners care about is: By the time I've gone to the bathroom, and grab another cup of coffee, is my car ready to go. Because I don't want to stand there waiting for it for half an hour or so," he said.
U.N. chief urges business to help poor nations in 'hour of need'
U.N. Secretary-General Antonio Guterres appealed to business leaders on Monday to support developing countries "in their hour of need" with access to COVID-19 vaccines, help to combat the climate crisis and reform of the global financial system.
Speaking virtually to the World Economic Forum, Guterres said: "Across all three of these areas, we need the support, the ideas, the financing and the voice of the global business community."
He said there has been a "global inability to support developing countries in their hour of need" and warned that without immediate action inequalities and poverty would deepen, fueling more social unrest and more violence.
"We cannot afford this kind of instability," said Guterres, who began a second five-year term as U.N. chief on Jan. 1.
He has long been pushing for more global action to address COVID-19 vaccine inequity and climate change and for reform of the global financial system.
"We need a global financial system that is fit-for-purpose. This means urgent debt restructuring and reforms of the long-term debt architecture," Guterres said.
The World Health Organization last year set targets for 40% of people in all countries to be vaccinated against COVID-19 by the end of 2021 and 70 per cent by the middle of this year.
"We are nowhere near these targets. Vaccination rates in high-income countries are — shamefully — seven times higher than in African countries. We need vaccine equity, now," Guterres said.
He also warned of a lopsided recovery from the pandemic with low-income countries at a huge disadvantage.
"They're experiencing their slowest growth in a generation," Guterres said. "The burdens of record inflation, shrinking fiscal space, high interest rates and soaring energy and food prices are hitting every corner of the world and blocking recovery — especially in low- and some middle-income countries."
(Reporting by Michelle Nichols, Editing by Franklin Paul)
'I'm out of gas:' Leadership burnout on the rise as pandemic takes mental health toll – CTV News
Workers turn to them for support, clients rely on them for answers, companies lean on them in times of crisis.
Yet as the pandemic stretches inexorably on, experts say the never-ending demands on business leaders are pushing some to the brink of burnout.
Stress, uncertainty and long hours are causing malaise among many managers. It's a condition that — if left unchecked long enough — can manifest as exhaustion, disengagement, depression and burnout, they say.
"Leaders are under tremendous strain," says Paula Allen, global leader and senior vice-president of research and total well-being at LifeWorks.
"When the pandemic first started, we saw the adrenalin kick in, decisions were made fast and work got done," she says. "But it's been relentless. Leaders are exhausted."
It's not just people in charge hitting a wall 22 months, five waves and multiple variants into the COVID-19 pandemic.
New research has found an extreme level of exhaustion among many Canadian workers from the bottom to the top. Many say they're more stressed now than during initial lockdowns.
Essential front-line workers from nurses to grocery store clerks have faced innumerable risks of infection. Others face precarious employment without sick days or benefits. Some have lost their jobs altogether and struggle to pay rent and buy food.
In comparison to these hardships, some might be quick to dismiss the challenges of leaders.
Yet many have reported an increase in exhaustion and mental health concerns since the start of the pandemic.
Supervisors, low-level managers, small business owners and senior executives are grappling with increasing demands and surging work volumes.
Many are putting in extra hours to keep things running while also providing support and encouragement to workers.
"Business leaders are supposed to be cheerleaders," says Mike Johnston, president and CEO of Halifax software company Redspace.
"But we've been trying to hustle and pivot and get through this for so long now. I'm out of gas."
For some managers, the inability to offer more certainty and support to workers is what keeps them up at night.
"When you're the leader of a group of people you want to have all the answers," says Barry Taylor, director of operations for The Ballroom, a large entertainment venue in downtown Toronto.
"But you don't and you just feel helpless and burnt out."
Experts say late-stage pandemic fatigue is taking a toll on many managers, with some veering towards burnout.
The symptoms can include emotional exhaustion, detachment, loss of motivation and reduced efficiency — all of which can have a ripple effect throughout an entire workplace, they say.
"It's exhausted leaders leading exhausted teams," says Jennifer Moss, a Waterloo, Ont.-based workplace consultant and author of The Burnout Epidemic: The Rise of Chronic Stress and How We Can Fix It.
"Managers are trying to be stoic and demonstrate strength and certainty for their employees when many don't feel that themselves."
Pandemic burnout isn't unique to leaders, but she says there are particular stressors facing those in charge.
"It can be more isolating at the top," Moss says. "Senior leaders and managers can sometimes feel very alone."
There's also a perception that because people in management positions "earn the big bucks" they should be prepared to cope with the additional responsibility and stress, she says.
"We sometimes forget there's a human behind that role and regardless of how much they're being paid, how much they earn, it doesn't fix the grief and the pain and the stress that they're dealing with," Moss says.
The perception that managers should demonstrate unwavering leadership and steadfast support of their workers can increase fears of seeking help, experts say.
"There's a definite stigma," says Chantal Hervieux, associate professor of strategy at Saint Mary's University's Sobey School of Business and director of the school's MBA program and Centre for Leadership Excellence.
"There's less acceptance for leaders to talk about mental health issues."
Leaders are expected to be in control, have the answers and be supportive of their team members, she says.
Despite the near constant uncertainty and upheaval of the pandemic, those expectations have remained the same — or increased, Hervieux says.
"Canadian business leaders are working hard to keep things going but some are suffering," she says. "They're paying a mental health price and we need to talk about it."
The challenge of trying to lead during the pandemic is backed up by research.
A survey by LifeWorks and Deloitte Canada released last summer found 82 per cent of senior leaders reported feeling exhausted.
The poll found the top two stressors were an increase in work volume compared to pre-pandemic levels, and the desire to provide adequate support for the well-being of staff.
More than half of those polled said they were considering leaving their roles.
"I've been chatting with other CEOs and there seems to be a shift," Johnston with Redspace says. "There's a number of founders looking to get out, to exit. The fun of the chase isn't balanced against the stress of it."
Still, despite some of the unique pressures facing leaders, burnout appears to be impacting all workers.
A new Bromwich+Smith poll conducted by Angus Reid found more than 70 per cent of people surveyed are worried about their physical and mental health, including sleep issues, fear of COVID-19 and burnout.
Another study by Canada Life found a high level of burnout among Canadian workers. The survey conducted by Mental Health Research Canada found more than a third of all working Canadians are feeling burned out.
This report by The Canadian Press was first published Jan. 17, 2022.
Health Canada approves Pfizer anti-viral pill for treatment of COVID-19 – National Post
Provinces will receive shipments on a per-capita basis and will decide who gets priority for the pills while in short supply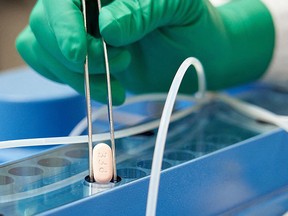 Article content
OTTAWA – Health Canada has approved Pfizer's drug Paxlovid as the first take-home treatment for COVID-19.
Article content
The drug, which is a treatment involving a total of six pills taken daily for five days, has been shown to reduce the risk of hospitalization by almost 90 per cent. The course of treatment includes two pills of nirmatrelvir taken twice a day and one pill of ​​ritonavir taken twice a day.
The drug prevents the virus from replicating, which helps people recover faster. It can't be taken by people under 18 years of age. There are also several drugs that can't be taken alongside Paxlovid, including drugs for cancer, high blood pressure and some anti-anxiety and depression medications.
To be effective, the drug requires people to start treatment within five days of having symptoms and while they can take it at home, it must be prescribed to them and they must have a positive COVID-19 test to begin treatment.
Article content
As the Omicron wave has driven cases skyrocketing, testing centres have been overwhelmed and most provinces now limit who can get a PCR test. Even people who can receive tests are often waiting several days for results.
Dr. Theresa Tam, Canada's chief public health officer, said in the interim, physicians can use rapid antigen tests to prescribe the pills.
She admitted in the short term it will have a limited benefit, but said it will help some people and could be an important tool in the future.
"For the Omicron wave itself, it may contribute, but it won't be a key contributor to the current wave," she said. "We think everybody really just needs to give it a good try because it will be, I think, an important tool going forward."
Article content
Provinces will receive shipments on a per-capita basis and will be the ultimate arbitrators of who gets the medication while it is in short supply.
The public health agency is recommending immunocompromised people are the top priority for the medication, followed by unvaccinated or partially vaccinated people over 80 years old, people in their 60s and people in rural and remote communities where access to hospital care could be difficult.
Tam said the unvaccinated are high on the priority list, because they are more likely to end up in hospital with severe illness.
"As health-care providers, you don't pick and choose which patients you have coming into the hospital and getting treated. And so I think this approach ensures that we are prioritizing treatments to those most in need," she said.
Article content
She stressed however the treatments are no substitute for vaccination.
"This is another tool in the toolkit to fight the pandemic. It is important that everyone gets fully vaccinated and receive a booster, as soon as they are eligible."
Alexandra Hilkene, a spokesperson for Ontario Health Minister Christine Elliott, said the province is expecting it will get 10,000 courses of the drugs in January and has worked out plans to distribute them.
"We have worked with our hospital partners and are prepared for distribution of antivirals at 15 sites across the province as soon we receive them. Courses will initially be prioritized for adults with the highest risk of severe outcomes including immunocompromised patients, and could help keep thousands of people out of our hospitals," she said in an email.
Article content
Hilkene said the pills could help the province return to normal and ease restrictions.
"The arrival of these pills gives us increased confidence as we continue to review key indicators and data to determine when we can begin safely and gradually lifting public health measures."
A first shipment of the pills arrived in Canada over the weekend, with just over 30,000 courses of treatment arriving.
Procurement Minister Filomena Tassi, said Canada expects another 120,000 courses to arrive before the end of February as part of the initial order for a million treatments, with more to come after that.
The government also has an option for 500,000 more courses of treatment after that. The U.S. government bought 10 million courses for US$5.29 billion, a cost of roughly US$529 per course of treatment.
Article content
Tassi would not say what Canada paid for the pills, but said the government was committed to doing whatever is necessary to help Canadians dealing with the virus.
"In order to protect the commercially sensitive pricing information, we can't disclose those details," she said. "The health and safety of Canadians has been our top priority from a procurement perspective whether it's vaccines, PPE, medical supplies. We've done everything that we can possibly do with the priority of keeping Canadians safe."
The government has also refused to disclose on a per dose basis what it paid for COVID-19 vaccines.
Twitter:
Email: rtumilty@postmedia.com