Canada still perfect at men's worlds after win over Denmark – TSN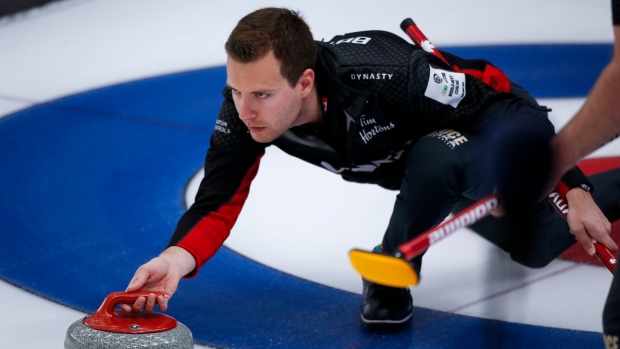 CALGARY — Canada's Brendan Bottcher has been challenged in a variety of ways over his first three games at the BKT Tires & OK Tire World Men's Curling Championship.
His Edmonton-based team has managed to persevere each time and owns a perfect record as a result.
Bottcher's latest win came Saturday morning with a 7-5 victory over a plucky Danish side skipped by Mads Noergaard. The victory came after Canada opened with a comeback win over Scotland's Bruce Mouat before being tested again by Japan's Yuta Matsumura.
"It's a lot harder to win when there's some ups and downs, there's a little bit of adversity, you've got to scrape through it a little bit," Bottcher said. "I think in different ways in all three of these games we've had a little bit of that, which is good.
"I think we'll build on that a little bit through the next few days, hopefully pick up momentum and start bringing our best game a little more often. I really like where we're at right now."
Bottcher stole a pair in the fifth end for a 6-2 lead and sealed the win in the 10th end when Danish fourth Mikkel Krause's final stone was heavy. That eliminated the need for Canada to throw its last rock.
Bottcher, vice Darren Moulding, second Brad Thiessen and lead Karrick Martin were all in form as every player threw at least 86 per cent.
"The first couple games we were building some momentum and then really today I thought we came out of the gate really strong," Bottcher said.
Noergaard throws second stones for Denmark, a team that's also making its world championship debut. Krause, the low man on the day at 66 per cent, was forced to draw for a single in the first end for Denmark's only lead of the game.
Bottcher scored deuces in three of the next four ends, with a slick hit and roll setting up a steal of two in the fifth. Krause was light on his draw against three.
Denmark had a chance at a pair to get back in the game in the seventh, but Krause rubbed a guard to give up another steal.
Bottcher was heavy with a draw in nine to allow Denmark to pull within two. In the 10th, Krause was sitting one under cover but watched his final stone roll just beyond the 12-foot ring.
The Canadian team had the rest of the day off ahead of a Sunday morning matchup against Switzerland's Peter de Cruz, an 8-5 winner over Germany's Sixten Totzek.
In other early games, Sweden's Niklas Edin defeated John Shuster of the United States 8-5 and Scotland posted a 9-4 win over Jaap van Dorp of the Netherlands.
Shuster rebounded in the afternoon draw with a 7-5 win over Totzek and Edin needed an extra end for a 7-6 win over Italy's Joel Retornaz. The Russian Curling Federation's Sergey Glukhov defeated China's Qiang Zou 10-6 and Norway's Steffen Walstad dumped South Korea's Yeong-Seok Jeong 9-2.
Saturday's evening action saw Switzerland down Japan 8-5 and Denmark rout the Netherlands 14-5. Walstad and the Norwegians took a 9-5 win over China and Scotland's Mouat handed the South Koreans a thorough 11-4 loss.
Round-robin play continues through Friday afternoon.
Norway sat in the top spot at 4-0 after six draws, with Canada, the Russian Curling Federation and Switzerland close behind with 3-0. Scotland was next with 3-1 ahead of Italy, Sweden and the U.S. at 2-1.
Japan was 1-2 while Denmark was 1-3. Germany remained winless at 0-3 and China, South Korea, and the Netherlands lingered behind at 0-4.
The top two finishers in the 14-team round robin earn byes to the semifinals on April 10. Teams sitting third through sixth will compete in qualification games with winners to reach the final four.
Medal games are set for April 11. The top six teams will also earn spots for their respective countries at the 2022 Winter Olympics in Beijing.
Edin beat Canada's Kevin Koe in the 2019 world championship final in Lethbridge, Alta. The 2020 event was cancelled due to the pandemic.
No spectators are allowed in the WinSport Arena, which was also the case at the recent Canadian men's, women's and mixed doubles championships.
Two Grand Slams are next on the bubble calendar before the world women's playdowns in late April.
This report by The Canadian Press was first published April 3, 2021.
For Oilers, Archibald's selfish anti-vaccine stance is not worth the risk – Sportsnet.ca
EDMONTON — One is a player who opted to honour his commitment to his new team in Edmonton. The other, just another selfish anti-vaxxer who is betting on himself, somewhat foolishly.
One is a player the general manager staked his reputation on, with much pedigree and a handful of Stanley Cup rings. A guy who came to town billed as a leader, and then backed it up when he rolled up his sleeve despite obvious misgivings about being vaccinated.
Sure, Duncan Keith should have gotten vaccinated a month sooner. But give him some credit for putting the team — society and the Oilers — ahead of himself. Even if he waited until the 11th hour to do it.
Then there is depth winger Josh Archibald, who will be replaced by Game 1 of the regular season if he doesn't give his head a shake. He is from that young, conspiracy-oriented demographic that has been suckered in by far-right disinformation, and tweets about idiocy like "the plandemic."
"I'm happy that he's going to be part of our team this year, fully vaccinated," Oilers general manager Ken Holland said of Keith, a player Holland had seriously dug in on to convince him to get vaccinated. Mike Smith took some work, too, we are told, but now both are vaccinated and ready to do what they were brought in to accomplish.
The other player is more selfish than that.
Archibald is a nice, fourth-line penalty killer in a normal season. He'll get you 10 goals a year. But for this, the third COVID-affected NHL campaign, an unvaccinated Archibald just isn't worth it.
Holland and head coach Dave Tippett sat down with Archibald on Tuesday and spelled out how many games he would miss and what it would mean to be Canada's only unvaccinated NHL player. It would cost him up to 40 per cent of his $1.5 million salary. Maybe more.
Now Holland sits, and hopes that Archibald changes his mind before the GM has to send him to AHL Bakersfield. He is virtually untradeable, as Archibald could not play games in Canada for a U.S.-based team, and poses a risk that no fourth-liner can justify.
"There are a team or two out there that have made the decision that unvaccinated players are not welcome at training camp. I have not made that decision as of this time," Holland said on Wednesday. "I think the player is going through the process to decide. It's a difficult decision. I'll give [Archibald] the appropriate time, and I'll see where I'm at in a week, 10 days from now. We'll see."
---
Editor's note: With overwhelming consistency, research has shown vaccinations against COVID-19 are safe and effective. Residents of Alberta who are looking to learn more about vaccines can find up-to-date information here. Further details on COVID-19 and the country's pandemic response are available on Canada's public health website.
---
In a strange twist of fate, Keith — who received his vaccination in the United States only this week — is in quarantine until next Friday, while the unvaccinated Archibald is undergoing daily testing while attending Edmonton Oilers training camp.
But here's the reality of all this: A Canadian team simply can not have an unvaccinated player on its roster.
By Holland's math, an unvaccinated player who must serve a 14-day quarantine every time he comes over the U.S. border and into Canada, would miss "30-plus games" this season. He'd also miss a ton of practice time, and would lose one-200th of his pay for every day missed due to the federally mandated quarantine.
It would be impossible to hold his place on an NHL roster.
"After you quarantine for 14 days, if we're playing well you're not just taking someone out to put that person in," Holland said. "The number of times we cross the border, it's going to be very difficult."
Had Keith and Smith not relented, the Oilers' season would have been derailed.
---
Related reading: Edmonton Oilers goaltender Alex Stalock contracted COVID-19 before the shortened 56-game season. Now, the 34-year-old is likely going to miss the 2021-22 season due to a heart condition.
---
Now that Holland has his starting goalie and No. 3 defenceman in the fold, why on earth would you want an unvaccinated, 13:33-minutes per game player flying on the same charter and inhabiting the same dressing rooms as Connor McDavid and Leon Draisaitl?
Between the peer pressure, the risk of lost salary, and the ridiculous nature of his stance, I expect Archibald to relent and get the jab. Let's face it: It's a business, and there is no moral high ground in sport.
"In July I heard talk that there were 80, 90 unvaccinated players," Holland recounted. "We had a Board of Governors meeting (Tuesday), and Bill Daly said we'll be in single digits of players unvaccinated going into the season. So, basically, 70, 80, 90 players eventually made the decision to get vaccinated."
Some because they didn't want to lose the salary, and some because they put their team and others before themselves.
There is one player left on a Canadian team who puts himself before everything else, and his name is Josh Archibald.
Kiermaier on getting hit by pitch by Blue Jays' Borucki: 'Oh yeah, it was intentional' – Yahoo Canada Sports
The Tampa Bay Rays clinched a spot in the postseason on Wednesday, but that was the secondary story against the Toronto Blue Jays.
During the game prior, Rays centrefielder Kevin Kiermaier was the centre of attention as he from Toronto catcher Alejandro Kirk, which the Rays refused to hand back to the visiting club. Less than 24 hours later during the series finale between the two AL East teams, Kiermaier re-entered the spotlight as he was struck by a pitch thrown by Blue Jays reliever Ryan Borucki in the eighth inning.
Borucki was ejected after the umpires met to review the struck batter, which then caused Blue Jays manager Charlie Montoyo and a very red-faced pitching coach Pete Walker to storm onto the field.
Walker was also tossed from the game for his outburst.
Kiermaier didn't let up after the 7-1 victory, focusing on the late-game dramatics.
"Oh yeah, it was intentional," "Pretty much almost went behind me. I thought it was a weak move, to be quite honest. It's over. It didn't hurt by any means, so I don't care. Whatever. We move on. We got a series win, and I hope we play those guys, I really do."
When Kiermaier was asked why he wants to face the Blue Jays again, it was mysterious to say the least. "The motivation is there," he said. "That's all that needs to be said."
Despite Kiermaier being so sure it was intentional, Montoyo had a different idea of what happened, but was certainly sympathetic to the Rays' reaction.
"Pete's reaction told me everything about it,""He missed. He hit him, but I understand what it looks like. I understood how the Rays got upset about it. That thing was on for two days."
With just 10 games remaining in the regular season, Toronto is on a hot Wild Card race with fellow divisional rivals Boston Red Sox and New York Yankees. The two clubs involved in the ruckus will not face each other again unless the Blue Jays earn a spot in the postseason and are able to beat their opposition in that single-game playoff matchup.
As if the MLB postseason wasn't dramatic enough, now there's an underlying narrative ready to boil over at any moment if the two face each other in a series.
More from Yahoo Sports
Eichel stripped of Sabres captaincy, placed on LTIR – TSN
Jack Eichel is no longer captain of the Buffalo Sabres.
Sabres general manager Kevyn Adams said Thursday morning Eichel has been stripped of the 'C' after three seasons in the role.
"I spoke to Jack two days ago, I spoke to the team yesterday and addressed this, Jack Eichel is no longer the captain of the Buffalo Sabres," Adams said. "From our perspective, the captain is your heartbeat of your team, and we are in a situation where we felt we needed to make that decision."
Adams added the Sabres will not have a captain this season.
Adams also confirmed that Eichel will start the season on long-term injured reserve as he remains in a holding pattern with the team on how to best treat his neck injury.
"I think we would all agree that we were hoping to avoid surgery…unfortunately, yesterday Jack did not pass his physical. At this point, Jack is not willing to move forward with what our doctors are suggesting…we will continue to work toward a solution," Adams said.
TSN Hockey Insider Darren Dreger reported Wednesday that there is nothing close on the trade front for Eichel, who has been looking for a trade throughout the off-season.
"Well, it's tough to pinpoint a timeline but we do know there is ongoing discussions with Jack Eichel's agent Pat Brisson and Kevyn Adams, the general manager of the Buffalo Sabres. They're on good terms, they have an excellent relationship," Dreger said on Insider Trading. "We also know that Jack Eichel will start the regular season on LTIR. Now, he saw a team of specialists over the course of the off-season. Some encouraged the artificial disc replacement surgery; however, the Buffalo Sabres remain adamant that the fusion surgery is the best option.
"It's possible that Eichel gets traded and has the disc replacement surgery under the blessing of a new club, but there's no guarantee and it doesn't seem like anything is real close on that front."
Eichel was limited to 21 games last season due to the neck injury and there has been a long-standing dispute with the team this summer over how to treat the injury.
The 24-year-old centre has been the subject of trade talk since the end of last season and his former agents released a statement in July trying to spur a trade. He switched agents to Pat Brisson in August.
"What's critically important to make sure is clear is that we're in control of this process," Adams said in July, prior to the statement from Eichel's then-agents. "We have a player under contract. We don't feel any pressure.
"If there's a deal out there that we feel is the right thing for the Buffalo Sabres, that's going to help us improve – whether that's improve right away or improve down the road, those are all the things weigh – we'd be open to it. But we're not in a position where we feel we're just going to do something to do it. That doesn't make any sense."
Eichel had two goals and 18 points in 21 games last season and has five years remaining in the eight-year, $80 million contract he signed with the Sabres in 2017.
He had served as captain of the Sabres since 2018.