Canada still perfect at men's worlds after win over Denmark – TSN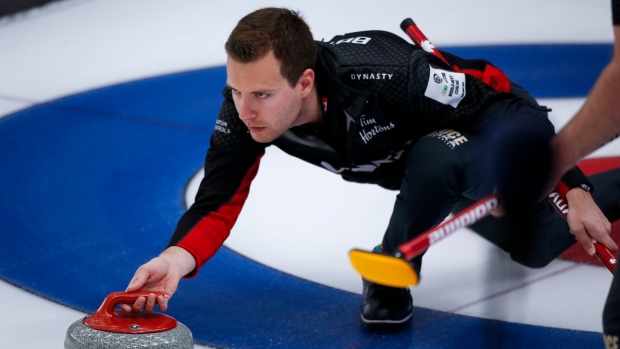 CALGARY — Canada's Brendan Bottcher has been challenged in a variety of ways over his first three games at the BKT Tires & OK Tire World Men's Curling Championship.
His Edmonton-based team has managed to persevere each time and owns a perfect record as a result.
Bottcher's latest win came Saturday morning with a 7-5 victory over a plucky Danish side skipped by Mads Noergaard. The victory came after Canada opened with a comeback win over Scotland's Bruce Mouat before being tested again by Japan's Yuta Matsumura.
"It's a lot harder to win when there's some ups and downs, there's a little bit of adversity, you've got to scrape through it a little bit," Bottcher said. "I think in different ways in all three of these games we've had a little bit of that, which is good.
"I think we'll build on that a little bit through the next few days, hopefully pick up momentum and start bringing our best game a little more often. I really like where we're at right now."
Bottcher stole a pair in the fifth end for a 6-2 lead and sealed the win in the 10th end when Danish fourth Mikkel Krause's final stone was heavy. That eliminated the need for Canada to throw its last rock.
Bottcher, vice Darren Moulding, second Brad Thiessen and lead Karrick Martin were all in form as every player threw at least 86 per cent.
"The first couple games we were building some momentum and then really today I thought we came out of the gate really strong," Bottcher said.
Noergaard throws second stones for Denmark, a team that's also making its world championship debut. Krause, the low man on the day at 66 per cent, was forced to draw for a single in the first end for Denmark's only lead of the game.
Bottcher scored deuces in three of the next four ends, with a slick hit and roll setting up a steal of two in the fifth. Krause was light on his draw against three.
Denmark had a chance at a pair to get back in the game in the seventh, but Krause rubbed a guard to give up another steal.
Bottcher was heavy with a draw in nine to allow Denmark to pull within two. In the 10th, Krause was sitting one under cover but watched his final stone roll just beyond the 12-foot ring.
The Canadian team had the rest of the day off ahead of a Sunday morning matchup against Switzerland's Peter de Cruz, an 8-5 winner over Germany's Sixten Totzek.
In other early games, Sweden's Niklas Edin defeated John Shuster of the United States 8-5 and Scotland posted a 9-4 win over Jaap van Dorp of the Netherlands.
Shuster rebounded in the afternoon draw with a 7-5 win over Totzek and Edin needed an extra end for a 7-6 win over Italy's Joel Retornaz. The Russian Curling Federation's Sergey Glukhov defeated China's Qiang Zou 10-6 and Norway's Steffen Walstad dumped South Korea's Yeong-Seok Jeong 9-2.
Saturday's evening action saw Switzerland down Japan 8-5 and Denmark rout the Netherlands 14-5. Walstad and the Norwegians took a 9-5 win over China and Scotland's Mouat handed the South Koreans a thorough 11-4 loss.
Round-robin play continues through Friday afternoon.
Norway sat in the top spot at 4-0 after six draws, with Canada, the Russian Curling Federation and Switzerland close behind with 3-0. Scotland was next with 3-1 ahead of Italy, Sweden and the U.S. at 2-1.
Japan was 1-2 while Denmark was 1-3. Germany remained winless at 0-3 and China, South Korea, and the Netherlands lingered behind at 0-4.
The top two finishers in the 14-team round robin earn byes to the semifinals on April 10. Teams sitting third through sixth will compete in qualification games with winners to reach the final four.
Medal games are set for April 11. The top six teams will also earn spots for their respective countries at the 2022 Winter Olympics in Beijing.
Edin beat Canada's Kevin Koe in the 2019 world championship final in Lethbridge, Alta. The 2020 event was cancelled due to the pandemic.
No spectators are allowed in the WinSport Arena, which was also the case at the recent Canadian men's, women's and mixed doubles championships.
Two Grand Slams are next on the bubble calendar before the world women's playdowns in late April.
This report by The Canadian Press was first published April 3, 2021.
Olympics-U.S. women to face Australia in women's football at Tokyo Games
(Reuters) – The U.S. women's national team will face Australia, Sweden and New Zealand at this summer's Tokyo Olympics, while in the men's competition 2016 winners Brazil will take on Germany following the group stage draw on Wednesday.
The American women's team are the reigning world champions and four-time winners of the Olympic tournament and will start as favourites in Tokyo, with Rio 2016 winners Germany failing to qualify.
Team GB women have drawn 2016 bronze medallists Canada, Chile and hosts Japan. Making only their second Olympic tournament appearance, Team GB will be led by England's interim coach Hege Riise.
On the men's side, Brazil will take on Germany, Ivory Coast and Saudi Arabia.
Mexico, the 2012 gold medallists, were pitted against hosts Japan, South Africa and France.
The men's team are usually restricted to selecting players under the age of 23, with just three overage players allowed.
However, the age bracket has been raised for the Tokyo Games in line with the one-year postponement of the event due to the COVID-19 pandemic.
(Reporting by Hardik Vyas in Bengaluru; Editing by Christian Radnedge)
Rafael Nadal rallies from set down to advance in Barcelona
Top seed Rafael Nadal rallied from a set back to beat Ilya Ivashka of Belarus 3-6, 6-2, 6-4 on Wednesday in the second round at the Barcelona Open in Spain.
Nadal lost serve in the opening game of the match and wasn't able to break Ivashka's serve throughout the first set. He won just 70.6 percent of points on his first serve, was broken twice and had two double faults in an uncharacteristically poor showing on service in the opening set.
By the second set, he had righted his serve, winning 86.7 percent of points on his first serve in the second set and 83.3 percent in the third. He didn't face a break point in either set.
In other action, No. 2 seed Stefanos Tsitsipas of Greece, No. 3 Andrey Rublev of Russia, No. 4 Diego Schwartzman of Argentina, No. 6 Pablo Carreno Busta of Spain and No. 10 Felix Auger-Aliassime of Canada were among those advancing.
No. 9 Fabio Fognini of Italy defaulted for verbal abuse. He was losing 6-0, 4-4 to Zapata Miralles of Spain when the line judge reported him for swearing after a foot fault. He had been warned earlier in the match
Serbia Open
Top seed and home-country favorite Novak Djokovic needed just 68 minutes to top South Korean Soon-woo Kwon 6-1, 6-3 and advance to the quarterfinals in Belgrade, Serbia.
Djokovic capitalized on five of his eight service break opportunities in the win. In the next round, he'll meet fellow Serb Miomir Kecmanovic, the eighth seed, who needed three sets to oust Arthur Rinderknech of France 6-3, 3-6, 6-3.
Also advancing was the No. 2 seed, Matteo Berrettini, who defeated fellow Italian Marco Cecchinato 6-4, 6-3. Fifth seed Filip Krajinovic beat Nikola Milojevic 6-1, 6-1 in an all-Serb match.
(Field Level Media)
Ice hockey-Women's world championships cancelled due to COVID-19
(Reuters) -The women's ice hockey world championships set to be played in Halifax and Truro, Nova Scotia have been cancelled because of a surge in COVID-19 cases in Canada, Hockey Canada said on Wednesday.
The announcement came one day before the 10 teams were to arrive to begin their quarantine ahead of the May 6-16 tournament.
"This is very disappointing news to receive with just a few weeks until the tournament was to begin," said International Ice Hockey Federation president Rene Fasel in a statement.
"We strongly believe that we had the adequate safety measures in place. In the end, we must accept the decision of the government."
The IIHF and Hockey Canada were informed by the Nova Scotia provincial government on Wednesday that the 10-country tournament could not go ahead due to safety concerns associated with COVID-19.
Still the news came as a shock after Nova Scotia's chief medical officer had 24 hours earlier given the event the thumbs- up.
"At five o'clock this morning we were full go and at 7:30 am we were not," explained Hockey Canada chief executive officer Tom Renney. "That is the way the world is right now and there is only so much we can control.
"At the end of the day there is a bigger game than the one we play here and quite honestly it is about the safety of the general public."
The cancellation was another blow for the women's game that has endured a number of recent setbacks, including the folding of the Canadian Women's Hockey League.
It was also the second consecutive year the Nova Scotia world championships have been stopped by COVID-19.
"Definitely, a little bit of disbelief, a little shock, a lot of emotion," said Canadian coach Gina Kingsbury, who pulled some players off the ice to deliver the bad news. "This is a group that has been through a lot this past year and two years so they are definitely familiar with disappointing news."
Both the IIHF and Hockey Canada indicated they plan to play the world championships this year, possibly this summer, in Canada.
"Our intention, and that of the IIHF, is to reconnect with this event as a world championship in 2021 in Canada," said Renney. "That's our number one objective. We have every desire to hold this event in Canada."
(Reporting by Steve Keating in Toronto, Editing by Ed Osmond)