Canada truckers: Arrests as police warn of 'volatile' protesters – BBC News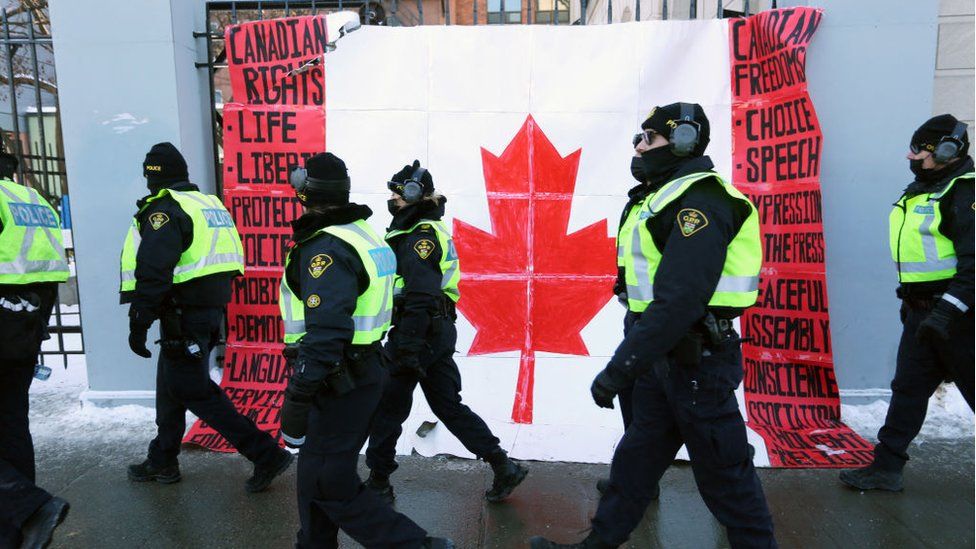 Ottawa police have said "volatile" and "determined" demonstrators remain in Canada's capital after nearly two weeks of a trucker-led anti-vaccine mandate protest.
Ottawa is under a state of emergency as police try to contain the protest.
Up to a quarter of so-called Freedom Convoy vehicles have children in them who could be at risk during operations, authorities said on Tuesday.
Nearly 80 criminal investigations have been opened relating to the protests.
Out of thousands of demonstrators, some two dozen arrests have been made.
While the protest has been mostly peaceful, police expressed concern about extremist rhetoric coming from far-right groups at the rally. As well as reported racial and homophobic abuse, protesters danced on the Tomb of the Unknown Soldier at the National War Memorial.
Officers have issued tickets and warned people away, but have been met by protesters determined to stay, and even a fake bomb threat which authorities said was intended to "deceive and distract" police.
One officer was reportedly attacked while attempting to seize fuel from a protest truck.
Speaking to press on Tuesday, deputy police chief Steve Bell said: "Our message to the demonstrators remains the same: Don't come. If you do, there will be consequences."
Incidents under police investigation include alleged hate crimes and property damage.
Mr Bell also disclosed on Tuesday that police had found about 100 trucks with children in them and contacted Children's Aid Society overs concerns with noise, fumes and hygiene.
Some 740 miles (1,190km) away from Ottawa, Canada's busiest border crossing was partially reopened on Tuesday after protesting truckers ground traffic to a standstill.
Truckers rallying in solidarity with those in Ottawa had blocked the Ambassador Bridge on Monday night, forcing vehicles to take long detours.
The bridge over the Detroit River is a vital trade link between Canada and the US, with more than 40,000 people and $323m (£238m) worth of goods cross it daily.
According to police in Michigan and Windsor, protesters had forced authorities to close the span shortly before 21:00 local time on Monday – just hours after Canadian Prime Minister Justin Trudeau had accused the demonstrators of attempting to "blockade our economy".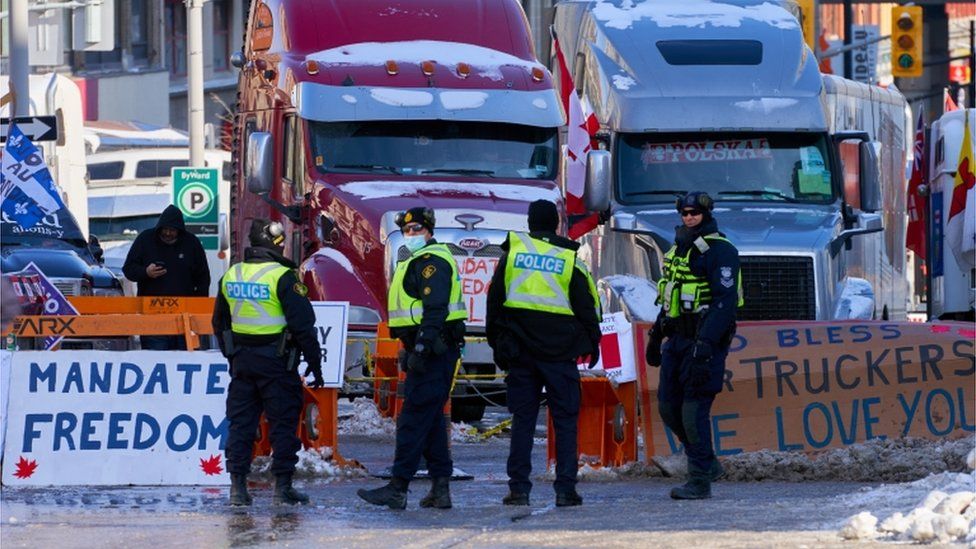 Hundreds of vehicles were backed up for miles as travellers were warned by Canadian police to reroute.
While now open for travel from Canada to the US, across the other side, the Michigan Department of Transportation said the bridge remained closed and advised drivers to divert to nearby Port Huron to head into Canada. Business groups in the US and Canada called the blockade "an attack on the well-being of our citizens and the businesses that employ them", and demanded a full reopening.
As traffic continued to clog the area, demonstrators in Ottawa faced anger from local residents even as many insisted that they were protesting peacefully.
"There's been nothing but love, unity and peace out here," said John Van Vleet, a trucker from Ontario. "It's important for me to come down here to fight for my freedoms."
However, some Ottawans have said the atmosphere has been tense, especially on weekends when thousands of protesters have descended upon the city's downtown core, spilling into nearby streets.
"We're all fed up," said Marika Morris, a resident. "They don't have a right to take us hostage."
Ottawa has been under a state of emergency since Sunday.
Even before that, the city centre had been paralysed for a week as hundreds of lorries parked in the city centre and gatherings of protesters had forced businesses to close.
The so-called Freedom Convoy began on 9 January in western Canada as truckers protested against a rule that requires them to be vaccinated against Covid-19 to cross the US-Canada border. The demonstrations have morphed to include anger at a raft of Covid-19 restrictions and at Mr Trudeau's government generally.
Demonstrations have also spread to other Canadian cities, including Toronto and Vancouver. Internationally, there have been rallies of support in New Zealand's capital Wellington and Canberra in Australia.
The Canadian province of Alberta announced on Tuesday that some of its Covid restrictions – including its controversial vaccine passport – would be lifted from midnight.
Masking requirements for school students will also end from Monday, and children under 12 will be exempt from all mask mandates.
Alberta Premier Jason Kenney denied the move was a response to the trucker protests.
"We'll never be able to do a full accounting of the extent of the pain and hardship that restrictions have caused," Mr Kenney said.
"We cannot remain at a heightened state of emergency forever. We have to begin to heal."

Jessica Murphy, BBC News, Ottawa
For city blocks, in the centre of the national capital, massive trucks are parked, many decorated with signs calling for an end to vaccine mandates – or simply "Freedom".
Up to 500 such trucks are estimated to be in Ottawa's downtown right now and many have been there for going on 12 days.
The fences in front of the parliament building are covered in hundreds of handwritten protest signs expressing support for their cause.
The protesters say that theirs is a cause all Canadians should applaud – but after nearly a fortnight of blaring horns and streets shut by blockaders and police, many residents of Ottawa see it differently.
"They've done their protest and should have been sent home a long time ago," David, a local business-owner, said.
Holding a sign opposing the protests, he said he has got some supportive honks and thumbs up from passers-by. But he's also been yelled at by protesters, or bumped into and pushed, and they've tried to take his sign.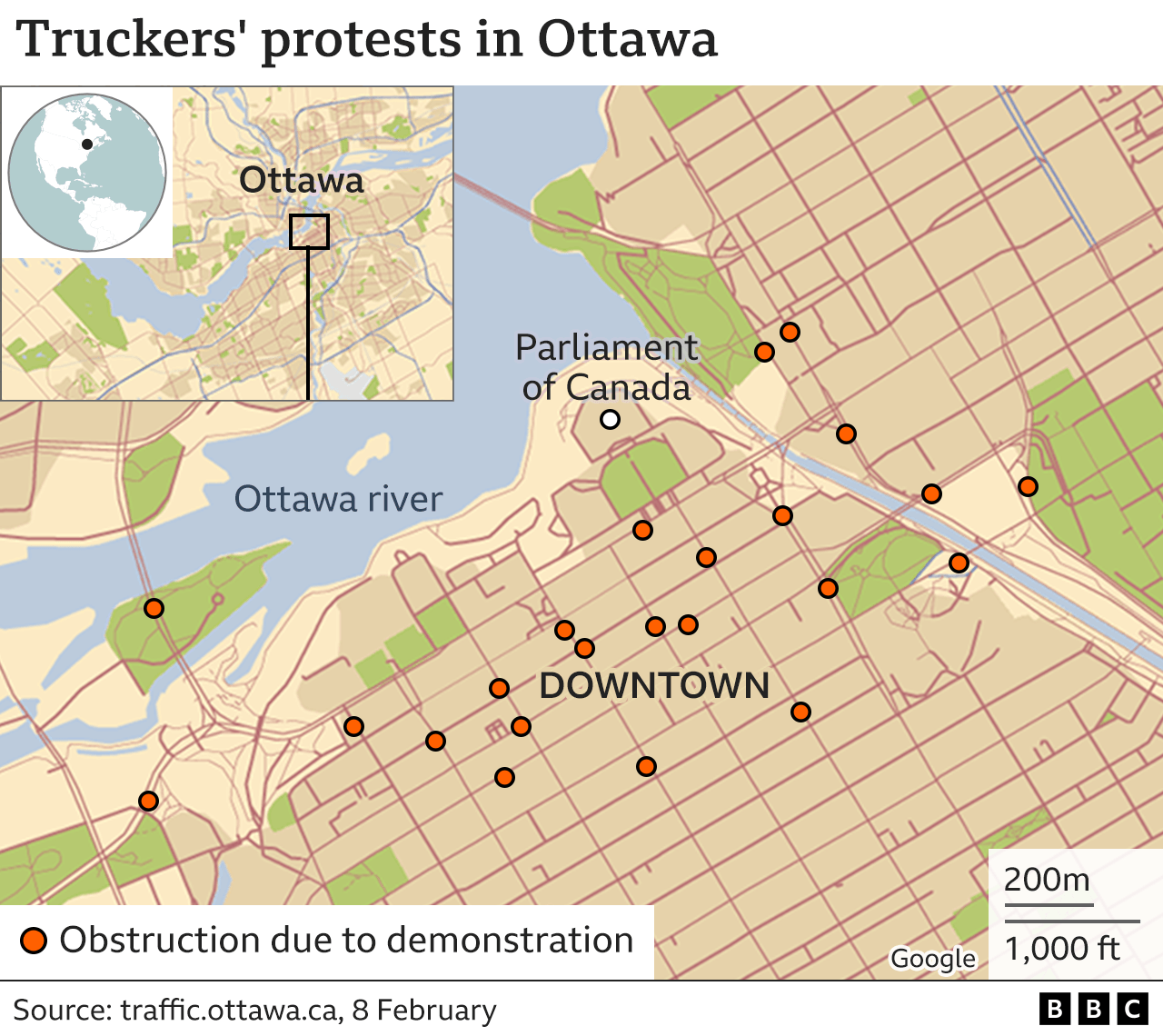 Canada first to sign off on Finland, Sweden joining NATO – CTV News
Canada became the first country to ratify Finland and Sweden's accession protocols to join the North Atlantic Treaty Organization (NATO), Prime Minister Justin Trudeau announced Tuesday.
The move follows NATO leaders officially inviting the two nations to join the alliance during a summit in Madrid last week, and brings the two countries a step closer to becoming full NATO members.
"Canada has full confidence in Finland and Sweden's ability to integrate quickly and effectively into NATO and contribute to the Alliance's collective defence," Trudeau said in a statement.
"Their membership will make NATO stronger and we call on all NATO members to move swiftly to complete their ratification processes to limit opportunities for interference by adversaries."
According to The Associated Press, all 30 NATO allies signed off on the accession protocols on Tuesday, sending the membership bids to each nation for legislative approval. Both Canada and Denmark were quick to turn around their ratification documents.
"Thank You Canada! Canada is the first country to deliver its instrument of ratification to the United States Department of State, the depository of the North Atlantic Treaty!" tweeted Sweden's Ambassador to Canada Urban Ahlin.
In Canada, the federal government made moves domestically to move through the ratification quickly, Trudeau said. This included issuing orders-in-council authorizing Foreign Affairs Minister Melanie Joly to "take the actions necessary to ratify, on behalf of Canada."
Ahead of Parliament adjourning for the summer, the House of Commons debated and voted on a motion signalling their support for Finland and Sweden joining NATO.
In May, the House Public Safety and National Security Committee adopted a motion expressing "strong support" for the two Scandanavian countries' membership in the alliance. The motion also called on all NATO members to approve their applications as quickly as possible.
A debate was held on this motion on June 1, and it passed unanimously when put to a vote the following day.
"Russia's war in Ukraine has actualized something that was once only theoretical. An authoritarian state led by an autocrat has attacked a democracy: It has demonstrated that it is willing and able to attack a democracy. It has made clear that democracies that stand alone and are not part of military alliances are most vulnerable," said Conservative MP and foreign affairs critic Michael Chong during the House debate. "That is why it has become necessary to bring both Sweden and Finland into the NATO alliance. This is an urgent matter."
Also taking part in the debate, NDP MP and foreign affairs critic Heather McPherson said she supports Finland and Sweden doing all they can to prevent their countries from being threatened further by Russia.
"Prior to the further invasion of Ukraine, support for NATO membership was around 20 to 30 per cent in Sweden and Finland. Now, 76 per cent of Finnish people support joining NATO. Very simply, Vladimir Putin and the aggression of the Russian Federation are responsible for escalating tensions in the region and leading Sweden and Finland to seek NATO membership," McPherson said.
With NATO member countries having different processes for completing ratification, it could be some time still before the two nations formally become a part of the longstanding intergovernmental military alliance.
With files from Senior Political Correspondent for CTV News Channel Mike Le Couteur
Canada Day Ottawa: 12 arrested, 50 charges laid – CTV News Ottawa
Ottawa police say 50 criminal charges were laid over the Canada Day long weekend and 12 people were arrested.
Last Friday marked the first Canada Day in Ottawa with major in-person events since 2019. Thousands of tourists and residents came downtown to celebrate the holiday. In the mix were several hundred protesters associated with the "Freedom Convoy" movement that paralyzed downtown Ottawa in February.
Ottawa police were out in force starting June 29 with the implementation of the downtown vehicle control zone, which was meant to prevent another vehicle-based occupation of the city.
Police said they arrested a dozen people in downtown Ottawa between June 29 and July 3, including people who were not involved in Canada Day events or protests. On top of the 50 criminal charges, four charges under the Controlled Drugs and Substances Act were also laid.
One man was arrested on Parliament Hill June 29 for causing a disturbance. He was taken back to Toronto on an outstanding warrant.
On June 30, police charged one person with breach of release orders and Highway Traffic Act offences after a traffic stop on Highway 417 at Anderson Road.
Later that day, three people were arrested following an incident at the National War Memorial in which a police officer was allegedly choked. Charges include assaulting police, resisting arrest, causing a disturbance, and assault by choking. This incident came shortly after Canadian soldier James Topp, who is facing a court martial for criticizing the government's COVID-19 vaccine rules in uniform, completed his cross-country walk protesting vaccine mandates. Hundreds of people had gathered at the War Memorial to hear Topp speak.
On Canada Day, one man was arrested and charged for allegedly pulling a knife on RCMP officers near LeBreton Flats after officers broke up a fight. Two more people were arrested and face several assault charges after an attack in the ByWard Market.
On July 2, police arrested two people in a vehicle and seized a handgun. Several gun and drug charges were laid. Patrol officers also seized a gun in Sandy Hill that afternoon and charged a man with drug and gun offences.
On July 3, police arrested a woman for public intoxication who allegedly spit in an officer's face. She now also faces an assault charge.
Ottawa police did not name any of the accused.
Police are also investigating paint on public property in Strathcona Park and on Wellington Street. Protesters painted messages about convoy organizers Pat King and Tamara Lich on Wellington Street on Canada Day. Police also said earlier they laid 19 impaired driving charges over the long weekend.
Ottawa Bylaw towed 121 vehicles from the vehicle control zone between June 29 and July 3 and issued 513 parking tickets.
Foreign Affairs Minister Mélanie Joly to take part in G20 despite Russia's presence
OTTAWA — Canada's Foreign Affairs Minister Mélanie Joly will take part in a G20 meeting in Bali, Indonesia, this week, even though Russia's Foreign Minister Sergey Lavrov is also expected to attend.
In March, Joly joined many others in walking out of a United Nations meeting in Geneva when Lavrov, whom Canada had brought sanctions against days earlier, began speaking.
In April, Deputy Prime Minister Chrystia Freeland joined a walkout of a G20 meeting for finance ministers and central bank governors in Washington to protest Russia's invasion of Ukraine.
In May, International Trade Minister Mary Ng joined her counterparts from the United States, Australia, Japan and New Zealand in leaving an APEC meeting in Bangkok when the Russian representative began to speak.
Last week, Prime Minister Justin Trudeau said Canada would take part in the G20 leaders' meeting in November, even if President Vladimir Putin goes too, saying it is important to counteract the voice that Russia will have at that table.
Joly, who recently said it was unacceptable for a Canadian official to attend a reception hosted by the Russian Embassy in Ottawa, is expected to join other foreign ministers at the G20 meeting in opposing the ongoing war in Ukraine.
This report by The Canadian Press was first published July 5, 2022.
The Canadian Press