Canada will not be doing another repatriation amid coronavirus pandemic: Champagne – Global News
The federal government will not be repatriating any more travelling Canadians as the novel coronavirus pandemic continues to wreak havoc around the world, the country's foreign affairs minister said.
Francois-Philippe Champagne made the remarks ahead of Question Period on Monday, saying that the government's "travel advisory is very clear."
"You know you see COVID around the world, you see second waves in many places and we've been very clear to Canadians. I think the (Prime Minister) has spoken, (and) has been very, very clear: We are not going to be doing another repatriation," he said.
Champagne said people should "be thinking twice [about] whether they have insurance coverage, where they're going," and what the COVID-19 situation is at their destination.
"If COVID has taught us anything over the last six to nine months it's that things can change rapidly and dramatically," he continued.
"I think Canadians this year should really take extreme caution, and the best way is to follow, obviously, public health advice."
Champagne said he doesn't think travelling this year is "appropriate," adding that staying home is the "right thing to do when you're looking at the COVID situation around the world."

1:55


Canada's prime minister and top doctor warn of massive spike in COVID-19 cases



Travel Canada has for months been advising Canadians to "avoid all non-essential travel" outside of the country and avoid travelling on cruise ships "until further notice."
[ Sign up for our Health IQ newsletter for the latest coronavirus updates ]
"As foreign governments implement strict travel restrictions and as fewer international transportation options are available, you may have difficulty returning to Canada or may have to remain abroad for an indeterminate period," the advisory reads.
The agency's website says there are "no plans to offer additional repatriation flights."
"Should you decide to travel despite our advisories, know that you might have to remain abroad longer than you expected."
The agency also says it may have "limited capacity" to offer consular services to those abroad.
In the first few months of the pandemic, Global Affairs Canada (GAC) coordinated with commercial airlines and the leaders of other countries to repatriate Canadians who found themselves stranded outside of the country due to the COVID-19 outbreak.
Global News reached out to GAC to determine the total number of Canadians who have been repatriated as a result of the novel coronavirus pandemic, but did not hear back by time of publication.

0:54


Coronavirus: New projection says Canada could see 20,000 daily cases by end of December



Champagne's remarks come as the country continues to struggle to contain the second wave of the COVID-19 pandemic.
By 5:30 p.m. ET, on Monday, the country had seen a total of 335,320 confirmed cases of the virus.
To date, 11,500 have died in Canada after testing positive for the respiratory illness.
Meanwhile, globally, the total number of COVID-19 infections has topped 59 million.
Since the virus was first detected, it has claimed 1,393,886 lives around the world.
© 2020 Global News, a division of Corus Entertainment Inc.
Independent firm completes review into claims of 'toxic' environment at Rideau Hall – CBC.ca
An independent consulting firm has completed its review into reports of a toxic environment and workplace harassment at Rideau Hall — and sources briefed on the report say its contents are scathing.
Sources said the negative findings in the report could make it difficult for Julie Payette to remain in her role as Governor General. The Globe and Mail also reports that the review has been completed and is damning in its conclusions.
Sources also have told CBC that Secretary to the Governor General Assunta Di Lorenzo, who has also been accused of harassing employees, recently hired a lawyer.
CBC is not naming the sources as they were not authorized to speak publicly.
The head of the Queen's Privy Council for Canada, Dominic LeBlanc, is overseeing the review and is expected to offer recommendations to Prime Minister Justin Trudeau on his response. LeBlanc's father was the governor general from 1995-1999.
Experts agree that when a government wants a controversial governor general to depart, the most likely approach would be for the prime minister to suggest resignation. If the governor general doesn't follow through on that suggestion, the prime minister could turn to Buckingham Palace to appoint a replacement.
The Privy Council Office launched the unprecedented third-party review in July in response to a CBC News report featuring a dozen public servants and former employees confidentially claiming Payette had belittled, berated and publicly humiliated Rideau Hall staff. Di Lorenzo, the Governor General's longtime friend and second-in-command, is also accused of bullying staff.
Payette tweeted two days after that story aired that she was "deeply concerned about the media reports" and she "takes harassment and workplace issues very seriously … I am in full agreement and welcome the independent review."
As of Jan. 5, Rideau Hall had spent more than $150,000 in public funds on legal representation in response to the toxic workplace allegations, including a former Supreme Court justice for the Governor General and Blakes law firm for the institution.
That sum is larger than the original value of the federal contract that hired Quintet Consulting to conduct the review. The private firm was hired on an $88,325 contract in Sept. 2020.
More than 50 people voluntarily took part in the review. They included current and former staff at Rideau Hall and representatives of other government departments that work closely with the Governor General and her office, such as the RCMP, Global Affairs and the National Capital Commission.
The number of participants grew higher than the government anticipated, causing the review to take longer than originally scheduled.
Quintet's president, Raphael Szajnfarber, told CBC News yesterday the firm remains "unable to discuss this confidential matter."
WATCH | The atmosphere at Rideau Hall was tense in November 2020 as review was underway:
The atmosphere at Rideau Hall is tense as an investigation into allegations of workplace harassment continues with more than 50 people being interviewed. The investigation follows claims that Gov. Gen. Julie Payette harassed employees and her second-in-command bullied staff. 1:51
Reports of 'tantrums' on foreign trips
Last year, former staffers gave CBC News accounts of Payette throwing "tantrums" in the office and on foreign trips, openly criticizing people's work to the point where they were reduced to tears, and tossing an employee's work aside and calling it "shit." Employees have been seen leaving her office with tears in their eyes or crying in their vehicles.
Sources say Payette is known for dropping "explosions" or "bursts of emotion" on staff at Rideau Hall over the quality of work done in the office.
CBC News has now spoken confidentially to more than 20 public servants with direct knowledge of the workplace climate at Rideau Hall. They spoke on the condition they not be named because they feared they could lose their jobs or their careers could suffer. Many of the sources are still in the public service, while others are former Rideau Hall employees.
One source said Rideau Hall went from being one of the most collegial federal public service workplaces to a "house of horrors," causing longtime employees to leave in droves.
Five executives left Payette's office in 2018 within months of each other, the communications department cleared out during the pandemic and Di Lorenzo has had at least four executive assistants leave, according to sources. In the past month, another group of staff members departed.
"She screams and humiliates staff in front of others," one former employee told CBC News in July 2020. "It's verbal abuse. In no world is it OK to treat people that way."
At the beginning of her mandate, sources said, Payette also put staff on the spot by quizzing them about outer space — asking them to name all the planets in the solar system, for example, or to state the distance between the sun and the moon.
In one four-month period, roughly two dozen people reported abusive conduct by Payette or Di Lorenzo to management, according to government sources. Former employees complain the system protects the alleged abusers and said they fear it would ruin their careers to file an official complaint.
Claims of harassment of employees
Di Lorenzo is also accused of harassing employees and calling some "lazy" and "incompetent."
A former lawyer and executive in Montreal, Di Lorenzo is supposed to keep Payette's office running smoothly and effectively. Multiple sources said Di Lorenzo is years into the job — which is typically filled by a seasoned public servant — and still doesn't understand how the public service works.
"[Di Lorenzo is] also a bully," said a source. "When confronted with something she's unsure of, instead of giving you the benefit of the doubt, she comes at you as a pit bull."
CBC News has also reported Payette has faced similar claims at past workplaces, but the prime minister and his officials didn't conduct checks with her past employers before appointing her as Governor General.
Payette was given severance of roughly $200,000 when she resigned from the Montreal Science Centre in 2016 following complaints about her treatment of employees, say multiple sources at Canada Lands Company, the Crown corporation that employed her. In 2017, Payette left the Canadian Olympic Committee after two internal investigations into her treatment of staff that included claims of verbal harassment, sources with that organization said.
The Governor General retained the services of former Supreme Court of Canada justice Michel Bastarache as "constitutional adviser" and paid him $41,488. The law firm Blakes is also assisting the Office of the Secretary to the Governor General (OSGG) in the review process and has been paid $111,179; that contract has been amended to allow for billing up to $149,500.
In August, Rideau Hall hired former NDP national director Karl Bélanger and his firm, Traxxion Strategies, to provide strategic communications counsel and media relations support to Payette, and has paid him $9,450 so far.
How a criminal charge laid in Calgary was linked to a Toronto woman who's never been there – CBC.ca
Joyce Obaseki has never been to Calgary and she's never been charged with a crime.
So she was floored when Toronto police contacted her in 2002 to tell her there was a warrant out for her arrest after skipping bail in Calgary.
The Toronto woman says she explained to police there had to be some mistake and the officers realized someone had likely impersonated Obaseki. Investigators then asked her to take a look at the photo of the woman who was arrested and charged with credit card fraud using her name.
"I went in and they showed me the picture, lo and behold, it was someone I know," Obaseki told CBC News. "I said, 'Oh my god, Christee.'"
Obaseki says she recognized the woman in the photo immediately as Christee Imuya, a classmate from her high school days back home in Nigeria — who Obaseki knew had also moved to Toronto.
She says police told her not to contact Imuya and to steer clear of her in the future. CBC News reached out to Imuya for comment on this story, but did not receive a response.
"I never got a call from police ever since," said Obaseki. "So I thought the situation was dealt with by police."
Turns out, for Obaseki, it wasn't.
Nearly two decades later, Obaseki discovered that she and Imuya were still considered the same person in the Canadian Police Information Centre (CPIC), the national electronic police database maintained by the RCMP.
In practical terms, that meant that for roughly 18 years a CPIC search on Obaseki would show that she was also known as Imuya, and that she'd been charged with, but not convicted of, several criminal and immigration offences.
Both the RCMP, who confirms Imuya fraudulently used Obaseki's name, and the Canadian Anti-Fraud Centre told CBC News they don't receive reports about false identity cases like Obaseki's very often.
But that fact isn't of much comfort to Obaseki who believes the CPIC record affected her family's ability to visit her in Canada.
"That is the most painful part for me,"she said. "It affected me and my family."
Shock, embarrassment and pain
Obaseki tried to bring her sisters and mother to Toronto to visit from Nigeria multiple times but the visitors' visas were always denied. Until last year, she thought it was just because her family didn't qualify.
She found out about the CPIC record just before she was supposed to be interviewed as a witness in an immigration appeal hearing for her sister, whose husband was trying to sponsor her to come to Canada.
CBC News has reviewed a copy of the results of a CPIC search an immigration official did on Obaseki in February 2020. The record identifies Obaseki as the same person as Imuya. It lists credit card, fraud and theft charges which were all later withdrawn and one charge that ended with a peace bond. The record also lists immigration charges that ended in an acquittal.
WATCH | How Joyce Obaseki felt when she found out about false criminal record:
Joyce Obaseki found out about that another woman's criminal charges were linked to her name just before she was supposed to be interviewed as a witness in an immigration appeal hearing for her sister, whose husband was trying to sponsor her to come to Canada. 0:41
As part of the immigration appeal for Obaseki's sister, her family obtained transcripts from Obaseki's past attempts to bring her mother and sisters to Toronto on visitors visas. In one of those transcripts an immigration official references Obaseki's "issues with respect to fraudulent credit cards in Calgary."
"The shock, and the embarrassment and the pain, how do I explain that to my family?" said Obaseki. "It robbed me of my credibility, somebody with such a long list of criminal records, would you invite such a person to your house?"
Name removed from CPIC record this month
Once Obaseki found out about the record falsely identifying her as Imuya she got to work trying to figure out how to remove her name from Imuya's charges. After months of going back and forth with police, Obaseki hired a lawyer to help her last fall.
In November, Obaseki received a report from the RCMP confirming that the fingerprints she submitted to them do not match "any immigration-related file or existing criminal record" in the police service's national database.
The following month Obaseki's lawyer emailed a complaint to the RCMP with the record of the fingerprint search to prove that Obaseki and Imuya are not the same person, and to ask that Obaseki's name be removed from the record.
The RCMP had to explain the situation to Calgary police and get their permission to remove Obaseki's name from Imuya's record because the 2002 credit card charge and use of Obaseki's name came from Calgary police.
'Up until then it was hell for me'
Earlier this month Obaseki received confirmation from the RCMP that her name has been removed "from the criminal record belonging to Christee Imuya," according to a letter from the RCMP.
"It was a huge, huge relief," said Obaseki. "It was like some heavy body lifted off my shoulders. Up until then, it was hell for me — I don't sleep at night. I think about it every day."
In a statement to CBC News, RCMP spokesperson Robin Percival said the service is "pleased that the matter was resolved."
Percival also explained that individual police services are responsible for verifying the identity of individuals before submitting biographic information to the CPIC database. Unless there's a fingerprint match to an existing record in the database, the RCMP says it can't confirm the identity of the individual.
Obaseki says police told her that when Imuya was first fingerprinted in 2002, she used Obaseki's name, which is why the initial CPIC record had her name attached to it — and why Obaseki's true fingerprints were required to clear her name.
Anyone who believes they have been falsely attributed to a criminal record can submit a fingerprint-based civil criminal record check that "will verify that their fingerprints do not match the fingerprints of the criminal record created under their name," according to Percival.
Warrant for Imuya's arrest outstanding in Alberta
While she's relieved that her name is no longer on Imuya's record, Obaseki still has questions for Imuya and wants her to be held accountable for the effect she's had on Obaseki's life.
"I want her to face the consequences," said Obaseki. "She cannot be walking free and then I have to suffer all this loss, my family has to suffer this."
"I'm hoping to get justice."
Calgary police told CBC News the service issued a warrant for Imuya's arrest for impersonating Obaseki back in 2002.
The warrant remains outstanding in Alberta.
COVID-19 is hitting First Nations in Western Canada especially hard – CBC.ca
While Ontario and Quebec are the epicentres of COVID-19 outbreaks in Canada, people in First Nations are being hit the hardest in Western Canada, where they make up half the number of hospitalizations in some provinces.
The rising curve is alarming federal officials, who urged the provinces during a press conference in Ottawa on Wednesday to continue prioritizing Indigenous populations as they roll out vaccines.
"So what we're saying to Canadians, to Indigenous Peoples, is now is not the time to let down your guard," Indigenous Services Minister Marc Miller said. "This is not the time to ease public health restrictions."
The CBC's David Thurton asks Indigenous Services Minister Marc Miller, associate deputy minister Valerie Gideon and Chief Medical Officer of Public Health Dr. Tom Wong about the concentration of active cases of COVID-19 in Prairie provinces. 4:29
As of Jan. 19, Indigenous Services Canada was reporting 5,571 active cases on reserves — most of them in Prairie provinces:
British Columbia: 580
Alberta: 1,312
Saskatchewan: 1,196
Manitoba: 2,241
Ontario: 93
Quebec: 144
Atlantic: 5
Indigenous Services Canada has reported 13,873 confirmed COVID-19 cases on reserves since last March. More than 90 per cent are in Western Canada:
British Columbia: 1,348
Alberta: 4,459
Saskatchewan: 3,525
Manitoba: 3,643
Ontario: 428
Quebec: 462
Atlantic: 8
First Nation leaders and health experts say there are several reasons why infections are increasing in First Nations communities in Western Canada, including overcrowding, gatherings, people letting their guard down, relaxed restrictions and people driving in and out of communities with road access for goods and work.
Lack of housing
With COVID-19 caseloads rising all across Canada, the pandemic is emerging in places where it wasn't before, said Dr. Anna Banerji, an infectious disease specialist at Temerty Faculty of Medicine and the Dalla Lana School of Public Health.
"It's quite concerning that COVID is starting to break into these communities," Banerji said. "They've held the forts for so long."
Banerji researched respiratory infections in Inuit communities for over two decades. She said the main risk factors facing First Nations are poor access to health care services, underlying ailments, food insecurity, poverty and overcrowding.
Banerji said she fears that when people get sick in First Nation communities, they can't find places to self-isolate.
Onekanew (Chief) Christian Sinclair of Opaskwayak Cree Nation, 628 kilometres northwest of Winnipeg, said his community needs 600 more houses.
"When you have people living under one roof, anywhere from six to as high as 14 members living under one roof on the Opaskwayak Cree Nation, you can see how quickly that spread can happen," Sinclair said.
"We're second-class citizens living in Third World conditions in a first world country."
Opaskwayak Cree Nation has had success in preventing and controlling outbreaks by enforcing curfews and monitoring who enters and leaves the community with border patrols paid for by Indigenous Services Canada.
The highest funding requests the department has seen for the Indigenous Community Support Fund — which was created to help communities fight COVID-19 — have been for perimeter security, said Valerie Gideon, associate deputy minister of Indigenous Services.
Close to 350 First Nations communities across the country have closed their borders to non-essential travel, she added.
But even with the added layer of security in some places, the Assembly of Manitoba Chiefs says 50 per cent of all active COVID cases in Manitoba are First Nations members.
Call for stricter provincial measures
Relaxed provincial measures are also being blamed for the rise in First Nations cases.
The Federation of Sovereign Indigenous Nations in Saskatchewan is calling on the province to close bars and liquor establishments.
"We believe alcohol in the bars is a contributing factor," said FSIN Vice Chief David Pratt, who recently recovered from COVID-19.
"When you're on alcohol, you're more likely to lose your inhibitions, share drinks and not keep those social distance practices in practices and in check."
Grand Chief Jerry Daniels of the Southern Chiefs' Organization in Manitoba is urging the provincial and federal governments to enforce tougher rules to limit travel.
Daniels said he thinks caseloads are rising because of people going back and forth from First Nations communities to urban areas.
"I think until COVID is completely wiped out, they should be taking the strongest approach possible," Daniels said.
Daniels said nearly 80 per cent of the 34 Anishnaabe and Dakota communities he represents are trying to control the spread of COVID-19.
Concern for loss of elders
Dr. Shannon McDonald, acting chief medical officer at the First Nations Health Authority in British Columbia, said there isn't enough rapid testing available to test everyone who needs to travel to B.C. First Nations, and some tests can't detect infections in their first few days.
"It only takes one person to come in and spend time with people in the community," McDonald said.
McDonald fears the pandemic could take a particularly heavy toll on First Nations communties.
"I always worry about our elders," McDonald said. "Our elders are our knowledge-keepers, our language holders and they are the human libraries, culturally. So communities are very sensitive to that, but individuals who are choosing not to adhere to public health advice are putting those individuals at risk and I really worry about that."
Lawrence Latender, a member of Dauphin River First Nation, has felt first-hand the impact of COVID-19 during an outbreak in his community 250 kilometres north of Winnipeg.
He recently lost seven neighbours and friends to the virus, including two aunts and an uncle.
"I don't know if I had time to really grieve because it's one thing after the other," Latender said.
"It's like you're focused on one death and then you're, well … 'OK now I got to focus on this one. Ok, this one is gone, now I got to focus on this one.'"
Letander, his wife and two young sons also tested positive, but have since recovered.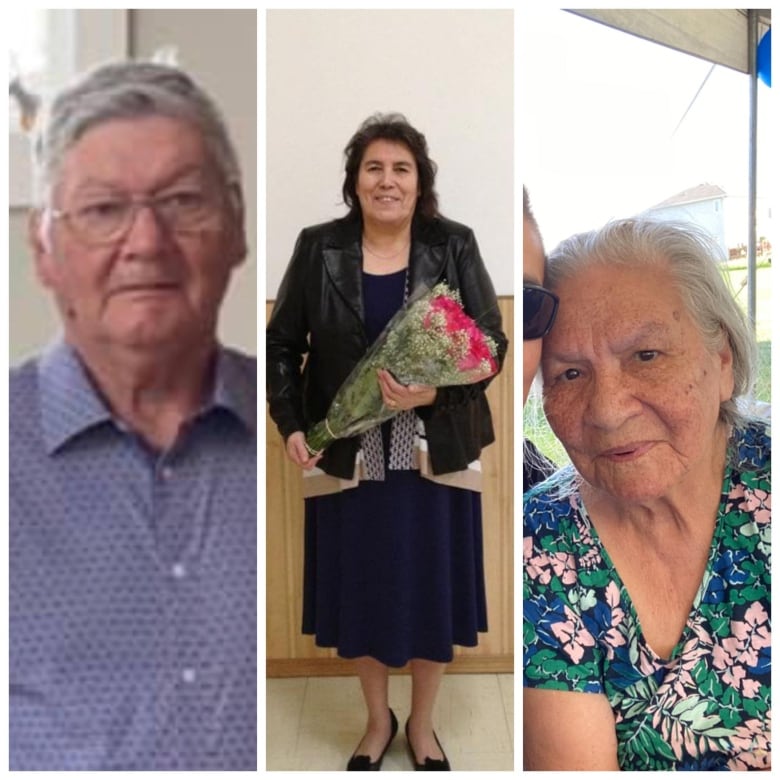 Indigenous Services Canada says that, so far, there have been 120 COVID-19 deaths in First Nations.
But with 169 Indigenous communities now administering the Moderna COVID-19 vaccine and more doses on the way, there's hope the chain of transmission will break.