Canadarm maker to be acquired by Canadian investors in $1B deal – CBC.ca
A Toronto-based investment firm has signed a $1-billion deal to buy the Canadian space technology company behind Radarsat Earth-observation satellites and the Canadarm robotic mechanisms on the International Space Station.
A consortium led by Northern Private Capital with financial backing from former BlackBerry co-chief executive Jim Balsillie will acquire all Canadian and U.K. operations of MacDonald, Dettwiler and Associates.
The group says MDA's corporate headquarters will return to Canada, where it employs more than 1,900 people.
MDA's headquarters and largest operations had been in the Vancouver area until Maxar Technologies was created to allow MDA's acquisition of Colorado-based DigitalGlobe, a producer of high-resolution Earth-imagery products.
The deal to repatriate MDA's Canadian operations will be financed by a number of sources including NPC, which is led by John Risley and Andrew Lapham, as well as Balsillie, Scotiabank, Bank of Montreal, and Senvest Capital, an investment firm based in Montreal.
Basillie is the former co-CEO of Canadian technology firm Research In Motion responsible for the development of BlackBerry.
The acquisition of MDA will be financed through a combination of equity and debt.
The group sees significant growth potential for MDA under its new ownership.
Ownership returns to Canada
"Over its 50-year history, MDA has grown from a B.C.-based start-up into a world-class space technology company and an anchor of Canada's space program," said Risley said in a statement. "As a Canadian, I am so proud this iconic Canadian company will once again be owned and controlled in Canada."
Northern Private Capital says the acquisition of MDA is expected to close in 2020 following regulatory approvals.
Maxar Technologies said it is selling its Canadian unit in a bid to ease its debt. As of September, Maxar had a total debt of $3.1 billion US.
"This transaction combined with the recently completed sale of real estate in Palo Alto [Calif.] reduces Maxar's overall debt by more than $1 billion," said chief financial officer Biggs Porter.
The company's shares were up 16.2 per cent in premarket trading.
BlackburnNews.com – Canadian retailer to shutter operations – BlackburnNews.com
Canadian retailer to shutter operations
A Le Chateau store at Eaton Centre in Toronto. Photo courtesy Google Maps.
October 23, 2020 6:35pm
A popular women's fashion chain is the latest Canadian retailer to fall victim to the slumping economy caused by the COVID-19 pandemic.
Le Château Inc., which is based in Montreal, announced Friday that it had filed a Companies' Creditors Arrangement Act (CCHA) application to protect its assets, while it liquidates and winds down operations, according to a media release posted on the company's corporate website.
The chain has 123 stores across Canada, including one at Devonshire Mall in Windsor and one at White Oaks mall in London. The company also maintains a website that serves customers in both Canada and the U.S.
In its release, the company said every effort was made to keep the company afloat.
"The retail industry faced numerous challenges due to the ongoing COVID-19 pandemic and the second wave currently hitting our communities across Canada," the company said. "Its already evident impact on consumer demand for Le Château's holiday party and occasion wear, which represents the core of our offering, has diminished Le Château's ability to pursue its activities."
There were 900 people employed in the chain's stores, plus 500 at the head office in Montreal.
"We regret the impact this will have on our people and can assure you that we explored all options available to us prior to taking this difficult decision," the company said. "We also thank the fashion schools and the business partners that have been part of our legacy and wish them continued success in keeping Montréal the fashion centre of Canada. Most importantly, we thank the millions of Canadians whom we have had the privilege of serving over the past six decades."
There is no word on when the stores will close.
Alberta to stop limits on oil production in December after nearly two years – Business News – Castanet.net
Photo: The Canadian Press
Pumpjacks pump crude oil near Halkirk, Alta., June 20, 2007. Alberta's UCP government says it will end in December monthly oil curtailment quotas introduced by the previous NDP government at the beginning of 2019 to support oil prices by aligning surging output with static pipeline capacity.THE CANADIAN PRESS/Larry MacDougal
Alberta's oil curtailment quotas are set to end in December, nearly two years after the previous NDP government introduced them to support oil prices, the UCP government announced Friday.
The curtailments, reset monthly, are no longer necessary because 16 per cent of Alberta's crude oil production is off-line, down from 22 per cent at the start of the COVID-19 pandemic, the government said in a news release.
It added it will retain the regulatory authority to reintroduce the measures if necessary in 2021.
"Maintaining the stability and predictability of Alberta's resource sector is vital for investor confidence as we navigate the economic conditions brought on by the pandemic, the commodity price crisis and the need for pipelines," said Energy Minister Sonya Savage.
"This purposeful approach serves as an insurance policy, as it will allow Alberta to respond swiftly if there is a risk of storage reaching maximum capacity while enabling industry to produce as the free market intended."
The province quoted Genscape in noting that there were about 20 million barrels of oil in storage as of Oct. 16, down from nearly 40 million when the curtailment program began.
High inventory levels are blamed on the inability of the pipeline system to match the province's growing oil production levels, mainly from new and expanded oilsands projects.
The program has been controversial from the start, with oil producers such as Cenovus Energy Inc. largely in favour of it while oil producers that also own refining operations, such as Imperial Oil Ltd., adamantly opposed.
"We have always maintained that a market-based approach is best and support the government's move to end the current program," said Husky Energy Inc. spokeswoman Dawn Delaney on Friday.
In a report, RBC analyst Greg Pardy said the end of the program is beneficial for producers including Cenovus, Suncor Energy Inc., Canadian Natural Resources Ltd. and others that have been forced to choke back production at their facilities.
Suncor, for example, has not been able to maintain full production at its Fort Hills oilsands mine after expanding its capacity to 194,000 barrels per day in 2018. Earlier this year, it shut down one of its two extraction trains because of low oil prices.
However, a rebound in production could result in widening of the price discount on western Canadian crude versus U.S. benchmarks, Pardy warned, noting that lower oilsands output so far this year has reduced the discount on western Canadian Select bitumen-blend oil.
The province's allowable production quota was gradually raised from 3.56 million barrels per day in January 2019 to 3.81 million bpd by year-end, a level maintained through the first 11 months of 2020.
The province says production was actually 3.1 million bpd in August and it's not expected to exceed export capacity before mid-2021.
The government's move to stop the program makes sense given the impact of the COVID-19 pandemic on the oil market, said Ben Brunnen, vice-president of fiscal and economic policy for the Canadian Association of Petroleum Producers.
"This enables companies now to be making decisions from a production perspective based on market fundamentals as opposed to government-mandated limitations," he said.
But he added it's unfortunate the government felt obliged to intervene in the market in the first place.
"CAPP supports transparent and unconstrained market access to ensure all of Alberta's oil production is delivered to desired markets at market clearing prices," he said.
The government says it extended what was intended to be a short-term measure because of ongoing delays to pipeline projects that would increase the province's export capacity.
Pardy said the completion of pipelines including Keystone XL, the Trans Mountain expansion, and Enbridge Line 3 "should enhance the province's permanent ability to balance production and takeaway capacity, helping to ensure Alberta's resources are exported at full value."
Le Chateau closing all 123 stores, including Thunder Bay location – Tbnewswatch.com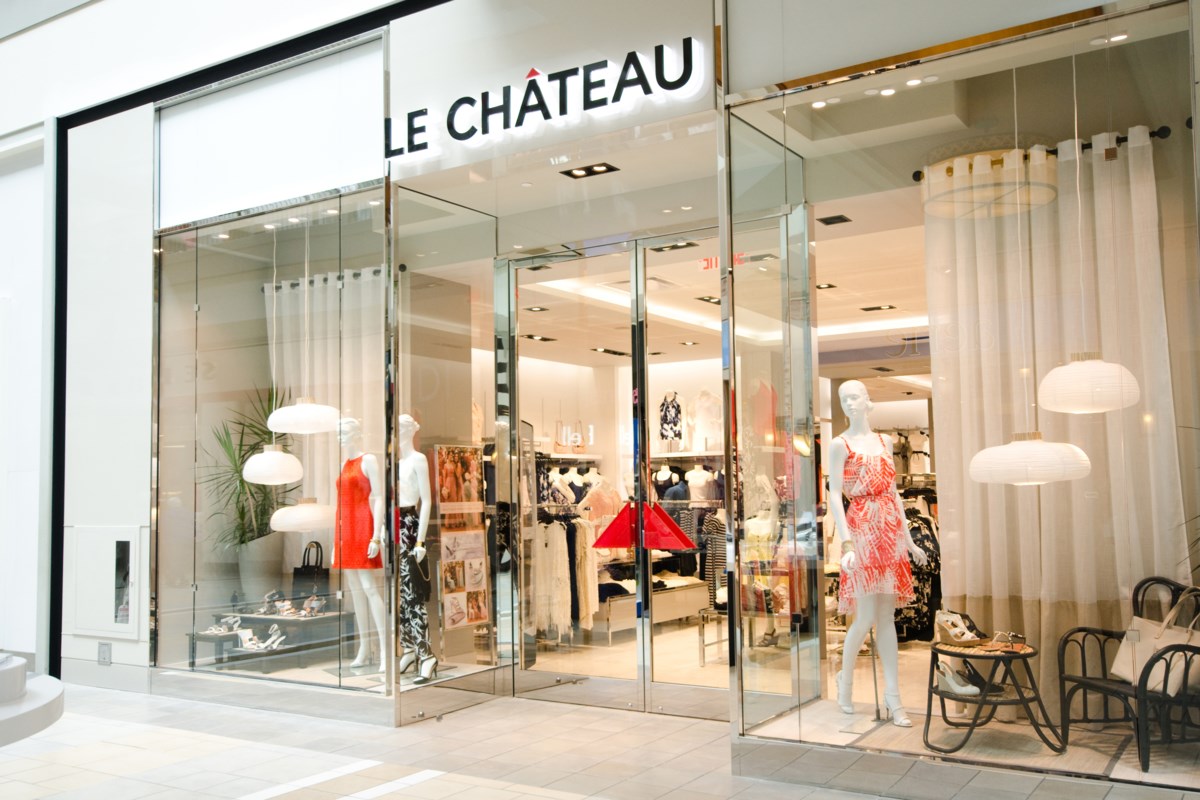 THUNDER BAY — The city is losing another long-standing national clothing outlet.
The Montreal-based company on Thursday announced its intention to seek protection under the Companies Creditors Arrangement Act and plans to close all 123 of its locations, including one at Intercity Shopping Centre. The company cited the challenges of the pandemic and the second wave of COVID-19 hitting many communities as an underlying factor.
"Its already evident impact on consumer demand for Le Chateau's holiday party and occasion wear, which represents the core of our offering, has diminished Le Château's ability to pursue its activities. Regrettably, these circumstances leave the Company with no option other than to commence the liquidation process," reads a statement posted on the company's corporate website.
About 1,400 people are expected to lose their job as a result.
Stores are expected to remain open through the liquidation process.
The mall has been hard hit in recent years, losing anchor tenants Lowe's and Sears. Marshalls did take over a portion of the former Sears location.
Le Chateau says it looked into means of refinancing or finding a third party to operate th company, but was unsuccessful. The company has been in business since 1959.