Canada's economy contracted 'slightly' – National Observer
Canada's economy contracted slightly in October, with real gross domestic product down 0.1 per cent from September — the first month-to-month decline since February, Statistics Canada reported Monday.
Economists had projected a flat GDP report for October compared with September, according to financial markets data firm Refinitiv, despite a recent flurry of Statcan reports that indicated significant slowing in some sectors.
The slowing included the biggest month-to-month decline in retail sales since March 2016 as well as significant declines in wholesale sales and manufacturing.
"Markets and the Bank of Canada have been tempted to sound the 'all clear' signal . . . but a 0.1 per cent decline in October GDP puts the economy on a chilly path at the start of the fourth quarter," CIBC chief economist Avery Shenfeld said in a note to clients.
"You have to go all the way back to June to find a monthly growth reading better than a plus-0.1 per cent, so coupled with the steep employment decline reported for November, there's at least some doubts about the underlying trend late this year."
Brian DePratto, senior economist for TD Economics, wrote that the Statistics Canada report on Monday sends his bank's estimate for fourth quarter GDP growth significantly lower, to just 0.5 per cent annualized.
"If borne out, that pace of growth would, in an echo of the retail sales data, be the weakest in more than three years, and fall well short of the Bank of Canada's 1.3 per cent tracking from their October Monetary Policy report."
The Bank of Canada has kept its key interest rate on hold at 1.75 per cent since October 2018, despite rate reductions at other central banks including the U.S. Federal Reserve.
Its Dec. 4 rate decision, as well as subsequent comments from Bank of Canada officials, noted that the domestic economy seemed to be resilient but that the biggest risk was from trade conflicts weighing on global economic activity.
Jobs data surprised analysts on Dec. 6 when Statistics Canada announced the economy had lost 71,200 jobs in November, pushing up the national unemployment rate to 5.9 per cent — the highest since August 2018. The monthly jobs report is notoriously volatile, so economists caution not to put too much weight on one month's results, but the disappointment for November followed a weak October showing.
The October GDP report says October had the biggest month-to-month decline in retail trade since March 2016 — falling 1.1 per cent, with 10 of 12 subsectors down.
There were also declines in wholesale trade (down 1.0 per cent) and manufacturing (down 1.4 per cent).
DePratto, in the TD Economics commentary, said that manufacturing represented the biggest drag on the economy.
"The biggest story there was spill-overs from a U.S. auto sector strike that sent transportation equipment manufacturing 2.5 per cent lower, but there were additional drags," DePratto wrote.
"Eight of 10 subsectors reported lower output in October, including machinery manufacturing, fabricated metal products, and wood products, as well as rubber and plastics products."
Those declines were only partly offset by an advance in the mining, quarrying and oil and gas extraction sector (up 0.1 per cent overall) as well as transportation and warehousing services (up 0.6 per cent).
This report by The Canadian Press was first published Dec. 23, 2019.
China rebounds with economic growth target above 6% – BBC News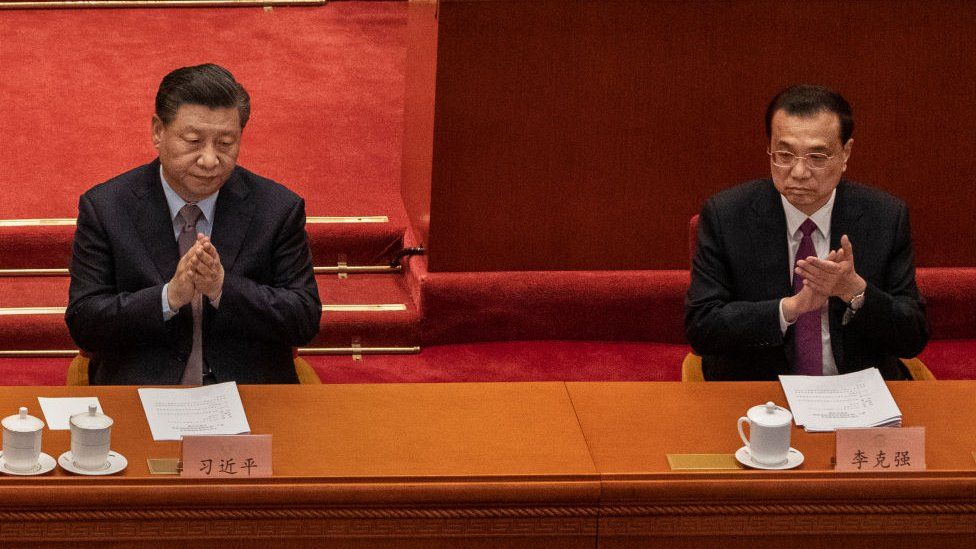 China is aiming for an economic growth rate above 6% in 2021, after scrapping its target last year.
China's Premier Li Keqiang announced the target on Friday at the opening of this year's National People's Congress.
The target marks a return to strong growth after the Covid-19 pandemic impacted the world's second largest economy.
Although China's economy grew last year, it only managed 2.3% growth, its weakest result in decades.
The new target highlights the Chinese economy's strong rebound after the pandemic shutdowns led to a sharp 6.8% contraction in the first quarter of 2020.
The economy grew in the second half of 2020, and China was the only major global economy to post gains for the year, although they were slender compared to previous years.
Now the government hopes to continue that rebound.
"A target of over 6% will enable all of us to devote full energy to promoting reform, innovation, and high-quality development," Premier Li Keqiang said.
"In setting this target, we have taken into account the recovery of economic activity."
By some measures the target appears modest, falling well below the International Monetary Fund's estimate of 8.1% growth for China's economy this year.
Other analysts are also tipping stronger growth.
"The consensus for the year is about 8%-9% but this is coming from a low base. The focus is still on the quality versus the quantity of growth," said Catherine Yeung, investment director at Fidelity International in Hong Kong.
In an analyst note, Bruce Pang from investment bank China Renaissance said the more flexible target leaves some room for structural reform and a transition to a more mature economy.
"We think it likely the target will be achieved, indicating that authorities are shifting focus to the quality of growth instead of speed," he said.
Mr Li also set a target urban unemployment rate of around 5.5%, with a goal of more than 11 million new urban jobs, up from nine million last year.
It also set a budget deficit goal of around 3.2% of gross domestic product.
However, the finance ministry expressed concern about the state of the government budget.
"The outlook for government revenue and expenditure in 2021 appears quite grave, with even greater difficulty in balancing the budget and risks in key areas such as debt that cannot be overlooked," it said in a report released at the start of the meeting.
China sets modest GDP growth target as economy improves – Financial Post
Article content
BEIJING — China on Friday set a modest annual economic growth target, at above 6%, and pledged to create more jobs in cities than last year, as the world's second-biggest economy emerged from a year disrupted by the effects of COVID-19.
In 2020, China dropped a gross domestic product growth target from the premier's work report for the first time since 2002 after the pandemic devastated its economy.
"As a general target, China's growth rate has been set at over 6% for this year," Premier Li Keqiang said in his 2021 work report. "In setting this target, we have taken into account the recovery of economic activity."
China's GDP expanded 2.3% last year, the only major economy to see growth.
But the 2021 target was significantly below the consensus of analysts, who expect growth could beat 8% this year. Chinese shares fell.
"If sequential growth averages zero from Q1 to Q4 this year, we will get around 6.1% annual growth this year," Nomura said in a note.
"Beijing does not want to set a growth target too close to 8.0% as it does not want to slash the growth target next year."
Aninda Mitra, senior sovereign analyst at BNY Mellon Investment Management, said the modest growth target will allow the authorities to emphasize the quality of growth rather than its quantity.
Article content
"In the aftermath of the pandemic, a low bar should allow most provinces to cross the hurdle without over-stretching themselves financially," Mitra said.
In 2020, China will target the creation of more than 11 million new urban jobs, Li said in his report delivered at the opening of this year's meeting of parliament.
That's up from a goal of over 9 million new urban jobs last year, and in line with recent years.
In line with an improving economy, the government is targeting a 2021 budget deficit of around 3.2% of GDP, less than a goal of above 3.6% last year.
The quota on local government special bond issuance was set at 3.65 trillion yuan ($563.65 billion), also down from 3.75 trillion yuan last year.
China also has no plan to issue special treasury bonds this years, after issuing such bonds for the first time last year to support the virus-hit economy.
The government has set its 2021 target for consumer price inflation at around 3%, compared with a target of around 3.5% last year. ($1 = 6.4756 Chinese yuan) (Reporting by Kevin Yao, Judy Hua, Stella Qiu and Gabriel Crossley; Writing by Ryan Woo; Editing by Jacqueline Wong and Sam Holmes)
5 opportunities of a circular economy | Greenbiz – GreenBiz
More than 100 billion tons of resources enter the economy every year — everything from metals, minerals and fossil fuels to organic materials from plants and animals. Just 8.6 percent gets recycled and used again. Use of resources has tripled (automatic PDF download) since 1970 and could double again by 2050 if business continues as usual. We would need 1.5 Earths to sustainably support our current resource use.
This rampant consumption has devastating effects for humans, wildlife and the planet. It is more urgent than ever to shift from linear, use-it-up-and-throw-it-away models to a circular economy: where waste and pollution are designed out, products and materials are kept in use for longer, and natural systems can regenerate.
A circular economy isn't just about fixing environmental wrongs, though: Evidence shows it can bring big opportunities and positive impacts across industries, sectors and lives.
A growing number of businesses, governments and civil society organizations are coming together to drive the change through the Platform for Accelerating the Circular Economy (PACE). More than 200 experts from 100 organizations helped develop the Circular Economy Action Agenda, a set of publications that analyze the potential impact and call for action across five key sectors: plastics, textiles, electronics, food and capital equipment (machinery and large tools such as medical scanners, agricultural equipment and manufacturing infrastructure). The Action Agenda demonstrates five opportunities associated with the shift to a circular economy:
1. Make better use of finite resources
The circular economy concept is all about making better use of natural resources such as forests, soil, water, air, metals and minerals.
Take the textiles industry. Each year, huge quantities of fossil fuels are used to produce clothes from synthetic fibers each year. Textile production (including cotton farming) uses almost 100 billion cubic meters of water per year, about 4 percent of global freshwater withdrawal. At the same time, people throw away still-wearable clothes worth an estimated $460 billion each year.
Creating a circular economy for textiles means shifting to recycled and recyclable materials in order to reduce the amount of land, water and fossil fuels used to produce new clothes. It means changing consumption patterns to reduce new purchases and keep clothes in use for longer, for instance by developing the second-hand and rental markets as well as changing the culture of fast fashion. Research suggests that the purchase of 100 second-hand garments can displace the production of 85 new garments. And finally, it means ensuring that clothes at the end of their life are collected and recycled or repurposed into new clothes, further reducing resource use.
2. Reduce emissions
About 45 percent of global greenhouse gas emissions come from product use and manufacturing, as well as food production. Circular economy strategies that reduce our use of resources can cut global greenhouse gas emissions by 39 percent (22.8 billion tons) and play a crucial role in averting the dangerous impacts of climate change.
For example, shifting towards recycled materials would alleviate the need to produce virgin plastics and synthetic fibers, which would significantly reduce fossil fuel use and associated emissions. Changing consumption patterns is also crucial: For example, if the average number of times a garment is worn were doubled, greenhouse gas emissions from the textiles industry would be 44 percent lower.
The world produces around 300 million tons of plastic waste every year, nearly equivalent to the weight of the entire human population.
Creating a circular economy for food by reducing loss and waste is particularly crucial to lowering emissions: If food loss and waste were a country, it would be the third-largest emitter after the United States and China.
3. Protect human health and biodiversity
Every year, more than 9 million deaths occur due to air, water and soil pollution. This pollution also threatens biodiversity.
Working towards a circular economy helps protect human health and biodiversity in many ways, including by making better use of natural resources (protecting water and land), and by mitigating the climate crisis. One of the clearest and most direct impacts of the shift to a circular economy will come from how we deal with products at the end of their life.
The world produces around 300 million tons of plastic waste every year, nearly equivalent to the weight of the entire human population. This is on top of 54 million tons of electronic waste (e-waste), of which just 17.4 percent gets collected and recycled. This waste becomes hazardous for human health and for biodiversity when it is mismanaged, either leaking into the natural environment or disposed of through open burning, landfills or substandard recycling.
Designing products to be kept in use for longer reduces the amount of waste produced. Creating proper collection and processing systems protects workers and the environment from hazardous materials. For instance, using existing solutions such as replacing plastic other materials, designing plastics so that they can be more easily recycled and scaling up collection and recycling could reduce the flow of plastic waste into the ocean by 80 percent in 20 years — a shift that would be enormously beneficial for human health and biodiversity.
4. Boost economies
Research shows that the circular economy offers a $4.5 trillion economic opportunity by reducing waste, stimulating innovation and creating employment. New business models focused on reuse, repair, remanufacturing and sharing models offer significant innovation opportunities.
For example, a circular economy for plastics offers considerable economic benefits. Less plastic waste in the ocean would benefit industries such as fishing and tourism, as plastic pollution leads to $13 billion in costs and economic losses per year. Reducing the pollution and toxic emissions that come from the open burning of plastic waste would lower healthcare costs, while reducing fossil fuel use for plastic production would help mitigate climate change and its associated costs.
Many of these economic benefits and opportunities are long-term, indirect and require significant investment; a long-term view is key, as are short-term incentives to drive the change. This can include policies that create more immediate financial incentives for businesses to develop innovative new business models and enable the efficient flow of reused and recycled materials across global value chains.
5. Create more and better jobs
Transitioning to a circular economy could create a net increase of 6 million jobs by 2030. Making the most of this opportunity will require a clear focus on social and environmental justice.
Jobs may be lost in more linear businesses; however, new jobs will be created in fields such as recycling, services such as repair and rental, or in new enterprises that spring up to make innovative use of secondary materials. These new jobs cannot be considered direct replacements, as they may be in different locations and require different skills. For instance, we must consider the millions of garment workers — mostly women — whose employment depends on the continuation of the fast fashion industry. Investing in a just transition via social dialogue, social protection and reskilling programs is key.
While a net increase in jobs is important, another value-add of circularity is the opportunity to provide formal work and improved working conditions for informal laborers. Around 15 million people worldwide work as "waste pickers," salvaging reusable or recyclable materials from garbage. Bringing these informal waste pickers into formal work in collection or recycling is a major opportunity to offer safer, more secure employment.
Maximizing the impact of the circular economy
Of course, there are always trade-offs to be considered and managed when working towards large-scale, systemic change. For example, shifting to bio-based plastics and natural, recyclable textiles such as cotton will use less fossil fuels than traditional plastics or synthetic fibers, but may increase demands for land and water to grow such materials. Shifting to natural materials is a crucial part of the solution, but only if those materials are produced in a sustainable way — and only if consumption habits change, too.
A long-term view is key, as are short-term incentives to drive the change.
It's also important to recognize the interconnected nature of the global economy. Many minerals and metals used in electronics are byproducts from the mining of aluminum, copper, lead and zinc, which are used across industries. Going circular in the electronics industry alone would not do much to reduce dependence on these resources. Multiple industries must shift to create systemic change.
Finally, it will be crucial to keep social well-being and equity top-of-mind. For example, moving to a circular economy can shift investment and employment away from production and manufacturing (which tends to happen in lower-income countries) and towards later stages of the value chain, such as repair, resale, sorting and recycling (often concentrated in wealthier countries). We'll need to ensure that economic benefits are equitably distributed to maximize the opportunity of a circular economy.
A role for everyone
The above five impact areas exhibit some of the social, environmental and economic benefits of a circular economy, but realizing these benefits will require ambitious action. Governments, businesses, civil society, finance institutions, research organizations — everyone has a role to play. The new Circular Economy Action Agenda is a good place to start.