Canada's economy plunged record-breaking 11.6 per cent in April: StatCan – CTV News
OTTAWA —
Statistics Canada says the economy saw its largest monthly drop on record in April as it came to a near standstill due to the pandemic, but early indications point to a rebound in May as businesses began to reopen.
The agency said Tuesday gross domestic product fell 11.6 per cent in April with non-essential businesses shut for the full month following a 7.5 per cent decline in March.
However, Statistics Canada said its initial flash estimate points to growth of three per cent in May. The estimate will be revised and finalized at the end of July.
Economists on average expect a drop of 13 per cent for April, according to financial markets data firm Refinitiv.
Manufacturing was down 22.5 per cent in April as many factories either shuttered or greatly reduced capacity in line with public health measures to slow the spread of COVID-19 — a move that hit the automotive sector hard as the output of motor vehicles plunged 97.7 per cent.
Even sectors that had increases in March weren't spared in April like food manufacturing, which dropped 12.8 per cent in April as outbreaks at meat processing plants forced them to shut down.
The accommodation and food services sector dropped 42.4 per cent in April, as customers replaced eating out with staying in, hitting a sector that saw a 37.1 per cent decline in March.
Output from bars and restaurants in particular plunged 40.8 per cent as local and provincial states of emergency forced their closure, or limited operations to take-out and delivery.
Accommodation services fell 45.7 per cent, Statistics Canada says, owing to restrictions on travel between provincial and international borders.
And then there was sports.
As COVID-19 iced the National Hockey League season and put the National Basketball Association, Major League Baseball and Major League Soccer on the sidelines, the arts and entertainment sector declined 25.6 per cent, further affecting companies in the accommodation and food services sectors.
Down too was construction by 22.9 per cent, concentrated largely in Ontario and Quebec, while a similar decline was noted in retail trade as brick-and-mortar stores stayed closed and consumers spent less while staying at home.
Poring through the data, Statistics Canada noted a jump in output of 17.3 per cent from online shopping as households shifted their shopping habits.
The silver lining in the horrible April numbers may be that it marked the bottom of this short but extremely deep recession, CIBC chief economist Avery Shenfeld said.
In a note, he wrote that the flash estimate for May is roughly half of what was expected, but the rebound may be more robust in June with more economic reopenings taking place.
"But thereafter, repairing the rest of the March and April wreckage will be a slower process, as recent COVID-19 flare ups here and elsewhere are showing the hazards of moving too far ahead of the virus," he wrote.
"Markets were expecting the April news, and we can't tell if the flash estimate for May will be treated as a disappointment."
This report by The Canadian Press was first published June 30, 2020.
Why it took almost 10 months to collect this $100K windfall – SooToday
Jose Lima's summer just got a whole lot better after the retiree won $100,000 by matching six of seven Encore numbers on a Lotto 6/49 draw last fall.
It took nearly 10 full months for the 69-year-old to realize the win as the ticket in question was in the pocket of a jacket he had lent to a friend.
Full text of a news release issued today by OLG follows:
TORONTO – Saying "yes" to Encore paid off for Jose Lima of Sault Ste. Marie. Jose matched the last six of seven Encore numbers in exact order in the Sept. 28, 2019 Lotto 6/49 draw to win $100,000!
Jose, a 69-year-old retired electrician, had forgotten his ticket in a jacket that he had lent to a friend and only discovered it when the jacket was returned to him! When he checked his ticket at a retailer, the terminal froze. "I thought I had won $1,000. Then OLG called and the other customers in the store started to congratulate me," he shared, while at the OLG Prize Centre in Toronto to pick up his cheque. "It wasn't until the validation slip came out that I realized I had won $100,000," he smiled.
After he found out about his win, the father and grandfather called his kids and didn't tell anyone else.
Jose has since used his winnings to purchase a cottage where he can spend his leisure time and relax, unwind and spend his time boating.
"I feel wonderful. It's something that happens once in a lifetime, if it ever happens at all," he concluded.
The OLG Prize Centre in Toronto has resumed in-person prize claims for winning-ticket holders of $50,000 or more by-appointment only. To best protect customers and staff, OLG has put in place appropriate health and safety protocols in accordance with guidelines from public health officials, which include physical distancing measures, the mandatory use of personal protective equipment (PPE) and the pre-screening of visitors before granting entry. Currently, OLG is reaching out to major prize winners ($50,000+) who have been unable to claim their prizes due to COVID-19 to schedule appointments for in-person prize claims. In the coming weeks, OLG will open appointments to anyone wishing to claim their prize in-person at the Prize Centre.
Encore offers 22 ways to win and can be played in conjunction with most lottery games for an extra $1. There is an Encore draw every day.
The winning ticket was purchased at Stamping Grounds on Second Line in Sault Ste. Marie.
$40 Could Be Magic Number for Some Oil Players – Rigzone News
The $40 per barrel level for West Texas Intermediate crude oil could trigger an uptick in activity among some oil market players, an informed market-watcher told Rigzone. Keep reading to learn about what specific activity could be on the rise, along with other developments to watch for this week in the oil market.
Tom Seng, Director – School of Energy Economics, Policy and Commerce, University of Tulsa's Collins College of Business: Large U.S. oil producers, such as ConocoPhillips, have announced that they will begin to bring back oil production that was shut-in due to lower prices. Look for mergers and acquisitions activity to start to increase if prices can stabilize at or above the $40 level. The "bottom-feeders" who have waited to buy really "cheap" assets will have to contend with higher valuations now.
Tom Curran, Senior Energy Services and Equipment Analyst in Equity Research, B. Riley FBR, Inc.: Come 1 p.m. Eastern time on each of the next two Fridays, our attention will be fixated on the Baker Hughes rig count site. The weekly U.S. active frac spread count troughed at 45 in mid-May, pivoted into an uptrend, surging by 33 units to 78 as of June 19, 2020, and has vacillated in the 70s since, according to Primary Vision. Given our industry recovery thesis – which is that operators would first restart shut-in production and increase DUC (drilled but uncompleted) well executions, then pick up new well drilling, which should see a slower rise than completion activity – we believe a definitive floor is imminent for the weekly Baker Hughes U.S. land drilling rig count. In fact, a bottoming process may already be underway. The count's downtrend has significantly decelerated since early June. For the last three weekly measures, Baker has reported 255, 254 and 251.
Barani Krishnan, Senior Commodities Analyst at Investing.com: Expect all eyes to be on virus stats for the coming week or two. Regardless of what the Trump administration says or wants us to think, the pandemic will decide the course of oil demand and the economy – not the other way around.
To contact the author, email mveazey@rigzone.com.
Corbeil man wins big money through Encore – BayToday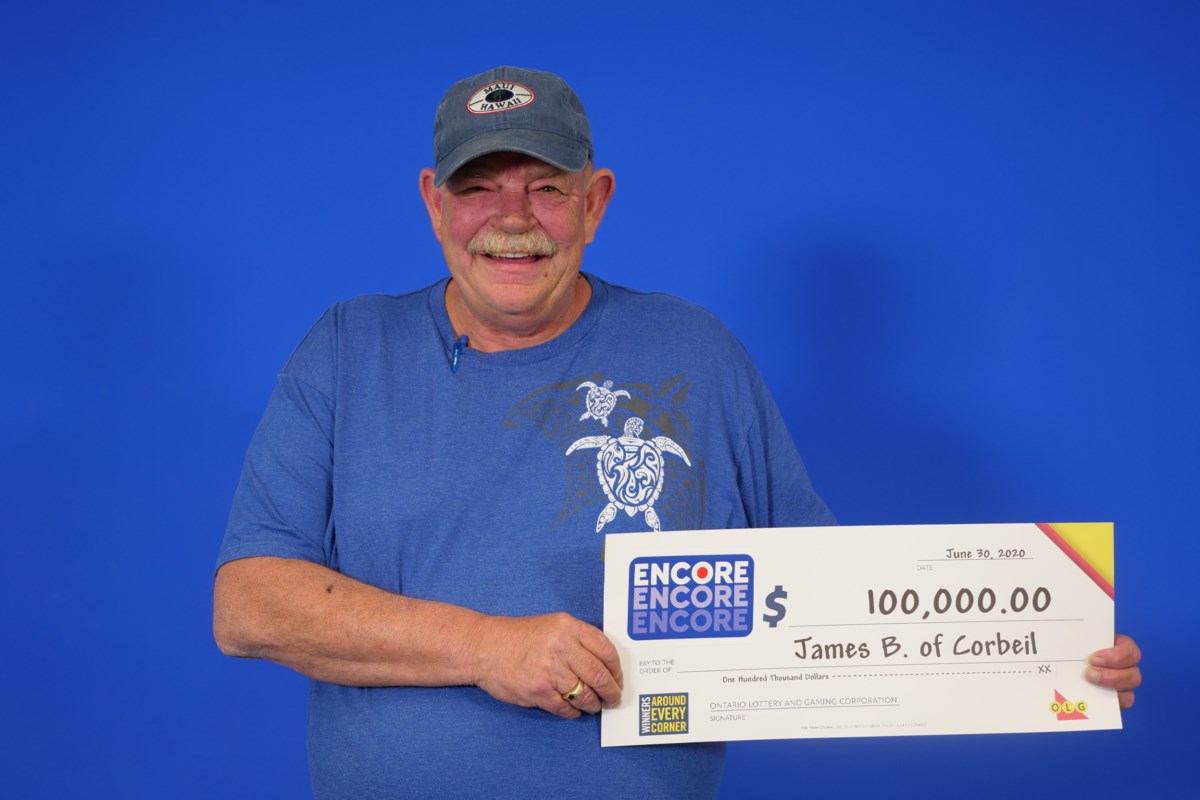 Saying "yes" to ENCORE paid off for James Braund of Corbeil. Jim matched the last six of seven ENCORE numbers in exact order in the April 14, 2020 LOTTO MAX draw to win $100,000.
Jim, a 67-year old father and grandfather says he plays the same numbers regularly.
"I was at the gas station where I purchased my tickets and the terminal froze when the retailer scanned my ticket," he shared, while at the OLG Prize Centre in Toronto to pick up his cheque.
"When I realized I won $100,000, I was so excited," he smiled.
The retired public servant plans to take a family vacation with his kids and grandkids when the time is right. "My wife spent some time shopping today while I was here at OLG collecting my prize," he remarked.
"This was amazing. You wake up in the morning to know you have an additional $100,000 in your bank account. It's surreal," he concluded.
The OLG Prize Centre in Toronto has resumed in-person prize claims for winning-ticket holders of $50,000 or more by-appointment only.
The winning ticket was purchased at MacEwan on Highway 94 in Corbeil.