Canada's economy seen rebounding on hospitality sector growth – Reuters
OTTAWA, Oct 1 (Reuters) – Canada's economy likely rebounded in August from a slight contraction in July, buoyed by growth in the hospitality industry, though a withering drought will continue to drag on the important agriculture sector, data showed on Friday.
The Canadian economy contracted 0.1% in July, just beating analyst estimates of a decline of 0.2%, but likely grew by 0.7% in August on jumps in services and manufacturing, Statistics Canada said. The August number is a preliminary estimate.
With the expected rise in August, total economic activity is about 1% below pre-pandemic levels, Statscan said.
"The slightly smaller-than-expected setback in July and nice pop in August suggest that the economy managed to grind out some moderate growth in the summer quarter as a whole," Doug Porter, chief economist at BMO Capital Markets, said in a note.
The July decline came as a heat wave hit the agriculture sector and manufacturers were dragged down by supply chain woes, while construction declined for the third month in a row.
This was partially offset by strong momentum in services, as the easing of public-health measures continued to drive a rebound in hospitality and tourism, Statscan said.
That strength in services is expected to extend into August and beyond, even as a harsh fourth wave of COVID-19 infections weighs on the prairie provinces of Alberta and Saskatchewan.
Analysts said the Bank of Canada will likely go ahead with another tapering in its Oct. 27 rate decision, though the August gain is likely not enough to move the dial for the central bank on interest rates – especially after a disappointing second-quarter contraction.
"We think the likelihood of (the Bank of Canada) soon following other global central banks in taking a hawkish turn is low," Stephen Brown, senior Canada economist at Capital Economics, said in a note.
The Canadian dollar was nearly unchanged at 1.2675 per greenback, or 78.90 U.S. cents.
Reporting by Julie Gordon in Ottawa; Editing by Timothy Heritage, Giles Elgood and Mark Porter
Our Standards: The Thomson Reuters Trust Principles.
Vaccines are helping the economy return to normal. Supply chain problems are holding it back – CNN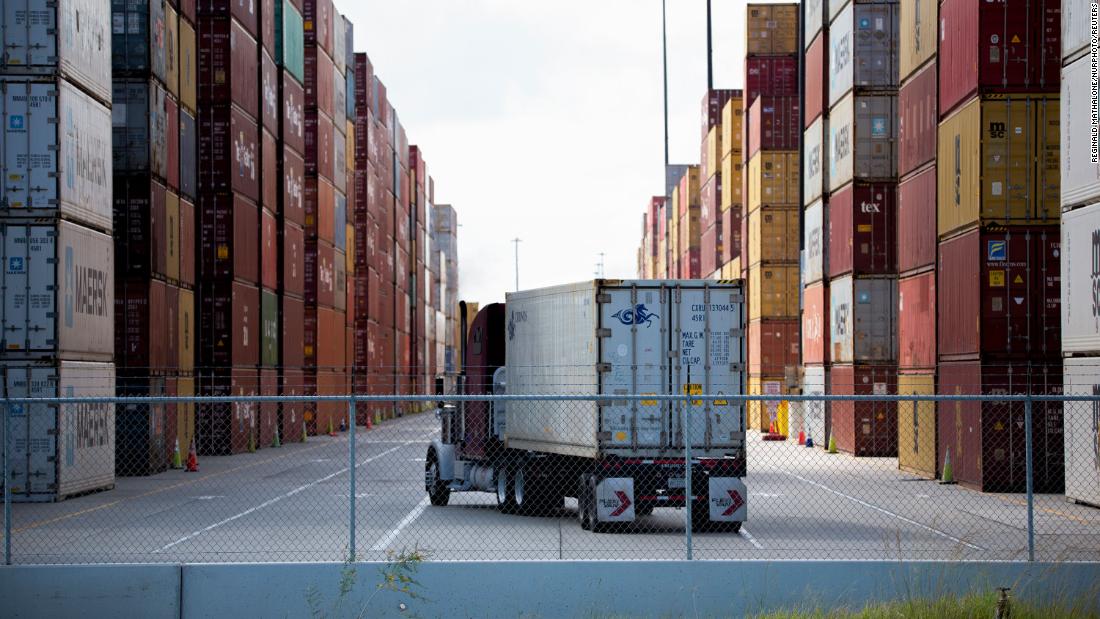 New York (CNN Business)Covid continues to loom over the US economy, but economic activity is nonetheless inching closer to its pre-pandemic strength, helped in large part by people returning to their offices.
The
Back-to-Normal Index
created by CNN Business and Moody's Analytics, stood at 94% on Friday, down one percentage point from the week before.
"Business sentiment was the biggest negative weight on the index this week, likely the result of ongoing
supply chain issues
as well as continued hiring struggles," said Dante DeAntonio, senior economist at Moody's Analytics.
Even so, some states, such as Idaho, Rhode Island and South Dakota, have already exceeded their pre-pandemic levels, surpassing the 100% mark,
Yet there's reason for cautious optimism about the those states and the broader US economy: "We've seen things rise quite steadily since mid-September, coinciding with the winding down of [Covid] cases," said Moody's Analytics Associate Economist Matt Colyar.
The improvements have been broad-based — the index tracks a number of variables, which show state unemployment rates have fallen, box office sales are back up, and the number of people traveling through TSA checkpoints has more than doubled versus last year.
But America seems to have turned a corner — again.
For one, mobility data suggests that people are returning to the office, said Colyar. Companies made a push over the summer to get employees back to their desks. Rising vaccination rates helped with that effort.
"A behavioral shift has occurred, driven by some combination of the school year starting and parents going back at least a few days a week and vaccine mandates allowing employers to put more firm plans out there," he added.
The Back-to-Normal Index measures data frequently and is upated once per week, which means it's way ahead of some of the official government data that could show the improvements to the economy this fall.
Canada criticizes proposed U.S. EV tax credit, says could harm auto sector
The Canadian government on Friday warned that U.S. Legislative proposals to create new electric vehicle tax credits for American-built vehicles could harm the North American auto industry and run afoul of trade agreements, according to a letter seen by Reuters.
Canadian Trade Minister Mary Ng told U.S. lawmakers proposed credits if approved "would have a major adverse impact on the future of EV and automotive production in Canada, resulting in the risk of severe economic harm and tens of thousands of job losses in one of Canada's largest manufacturing sectors. U.S. companies and workers would not be isolated from these impacts."
(Reporting by David Shepardson in Washington and David Ljunggren in Ottawa; Editing by Chris Reese)
Province Invests in Midland Automotive Parts Manufacturer to Boost Local Economy | Ontario Newsroom – Government of Ontario News