Canadian dollar steadies near three-week high as oil rally extends
By Fergal Smith
TORONTO (Reuters) – The Canadian dollar was unchanged against its U.S. counterpart on Wednesday, holding near its strongest level in nearly three weeks as oil extended its winning streak and the greenback broadly declined.
The loonie was unchanged at 1.2693 to the greenback, or 78.78 U.S. cents, having touched its strongest intraday level since Jan. 22 at 1.2667.
"USD-CAD continues to be driven by ever higher oil prices, and an abrupt turnaround in the greenback's fortunes since late last week," Ronald Simpson, managing director global currency analysis at Action Economics, said in a note.
The price of oil, one of Canada's major exports, rose for a ninth day, its longest winning streak in two years, supported by producer supply cuts and hopes that vaccine rollouts will drive a recovery in demand.
U.S. crude oil futures settled 0.6% higher at $58.68 a barrel, while the U.S. dollar fell to a two-week low against a basket of major currencies as data showing tame U.S. inflation weighed on Treasury yields.
Canada's 10-year was unchanged at 0.998%, pulling back from its highest intraday level since March last year at 1.028%.
Ontario, one of the world's biggest sub-sovereign debtors, said it would increase spending on hospitals and small businesses during the coronavirus pandemic as the province maintained its forecast for a record budget deficit in the current fiscal year.
The pandemic has added urgency to the Bank of Canada's development of a digital currency and a decision could come sooner than previously thought, Bank of Canada Deputy Governor Timothy Lane said, although he noted that a launch was not a "foregone conclusion."
(Reporting by Fergal Smith; Editing by Jonathan Oatis and Peter Cooney)
100 Companies Account for More Than Half of the "Blue Economy" – The Maritime Executive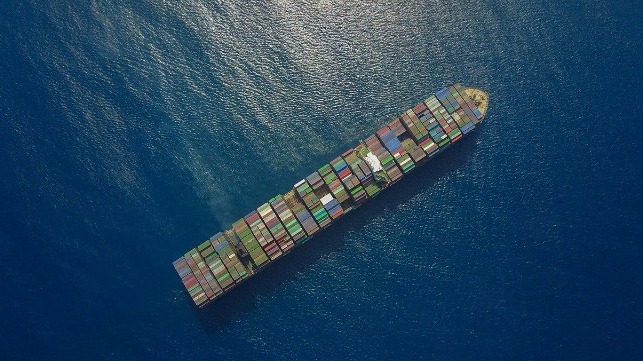 The volume of goods transported by container shipping each year has quadrupled since 2000, and about 600,000 submarine cables have been laid on the seafloor in that time, which now carry almost all international telecommunications. The energy generated by offshore wind farms has increased 400-fold in the past two decades, and the volume of farmed seafood has grown by five percent on average each year.
During the same time period, most major discoveries of oil and gas deposits have been made offshore and around 500,000 square miles of the seabed has been leased for exploratory mining. There was practically no marine biotechnology sector at the turn of the millennium, but since then, more than 13,000 marine genetic sequences have been patented.
We call this rapid expansion of ocean-based industries since 2000 "the blue acceleration". As the industrialisation of the ocean continues apace, it risks transforming marine ecosystems, and consuming the shared spaces of one of the world's largest and oldest employers – small-scale fisheries.
To make these industries sustainable, we need to know more about the businesses which comprise them. So who's driving this breakneck growth in the ocean economy? In a recent study, we discovered that a relatively small number of companies, headquartered in a few countries, generate most of the revenues from using the ocean. In 2018, the 100 largest companies took an estimated 60 percent of all revenues in eight industries: offshore oil and gas, container shipping companies carrying many of the goods we buy, companies producing and processing seafood, offshore wind energy producers, cruise tourism operators, and a number of industries that support the wider ocean economy, including marine parts and equipment makers, shipbuilders and repairers, and port maintenance businesses.
This group of companies – the Ocean 100 – generated $1.1 trillion in 2018, equivalent to the GDP of Mexico – the 15th largest economy in the world. While dominated by offshore oil and gas (47 of the 100 companies), most of the revenue was generated by just a handful of companies in each of the eight industries. The ten largest companies generated 45 percent of all revenues on average.
There's always a bigger fish
This extreme concentration of revenue in the ocean economy mirrors the structure of the global economy as a whole. For many land-based industries, a relatively small number of transnational corporations control a huge market share of output. There tend to be higher barriers to entry in the ocean economy though. A lot of expertise and capital are needed to operate in the sea, both for established industries and emerging ones, such as deep-sea mining and marine biotechnology.
But this concentration poses a number of risks, both to the ocean environment and the people who depend upon it. Powerful companies can more easily lobby governments to weaken social or environmental rules that might otherwise make them limit greenhouse gas emissions or pay higher wages. A top-heavy ocean economy can also stifle innovation, or threaten access for small-scale fishers to areas they've used for generations.
The Ocean 100 benefit the most from ocean use, and they're most capable of making their industries sustainable. Not just by doing no harm, but by embracing the idea of corporate stewardship to do some good.
Taming the leviathans
The shipping industry accounts for roughly 2.5 percent of the world's greenhouse gas emissions. Technologies exist to rapidly make this sector cleaner and more fuel-efficient. So, a relatively small number of shipping companies in the Ocean 100 could have a big influence on global emissions.
Ocean 100 companies could also collaborate to fund projects where public resources are scarce. By pooling donations to a global trust fund or accepting an ocean equity tax, these companies could help clean up plastic pollution in the ocean, fund the enforcement of conservation areas, and support small-scale fishing communities.
Still, we shouldn't be naive. Companies follow the logic of markets and respond to shareholder and consumer demand. Voluntary initiatives can range from profound changes in business practices to superficial green washing.
But the seafood industry could point the way forward for the rest of the Ocean 100. After a study found a similar concentration of revenue and output among a handful of companies, ten of the world's largest seafood businesses convened the Seafood Business for Ocean Stewardship initiative in 2016. In December 2020, they pledged to reduce illegal fishing, emissions and discarded fishing gear littering the ocean by the end of 2021.
Could the Ocean 100 do something similar? Corporations would benefit as better ocean stewards by gaining more public support and reducing their risks in a volatile economy. Scientists can help ensure these efforts are based on evidence. Meanwhile, growing demand among customers for sustainable goods and services and new technologies that make the work of corporations more transparent, such as satellite data, should all compel businesses to prove they take environmental problems seriously. Now we know who should lead the way towards a greener blue planet.
John Virdin is Director of the Ocean Policy Program at Duke University.
Henrik Österblom is a Professor of Environmental Science at Stockholm University.
Jean-Baptiste Jouffray is a Postdoctoral Researcher in Sustainability Science at Stockholm University.
This article appears courtesy of The Conversation and may be found in its original form here.

The opinions expressed herein are the author's and not necessarily those of The Maritime Executive.
With many vaccinated, Israel reopens economy before election – CTV News
JERUSALEM —
Israel reopened most of its economy Sunday as part of its final phase of lifting coronavirus lockdown restrictions, some of them in place since September.
The easing of restrictions comes after months of government-imposed shutdowns and less than three weeks before the country's fourth parliamentary elections in two years. Israel, a world leader in vaccinations per capita, has surged forward with immunizing nearly 40 per cent of its population in just over two months.
Bars and restaurants, event halls, sporting events, hotels and all primary and secondary schools that had been closed to the public for months could reopen with some restrictions in place on the number of people in attendance, and with certain places open to the vaccinated only.
Israeli Prime Minister Benjamin Netanyahu's government approved the easing of limitations Saturday night, including the reopening of the main international airport to a limited number of incoming passengers each day.
Netanyahu is campaigning for reelection as Israel's coronavirus vaccine champion at the same time that he is on trial for corruption.
Israel has sped ahead with its immunization campaign. Over 52 per cent of its population of 9.3 million has received one dose and almost 40 per cent two doses of the Pfizer vaccine, one of the highest rates per capita in the world. After striking a deal to obtain large quantities of Pfizer/BioNTech vaccines in exchange for medical data, Israel has distributed over 8.6 million doses since launching its vaccination campaign in late December.
While vaccination rates continue to steadily rise and the number of serious cases of COVID-19, the illness caused by the virus, drops, Israel's unemployment rate remains high. As of January, 18.4 per cent of the workforce was out of work because of the pandemic, according to Israel's Central Bureau of Statistics.
At the same time that it has deployed vaccines to its own citizens, Israel has provided few vaccines for Palestinians in the West Bank and Gaza Strip, a move that has underscored global disparities. It has faced criticism for not sharing significant quantities of its vaccine stockpiles with the Palestinians. On Friday, Israel postponed plans to vaccinate Palestinians who work inside the country and its West Bank settlements until further notice.
Israeli officials have said that its priority is vaccinating its own population first, while the Palestinian Authority has said it would fend for itself in obtaining vaccines from the WHO-led partnership with humanitarian organizations known as COVAX.
Israel has confirmed at least 800,000 cases of COVID-19 since the start of the pandemic and 5,861 deaths, according to the Health Ministry.
Startup: Only Quantum Cryptography Can Save The $100 Trillion Global Digital Economy – Forbes
Nations and startups around the world are investing hundreds of billion of dollars in quantum computing, says quantum security startup CEO James Nguyen. And while there are plenty of positives in quantum computing technology — new medical treatments are just one — the problem is that for a high-functioning quantum computer, all the cryptographic security we currently have could be as flimsy as using "password123" for your bank account.
That means that $100 trillion could be at risk by 2025.
"The World Economic Forum already said that by 2025 … the digital economy is going to be worth a hundred trillion dollars," Ngyuyen told me recently on the TechFirst podcast. "And … everything that we operate today that's important to us, such as our memories, our financial assets, our legacy, or even our military weapons … anything that we deal with in sets of information … is controlled over the internet."
Quantum pioneer IBM says that quantum computing will create new exposure risk since quantum computers can quickly solve the complex math problems that form the foundation of today's security. Those problems secure our bank accounts and nuclear weapons, and while classical supercomputers can take thousands of years to solve them, IBM says a large-scale quantum computer could theoretically solve them in hours or days. Other computing giants like Microsoft are already hard at work on post-quantum cryptography. And Google has said that quantum computing could "end encryption" within five years.
Ngyuyen says the threat is already here, especially given that Russia and China are the two countries investing the most in quantum computing investment, and the regardless of the exact timeline, every organization needs to be "quantum ready."
He also says that his Canadian startup, Quantropi, has the answer.
"We've developed the world's first cloud-based platform for digital quantum key distribution over the internet," Ngyuyen says. "We've been able to prove — with a partnership with McGill — that we're a hundred thousand times faster than existing quantum key distribution systems."
According to Ngyuyen, Quantropi's solution is something like an abstraction layer for quantum security that banks and digital retailers and military organizations can incorporate into their systems without needing their own on-site quantum computers. Essentially, it's software with the core of a quantum algorithm that can be implemented in quantum computers as well as classical computers. Quantropi says that while many companies can generate very strong quantum entropy — very random numbers — no-one has been able to distribute this effectively at high speed over existing infrastructure.
In other words, over the internet.
This is essentially quantum security as a cloud service, at gigabits per second.
Quantropi's solution uses a quantum random number generator from Quintessence Labs out of Australia, then streams quantum cryptography to clients via a process the company calls QEEP: quantum entropy expansion and propagation. The result is "perfect secrecy" in key encoding, according to a presentation the company made during a recent IEEE quantum event.
Of course, many companies claim to have the perfect solution for security, and seemingly, everyone gets hacked sooner or later.
Ngyuyen says Quantropi is working in closed beta with Fortune 100 companies as well demonstrating and testing its technology in universities like McGill. The company has multiple patents with over ten outstanding, he adds, and has been recommended by the National Research Council of Canada to be a nominee for the Science Startup Breakthrough of The Year.
Whether or not Quantropi has the final solution remains to be seen. But fixing security in the age of quantum computing is almost unimaginably important.
Because a working quantum computer that can break high-standard encryption in the hands of bad actors would make the mammoth Solar Winds hack look like a script kiddie.
"[Quantum computing] really undermines and breaks today's PKI encryption," Ngyuyen says. "And if a criminal was going to basically leverage a quantum computer for bad reasons … you literally can start wars. You literally can basically empty people's bank accounts … steal people's identities … everything that we believe or, you know, is important to us, it's going to be broken."
Get the full interview on the TechFirst podcast.