TORONTO —
Canada's top bank economists predict the country will see a few bright spots in 2020, even as the globe grapples with uncertainty in the Middle East and China.
The country will likely experience wins in the equity, housing and oil markets, leading economists told attendees at a Toronto breakfast put on by the Economic Club of Canada on Wednesday.
Avery Shenfeld, managing director and chief economist at CIBC Capital Markets, said he expects the Canadian equity market to slightly edge ahead of one of its biggest competitors.
"We've gotten used to the fact that the Canadian equity market kind of trails the U.S. equity market year after year, but…this might be the year that they nudge their nose above the S&P 500 in terms of performance," he said.
"It may not be a banner year, but still a bit better than the U.S."
He believes profit growth may return to U.S. equities, but won't repeat the strong year they had last year.
Equity markets face a number of uncertainties, including a November U.S. election and tensions between the U.S. and China,@ which are expected to sign a trade agreement next week. The U.S. is also embroiled in a standoff with Iran,@ which fired missiles at American military bases in Iraq on Tuesday in retaliation for a U.S. strike that killed Iranian general Qassem Soleimani last week, causing oil prices to rise.
Shenfeld believes oil could hover around $60 a barrel, which he called "still fairly profitable for the Canadian energy sector."
If war breaks out, he suggested that rate may surge to $100.
The real win for the sector, he said, was greater clarity from the federal government and industry around plans for pipelines.
"That should help the oil companies look a little brighter by the end of the year," Shenfeld said.
His BMO Financial Group counterpart, managing director and chief economist Douglas Porter, found optimism in the rise of housing sales and prices, federal fiscal policies supporting growth and firmer oil plans. He pushed back on rumours of an impending recession.
"We are not particularly downbeat on the outlook for 2020 for Canada," he said. "Given the global uncertainties there is a possibility we could get pulled down if everyone else does, but I don't see a Canada downturn developing."
He was encouraged by Canadian population rates that "we have not seen in decades," noting that in the last year the population grew by 1.5 per cent or 550,000 people, while the U.S. is experiencing its slowest growth rate in a century.
"There was about a quarter century where Canada and the U.S. were seeing almost identical population growth rates," he said. "It's a bit of a mixed blessing in terms of the economy, but it does set a firmer bid in terms of housing and consumer spending."
Dawn Desjardins, Royal Bank of Canada's vice-president and deputy chief economist, found some positives in the health of the labour market, but said "it is not without challenges."
Technology is bound to disrupt the market and re-skilling will be key to keeping Canadians employed, she said. RBC has predicted 25 per cent of jobs will be heavily disrupted, and expects people to change jobs more frequently than they once did.
According to Desjardins, Canadians have the skills to step into new roles, but the country has to continue to put time and money into training young workers and continuing to evolve jobs.
She was heartened by the country seeing wage growth in recent months and noted that the country has had a 11-year streak for economic expansion.
This report by The Canadian Press was first published Jan. 8, 2020.
Top economists call for radical redirection of the economy to put Health for All at the centre in the run-up to G20 – World Health Organization
The COVID-19 Pandemic has brought into focus the stark reality of the large and growing inequities across the globe in access to health care and health products: for every 100 people in high-income countries, 133 doses of COVID-19 vaccine have been administered,
while in low-income countries, only 4 doses per 100 people have been administered.
Yet, to date, the world continues to follow the same economic paradigm that doesn't change the underlying finance structure and applies outdated thinking on economic development, which stands in the way of Health For All. As the G20 Summit approaches
in Rome from 29-31 October, where, first, health and finance ministers, and then heads of state and government, come together, there is a window of opportunity for a radical redirection from health for the economy to the economy for health for all.
The critical challenge is both to increase the magnitude of the finance available for health and to govern it in a more directed and effective manner.
The World Health Organization (WHO) Council on the Economics of Health For All (WHO Council on the Economics of Health For All) calls now, more than ever, for clear, ambitious goals to mobilize and focus investments towards health, considering financing for health as a long-term investment and not
a short-term cost. The Council's new brief on Financing Health for All prioritizes two key dimensions: more finance and better finance and lays out the way forward through three pathways to action:
Creating fiscal space by easing artificial constraints imposed by outdated economic assumptions and reversing the harmful effects of reforms that lead to big health cuts, allowing spending and investments towards Health For All to
increase significantly;
Directing investments to ensure Health for All becomes the central purpose of economic activities, and increase public leadership and dynamic state capabilities to create a conducive regulatory, tax, industrial policy and investment
environment; and
Governing public and private finance by regulating the functioning and financing of private health markets through measures that crowd in and direct private finance towards improving health outcomes globally and equitably.
The Council believes that a new paradigm must be pursued that avoids macroeconomic policies and assumptions that move us away from Health For All. This means designing policies to reach health for all now and in the long-term and realigning finance from
all sectors and sources through conditionalities that fuel symbiotic gains in the public interest. Not only more financing of the health sector, but better-quality finance is crucial to deliver Health For All, which must be equitable and ensure a
sustainable impact on peoples' lives.
The challenge is to change mindsets within countries that impose internal constraints on spending and to transform externally-imposed conditionalities that hinder spending on what matters for health and promote Health For All. Changing the rules of the
game is a fundamental priority of any strategy to deliver Health For All, and policymakers have the ability to rethink finance now.
"The COVID-19 pandemic has demonstrated that the financing of health systems needs to change radically to protect and promote the health of all people," said Dr Tedros Adhanom Ghebreyesus, Director-General of WHO. "The latest report
by the Council on the Economics of Health For All makes a clear and compelling argument for the need for sustained financing to be directed to achieving health for all people, and for investments to be understood as long-term gains for national and
global development."
"While health systems are under-resourced, more finance is not the only solution. The work of the Council stresses the need to reform and redirect finance in radical ways so that the objective is Health For All is designed into the financial structures,
the conditionalities and the partnerships between business and the state," said Professor Mariana Mazzucato, Chair of the Council.
By way of background, the WHO Council on the Economics of Health For All was established in November 2020 by WHO Director-General Dr Tedros Adhanom Ghebreyesus. The Council's core mission is to rethink how value in health and wellbeing
is measured, produced, and distributed across the economy. It will recommend a new way to shape the economy with the objective of building healthy societies that are just, inclusive, equitable, and sustainable. Made up of ten of the world's
most eminent economists and health experts, the Council works on four areas on how to rethink measurement of economic development, financing, capacity, and innovation with the aim of achieving Health for All. Briefs in each of these areas, and a comprehensive
final report to be produced in 2023, will be used to build momentum amongst finance ministers, heads of state/government, as well as other decision makers such as other financial authorities and international development authorities, towards changing
the structure of economic activity in favor of Health For All.
The members of the Council are Professor Mariana Mazzucato (Chair), Professor Senait Fisseha, Professor Jayati Ghosh, Vanessa Huang, Professor Stephanie Kelton, Professor Ilona Kickbusch, Zelia Maria Profeta da Luz, Kate Raworth, Dr Vera Songwe and Dame
Marilyn Waring (see bottom of page: WHO Council on the Economics of Health For All).
Swiss National Bank Warns of Risks With Green Economy Push – Bloomberg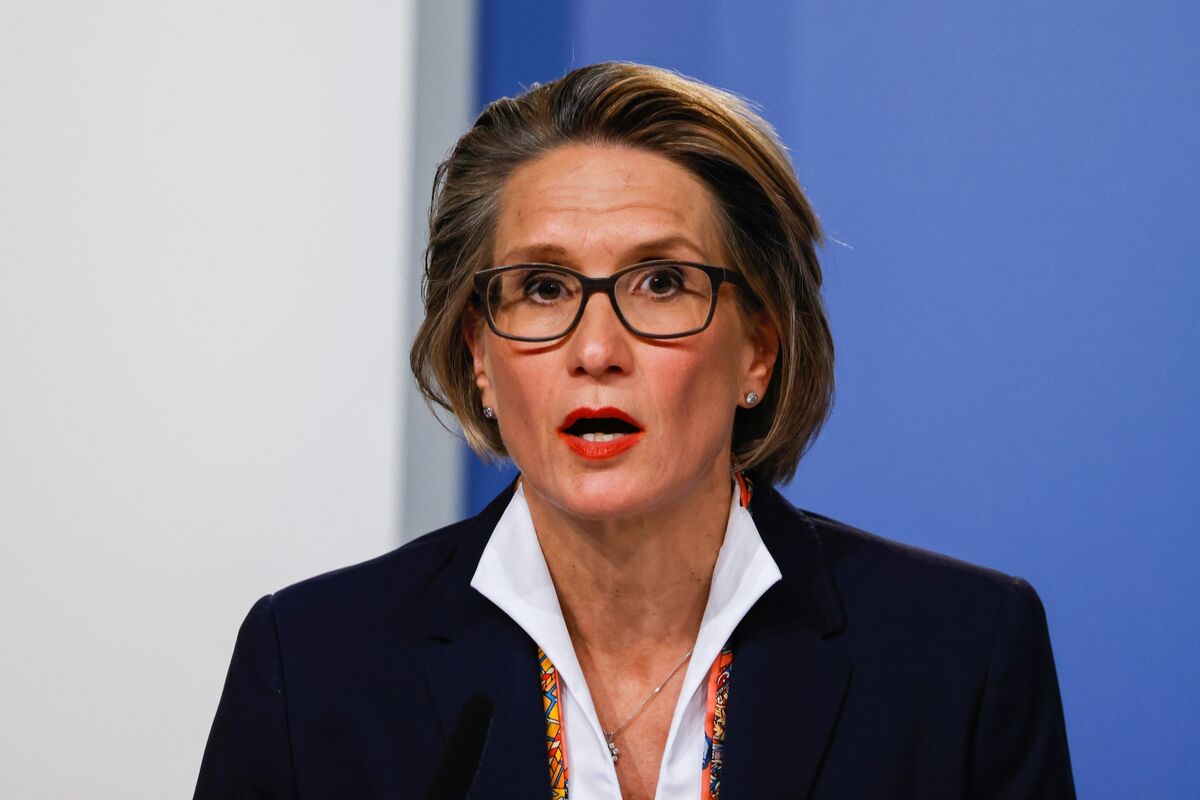 Want the lowdown on European markets? In your inbox before the open, every day. Sign up here.
Actively pushing for a green transformation of the economy could undermine the effectiveness of the Swiss National Bank's monetary policy, Governing Board Member Andrea Maechler said.
UBS logs surprise 9% rise in Q3 net profit
UBS posted a 9% rise in third-quarter net profit on Tuesday, as continued trading helped the world's largest wealth manager to its best quarterly profit since 2015.
Its third-quarter net profit of $2.279 billion far outpaced a median estimate of $1.596 billion from a poll of 23 analysts compiled by Switzerland's largest bank.
"Our business momentum, our focus on fueling growth, on disciplined execution and on delivering our full ecosystem to clients – all of this led to another strong quarter across all of our business divisions and regions," Chief Executive Ralph Hamers said in a statement.
In each of the last four quarters, UBS saw double-digit percent gains in net profit as buoyant markets helped it generate higher earnings off of managing money for the rich.
From July through September, favourable market conditions, and higher lending and trading amongst its wealthy clientele, unexpectedly helped raise earnings over the bumper levels reported in the third quarter of last year.
(Reporting by Oliver Hirt and Brenna Hughes Neghaiwi; Editing by Michael Shields and Edwina Gibbs)