Canadian son of Russian spies to speak to media in Toronto this afternoon – CTV News
TORONTO —
The Toronto-born son of Russian spies, whose Canadian citizenship has now been affirmed by the Supreme Court of Canada, will speak to media in his hometown this afternoon.
Alexander Vavilov and his brother Timothy were born in the 1990s to parents who were later arrested in the United States for conspiring to act as secret agents on behalf of a Russian intelligence agency.
Alexander Vavilov, 25, is set to address reporters this afternoon.
A registrar concluded in 2014 that his parents were agents of a foreign government, meaning their children could not be Canadian citizens.
That decision touched off the court battle that culminated with Thursday's decision.
In its judgment, the high court upheld a Federal Court of Appeal decision that effectively affirmed the citizenship of Alexander and his brother Timothy.
This report by The Canadian Press was first published Dec. 20, 2019.
Social media helping First Nations push moderate livelihood – SaltWire Network
When Alexander MacDonald headed up to Burnt Church in 1999, he didn't bring a smartphone.
They didn't exist yet.
As lobster traps were being cut and boats and trucks were getting rammed around the northern New Brunswick First Nation, then 15-year-old Mark Zuckerberg was still learning Atari BASIC programming from his dentist father in their Dobbs Ferry, NY, home.
"We didn't have Facebook at Burnt Church," said MacDonald, a member of the Sipekne'katik First Nation who now fishes commercially out of Digby.
"What social media does today is gives us more support. It shows our side. It shows what the non-natives are doing to us."
A citizenry who didn't have the time or interest to read the Supreme Court of Canada's decisions or the 250 year old treaties on which they're based, looked at their phones last week and for a few minutes at a time were transported to St. Mary's Bay where the large Cape Islanders of commercial fishermen came right at them.
Unlike in 1999 on Miramichi Bay, everyone on St. Mary's Bay over the past two weeks was a potential publisher.
The Mi'kmaw got that.
"'Ninety-Six, '97, '98, '99, we had all these fights – it didn't start at Burnt Church, this was an every year thing," said MacDonald.
"I can remember when I was a kid fishing in a brook, DNR coming at me telling me I'm not allowed to practice my right. So we knew that with them having H-Division, SWAT, Coast Guard, DFO, they had an army down there ready to put the Indian down if he tried to push back."
Law and order was represented by two helicopters (one RCMP, one Coast Guard), Fisheries and Oceans enforcement boats, RCMP boats staged in Meteghan, an armoured vehicle and a Coast Guard Cutter.
But institutions and individuals all found themselves taking new roles this time around.
Fisheries Minister Bernadette Jordan didn't return to Nova Scotia, and, unlike her predecessor during the Burnt Church crisis, didn't direct federal authorities to intervene.
In the vacuum left by the federal government and a battle playing out on the water, the Nova Scotia Assembly of Mi'kmaw Chiefs took on the role of governing body.
They declared a state of emergency, set up a command centre, and along with the Sipekne'katik First Nation seized control of the Lower Saulnierville Wharf, provided regular public updates and media access.
Meanwhile, traditional media outlets coming out of Halifax were supplanted as the prime explainers of the local reality by a bearded Hants County weir fishermen who got 50,000 plus views on each of the unedited videos of him looking down at his cellphone and explaining both the Mi'kmaw and commercial fishermen's perspectives.
Darren Porter assessed that the parties had been pitted against one another by Fisheries and Oceans – first by the federal government's refusal to negotiate the implementation of a moderate livelihood fishery and then by its declaration that traps set by the Sipekne'katik First Nation were "unauthorized."
"Fishing without a license is a violation under the Fisheries Act and anyone fishing outside the activities authorized under a license may be subject to enforcement action," read a statement put out by the minister's office on Sept 17.
"When (Bernadette Jordan) came out and said it was 'unauthorized,' she incited those (commercial) fishermen to believe they were doing the right thing in hauling the First Nations traps and that they had the moral high ground and the backing of Fisheries and Oceans," said Porter.
"Which was incorrect. (First Nations) had a right to set those traps. Then she quickly changed her position to the opposite side. It was very craftily done."
Asked if it was unfair to label the impact of the minister's shifting positions as intentional, Porter responded, "Does it matter? The result is the same."
On Tuesday, Porter, who is also spokesman for the Fundy United Fishermen's Association, was in his open aluminum boat researching marine life in the Minas Passage with two Mi'kmaw representatives and a scientist.
He warned the real damage done by the recent conflict was to relations between two communities who will be sharing St. Mary's Bay.
"All the parties need to get to a point of respectful dialogue. Once (they) get to that point – they can say 'let's do something together,'" said Porter.
"The answer is joint science – send out representatives working together to answer the core questions about the resource and the fishery that both sides believe they are right on. While they are doing that and coming to conclusions they can both agree on because they worked together, they will also be building relationships."
The Sipekne'katik First Nation issued a press release Tuesday saying a "respectful" dialogue had begun in the negotiations with Fisheries and Oceans Canada over the implementation of its moderate livelihood fishery.
But for his part, MacDonald remains skeptical.
He expects to the federal government to try and buy the First Nations off from pursuing a moderate livelihood fishery by offering up more commercial licenses. Sipekne'katik currently has 15 licenses in lobster fishing areas 33, 34 and 35. Provided by Fisheries and Oceans, the band leases the majority out to non-aboriginal fishermen. So while they provide revenue, they don't provide the access to the fishery for individual members acknowledged as a right by the Supreme Court.
After Burnt Church, MacDonald went to work on commercial fishing boats on the South Shore.
He got his captain's papers, built an enterprise and his own lobster pound.
Even fishing commercial licenses, he says he's had his traps cut and no help from Fisheries and Oceans.
"The difference between 1999 and today is that because of social media, because of cell phones, we share our story with the world and we can reach one another quickly and shut this country down,"said MacDonald, referring to blockades of railways and roadways across Canada earlier this year.
"We're connected right across Canada. You can't ignore us anymore."
Feeling Overwhelmed and Depressed? Could be Too Much Social Media – Net Newsledger
UNIVERSITY PARK, Pa. – LIVING – Can't stop checking social media for the latest COVID-19 health information? You might want to take a break, according to researchers at Penn State and Jinan University who discovered that excessive use of social media for COVID-19 health information is related to both depression and secondary trauma.
"We found that social media use was rewarding up to a point, as it provided informational, emotional and peer support related to COVID-19 health topics," said Bu Zhong, associate professor of journalism, Penn State. "However, excessive use of social media led to mental health issues. The results imply that taking a social media break may promote well-being during the pandemic, which is crucial to mitigating mental health harm inflicted by the pandemic."
The study, which published online on August 15, 2020 in the journal Computers in Human Behavior, included 320 participants living in urban districts of Wuhan, China. In February 2020, the team gave the participants an online survey that investigated how they accessed and shared health information with family members, friends and colleagues on social media, specifically WeChat, China's most popular social media mobile app.
The team used an instrument created to measure Facebook addiction to assess participants' use of WeChat. Using a 5-point Likert-type scale, ranging from strongly disagree to strongly agree, the survey assessed participants' views of WeChat in providing them with informational, emotional and peer support. The survey also assessed participants' health behavior changes as a result of using social media.
Statements related to informational support included, "I use WeChat to gain information about how to manage the coronavirus epidemic," and "If I have a question or need help related to the coronavirus epidemic, I can usually find the answers on WeChat." Statements related to emotional support included, "My stress levels go down while I'm engaging with others on WeChat," and "The health information on WeChat helps me alleviate feelings of loneliness." Statements related to peer support included, "I use WeChat to share practical advice and suggestions about managing the coronavirus epidemic," and "I have used some of the information I learned from WeChat friends as part of my management strategies for coping with the coronavirus epidemic."
The survey also investigated participants' health behavior changes related to the use of WeChat, asking them to rate statements such as, "The health information on WeChat has changed many of my health behaviors, such as but not limited to wearing face masks, using sanitizer, or washing hands."
To assess depression, the researchers used a 21-item Depression Anxiety Stress Scale in which participants rated statements such as, "I couldn't seem to experience any positive feeling at all," and "I felt that life was meaningless."
According to Zhong, secondary trauma refers to the behaviors and emotions resulting from knowledge about a traumatizing event experienced by a significant other. Using the Secondary Trauma Stress Scale, the researchers asked respondents to rate statements such as, "My heart started pounding when I thought about the coronavirus epidemic," and "I had disturbing dreams about the coronavirus epidemic."
"We found that the Wuhan residents obtained tremendous informational and peer support but slightly less emotional support when they accessed and shared health information about COVID-on WeChat," said Zhong. "The participants also reported a series of health behavior changes, such as increased hand washing and use of face masks.
More than half of the respondents reported some level of depression, with nearly 20% of them suffering moderate or severe depression. Among the respondents who reported secondary trauma, the majority reported a low (80%) level of trauma, while fewer reported moderate (13%) and high (7%) levels of trauma. None of the participants reported having any depressive or traumatic disorders before the survey was conducted.
"Our results show that social media usage was related to both depression and secondary trauma during the early part of the COVID-19 outbreak in Wuhan," said Zhong. "The findings suggest that taking a social media break from time to time may help to improve people's mental well-being during the COVID-19 pandemic."
Presidential debate: How the world's media reacted – BBC News
US voters have endured the first of three presidential debates between President Donald Trump and Joe Biden.
The event has also prompted a huge reaction from world audiences who tuned in for the chaotic event.
Newspapers and commentators around the world have criticised the tone and tactics of the debate.
As The Times in the UK wrote, "The clearest loser from the first presidential debate between Donald Trump and Joe Biden was America."
UK
The paper went further, saying the event "was not a debate in any meaningful sense" but rather "an ill-tempered and at times incomprehensible squabble between two angry septuagenarians who palpably loathe each other".
The Guardian described it as a "national humiliation".
"The rest of the world – and future historians – will presumably look at it and weep," the paper wrote, adding that Mr Biden was the only man who looked "remotely presidential" on the stage and saying that if Mr Trump was re-elected in November, "this dark, horrifying, unwatchable fever dream will surely be the first line of America's obituary."
The Financial Times highlighted how the president had stoked lies about voter fraud and urged his supporters to carefully watch polling stations. "'Dog-whistling' is the politico-speak for such language, but it implies subtlety. Mr Trump was blatant," it wrote.
The paper also noted that snap polls after the event said Mr Biden had come out on top. "But no one with a care for American democracy can have switched off feeling anything but queasy."
France
"Chaotic, childish, gruelling" – that's how French newspaper Libération described Tuesday's debate. Le Monde agreed, calling it a "terrible storm", and saying that the president had sought to "push his opponent off his hinges" with constant interruptions and by mocking his answers.
Le Figaro said Mr Biden had "systematically refused to play his opponent's game". While Mr Trump tried to directly confront his challenger, pointing at him and addressing him directly, the Democratic candidate spoke more to viewers and looked directly into the camera.
"Trump voters are unlikely to have had any doubts about their candidate, despite an unconvincing performance. Those of Biden, on the other hand, had confirmation that the Democrat was able to measure up to his formidable opponent, and even put him on the defensive," the paper wrote.
Germany
Der Spiegel's analysis of the debate is headlined "A TV duel like a car accident".
In a piece titled "Part fist-fight, part play", Süddeutsche Zeitung wrote: "Both Trump and Biden could go home satisfied because as far as the theatrical performance is concerned, both did their job properly. Donald Trump played Donald Trump, Joe Biden played Joe Biden, and fans should have liked it."
Die Welt said the debate had revealed very little about policy. "Most importantly, it showed that America has a president whose behaviour stands out and who lacks self-control – but that's not exactly news," it wrote.
Mr Biden in contrast was not an exciting candidate but "at least someone with common sense and a stable personality" who would "bring something like normalcy back to the White House".
Italy
"Never had American politics sunk so low," La Repubblica's US correspondent wrote, describing the debate as "Chaotic, rowdy, and based on mutual contempt".
Il Corriere della Sera meanwhile said President Trump's refusal to condemn white supremacy was "a message for Black America".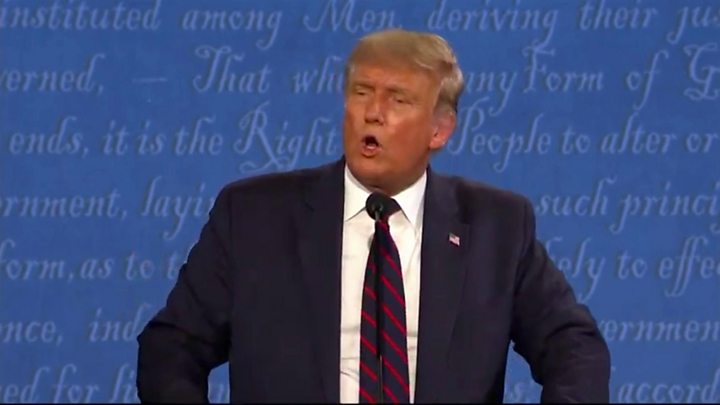 Russia
One broadcaster described it as a "one and a half-hour exchange of insults", while another said there was "no constructive dialogue".
"The rivals kept interrupting each other and instead of a balanced discussion they chose the path of mutual insults," pro-Kremlin NTV television said.
Mr Biden's description of President Trump as "Putin's puppy" also generated comments on Russian social media. One Twitter user said: "Two old men are figuring out which of them is more worthy to become the president of the United States, but without Putin, you can't boost your rating."
China
Chinese official media sites broadly ignored the US debate although some wrote about how both candidates had used China to attack their opponent.
The state-run Global Times called it "the most chaotic presidential debate ever" and noted that Mr Trump had taken "aim at China by blaming [it] for the raging Covid-19 epidemic and US economic woes".
Editor-in-chief Hu Xijin wrote on Twitter that the debate reflected "division, anxiety of US society and the accelerating loss of advantages of the US political system".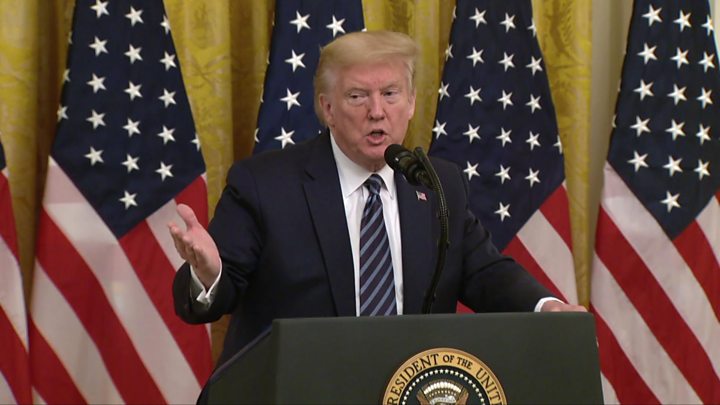 India
Hindi-language news channel AajTak accused both candidates of "mud-slinging", while broadcaster Times Now said the debate was "marred with personal jibes and political barbs".
But the strongest commentary came from The Times of India, the country's largest-selling English-language newspaper, which compared the debate to "mud-wrestling".
"The US embarrassed itself before the world for 100 minutes," it wrote.
BBC Monitoring contributed to this report.