Canadians are feeling pandemic fatigue. Experts say 'greater good' message isn't enough – Global News
COVID-weary. COVID-tired. COVID-fatigued.
No matter how you chop it up, the feeling likely resonates for many at this point in the coronavirus pandemic. Months of isolation, fears and lifestyle changes have taken its toll. In turn, following COVID-19 safety guidelines has begun to feel like more and more of a challenge.
A new poll puts into perspective just how fatigued Canadians are. The poll, conducted by Ipsos, found nearly half of Canadians are getting tired of following public health recommendations and rules related to the virus. The feeling of burnout was most prominent in Quebec (52 per cent) and Alberta (53 per cent) and less so in British Columbia (34 per cent).
The challenge now — both for people and policymakers — is tackling it.
Igor Grossmann, psychology professor and director of the Wisdom and Culture Lab at the University of Waterloo, said understanding the situation at hand might help strengthen our resolve.
"We often get this 'hunker down and get through it' message," he said. "But if we start accepting that this is a marathon situation, the sooner we develop meaning out of the situation."

2:22


Riots in Italy, pushback in Spain over COVID-19 curfews and rules



Falling off the bandwagon
Not only has the medley of measures imposed by countries plunged economies into a sharp contraction, it's also had a profound impact on people's psychological well-being. Nine months since the lockdown, rules and restrictions still keep many aspects of life fenced in. In a separate poll, 25 per cent of Canadians said their stress level is higher than during the first COVID-19 wave.

6:26


Coronavirus: How stress and fatigue is taking its toll in the pandemic



Understandably, "we're exhausted," said Steven Joordens, a psychology professor at the University of Toronto Scarborough.
High-stress situations often elicit a "fight-or-flight" response, he said, but that reaction is "meant to be short term."
"When there's a predator in front of you, you either take on the predator or get the heck away from them. Either way, 15 or 20 minutes and it's over, and you come out of that state," he said.
"We've had this predator staring in our face for months."
What's followed is a collective burnout or exhaustion, and everyone experiences it differently. Some may feel restless, irritable, lack motivation or have difficulty concentrating on tasks. Some people may find themselves withdrawing from socializing, while others might feel physical symptoms like changes in eating and sleep habits. Young people are particularly susceptible, according to Joordens.

4:45


How 'pandemic fatigue' could be leading to case surge



The age divide is reflected in the Ipsos poll. Pandemic fatigue was highest among Generation Z (57 per cent), Millennials (50 per cent), and Generation X (53 per cent).
The burnout has become somewhat of an adversary for governments trying to quell a second wave of the virus.
[ Sign up for our Health IQ newsletter for the latest coronavirus updates ]
Canada's top doctor has repeatedly urged Canadians "not to give into COVID-19 fatigue." So has the WHO. Its researchers estimate that about half the population of Europe is experiencing "pandemic fatigue" as infections surge yet again.
But the "stay home" message has expired, and experts worry the "greater good" or "we're all in this together" message designed to keep people engaged has too.
"It's very abstract," said Grossmann. "For some people, it might work. But for individuals facing economic hardships because of the crisis, or people who are more concerned about simply surviving the next day with kids running around, that doesn't resonate anymore."

0:51


Coronavirus: WHO acknowledges pandemic fatigue, asks people not to give up



What needs to change?
For one, we need to acknowledge "things are different now," said Samantha Yammine, a neuroscientist and science communicator.
Not only do we know far more about the virus than in March, we also have tools to make activities safer, said Yammine. She said too much of the focus has been the "no's" and "you cant's" despite the public appetite for wanting to do things, but do them safely.
"Fatigue comes from frustration.
"If we focus on what we can't do rather than what we can, that's why we fatigue. It feels very limiting."
This is where adopting a harm reduction approach would be helpful, she said, both on an individual level and policy level.
"Every decision is a big task. … We're at a point where should say, 'Here's how you reduce your risk as much as possible.'"
Yammine said people need to feel empowered to make a choice through the right information.
"I think then they'll feel less trapped and hopefully less fatigued," she said.
According to the recent polling, 93 per cent of Canadians say they're doing their best to abide by public health recommendations and rules. Support for safety measures also remains high. On masks, nearly 86 per cent of Canadians say they support the mandatory wearing of face masks when in public, with younger Canadians even more likely to be wearing them when out-and-about.
"We're in this process of modifying all of our habits, and it will get easier," said Joordens.

4:11


Coronavirus: Trudeau acknowledges COVID-19 fatigue setting in with 'tough winter ahead', says it 'really sucks'



He said it was trickiest when things first reopened, which might have sent out mixed signals. When governments opted to open bars, restaurants and gyms, even with new rules, he said some people might have interpreted that as these places being safe or safer.
"Habits are triggered by the environment. So as soon as you go back into that bar, everything about it triggers you to behave like you did the last time you were there," he said.
"The hope is that we develop new habits over time to keep up with the changes."
But it won't be easy, said Grossmann. He said the vagueness in some of the ever-changing recommendations deviates from the core message — that "this won't be over anytime soon."
"Not every situation is alike, but we need to figure out how to balance something that is challenging in different ways across different provinces and different municipalities," he said.
"You don't want a new rule to come in and have people say, 'Well, that doesn't apply to me.'"
What can you do personally?
A looming winter will provide an extra challenge, experts agree. Weariness over restrictions might grow as cold weather forces people indoors.
It comes down to arming yourself with the "basics," said Joordens — a good night's sleep, good nutrition and routine exercise.
"Leading a random life makes our body unhappy," he said. "You have to find activities that bring you to a better place mentally."
Before the snow piles up, think about ways to get outdoors in advance, he said. And once it does, make sure you stay connected socially.

4:25


Winter blues setting in? How to cope during colder months



"I recommend the phone because people actually pay attention when they're talking to you on the phone," he said with a laugh.
It's also good to remember that we're not perfect, said Yammine.
"We're still going to face tough decisions. It's still going to feel exhausting," she said. But keeping up with the twist-and-turns of pandemic rules and recommendations is "like any goal you can set."
"A New Year's resolution, even," she said.
"People often say you give up on your resolution the first time you slip up — but that's not the right thinking. Just because maybe you have more riskier encounter or you just don't care one day, it doesn't mean you can't do better the next."
"Risk is cumulative. It doesn't need to be all or nothing. We can try again."
These are some of the findings of an Ipsos poll conducted between October 23-26, 2020, on behalf of Global News. For this survey, a sample of 1,000 Canadians aged 18+ was interviewed online. Quotas and weighting were employed to ensure that the sample's composition reflects that of the Canadian population according to census parameters. The precision of Ipsos online polls is measured using a credibility interval. In this case, the poll is accurate to within ± 3.5 percentage points, 19 times out of 20, had all Canadians aged 18+ been polled. The credibility interval will be wider among subsets of the population. All sample surveys and polls may be subject to other sources of error, including, but not limited to coverage error, and measurement error.
© 2020 Global News, a division of Corus Entertainment Inc.
Latest COVID update Nov. 28: 1 death, 197 new cases – CKOM News Talk Sports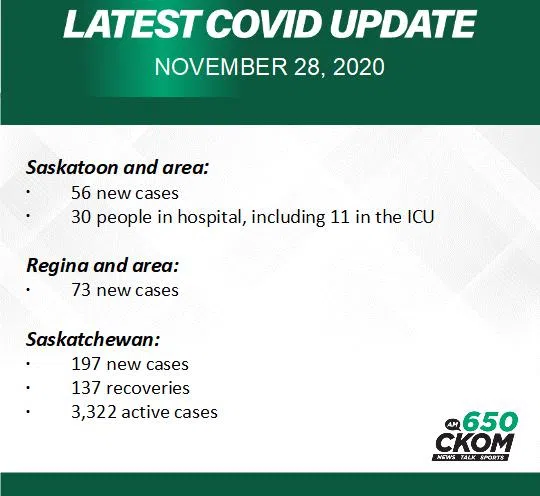 One more Saskatchewan resident who tested positive for COVID-19 has died.
In a media release Saturday, the provincial government said a person from the northwest zone in the 80-and-over age group had died.
Twelve people who had tested positive for COVID have died in the province in the past six days. There have been 45 deaths linked to the virus in Saskatchewan since March.
The government also announced 197 new cases in the province, increasing the total to date to 7,888. The seven-day average of new cases is 234, or 19.3 per 100,000.
There are now 3,322 cases considered active in the province. On Oct. 29 there were 707 active cases, representing a 370 per cent jump in active cases in the last 30 days.
The cases reported Saturday were in the Saskatoon (56), Regina (73), northwest (five), north-central (17), southwest (16), southeast (two), central-east (five), far northwest (six), central-west (one), far northeast (four), northeast (five) and south-central (five) areas.
The hometowns of two cases are still being investigated.
A total of 137 recoveries were reported Saturday, bringing that total to date to 4,521.
There are 18 people in intensive care units across the province. One patient in north-central, 11 in Saskatoon, one in the southwest and five in Regina.
Eighty-eight people are receiving inpatient care at hospitals across the province. One in the far northwest, nine in the northwest, seven in north-central, one in the northeast, 30 in Saskatoon, one in central-east, 18 in Regina, one in the southwest, one in south-central and 19 in the southeast zone.
Community outbreaks
The province is reminding people that community transmission can happen quickly with the potential to impact multiple settings.
There was a recent outbreak on a teenage hockey team which resulted in nine players and a coach testing positive. The province said there are multiple teams currently isolating as a result.
An outbreak was also reported from a curling bonspiel which resulted in positive cases on teams from multiple cities and towns across the province.
Positive cases from people attending a recent funeral have led to the potential exposure of more than 200 people, according to the province.
Sporting events and community transmission have also impacted a hospital. Seventeen nurses at the unidentified hospital were required to isolate after being identified as close contacts to positive cases linked to those events.
The effort needed to investigate and contact trace as a result of these events causes delayed notification of possible exposure resulting in more cases.
With "significant outbreaks" happening at large gatherings and sporting events, people are urged to follow public health orders in place. They are enforceable.
Advisory issued about potential COVID-19 exposure at three spots in HRM – HalifaxToday.ca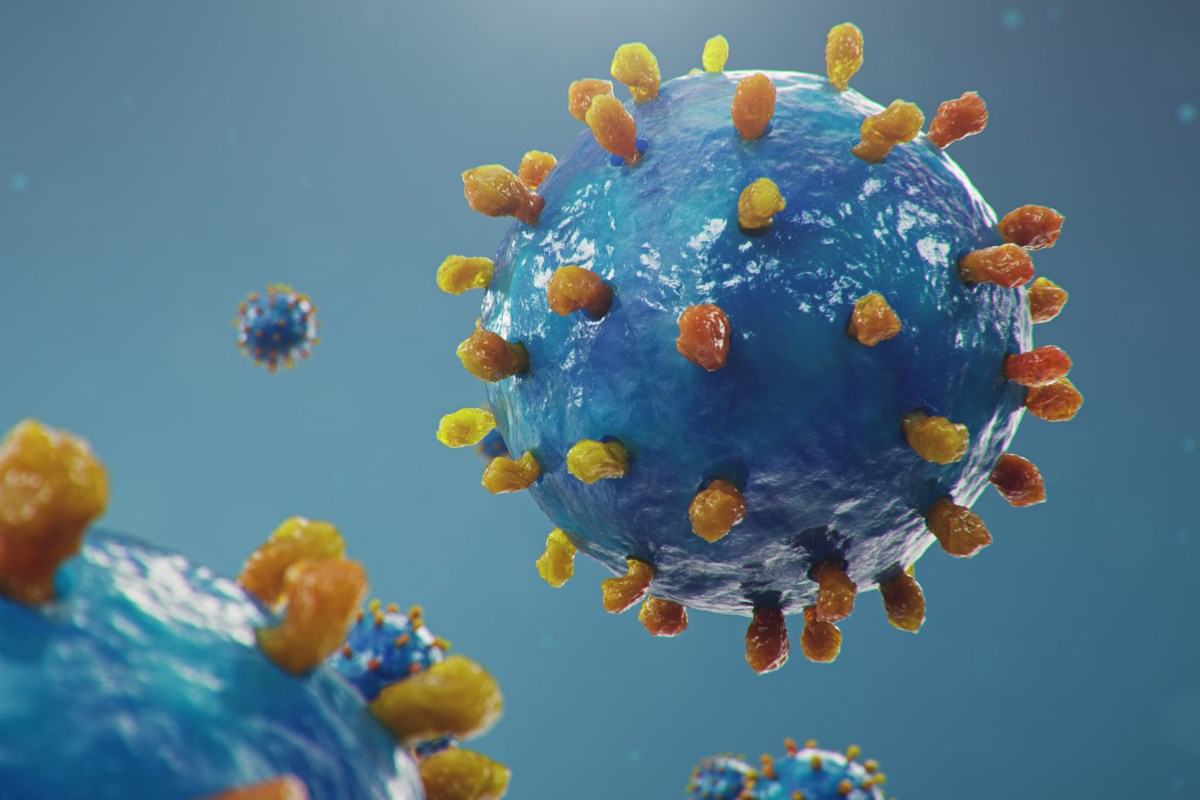 NEWS RELEASE
NOVA SCOTIA HEALTH
*************************
Correction: The Hermitage Restaurant exposure date should have read November 17, not 18 as previously indicated. This has been updated below.
Nova Scotia Health Public Health is advising of potential exposure to COVID-19 at three locations across Halifax, one location in Truro and one location in Sydney. In addition to media releases, all potential exposure notifications are now listed here: http://www.nshealth.ca/covid-exposures. Public Health is currently in the process of contacting all businesses listed below.
Anyone who worked or visited the following locations on the specified date and time is asked to immediately visit covid-self-assessment.novascotia.ca/ to book a COVID-19 test, regardless of whether or not they have COVID-19 symptoms. People who book testing because they were at a site of potential exposure to COVID-19 are required to self-isolate before their test and while waiting for test results. You can also call 811 if you don't have online access or if you have other symptoms that concern you.
Bar Kismet (2733 Agricola Street, Halifax) on Nov. 17 between 6:30 p.m. and 9:30 p.m. It is anticipated that anyone exposed to the virus at this location on the named date may develop symptoms up to, and including, Dec. 1.
Boston Pizza (68 Robie St, Truro) on Nov. 17 from 1 p.m. – 3:30 p.m. It is anticipated that anyone exposed to the virus at this location on the named date may develop symptoms up to, and including, Dec. 1.
Governor's Pub & Eatery (233 Esplanade, Sydney) on Nov. 17 between 8 p.m. and 12:30 a.m. It is anticipated that anyone exposed to the virus at this location on the named date may develop symptoms up to, and including, Dec. 1.
*Additional Date* Hermitage Restaurant (1460 Lower Water St, Halifax) on Nov. 17 between 3 p.m. and 10 p.m. It is anticipated that anyone exposed to the virus at this location on the named date may develop symptoms up to, and including, Dec. 2.
Fit4Less Sackville (776 Sackville Dr, Lower Sackville) on Nov. 22 between 9:30 a.m. and 11:45am; Nov. 23 5 p.m. and 7:30 p.m.; Nov. 24 between 5 p.m. and 7:30 p.m. and Nov. 25 between 3:30 p.m. and 6 p.m. It is anticipated that anyone exposed to the virus at this location on the named date may develop symptoms up to, and including, Dec. 9.
Please remember:
Do not go directly to a COVID-19 assessment centre without being directed to do so. Please book an appointment online and do not go to a pop-up rapid testing location.
Currently, anyone travelling to Nova Scotia from outside of the Atlantic Provinces is expected to self-isolate alone for 14 days after arriving. If a person travelling for non-essential reasons enters Nova Scotia from outside Atlantic Canada, then everyone in the home where they are self-isolating will have to self-isolate as well.
When Nova Scotia Health Public Health makes a public notification it is not in any way a reflection on the behaviour or activities of those named in the notification.
All Nova Scotians are advised to continue monitoring for COVID-19 symptoms and are urged to follow Public Health guidelines on how to access care. Up to date information about COVID-19 is available at novascotia.ca/coronavirus.
*************************
Ottawa unveils funding for poultry and egg farmers hurt by free-trade deals – CBC.ca
Canadian egg and poultry farmers who've lost domestic market share due to two recent free-trade agreements will soon have access to $691 million in federal cash, Canada's agriculture minister announced Saturday.
Marie-Claude Bibeau shared details of the long-awaited funds in a virtual news conference.
"Today we position our young farmers for growth and success tomorrow," she said.
The money follows a previously announced $1.75 billion for the dairy sector linked to free-trade deals with Europe and countries on the Pacific Rim, one that came into effect in 2017 and the other in 2018.
The dairy sector funds were to flow over eight years, and the first $345 million payment was sent out last year.
But on Saturday, Bibeau announced a schedule for the remaining payments that will see the money flow over three years — beginning with $468 million in 2020-21, $469 million in 2021-22 and $468 million in 2022-23.
Bibeau said the most recently announced funds for dairy farmers amount to an average farm of 80 cows receiving a direct payment of $38,000 in the first year.
Payments based on formulas
David Wiens, vice-president of the Dairy Farmers of Canada, said the money will help farms make investments for the future.
"I think particularly for the younger farmers who have really struggled since these agreements have been ratified, they can actually now see opportunities, how they can continue to make those investments on the farm so that they can continue on," he said.
The payments are based on formulas devised by working groups formed after the trade deals were signed, Bibeau said.
What that means is the money doesn't reflect precisely how much the various industries have lost due to the deals, she said.
"It's really our best understanding of the future impact and to give them the possibility to adapt."
Trading partners sought more Canadian access for products
The dairy, poultry and egg industries in Canada are regulated to ensure a steady income for farmers in that sector, but Canada's foreign trade partners argue the system is protectionist.
That made the trio of industries a sticking point in three separate trade deals Canada has concluded in recent years: the Comprehensive Economic and Trade Agreement with Europe (CETA), the Comprehensive and Progressive Agreement for Trans-Pacific Partnership (CPTPP) and the Canada-United States-Mexico Trade Agreement (CUSMA).
Trading partners wanted more Canadian access for their products, which Canadian suppliers said would result in massive hits to their bottom line.
The federal government's March 2019 budget had in turn allocated up to $3.9 billion in compensation for the trade concessions made on supply management.
The funds announced by Bibeau on Saturday are linked only to CETA and the CPTPP, but she said the latest arrangement does use up the balance of the previously announced funds.
"I think it's a great day because there's something on the table," said Benoit Fontaine, chair of Chicken Farmers of Canada, who said he had yet to see the details of the funding arrangement for his sector.
The money announced on Saturday comes ahead of Monday's reveal of the fiscal fortunes of the Liberal government in the form of an economic update. It is expected to lay out how much has been spent on emergency COVID-19 related programming but also outline some new spending in other areas.
Bibeau said the funds announced on Saturday will be reflected there but that the amount to be set aside as compensation for the Canada-U.S.-Mexico deal is still being decided.