Canadians head to the polls as political wildcards leave election outcome up in the air – CBC.ca
Canadians head to the polls today for the final day of voting in this 44th general election and surveys suggest the result is far from certain with as many as six parties in contention for seats in Parliament.
More than 5.8 million Canadians have already voted in the advance polls, and Elections Canada has received nearly one million special ballots — a record-setting early turnout that suggests there's an energized electorate.
Poll workers will start the vote count tonight, but the outcome may not be known until tomorrow after the many mail-in ballots are verified at hundreds of returning offices nationwide.
This 36-day election featured policy talk on everything from housing and the COVID-19 response to Canada's place in the world, but there were also heavy doses of partisan sniping as the leaders jockeyed for front-runner status in a very close race.
Here's a look at the closing arguments from the main party leaders.
Trudeau says he's best to lead Canada through COVID
Liberal Leader Justin Trudeau called this election on Aug. 15 saying he wanted Canadians to weigh in on who should finish the fight against COVID-19 and lead the country into a post-pandemic recovery.
"Canada is today at a crossroads — a moment where we have to make a really important choice," Trudeau said at a rally in Maple, Ont., on Sunday, the last day of campaigning. "It's not just about what we're going to do in the coming months to end this pandemic for good, but also how we're going to meet the challenges of the future."
Trudeau has asked Canadians to reward his party for steering the country through the darkest days of this health crisis. He has also presented himself as a vaccine champion, the man who secured enough doses to get everyone eligible for a shot fully vaccinated by July, and the leader who will keep people safe in the fourth wave of this pandemic by pushing mandatory vaccines for federal public servants and the travelling public.
As Alberta grapples with another public health emergency under the leadership of Premier Jason Kenney, Trudeau said Sunday that conservative leaders can't be trusted to lead the country at this critical juncture.
In addition to hammering the opposition on pandemic management, Trudeau said his party has the best plan to fight climate change and get more Canadians into a home at a time when eye-popping real estate prices have kept so many out of the market. "Let's keep Canada moving forward as a progressive country," he said.
O'Toole asks voters to punish Trudeau for calling an election
The August election call came at a time when the Liberals were enjoying a sizable lead in opinion polls, but that support cratered as some voters recoiled at the thought of an election when COVID cases are on the rise.
Since day one, opposition leaders have focused their criticisms of Trudeau on the election call itself. Conservative Leader Erin O'Toole, a relative unknown at the start of the race, sought to capitalize on the frustration, slamming Trudeau as "privileged," "entitled," divisive and untrustworthy.
To shake off lingering concerns about a "secret agenda" from a man who once branded himself a "true blue" Conservative, O'Toole released the party's platform on the first full day of the campaign. Pitching a more moderate form of conservatism, O'Toole made a play for disaffected Liberal voters in central and eastern Canada.
The platform, with its slogan "secure the future," lays out a plan for a post-pandemic Canada. He's promising some $60 billion in new health-care funding over 10 years, a mental-health strategy to help the millions of Canadians battling mental anguish after lockdowns and one million new homes to help with a pandemic-fuelled housing supply crunch.
O'Toole has also promised to balance the budget in 10 years' time, a commitment made to neutralize past Liberal criticism that a Conservative-led government would result in big cuts to public spending.
According to the CBC Poll Tracker, Conservative support surged five points in the two weeks after the platform release as some voters started buying what O'Toole was selling. But the campaign hit a snag when the Conservative leader was forced to defend his firearms policy.
The Tory platform initially promised to repeal a ban on assault-style weapons such as those used in mass shootings. The Liberals pounced on that pledge and on O'Toole's past association with the gun lobby. With his support softening in Ontario, the Tory leader shifted his position, promising to maintain the Liberal ban until an independent review by firearms experts was completed.
O'Toole also faced questions about his support for vaccines at every one of his campaign press conferences.
While personally pro-vaccine, O'Toole has called a Liberal plan to implement a vaccine mandate for federal bureaucrats, transportation workers and most passengers travelling by air and rail a divisive program that will lead to the "politicization of the pandemic."
O'Toole has also repeatedly dodged questions about just how many people carrying the Conservative banner in this race have had at least one shot. As a result, Trudeau has characterized O'Toole as a leader beholden to the "far-right, anti-vax" wing of the Conservative Party.
O'Toole hit back, saying Trudeau was trying to distract from his "scandal-shredded" reputation after six years in government.
"Justin Trudeau hasn't talked about the future of our great country. He hasn't provided a plan for Canada. Instead, he has veered into personal attacks, dividing Canadians and using American-style, misleading politics in an election that is only about himself," O'Toole said Saturday at a rally in Kitchener, Ont., asking Canadians to punish Trudeau for triggering "an unnecessary $600 million pandemic election."
People's Party could complicate Conservative path to power
O'Toole's path to power may also be complicated by another party leader. For the first time in nearly two decades, conservative-minded voters have two viable options to choose from in this election: the Conservatives and the People's Party of Canada (PPC) led by former Tory MP Maxime Bernier.
Public health measures such as lockdowns slowed the spread of COVID-19 — and likely saved lives — but they also prompted anger and frustration among some Canadians who saw their livelihoods destroyed as economic and social life ground to a halt.
The PPC welcomed those voters with open arms. A party promising a radically smaller government with fewer regulations was suddenly embraced by people who saw government as an oppressive force.
Bernier, a libertarian who has long railed against government overreach, became a champion of the "no more lockdowns" crowd, routinely appearing at well-attended protests against these restrictions. He is also vehemently opposed to vaccine passports — a position that has given the PPC a boost in the polls. Thanks to new support from the unvaccinated, Bernier's movement is expected to perform much better than the 1.6 per cent of the national vote it fetched in the 2019 election.
"O'Toole has flip-flopped and adopted the Liberal program on the few remaining issues where there were still differences between the two parties, such as the carbon tax, gun bans and COVID passports," Bernier said in an emailed statement to CBC News. "Mr. O'Toole will have to live with the consequences of his failing strategy."
It's not just right-wing parties that will have to contend with vote splits. The CBC Poll Tracker suggests Liberal support is marginally lower than it was after the 2019 election, while NDP support is roughly three points higher than it was following that campaign. This NDP strength could result in Liberal losses, particularly in Ontario and the Lower Mainland of B.C.
In the past, groups looking to stop vote-splitting on the left have called on progressive voters to ignore their party preferences and rally behind the candidates with the best chance of defeating Conservatives.
It's a message Trudeau reiterated in the last two days of this campaign as he told progressive voters that only Liberals can keep the Conservatives out of power.
"You can vote both with your desire to stop the Conservatives and your desire to bring forward the most progressive government in the history of the country if you vote Liberal," Trudeau told a crowd of supporters in Markham, Ont., on Saturday.
Singh says Trudeau is 'bad for Canada'
NDP Leader Jagmeet Singh who, polls suggest, is personally popular with voters, has tried to improve his party's fortunes after a disappointing 2019 campaign. He has urged voters to reject Liberal warnings about a fractured left-wing vote and instead pick the party they really want to govern.
From the opening bell, Singh has branded Trudeau as a failed leader who doesn't deserve another term. Those attacks have only become more pointed in the dying days of this campaign as Singh looks to keep progressive voters in the NDP fold and pick off Liberals frustrated with Trudeau's performance.
"We think Mr. Trudeau is bad for Canada, because he's failed on the crises and made things worse, not better," Singh said Friday, condemning Trudeau for voting against non-binding NDP motions on pharmacare and long-term care homes.
Singh has also pointed to higher greenhouse gas emissions and a tax system he said is skewed toward the "ultra-rich."
"He is bad for Canada. He was an abject failure," Singh said of Trudeau.
Singh's campaign has been laser-focused on promoting a plan to make the wealthy pay much more in taxes to help cover the cost of new social programs. He has brandished his party's record in the last Parliament — NDP MPs pushed for more generous pandemic-related welfare programs — as proof that only New Democrats "will fight for you, will lift you up."
"You can vote for Mr. Trudeau, who is all for show, who supports the ultra-wealthy, supports the super-rich and lets you down. Or you can vote for New Democrats. We are fighters and we are here for you," he said at a Saturday campaign stop in Saskatoon.
But Singh has faced criticism for putting out a platform that calls for $200 billion in new spending with few details on how any of this transformative change would actually be implemented.
The party's climate policy has been panned by experts, who say it's both vague and unrealistic. A wealth tax like the one the NDP is proposing has been tried in other countries only to be repealed because it fell well short of revenue projections.
Greens won't be on the ballot in nearly a third of ridings
For months, the Green Party has been beset with internal squabbling that has hampered their electoral efforts.
The party's leader, Annamie Paul, has spent nearly all of the campaign in the riding of Toronto Centre, where she is running for a third time.
Some Green candidates said they didn't want Paul in their riding during this race. But the leader was out stumping for the two Green incumbents, Elizabeth May and Paul Manly, over the weekend as the party looks to maintain its parliamentary delegation.
"I am hoping again to see some of these candidates elected on Monday because their Green voices are needed in Ottawa to talk about the climate, to be champions for the climate and for their communities," Paul said at a Sunday campaign stop in Toronto.
Unlike in 2019, when the party ran candidates in all 338 ridings, there won't be a Green on the ballot in nearly a third of all local races — which could give some Liberal and NDP candidates a boost in this nail-biter election.
How green politics are changing Europe – BBC News
An ocean of conservative blue blankets the electoral map in Germany's southern state of Bavaria.
And yet the conservative vote actually fell across Germany in last month's federal vote, while the Greens achieved their biggest success yet,.
In an election dominated by climate change, a speck of green has made a ripple in Bavaria. For the first time a Greens candidate was directly elected to represent Bavaria in the federal parliament.
It is symbolic of the creeping rise in support for European green parties, from Hungary to Finland.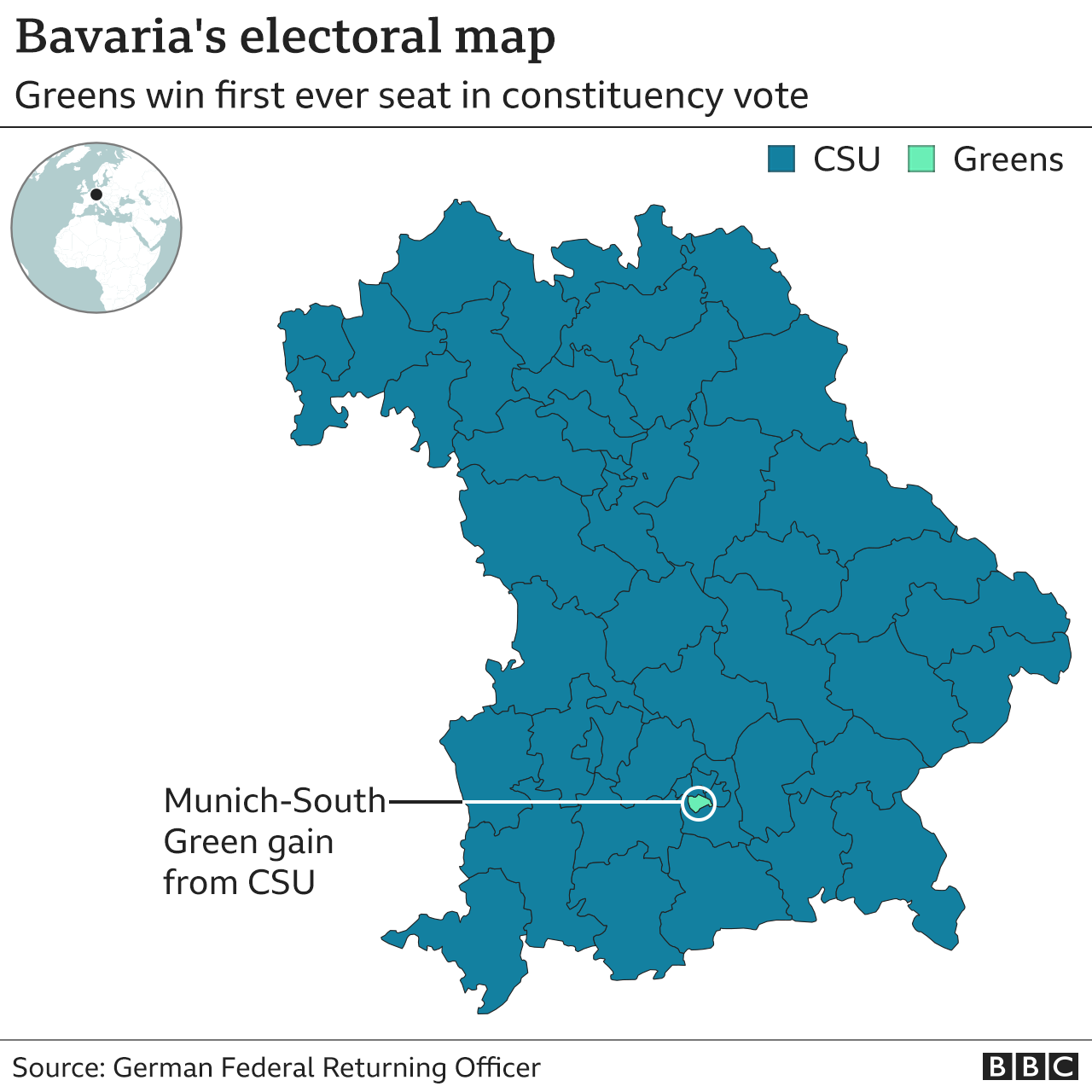 The new MP, Jamila Schäfer, beamed with satisfaction when she recalled her surprise victory in Munich-South, by a wafer-thin margin of 0.8%. Only once before had the CSU lost the constituency since 1976.
"This is a major sign of change," Ms Schäfer told the BBC.
A campaign 'close to the people'
The Greens won 14.8% of the vote nationwide, appealing beyond their eco-protest roots with Annalena Baerbock standing as candidate for chancellor. Now they are in talks to share power as part of a three-way coalition.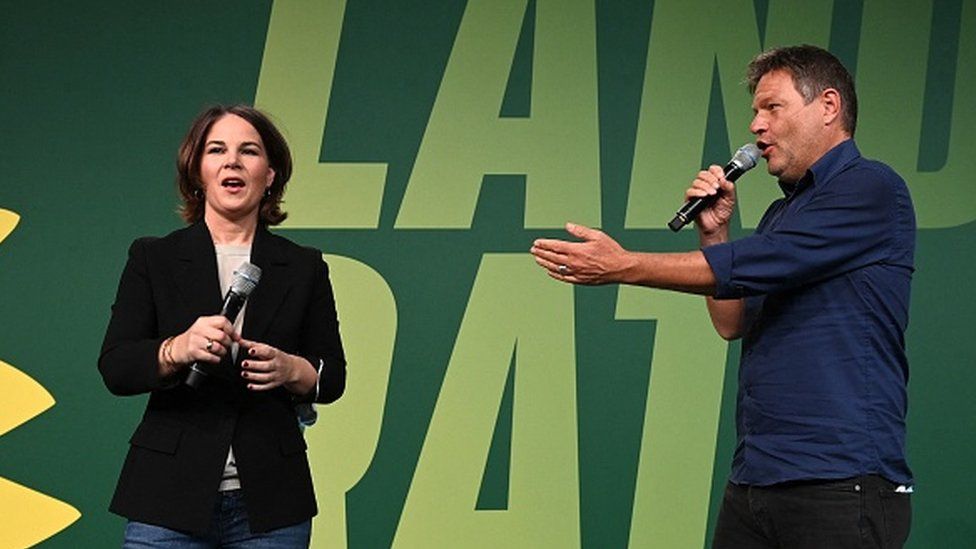 Ms Schäfer, 28, is the Greens' deputy federal chairwoman and typifies a party that has undergone a national makeover after years of power-sharing in several German states (Länder).
She rose through the ranks of Green Youth, taking part in school strikes against education reforms, long before Swedish activist Greta Thunberg made her name by skipping classes for climate protests.
Climate change was consistently ranked as the most serious facing Germany in opinion polls ahead of the election.
Even so, Ms Schäfer targeted her "close-to-the-people" campaign in Munich-South on housing, pensions and taxes.
Green shoots of success
Once ridiculed by many as idealistic hippies, Green parties increased their vote share in 13 European countries at the most recent national elections. In six of those countries – Austria, Belgium, Finland, Ireland, Luxembourg and Sweden – green parties have a share of power in coalition governments.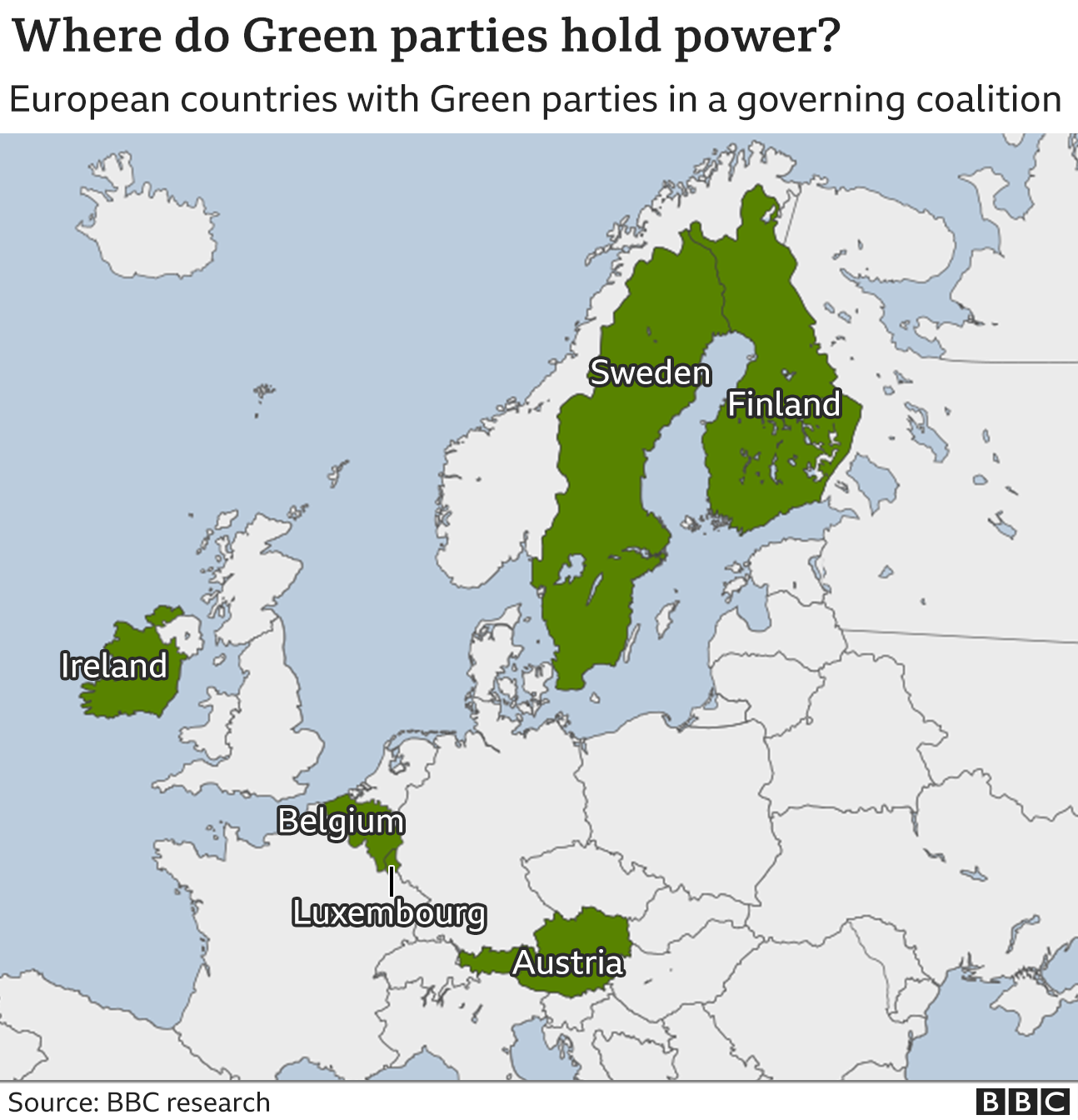 In all those cases, the Greens are pressing their partners to adopt more ambitious targets for lowering carbon emissions. Elsewhere, the green mayors of Amsterdam and Budapest are aiming for carbon neutrality by 2050 and 2030 respectively – to balance the greenhouse gases emitted and absorbed by their cities.
Despite last month's election success for the German Greens, even co-leader Ms Baerbock admitted they had failed to live up to early opinion poll ratings: "We wanted more. We didn't achieve that."
Given the urgency of curbing emissions, what's holding the Greens back?
Trust and fear of change
One explanation is that mainstream parties across Europe have elevated climate change to the top of their agendas.
"If you're concerned about the climate, it doesn't follow that you're going to vote green," Adam Fagan, a political scientist at King's College, London, said. "It means you're going to scrutinise the manifestos of the main parties for their green credentials."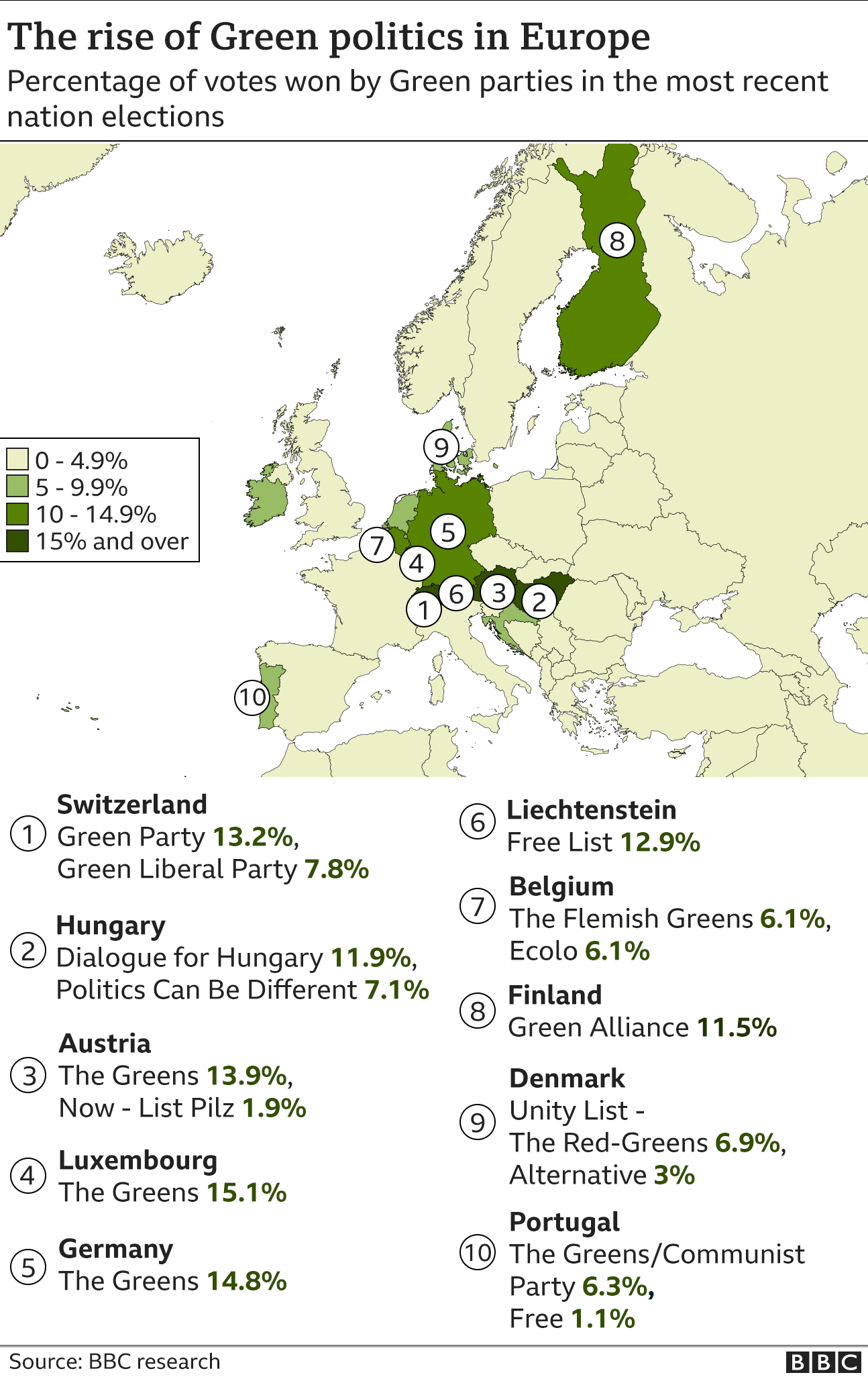 Green parties tend to do better in countries with more proportional systems, as used by the European Union for its parliamentary elections. For example, the Greens/EFA bloc gained 25 seats with 10.8% of the vote in the 2019 election to the European Parliament.
"People think putting the Greens in power [in the EU] is less dangerous," said Philippe Lamberts, co-president of the Greens/EFA.
"From the right and the left, there's always a question hanging over us: can you really trust the Greens with the economy?"
National election results suggest the answer is no.
To reduce emissions, the Greens say big structural changes to the economy are needed. While those reforms are necessary, they scare people and put them off voting green, Ms Schäfer said.
"They're worried they'll be the losers of big transformation," the MP said. "It's a lack of control that people are afraid of. But we need to convince people that our politics is not about giving up control."
'Killing the planet'
It's even more difficult in Southern and Eastern European countries, where support for green parties is fragmented or non-existent. Surveys show that climate change is far from a top priority in post-communist countries such as Poland, the Czech Republic and Lithuania.
Voters and political parties there are generally more concerned about economic development or migration, leaving environmental issues to civil society groups.
Mr Lamberts believes voters find the message that their country's model is "killing the planet" unpalatable.
Unlike in many of the other former Soviet-bloc states, green parties have made inroads in Hungary.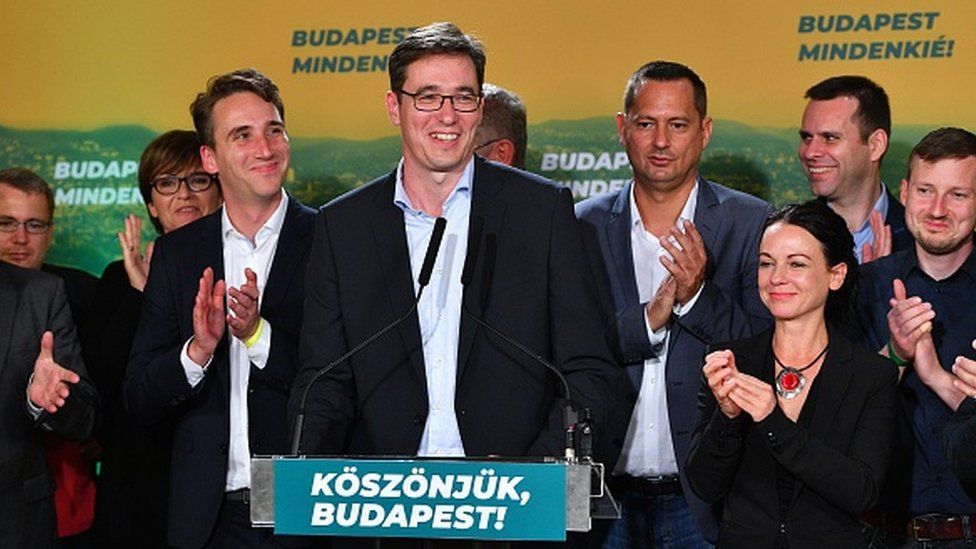 The green LMP party has won seats in three consecutive national elections since 2010, while Dialogue received 11.9% of the vote in an alliance with the Hungarian Socialists in 2018.
Dialogue's success came under the leadership of Gergely Karacsony, who was elected mayor of Budapest in 2019.
He defeated the nationalist incumbent by rallying opposition parties behind his liberal platform, and promising solutions not only to environmental issues, but economic and social ones too.
"In Hungary today, there are three different crises. A democratic crisis, a social crisis and an environmental crisis," Budapest's mayor told the BBC. "The advantage of the green movement is that we have proposals for all three."
He linked green policies such as urban foresting and carbon-free public transport to Hungary's poor record on air quality and other environmental problems.
Particularly in post-Soviet countries, the mayor said, social justice must go hand in hand with the green transition.
"We cannot put the costs of sustainability on disadvantaged segments of society."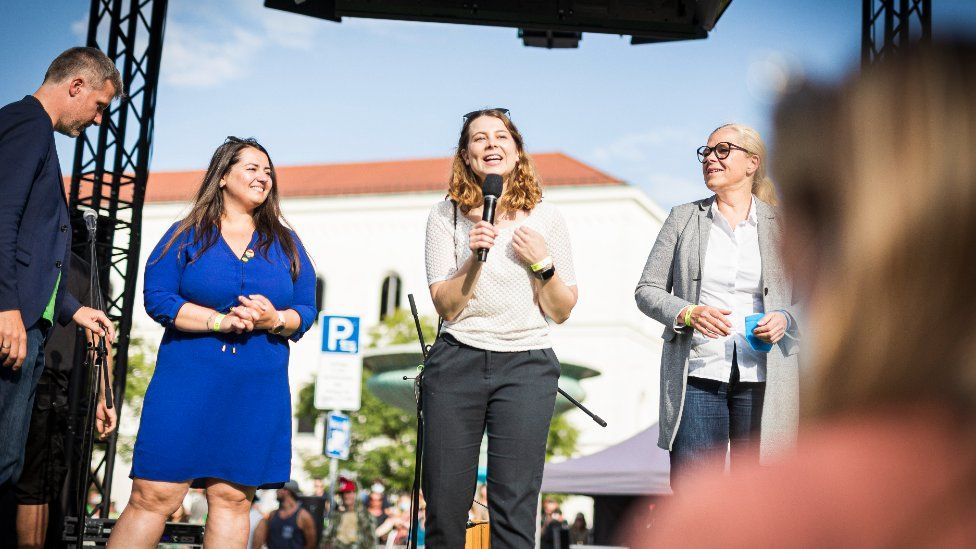 What worked in Budapest may not necessarily follow elsewhere, but green candidates have achieved electoral success where they have channelled voter discontent, united the opposition and diversified their offer beyond the environment.
If the Greens can build on these gains, there is a future for them in coalitions, Professor Fagan said.
"Green politics in Europe is getting bigger and stronger, and I'm sure it will grow in the coming years," Ms Schäfer said.
Biden says he's concerned about Chinese hypersonic missiles
U.S. President Joe Biden said on Wednesday he is concerned about Chinese hypersonic  missiles, days after a media report that Beijing had tested a nuclear-capable hypersonic glide weapon.
Asked by reporters as he was boarding Air Force One for a trip to Pennsylvania whether he was concerned about Chinese hypersonic missiles, Biden said, "Yes."
The Financial Times said at the weekend that China had tested a weapon in August that flew through space and circled the globe before cruising down toward a target that it missed. China's foreign ministry denied the report.
(Reporting by Nandita Bose; Writing by Mohammad Zargham; Editing by Leslie Adler)
Ethiopia conducts two air strikes on Tigray within hours, war escalates
The  Ethiopian government carried out a second air strike within hours on the Tigray region on Wednesday, significantly escalating a campaign to weaken rebellious Tigrayan forces in an almost one-year-old war.
The second strike was in Agbe in the Temben region some 80 km (50 miles) west of the regional capital Mekelle, targeting a military training centre and heavy artillery depot, government spokesperson Legesse Tulu said.
That came after a morning air strike in Mekelle, the third this week. Tigrai Television said the attack targeted the centre of the city while the Addis Ababa government said it targeted buildings where Tigrayan forces were repairing armaments.
The Tigray People's Liberation Front (TPLF) has "been adept at hiding munitions and heavy artillery in places of worship and using ordinary Tigrayans as a human shield", Legesse said.
Two witnesses and a humanitarian source in Mekelle told Reuters that the morning strike appeared to have targeted Mesfin Industrial Engineering PLC, a factory complex which the government believes supports the TPLF.
TPLF leader Debretsion Gebremichael, referring to government forces, said: "They are desperate on the war front. My interpretation is they are bombing us because they are losing on the ground and it's their reprisal. The fact that they are bombing shows they don't care about Tigrayan civilians."
Speaking to Reuters by satellite phone from an undisclosed location, Gebremichael said the strike did not hit the engineering complex, rather another private company compound, but he had no further details.
Nine civilians, including a five-year-old child, were being treated at Ayder Referral Hospital for injuries sustained in the strike, according to TPLF-run Tigrai Television.
The blast shattered the windows of Mekelle General Hospital, about one kilometre away from Mesfin Industrial, and damaged nearby homes, said a doctor at the hospital. It had received five wounded people, he said.
"Four of them were factory employees and the fifth one is a lady whose lives near the factory. Her house was destroyed by the air strike," the doctor said.
Tigrai Television posted photographs of what appeared to be plumes of billowing smoke. Reuters geolocated the images to Mekelle.
The two sides have been fighting for almost a year in a conflict that has killed thousands of people and displaced more than two million amid a power struggle between the TPLF, which controls the northern region, and the central government of Prime Minister Abiy Ahmed in Addis Ababa.
The TPLF dominated the Horn of Africa country's ruling party for decades before Abiy, who is not a Tigrayan, took office in 2018.
CONTROL OF THE SKIES
Mesfin Industrial Engineering is an equipment manufacturer and car and truck assembly plant that was part of EFFORT, a TPLF-owned conglomerate.
After war broke out last November, the government froze the company's bank accounts, saying there was evidence that it was supporting the TPLF. The company could not be reached for comment. Most communications in Mekelle are down.
Mekelle was also hit by two air strikes on Monday https://www.reuters.com/world/africa/mekelle-capital-ethiopias-tigray-hit-by-air-strikes-regional-tv-2021-10-18. The TPLF accused the government of launching the attacks. A government official initially denied the accusation but state media later reported the air force had conducted a strike.
The attacks follow intensified fighting in two other northern regions where the military is trying to recover territory taken by the TPLF, which recaptured Mekelle and most of the rest of Tigray several months ago.
In July, the TPLF pushed into the two other regions, Amhara and Afar, and several hundred thousand more people fled their homes, according to the United Nations.
Last week, after the TPLF said the military had started an offensive in Amhara, the military said that the TPLF had "opened war on all fronts", and that government forces were inflicting heavy casualties.
"The federal air strikes on Mekelle appear to be part of efforts to weaken Tigray's armed resistance, which has recently made further gains in eastern Amhara region, with fighting ongoing in some areas," said Will Davison, a senior analyst on Ethiopia at the International Crisis Group think-tank.
"Along with superior manpower, control of the skies is one of the few remaining areas of military advantage for the federal government," Davison said.
(Reporting by Addis Ababa newsroom with additional reporting by George Sargent in London and Nairobi newsroom; writing by Maggie Fick; editing by Nick Macfie, Angus MacSwan and Mark Heinrich)