Canadians need politics to take a back seat to problem-solving during COVID-19. Andrew Scheer isn't getting the message – Toronto Star
Many institutions will be changed, maybe even for the better, when the pandemic is over. The Canadian House of Commons, it seems, won't be one of them.
If the Commons was the place where we do democracy in this country, its endurance would be a bright light in what are dark days this month for so many Canadians. But the House of Commons is proving itself yet again as the place where hard-core politics gets done, even when the rest of the country is functioning as a shadow of its normal self.
Democracy is definitely an essential service. So is democratic accountability. Politics, sorry to say it, is not — especially with the country reeling on Monday from Canada's largest mass shooting, tragically, simultaneously with a public-health crisis.
Questions are necessary. Question Period is not.
It would take too long to explain how democracy, accountability and politics became unravelled in our political culture, long before Canada went into national lockdown.
But the latest proof of that unravelling has been the past few days of protracted argument over how the Commons should convene in the midst of a pandemic.
To be clear: no one was arguing against the idea that government should be accountable to the opposition, most especially when the state is intervening in the lives of Canadian citizens to an unprecedented and expensive degree. Prime Minister Justin Trudeau and his government should not be granted extraordinary powers simply because we're living in extraordinary times.
But how that accountability should take place managed to turn into yet another polarized debate between the party members that Canada put in those Commons seats only six months ago. Should they meet virtually or in person? How many times a week? What form should Question Period take? Does it matter?
Coincidentally — or maybe not — the parties split along the same lines that they did in normal times about climate change: Liberals, New Democrats, the Bloc Québécois and the Greens on one side, the Conservatives on the other. Four parties agreed on more virtual get-togethers, while the Conservatives were hanging tough for more in-person sessions, with a skeleton crew of MPs physically present in Ottawa.
"Conservatives continue to believe that frequent accountability sessions in Parliament get better results for Canadians," Leader Andrew Scheer said on Monday. "We have repeatedly demonstrated how debate, discussion and opportunities to question the prime minister and his other ministers improve government programs and policies."
Scheer has a point. It is true that opposition parties have done some worthy work on improving pandemic-relief legislation in the past month, including putting a reasonable time limit on the government's authority to spend money.
What Scheer didn't say, however, was that none of that happened because of an "accountability" session in the chamber and accompanying political theatrics. The back-and-forth between political parties on pandemic relief has been happening over the phone, or in small private meetings on Parliament Hill, far away from the cameras.
The Greens' leader in the Commons, Elizabeth May, described how it worked when the House met briefly in a rare Saturday session a couple of weeks ago. She noted that she and Conservative MP Pierre Poilievre had become particularly adept at using the dial-in technology to press the government and public servants on details of planned legislation.
"We have those daily question and answer sessions," May said. "I know that not all of us get our questions in every single day. Some of us do well."
This sounds an awful lot like democracy and accountability — all managed without theatrics and tiresome political potshots.
It's become common to describe partisans yelling past each other as "lively debate" — the noise and the nastiness shrugged off as the price of democracy.
There's a problem, though, of confusing the theatre of politics with the harder work of democracy, which is finding a middle ground amid disparate, polarized positions. The mere expression of differences isn't debate; it's just plain old shouting if it leads nowhere.
Get the latest in your inbox
Never miss the latest news from the Star, including up-to-date coronavirus coverage, with our free email newsletters
The optimists in this country are looking for ways in which this pandemic and national lockdown will teach us how to live better when we return to our previous lives: from improvements in how we treat our elderly or value our neighbourhood businesses, to the benefits of doing work online or cooking at home.
No such discussion of better ways appears to be going on in the House of Commons. As long as anyone is talking about Question Period as an essential service, with the parties locked in their same old ways, we can assume that we're going to be stuck with polarized politics long after the pandemic is over.
Stockwell Day exits CBC commentary role, corporate posts after comments about racism in Canada – CBC.ca
Former Conservative cabinet minister Stockwell Day has stepped down from his role as a commentator on CBC News Network's Power & Politics — and has left senior positions at two major companies — after making comments on Tuesday's show about racism in Canada he later admitted were "insensitive and hurtful".
"I ask forgiveness for wrongly equating my experiences to theirs. I commit to them my unending efforts to fight racism in all its forms," Day said in a tweet earlier today.
Day also notified CBC he was stepping away from his role as a commentator for the program.
Day, a former federal opposition leader and later a cabinet minister in Stephen Harper's government, was asked during a panel debate on Power & Politics to react to Prime Minister Justin Trudeau's comments Tuesday morning on protests that have swept across the U.S. following the police killing of African American George Floyd.
Trudeau's comments did not address Trump's threat to call on the military to remove demonstrators, but they did point to what Trudeau said were Canada's own problems with systemic racism.
"We have to recognize that our system is not perfect in Canada," Day said during the panel discussion. "Yes, there's a few idiot racists hanging around but Canada is not a racist country and most Canadians are not racist. And our system, that always needs to be improved, is not systemically racist."
Day went on to compare the bullying he endured as a child with the discrimination faced by visible minorities across the country.
"Should I have gone through school and been mocked because I had glasses and was called four-eyes and because of the occupation my parents?" Day asked. "Should I have been mocked for all that? No, of course not. But are Canadians largely and in majority racist? No, we are not.
"We celebrate our diversity around the world and for the prime minister to insinuate — and it is an insinuation — that our system is systemically racist is wrong."
Fellow panellists Amanda Alvaro and Emilie Nicolas pushed back against Day, challenging his assertions about systemic racism and the comparison Day made to his own experiences being bullied.
By feedback from many in the Black and other communities I realize my comments in debate on Power and Politics were insensitive and hurtful.I ask forgiveness for wrongly equating my experiences to theirs.I commit to them my unending efforts to fight racism in all its forms.

—@Stockwell_Day
That argument appears to have cost Day his position on the board of directors for Telus and his role as a strategic adviser for McMillan LLP.
"At McMillan LLP, we believe that systemic racism is real and that it can only be addressed when each of us — as individuals and organizations — commits to meaningful change," the company said in a statement signed by Teresa Dufort, partner and CEO, and posted to its Twitter account.
"Yesterday, Stockwell Day made comments during a televised interview that run counter to this view. Today, he offered his resignation as a strategic advisor at our firm and it was accepted."
Telus also issued a statement announcing that it had accepted Day's resignation from its board of directors effective immediately.
"The views expressed by Mr. Day during yesterday's broadcast of Power & Politics are not reflective of the values and beliefs of our organization," the statement said.
Jarvis: Pandemic politics – Windsor Star
Article content continued
These decisions are difficult, as McNamara wrote. And the magnitude of the responsibility? People's lives are at stake.
Yet this is public health's job, and instead of being in front, it seems to largely react.
There have been unsettling questions from the beginning, when top public health doctor Wajid Ahmed declared, as the pandemic bore down, "There is nothing that people should be worrying about."
That was followed by a heated dispute with Windsor Regional Hospital CEO David Musyj — one of three people, along with Ahmed, named to lead the pandemic response here — over testing in long-term care homes, where the pandemic had reached a crisis. The dispute led to confusion over who was being tested, when they were being tested and who was doing the testing.
Unmasking the racial politics of the coronavirus pandemic – The Conversation CA
Recently, the U.S Centers for Disease Control and Prevention (CDC) advised that along with physical distancing, wearing protective masks slows the spread of COVID-19. Canada has made a similar announcement.
Over 50 countries now mandate wearing masks in public.
While primarily a protective measure, the COVID-19 mask has also become a cultural icon. In western nations it has become a marker of social responsibility and good citizenship. It represents the wearer's compliance with public safety and communal well being through exercising care for one's self and others.
During the 2003 SARS crisis, "mask culture" was seen as fostering a sense of mutual obligation and civic duty. Similarly in our current pandemic, wearing a protective mask signifies a commitment to the social and collective good of society.
But how does that perception change when a face mask is worn by someone who is Asian? Or a Black man? Why do some jurisdictions outlaw the face veil or niqab worn by some Muslim women while mandating protective masks?
Whiteness and unearned privilege
Through European colonialism whiteness became the standard against which all other bodies are marked, judged and codified. American anti-racism educator Peggy MacIntosh argues that whiteness provides an "invisible knapsack" of unearned privileges that white people can often take for granted.
These are basic things like: going shopping and not be followed or harassed; never being asked to speak for all white people; and not having to educate one's children to be aware of systemic racism for their own daily physical protection.
The concept of white privilege can be related to how COVID-19 mask-wearing is seen differently when worn on racialized bodies.
Yellow Peril
For more than 100 years, Asians in North America have been represented as diseased foreigners and more recently blamed as "pandemic starters."
Rather than exemplifying a commitment to the public good, an abundance of pictures of Asian individuals wearing masks may have accelerated the circulation of derogatory stereotypes. Research has shown Canadian press photos related to the 2003 SARS crisis used Asians wearing masks as a dominant image. With COVID 19, the trend of using masked Asian faces as the emblem of the crisis continues the trajectory of these racist depictions.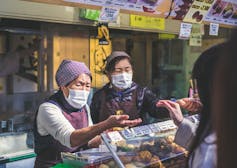 Instead of representing a good citizen helping to stop the spread of a possible contagion, a protective mask transforms Asian bodies into the source of contagion. Trump's insistence in referring to COVID-19 as the "Chinese virus" dangerously reinforced the racializing of this disease.
---


Read more:
Anti-Asian racism during coronavirus: How the language of disease produces hate and violence


---
Anti-Asian hate crimes including physical and verbal assaults and vandalism have escalated along with the pandemic.
A recent report told a story of a woman in British Columbia who was accosted by two white men who yelled at her and her mother: "Look at you with your masks, you're what's wrong with society."
The risk of such attacks and harassment confronts Asian diasporas with a difficult choice: wear a mask and risk being subjected to violence or do not and bear the risk of contracting the virus.
Mask-wearing while Black
A Black physician in Boston wrote about his internal struggle with wearing a mask in public because of the racist fears it evokes. He said: "I wonder whether someone would call the police on me, a 'suspicious' Black man in a face mask. I negotiate with myself whether risking my life is worth a $300 fine."
He has reason to worry. A Black doctor in Miami wearing a surgical mask was handcuffed outside his home by police.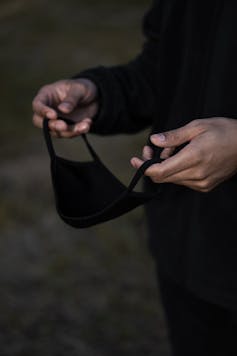 The killings of Ahmaud Arbery and George Floyd in the United States are tragic events that reveal the very real dangers Black people face on a daily basis. And yet in early May, heavily armed, white protesters stormed the Michigan State capitol without incident.
A campaign spearheaded by a Black clergy in Illinois in co-operation with local police, called "Tipping the Mask," asked people to show shopkeepers their faces when entering stores to mitigate against potential racial fears and violence.
A Black pastor recommended that his son put on his mask once he is already in the store for "fear of what others might think when they see a Black man in a mask."
The concept of "mask tipping" calls upon racialized bodies to reveal themselves as "safe" and in return avoid biases and endangerment.
Islamophobia and government hypocrisy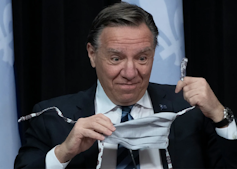 In Québec, Bill 21, which outlaws religious symbols in public, leaves Muslim women who wear a niqab in breach of the law and denied access to social services, despite government requests for public face coverings due to the pandemic.
France also mandates wearing masks but has not lifted its ban on the niqab. Fatima Khemilat, a researcher in France exposes the irony.
"If you are Muslim and you hide your face for religious reasons, you are liable to a fine and a citizenship course where you will be taught what it is to be a good citizen …. But if you are a non-Muslim citizen in the pandemic, you are encouraged and forced as a 'good citizen' to adopt 'barrier gestures' to protect the national community."
Muslim women who wear a niqab are not considered good liberal citizens because their covered faces are deemed culturally irreconcilable with western society. They face being penalized for violating the law while those wearing COVID-19 masks are seen as good citizens upholding the public good.
The COVID-19 mask is a barrier to transmission of the virus while the niqab is a barrier to social inclusion.
Not having to think about how one's body is read by others when wearing a mask is a privilege of whiteness that eludes racialized groups. White mask privilege includes: not having to bear the racial stigma of being seen as a foreign disease carrier, being safe whether or not you "tip your mask," having the ability to cover your face in public and not be denied social services.
Rather than serving as a levelling device the cultural politics behind wearing masks exposes the racial fault lines of the pandemic.