Canadians' trust in the news media hits a new low – The Conversation Canada
According to the Reuters Institute's 2022 Digital News Report, trust in the Canadian news media has sunk to its lowest point in seven years.
The study, produced by the Reuters Institute for the Study of Journalism at the University of Oxford, has found that trust in the news has dropped 13 per cent since 2016. Only 42 per cent of Canadian respondents trust "most news, most of the time," a slight drop from last year's 45 per cent.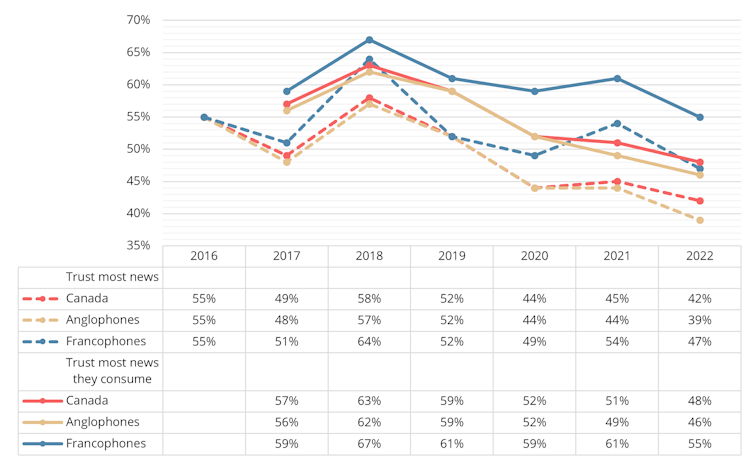 Like previous years, the study found that francophones are more trusting of the news and news sources than anglophones, although both groups are less trusting of the news than ever before.
The study also showed that age is a major factor in how much respondents trust the news, with higher trust among respondents aged 35 or older than for younger adults. This finding is consistent with past research. Young people tend to consume news less in general, and are more reliant on social media and other digital platforms for information.
Media independence
English-speaking Canadians expressed lower confidence this year in the news media's independence from both political and commercial influences. On the other hand, francophones' beliefs in media independence remain stable compared to previous years.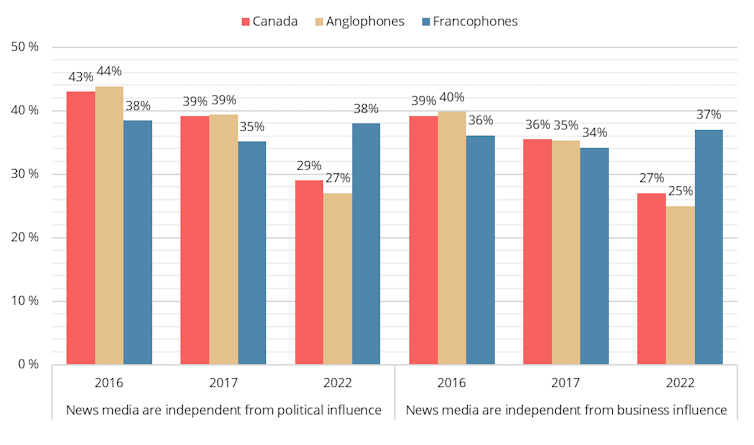 Anglophones who identify with the political right are more likely to be skeptical of the media's independence. In addition, half of Canadians consider mainstream news organizations to be politically close to each other. Among those who consider news outlets very close, only 21 per cent trust the news.
Although the question was added to measure public perceptions of polarization in the media landscape, this finding instead suggests that perceived lack of diversity in media ownership and perspectives is one of the many causes of distrust.
Consumption habits reflect these negative views: the number of people who actively avoid the news, at least occasionally, has grown to 71 per cent from 55 per cent in 2017.
The most cited reasons people have been avoiding the news lately include experiencing negative mental or physical health impacts, too much news about subjects like politics or COVID-19 and being worn out by the amount of news available.

More people paying for news online
The study offers some silver linings for news organizations. Two years ago, the Digital News Report found that more Canadians were paying for news online. That number is now at its highest since 2016. This is promising for the future of independent and grassroots media.
Canadians paying for news are also more likely to subscribe or donate to more than one news source. Many Canadians expect their online media subscriptions to increase, rather than decrease. Still, more than half said their media subscriptions will probably stay the same.
However, subscriptions to online news services still remain much less popular than entertainment platforms such as television or music streaming services, podcasts, audio books and sports.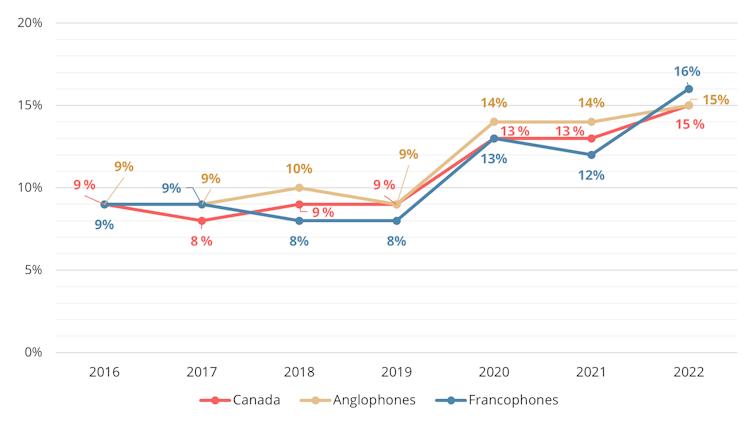 Journalism in times of crisis
Although the survey was conducted during a time of crisis in January and February — during the Ottawa "freedom convoy" protests — most of the report's findings follow multi-year trends and are consistent with global results of the Digital News Report.
It's possible that government support programs for news media, such as federal tax credits, are linked to the more negative perceptions about the media.
To be sure, these funding programs have allowed the Canadian news media much-needed breathing space to recover financially, in addition to a boost in advertising revenue during the pandemic.
But they have also generated criticism and fuelled concerns regarding journalistic independence.
Media regulation
Governments are becoming increasingly active in regulating digital media ecosystems and supporting local journalism to protect democracies from disinformation and misinformation.
The Russian invasion of Ukraine, which began shortly after this survey was completed, has intensified pressures in this regard because of the rampant misinformation about the invasion on social media.
During this time of disruption and transformation, surveys like the Digital News Report contribute to our understanding of the relevance and legitimacy of professional news sources from the public's point of view. Evidence-based analysis of evolving consumption and attitudes of news users can support the development of public policy along with better journalism practices.
Vancouver woman wins identity fraud fight with Bell Mobility after posting on social media
It's been four blissfully quiet days since Erica Phillips last heard from the collection agencies ringing her two or three times daily for months, demanding payment of hundreds of dollars owed on a Bell Mobility account with her name on it that she never opened.
"It's a huge sense of relief," she said. "It's so nice knowing that this won't continue being a daily reminder of something that shouldn't have been my problem to begin with."
The Vancouver woman says she has been fighting the company for more than two years with little response, submitting documents supporting that the account was fraudulently opened using her name while at the same time filing reports with police, credit agencies and the Canadian Anti-Fraud Centre.
She says relief from the collection calls only came after she contacted news outlets and posted about her frustrations on social media.
"I took all of the correct avenues," she said. "I didn't want to make myself public but I felt like I was forced to," she said.
Phillips' ordeal started in 2020 when she received notices mailed to an old address from both Rogers and Bell Mobility that said she owed money. She says she had never been a client of either company, so she thought they were a phishing scam. Further investigation found that identity fraudsters had used her personal information to open the accounts in her name.
She says Rogers took quick action to cancel the account when she contacted them, but Bell Mobility did not.
"That's what seemed so insane to me at the beginning, that it was so easily taken care of with one of the companies and then not at all with the other," said Phillips.
In an emailed statement, Bell Mobility told CBC:
"We have conducted an investigation and have determined that this account was fraudulent. We are attempting to contact the client and have advised our affiliated credit agencies of the billing error."
The Consumer Protection B.C. website has information on how to prevent identity theft. It also has forms and advice for individuals who are being pursued by a company or collection agency for a debt that is not theirs.
Identity fraud and identity theft are criminal offences, but have become lucrative thanks to the growth of technology, according to the Office of the Privacy Commissioner of Canada.
In 2021, the Canadian Anti-Fraud Centre issued an alert after a spike in identity fraud reporting.
"Fraudsters are using personal information about Canadians to apply for government benefits, credit cards, bank accounts, cellphone accounts or even take over social media and email accounts," it said.
Phillips says in just one night her social media post received more than 100,000 views. She's been surprised by the number of people who have reached out to her to say they too have been victims of identity fraud.
"It's unbelievable the comments that I'm getting on all of the various stories now of people in similar situations," she said. "It's crazy."
She says Bell Mobility has not apologized.
Lawler pays tribute to Edmonton on social media, says goodbye to Elks ahead of CFL free agency
He was the Edmonton Elks' superstar free agent signing last year, but with one week to go until the next CFL free agency period begins, receiver Kenny Lawler announced on social media that he plans to leave Alberta's capital.
"Thank you so much for allowing me to represent this city and this amazing organization," the 28-year-old football player said in an Instagram post on Tuesday. He said his family was grateful for their brief time in the city.
"Everyone we crossed paths with helped make this transition easy as possible for us."
Last off-season, the Elks signed Lawler to a one-year contract worth a reported $300,000, making him the highest paid player in the CFL who was not a quarterback.
Citing an anonymous source, The Canadian Press reported Tuesday that the receiver who hails from California has agreed to a deal in principle with the Winnipeg Blue Bombers.
CFL contracts cannot officially be agreed to until Feb. 14, when free agency officially begins. However, once the reported two-year deal is officially announced, it would mark Lawler's return to Manitoba where he began his electrifying CFL career in 2019.
While playing for Winnipeg, Lawler helped the Bombers win Grey Cups in 2019 and 2021. In his only season with the Elks, Lawler managed to tally 58 catches for 894 yards and five touchdowns before undergoing season-ending shoulder surgery.
The 2022 season for the Elks was a difficult one. The club went 4-14 as it continues to rebuild since losing key players like quarterback Mike Reilly in 2019. Lawler said despite the challenging season with the Green and Gold, he was grateful for the competitive spirit the coaching staff maintained.
"Though we fell short, you all were never compromised in getting us to settle for nothing less than the goal we set out to achieve," Lawler said, adding he will miss the teammates he played with and that he has "gained relationships this year that I know will last a lifetime."
–With files from Dan Ralph, The Canadian Press
Media braces for the robot era
The rapid rise of generative AI tools like ChatGPT could displace dozens of media companies if they don't move quickly to adapt to a new internet reality.
Why it matters: Facebook's many pivots pushed media outlets to move their focus away from social media and toward search — but now experts predict another major disruption for publishers relying on search traffic.
"It's an undoing of the robotic behavior with which we were already committing journalism, because it's questionable whether writing about National Donut Day really served anybody," said S. Mitra Kalita, a former CNN executive who has co-founded two new local media companies, Epicenter NYC and URL Media.
"In some ways, the work we were doing towards optimizing for SEO and trending content was robotic. Arguably, we were using what was trending on Twitter and Google to create the news agenda. What happened was a sameness across the internet."
Driving the news: BuzzFeed last week said it is using OpenAI's publicly available software, which is similar to the popular generative text site ChatGPT, to automatically publish quizzes, beginning this month.
"To be clear, we see the breakthroughs in AI opening up a new era of creativity that will allow humans to harness creativity in new ways with endless opportunities and applications for good," the company's CEO, Jonah Peretti, said in a memo to staffers.
BuzzFeed doesn't plan to use AI to write journalistic articles, which seems to be a line that most publishers aren't eager to cross.
But figuring out the right balance when using AI won't be easy, as was made obvious by CNET's AI mea culpa last month.
The CEO of Dotdash Meredith, a rival to CNET's parent Red Ventures, told Axios last month that the firm "will never have an article written by a machine," but it has already begun to bake AI into many of its workflows, like sourcing images.
Be smart: The past few years gave rise to a slew of successful digital media companies that focused on monetizing search traffic, while social media-reliant publishers struggled to adapt.
But the content that has done well on search, such as evergreen articles that help people answer questions or provide recommendations, is poised to be challenged by artificial intelligence.
"The most immediate impact of AI is probably that it becomes an efficiency tool," said Brian Morrissey, former president and editor-in-chief of Digiday and author of a Substack newsletter on media called The Rebooting.
The big picture: Decades of constant pivots at the hands of Big Tech firms had media executives losing sight of which audiences they aimed to serve to begin with, Kalita noted.
ABC chief legal correspondent and media entrepreneur Dan Abrams said his media industry news site Mediaite began seeing record engagement once it started to push away from social media and search distribution.
The thinking has changed from "find the SEO angle" or "find the Facebook angle" to "find the Mediaite angle, and a large, loyal audience has followed," Abrams said.
Around 16% of the site's pageviews in 2022 came from homepage traffic, Abrams said.
What's next: As search-based content becomes more commoditized, media brands will need to pivot towards serving specific audiences, rather than the masses.
"You're going to have to get even more specialized as a publisher," Morrissey said.
Bottom line: "Trying to compete on efficiency with robots never works, they always win," Morrissey said.