Canadians unapologetic after thrashing Germany in world junior opener – Sportsnet.ca
EDMONTON — Canada had 19 first-round draft picks in its lineup. Germany had 14 skaters — period.
When it was over, Canada had 16 goals. Germany had two.
"We gave up, in a way," German head coach Tobias Abstreiter said.
"It could have been 200-1 — it's not about that," Canadian head coach Andre Tourigny said.
The one thing we can all agree on? "It does suck for them, that's for sure," said Canadian Dylan Cozens, who had a hat trick and six points.
Here are our takeaways on a blowout win for Canada in its opener at the 2021 World Junior Hockey Championship, as the team opened the 2021 World Juniors with a goal differential of plus-14. Bring on the tie-breakers!
Early and Often
Canada scored 1:54 into the game. They scored at 19:59 of the first period, at 19:51 of the second, and notched 14 consecutive goals between German snipes.
Germany, decimated by COVID-19 quarantines, dressed just 14 skaters. They eschewed an offer by the IIHF to delay the Canadian game to another day, because they would rather save the off day for games against Slovakia and Switzerland later in the week — when the Germans will start getting players back from quarantine. In short, Germany knew they weren't going to win this game, and they played like it.
"This happens when you are not mentally and physically ready to play at this level, with this intensity and speed. This is the result," Abstreiter said. "We had no tools, no battle level — nothing — to set anything against Canada's strong game."
Basically, the German players realized what they were up against, and gave in to the reality of their situation.
"There were only one or two players who were able to play physically strong," the German coach said. "All the others, I would say, they could not keep up with these battle levels. We gave up, in a way. And this is what I can not accept."
You'd think, with period scores of 4-1, 11-1 and 16-2, that the Canadians might have taken their foot off the gas. Well, think again.
"It could have been 200-1 — it's not about that," Tourigny said. "It's about us preparing our team … to move forward in the tournament. It's not about the score. It's about how you play.
"We have no time to waste, to take a step back. Going out there and taking on bad habits."
It's funny, isn't it? At times like these, the hockey rink is where Canadians are the least "Canadian."
Then again, you have to remember: Canada spent two weeks in a Red Deer quarantine themselves. They only have so many periods of hockey to find their best game, and those elimination games will arrive sooner than you think.
"It's our first game of the tournament," Cozens said. "We've got to establish our good habits and play the right way. Just because we're up by a lot, we're not going to change the way we play. We want to pretend like it's still a close game and keep those good habits going."
Cozens, named Canada's best player, did have some space in his heart for a German team that didn't have a prayer on Saturday.
"It's a tough spot they're in," he admitted. "We know how it felt when you're just out of quarantine, how your lungs and legs felt. It does suck for them, for sure."
Coach Speak
Tourigny was unapologetic about the 16-2 rout, and after laying down some platitudes about how well their opponents played, he cut to the chase when asked about whether Canada should have called off the dogs at some point.
"We need to have the right habits," said the Canadian coach, whose team meets Slovakia on Sunday. "It's was not about pushing the pace, or trying to embarrass anybody. It was about playing the right way. We're not a team who played 15 games together, or 30 games before the (training) camp.
"Most of our guys (had) four intrasquad games, one pre-competition, and one competition game. It's not like we have the looks to say, 'Hey, we can play a different style.' Or, 'We can let it go today.' No, we need to get better."
Deutchland Danglers
A little history: Canada is now 15-0 at the World Juniors against Germany — not West Germany, but Germany — but the Germans have caused Canada more trouble than you might think.
There have been two World Juniors played in Germany. Canada finished seventh in 1981, and sixth in 1992, when Eric Lindros joined the team after its training camp. That was the final time that Hockey Canada would sanction a player parachuting in right before the tournament. It was a disaster.
But it was a 7-6 loss to the team from West Germany back in 1981 that prompted then Canadian Amateur Hockey Association head Murray Costello to play a major role in forming the Program of Excellence, and reshaping our national junior team into what it is today.
"When Germany beat Canada, with Dale Hawerchuk on the team, I thought, 'That's just not fair to him, and it's not fair to Canada,'" Costello said in my book, Road to Gold — The Untold Story of Canada at the World Juniors. "It cast him in a bad light and it was unfair to him. He was a quality player, and everyone knew he was. I thought, 'We have to do something.'"
Costello convinced the head of the three junior leagues to give him their best players for a summer training camp, then another one in mid-December, and the rest, as they say, was history.
Thank you, West Germany.
Canadiens @ Canucks: Game thread, rosters, lines, and how to watch – Habs Eyes on the Prize
How to watch
Start time: 10:00 PM EST / 7:00 PM PST
In the Canadiens region: TSN2 (English), RDS (French)
In the Canucks region: Sportsnet Pacific
Streaming: NHL.tv/NHL Live, RDS Direct, Sportsnet Now, TSN Direct
It was a difficult off-season for the Vancouver Canucks, losing their starting goaltender, Jacob Markstrom, and a key offensive player, Tyler Toffoli, from the roster — and to teams now within their own division, no less. The decisions by those free agents to move on has led to a watered-down lineup that has some proper weapons at the top, then some members who would have a difficult time cracking opposing rosters.
Vancouver's loss was Montreal's gain, adding Toffoli to play on a third line that has all the hallmarks of a second. He only has one point on the season so far, but that's worse news for the Canucks than it is for the Canadiens because he has been getting his chances, and will be eager to start converting them versus his former team.
After getting a rare night of rest on Monday, Carey Price is back between the pipes for the first of what will probably be two games of this three-game series. He had an exceptional game versus the Oilers on Saturday, and will be called upon by the likes of J.T. Miller, Elias Pettersson, and Quinn Hughes as the Canucks try to put a 1-3 start behind them.
Montreal Canadiens projected lineup
Forwards
| Left Wing | Centre | Right Wing |
| --- | --- | --- |
| Left Wing | Centre | Right Wing |
| #90 Tomas Tatar | #24 Phillip Danault | #11 Brendan Gallagher |
| #92 Jonathan Drouin | #14 Nick Suzuki | #17 Josh Anderson |
| #73 Tyler Toffoli | #15 Jesperi Kotkaniemi | #40 Joel Armia |
| #41 Paul Byron | #71 Jake Evans | #62 Artturi Lehkonen |
Defencemen
| Left Defence | Right Defence |
| --- | --- |
| Left Defence | Right Defence |
| #8 Ben Chiarot | #6 Shea Weber |
| #44 Joel Edmundson | #26 Jeff Petry |
| #77 Brett Kulak | #27 Alexander Romanov |
Goaltenders
| Starter | Backup |
| --- | --- |
| Starter | Backup |
| #31 Carey Price | #34 Jake Allen |
Vancouver Canucks projected lineup
Forwards
| Left Wing | Centre | Right Wing |
| --- | --- | --- |
| Left Wing | Centre | Right Wing |
| J.T. Miller | Elias Pettersson | Brock Boeser |
| Tanner Pearson | Bo Horvat | Nils Hoglander |
| Antoine Roussel | Adam Gaudette | Jake Virtanen |
| Tyler Motte | Jay Beagle | Brandon Sutter |
Defencemen
| Left Defence | Right Defence |
| --- | --- |
| Left Defence | Right Defence |
| Quinn Hughes | Travis Hamonic |
| Alexander Edler | Jalen Chatfield |
| Nate Schmidt | Tyler Myers |
Goaltenders
| Starter | Backup |
| --- | --- |
| Starter | Backup |
| Braden Holtby | Thatcher Demko |
Draisaitl scores winner, Oilers down Maple Leafs – TSN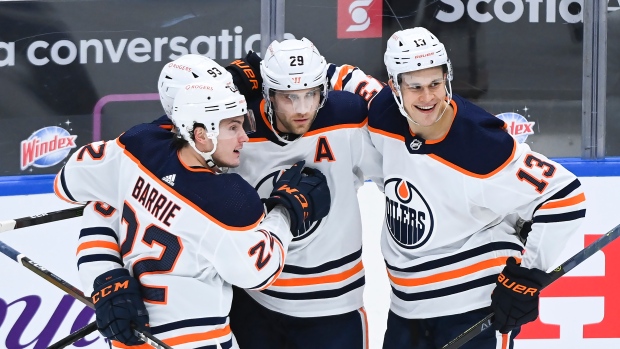 TORONTO — A mouth-watering matchup featuring some of hockey's most gifted players fell far short of expectations Wednesday.
And that suited the Oilers just fine.
Leon Draisaitl scored the winner on a third-period power play as Edmonton defeated the Toronto Maple Leafs 3-1 on a night where two offensive juggernauts largely cancelled each other out.
"Sometime the boring games are the most solid," Draisaitl said after burying his first of the season to help snap a two-game slide. "We were very solid for 60 minutes … that's a huge win.
"That's more the way we want to play."
Kailer Yamamoto was credited with the opening goal for the Oilers (2-3-0), who were coming off consecutive home losses to the Montreal Canadiens, when the Leafs fumbled the puck into their own net in the first. Mikko Koskinen made 25 saves to get the win, while Josh Archibald scored into an empty net with 1:06 left in regulation.
Auston Matthews replied for Toronto (3-2-0), which got 19 stops from Frederik Andersen.
Correctly billed as a battle of superstars between Matthews and Oilers captain Connor McDavid, one of the only positives from a neutral's perspective was the fact no fans paid for tickets inside an empty Scotiabank Arena because of COVID-19 protocols.
"I think both teams watched the pre-scout and were just trying to key in on the top guys," Matthews said. "It was a pretty uneventful game. Not really much going on.
"Not really expected, but we've got to do a much better job creating."
Edmonton and Toronto will go back at it again Friday in the second of nine North Division meetings between the clubs in the NHL's 56-game abbreviated schedule. Matthews said while the Leafs mostly contained McDavid and Draisaitl — no slouch himself as the reigning Hart Trophy and Art Ross Trophy winner — at 5 on 5, that shouldn't mean sacrificing their own offensive identity.
"Obviously we key in on those two guys," said the Leafs centre, who spent some of the off-season training with McDavid in Arizona. "They're extremely dangerous — two of the top players in the world — but we can't get away from our game. We've got to go out there and play our game and try to produce offence. We've got to play to win, not play to contain two guys.
"We were just too safe."
Draisaitl snapped a 1-1 tie on the man advantage at 9:12 of the final period with Jake Muzzin in the penalty box for tripping when Ryan Nugent-Hopkins' initial shot hit Edmonton's Jesse Puljujarvi in front.
The goal snapped an 0-for-12 streak for a power play that led the league with a success rate of 29.5 per cent in 2019-20 before the season was halted by the pandemic.
"Maybe that's the bounce that we needed," Draisaitl said. "Maybe that's one we deserved."
Toronto wasn't able to do much in response before Archibald fired his first into an empty net.
"We're frustrated with the way we started the season," Draisaitl added. "That's a very good team over there — very skilled, very dangerous. Letting up one goal against a team like that, that's always a success."
Trailing 1-0 through 40 minutes, the Leafs evened things up at 6:44 of the third when Matthews outmuscled Zack Kassian in the corner before firing shortside for his second on Koskinen.
Toronto once again dressed 11 forwards and seven defencemen, but was left with just 10 skaters up front when Joe Thornton took a hit from Archibald and headed to the locker room with what looked like an arm or wrist injury early in the period.
Head coach Sheldon Keefe said post-game it appears the 41-year-old "will definitely miss some time."
The Leafs came in feeling good about themselves after consecutive victories over the Ottawa Senators and Winnipeg Jets, while the Oilers were in a different frame of mind following those losses to Montreal to close out their four-game homestand to open the season.
Playing its first road contest since March 5, Edmonton grabbed a 1-0 lead at 10:42 of the first on a strange own goal. After the Leafs couldn't get out of their zone, Yamamoto fed a pass from behind Andersen's net that Toronto winger Jimmy Vesey intercepted before accidentally firing a clearing attempt in off Muzzin for Yamamoto's second of the campaign.
The Leafs held the Oilers to just three shots in the period, but Andersen had to be sharp with a pad save on Alex Chiasson late to keep the deficit at one.
Edmonton's power play — which went 0 for 10 and gave up two short-handed goals in those losses to Montreal — got two chances in the second, but continued to struggle with former Leafs defenceman Tyson Barrie quarterbacking the first unit in place of the injured Oskar Klefbom.
Toronto blue-liner T.J. Brodie then blasted a one-timer late in the period that hit Koskinen, struck William Nylander in front and dribbled just wide.
The Leafs got their second man advantage off that sequence when McDavid, who scored a highlight-reel goal that even brought Wayne Gretzky out of his seat to put a bow on Edmonton's 6-4 victory in Toronto last January, was whistled for hooking.
Wayne Simmonds fired a shot looking for a tip from Mitch Marner that hit the post before Matthews flubbed one attempt and saw Koskinen snag another with his glove inside the empty rink.
"It was a strange game," Keefe said. "It was the first game that felt like a game with no fans.
"Being on the bench, it just felt like one of those nights where you try and get something going. We didn't feel like we ever really got there."
Notes: Puljujarvi's assist on the winner was his first NHL point since Jan. 19, 2019, after spending all of last season in Finland. … The Oilers head to Winnipeg for two following Friday's game before hosting the Leafs on Jan. 28 and 30. … Toronto opens a four-game Alberta road trip Sunday and Tuesday in Calgary.
This report by The Canadian Press was first published Jan. 20, 2021.
___
Follow @JClipperton_CP on Twitter
Blue Jays officially sign reliever Kirby Yates to one-year contract – Sportsnet.ca
The Toronto Blue Jays have officially signed reliever Kirby Yates to a one-year contract worth $5.5 million.
Yates appeared in six games with the San Diego Padres during the 2020 shortened season before having surgery in August to remove bone chips from his pitching elbow.
During the 2019 season, the 33-year-old recorded an MLB-high 41 saves, walked only 13 batters and struck out 101 through 60.2 innings. In seven seasons with the Padres, Tampa Bay Rays, New York Yankees and Los Angeles Angels, Yates has a career 3.54 ERA and 400 strikeouts through 282.1 innings.