Cargojet CEO says inflation, labour shortages suggest 'almost recessionary economy' – Financial Post
2022 'very different picture' for freight carrier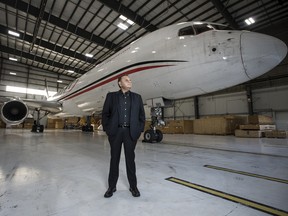 Article content
Cargojet Inc. chief executive Ajay Virmani said fuel prices and labour challenges suggest a recession is looming.
Article content
"All the challenges that you see out there [are] pointing towards almost a recessionary economy," he said in an interview with the Financial Post's Larysa Harapyn.
Virmani has a unique sightline on what's happening in the economy. Cargojet had a good crisis, as the Mississauga, Ont.-based airline tripled its loads as consumers started ordering goods for delivery that they typically would have purchased at a store. Year-over-year revenue growth increased by 46 per cent in the quarter ended March 31, rising to $233.6 million from $160.3 million in the first quarter of last year.
Despite beating earnings expectations, Virmani said that business has levelled off since 2021. "That was a bit of a different story," he said. "Today, it's a very different picture."
Article content
The once-fluid supply chain has faced numerous disruptions, including blockades, floods, and shortages. The chaos of the past couple of years has generated debate about whether supply chains will be shortened, as manufacturers and retailers seek suppliers closer to home to reduce the risk of being left with empty storerooms in the future.
Virmani said he isn't seeing that yet. But he is seeing firsthand the extreme labour shortages that have come with the recovery from the COVID recession.
"Our biggest challenge right now is making sure that we can have people on the ground," said Virmani. "Inflation is a big factor, especially when you have wage rates go up 20 to 30 per cent to find any decent people to work."
Canada's inflation rate hit a new 31-year high of 6.8 per cent in April from a year earlier. Wages have also jumped as firms try to retain staff in the country's tight job market.
Article content
"Everybody's increasing prices," said Virmani. Examples of recent price hikes in the airline industry include airport landing and parking fees, NAV Canada navigation charges, and jet fuel prices.
Passing on inflationary costs has been tricky for Cargojet because many of its customers have locked-in contracts.
"You're not able to pass on 100 per cent of those charges," said Virmani. "It's kind of hard to jam through every area of increase to your customers because there's no ability for them to pass [it] on either," said Virmani."
Cargojet has been branching out into the international market as part of its growth strategy in the post-pandemic world.
"I've always said that Cargojet needs to diversify," said Virmani. "We have the infrastructure in place, we have the resources in place, so basically we had to get some planes and people to fly them."
Article content
The airline used to be primarily domestic – 80 to 90 per cent of its business, Virmani said – when it launched in 2001. Its business has since evolved, and domestic orders now account for only 50 per cent of business, the CEO said.
"It's like McDonalds. They used to serve you lunch and dinner and they added breakfast to their menu," said Virmani. "We have added sort of our version of breakfast which is international to the menu."
Air Canada recently expanded its fleet with the acquisition of new freighter aircrafts. But Virmani said it has done little to change the playing field for Cargojet.
Article content
"International is a big market," he said. "We've got a business plan and we're going to execute it."
At home, Virmani said Cargojet is shielded from Air Canada and other competitors because few have been in the business for as long as he has. Cargojet has taken over 20 years to build its network in the Canadian market, and that has value, the CEO said.
"There's a cargo pedigree. There's a cargo system in place. Minutes matter and I don't think that anybody who wants to expand in that market field will have great luck," said Virmani. "You have got to spend a lot of money, or you have got to spend a lot of time on it – and we've done both."
• Email: novid@postmedia.com
US-China Relations Thaw With Groups to Discuss Economic, Financial Issues – Bloomberg
We use cookies and data to
Deliver and maintain Google services
Track outages and protect against spam, fraud, and abuse
Measure audience engagement and site statistics to understand how our services are used and enhance the quality of those services
If you choose to "Accept all," we will also use cookies and data to
Develop and improve new services
Deliver and measure the effectiveness of ads
Show personalized content, depending on your settings
Show personalized ads, depending on your settings
If you choose to "Reject all," we will not use cookies for these additional purposes.
Non-personalized content is influenced by things like the content you're currently viewing, activity in your active Search session, and your location. Non-personalized ads are influenced by the content you're currently viewing and your general location. Personalized content and ads can also include more relevant results, recommendations, and tailored ads based on past activity from this browser, like previous Google searches. We also use cookies and data to tailor the experience to be age-appropriate, if relevant.
Select "More options" to see additional information, including details about managing your privacy settings. You can also visit g.co/privacytools at any time.
U.S., China agree to forge new economic, financial dialogues
The working groups will hold regular direct meetings for "frank and substantive discussions on economic and financial policy matters," the Treasury statement said. It added that the dialogues would also include and "exchange of information on macroeconomic and financial developments."
The high-level meetings will be led by Yellen on the U.S. side. China's economic czar, Vice Premier He Lifeng, will oversee the work led by different agencies in Beijing. U.S. Treasury officials will hold dialogues for the economic working group with Beijing's Finance Ministry, while the financial talks will take place with representatives from China's Central Bank.
The new dialogues are part of broader efforts by the White House to reestablish communication channels between Washington and Beijing on a range of geopolitical, security and economic matters following talks between President Biden and Chinese President Xi Jinping in Bali last year. Those efforts have been hampered by hot-button issues, including the discovery of a Chinese spy balloon over the continental United States in February and rolling U.S. trade restrictions aimed at limiting Beijing's access to U.S. technology.
Nonetheless, the two sides have made strides this year. After abruptly canceling a visit over the spy balloon furor, Secretary of State Antony Blinken traveled to Beijing in June. Yellen's visit in July was followed by Commerce Secretary Gina Raimondo's in August, where she announced that the two sides had agreed to hold an official ongoing dialogue on commercial issues, beginning in early 2024, drawing in individuals from the private sector with the aim of resolving issues over U.S. commercial access to the Chinese market.
The new dialogues agreed to by Yellen and He appear to have a broader scope, but it is unclear how often the meetings will take place. In Friday's statement, the Treasury Department said they would happen at a "regular cadence." Chinese official media released a brief statement confirming the establishment of the working groups that was sparse on detail, but said the group plans to hold "regular and irregular" meetings.
"These Working Groups will serve as important forums to communicate America's interests and concerns, promote a healthy economic competition between our two countries with a level playing field for American workers and businesses, and advance cooperation on global challenges," said Yellen in a statement posted on X, the site formerly known as Twitter, on Friday following the Treasury Department announcement.
Regular high-level economic dialogues between Treasury officials and Beijing were mostly dismantled in 2017, when the Trump administration began implementing sweeping tariffs, trade restrictions and sanctions against Beijing — many of which have remained in place or been extended under the current administration.
Before Yellen's visit in July, no U.S. treasury secretary had visited Beijing since 2019, when then-Secretary Steven Mnuchin and a team of negotiators conducted limited talks following a total breakdown in discussions months before.
While the new working groups signal a thawing in the economic relationship, communication between the two sides remains fragile. Beijing routinely expresses skepticism of U.S. commitments and has accused officials in Washington of failing to follow through on high-level discussions. Officials in Beijing maintain that the United States has arbitrarily broadened trade and economic restrictions to contain China's economic growth under the guise of national and economic security.
Most recently, Beijing accused the United States of ongoing economic "bullying" after Biden in August signed an executive order to establish a screening mechanism for outbound investments and to restrict U.S. investment in advanced Chinese technologies, including semiconductors.
"President Biden committed to not seeking to 'decouple' from China or halt China's economic development. We urge the U.S. to follow through on that commitment, stop politicizing, instrumentalizing and weaponizing tech and trade issues," said Chinese Foreign Ministry spokesman Wang Wenbin following the August announcement.
Yellen and other U.S. officials have sought to push ahead with efforts to reopen channels of communication, while warning that the Biden administration will continue to take targeted actions to protect U.S. national security.
"It is vital that we talk, particularly when we disagree," said Yellen in her statement on X on Friday.
Net zero: Will Rishi Sunak's changes to climate policies save money?
LONDON — Amid growing international criticism, British Prime Minister Rishi Sunak has defended watering down key U.K. climate policies.
In a press conference Wednesday, Sunak announced a series of major U-turns on climate policies, including delaying by five years the target to ban sales of new gas and diesel cars — which will now come into force in 2035 rather than 2030 — and a nine-year delay on phasing out gas boilers, which will now come into force in 2035.
Sunak insisted he was not slowing down efforts to combat climate change. But his government's own climate adviser called the prime minister's assertion that the U.K. would still succeed in meeting its 2050 net-zero target "wishful thinking."
Sunak said the changes were about being "pragmatic" and sparing the British public the "unacceptable cost" of net-zero commitments.
His home secretary, Suella Braverman, told the BBC that the Conservative government was "not going to save the planet by bankrupting British people."
The government's Climate Change Committee — independent advisers on cutting carbon emissions — estimates that meeting Britain's legally binding goal of reaching net zero by 2050 will require an extra $61 billion of investment every year by 2030.
But the committee has said that once the savings from reduced use of fossil fuels are factored in, the overall resource cost of the transition to net zero will be less than 1% of GDP over the next 30 years. By 2044, the committee has said, breaching net zero should become cost-saving, as newer clean technologies are more efficient than those they are replacing.
Criticism at home and abroad
Sunak's overhaul of his green targets has been met with criticism at home and internationally.
Former U.S. Vice President Al Gore described the changes as "shocking and disappointing" and "not what the world needs from the United Kingdom."
Some in the prime minister's own Conservative Party warned that the changes risk damaging Britain's reputation as a global leader on the climate.
Sunak decided not to attend the United Nations Climate Summit in New York this week, making him the first British prime minister to miss a U.N. General Assembly in a decade.
Former Conservative minister Alok Sharma, who chaired the 2021 COP26 U.N. Climate Change Conference in Glasgow, told the BBC Wednesday's announcement had been met with "consternation" from international colleagues.
"My concern is whether people now look to us and say, 'Well, if the U.K. is starting to row back on some of these policies, maybe we should do the same,'" he said.
In the U.K., Sunak's announcement prompted a backlash from climate activists, car manufacturers and the energy industry.
In a statement, U.K. Ford chair Lisa Brankin said, "Our business needs three things from the U.K. government: ambition, commitment and consistency. A relaxation of 2030 would undermine all three."
And the chief executive of one of Britain's largest energy suppliers, Eon UK, said the move was a "misstep on many levels."
Sunak's pivot occurs as extreme weather due to climate change is growing more frequent
Sunak said the announcement was part of his desire for a more "honest debate" about what reaching net zero will actually mean for the British public.
But he has come under criticism from the British media for claiming to scrap measures that some have pointed out never existed as formal government policy in the first place, such as taxing meat and requiring households to have seven different waste and recycling bins. (The government had previously said it wanted to standardize waste collection in England, although the plan was subsequently delayed and never became policy).
Political analysts say Sunak's gamble marks a shift for the prime minister, who has spent his first year in office largely steadying the ship after the tumultuous governments of his predecessors Liz Truss and Boris Johnson. With a general election coming up next year, they say, Sunak has chosen net zero as a dividing line.
Sunak's pivot away from more aggressive action on global warming occurs as extreme weather is becoming more frequent and more intense around the world, including the U.K., because of the effects of climate change. Scientists say this will continue as long as humans continue to emit planet-warming greenhouse gases.
In the U.K., temperatures hit 40 degrees Celsius (104 degrees Fahrenheit) for the first time on record in July 2022. The World Weather Attribution network says this would have been "basically impossible" without climate change.
During this week's climate summit in New York, London Mayor Sadiq Khan said the capital faced what he called the "incredibly worrying" prospect of seeing 45-degree Celsius (113 degrees Fahrenheit) days in the "forseeable future."