Cargojet CEO says inflation, labour shortages suggest 'almost recessionary economy' – Financial Post
2022 'very different picture' for freight carrier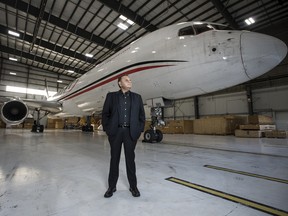 Article content
Cargojet Inc. chief executive Ajay Virmani said fuel prices and labour challenges suggest a recession is looming.
Article content
"All the challenges that you see out there [are] pointing towards almost a recessionary economy," he said in an interview with the Financial Post's Larysa Harapyn.
Virmani has a unique sightline on what's happening in the economy. Cargojet had a good crisis, as the Mississauga, Ont.-based airline tripled its loads as consumers started ordering goods for delivery that they typically would have purchased at a store. Year-over-year revenue growth increased by 46 per cent in the quarter ended March 31, rising to $233.6 million from $160.3 million in the first quarter of last year.
Despite beating earnings expectations, Virmani said that business has levelled off since 2021. "That was a bit of a different story," he said. "Today, it's a very different picture."
Article content
The once-fluid supply chain has faced numerous disruptions, including blockades, floods, and shortages. The chaos of the past couple of years has generated debate about whether supply chains will be shortened, as manufacturers and retailers seek suppliers closer to home to reduce the risk of being left with empty storerooms in the future.
Virmani said he isn't seeing that yet. But he is seeing firsthand the extreme labour shortages that have come with the recovery from the COVID recession.
"Our biggest challenge right now is making sure that we can have people on the ground," said Virmani. "Inflation is a big factor, especially when you have wage rates go up 20 to 30 per cent to find any decent people to work."
Canada's inflation rate hit a new 31-year high of 6.8 per cent in April from a year earlier. Wages have also jumped as firms try to retain staff in the country's tight job market.
Article content
"Everybody's increasing prices," said Virmani. Examples of recent price hikes in the airline industry include airport landing and parking fees, NAV Canada navigation charges, and jet fuel prices.
Passing on inflationary costs has been tricky for Cargojet because many of its customers have locked-in contracts.
"You're not able to pass on 100 per cent of those charges," said Virmani. "It's kind of hard to jam through every area of increase to your customers because there's no ability for them to pass [it] on either," said Virmani."
Cargojet has been branching out into the international market as part of its growth strategy in the post-pandemic world.
"I've always said that Cargojet needs to diversify," said Virmani. "We have the infrastructure in place, we have the resources in place, so basically we had to get some planes and people to fly them."
Article content
The airline used to be primarily domestic – 80 to 90 per cent of its business, Virmani said – when it launched in 2001. Its business has since evolved, and domestic orders now account for only 50 per cent of business, the CEO said.
"It's like McDonalds. They used to serve you lunch and dinner and they added breakfast to their menu," said Virmani. "We have added sort of our version of breakfast which is international to the menu."
Air Canada recently expanded its fleet with the acquisition of new freighter aircrafts. But Virmani said it has done little to change the playing field for Cargojet.
Article content
"International is a big market," he said. "We've got a business plan and we're going to execute it."
At home, Virmani said Cargojet is shielded from Air Canada and other competitors because few have been in the business for as long as he has. Cargojet has taken over 20 years to build its network in the Canadian market, and that has value, the CEO said.
"There's a cargo pedigree. There's a cargo system in place. Minutes matter and I don't think that anybody who wants to expand in that market field will have great luck," said Virmani. "You have got to spend a lot of money, or you have got to spend a lot of time on it – and we've done both."
• Email: novid@postmedia.com
China's economy didn't bounce back in the second quarter, China Beige Book survey finds – CNBC
China's exports surged by 16.9% in May from a year ago, two times faster than analysts expected. Pictured here on June 15, 2022, are workers in Jiangsu province making stuffed toy bears for export.
Si Wei | Visual China Group | Getty Images
BEIJING — Chinese businesses ranging from services to manufacturing reported a slowdown in the second quarter from the first, reflecting the prolonged impact of Covid controls.
That's according to the U.S.-based China Beige Book, which claims to have conducted more than 4,300 interviews in China in late April and the month ended June 15.
"While most high-profile lockdowns were relaxed in May, June data do not show the powerhouse bounce-back most expected," according to a report released Tuesday. The analysis found few signs that government stimulus was having much of an effect yet.
Shanghai, China's largest city by gross domestic product, was locked down in April and May. Beijing and other parts of the country also imposed some level of Covid controls to contain mainland China's worst outbreak of the virus since the pandemic's initial shock in early 2020.
In late May, Chinese Premier Li Keqiang held an unprecedentedly massive videoconference in which he called on officials to "work hard" — for growth in the second quarter and a drop in unemployment.
Transportation, construction companies aren't telling you they're getting new products. They're telling you they've slowed investment, their new projects have actually slowed.

Shehzad H. Qazi

Managing Director, China Beige Book
Between the first and second quarters, hiring declined across all manufacturing sectors except for food and beverage processing, according to the China Beige Book report.
The employment situation likely won't start to improve until China stimulates its economy more in the fall, China Beige Book Managing Director Shehzad H. Qazi said Wednesday on CNBC's "Squawk Box Asia."
So far, there's been little sign that stimulus has kicked in, especially in infrastructure, said Qazi who is based in New York.
"Transportation, construction companies aren't telling you they're getting new products," he said. "They're telling you they've slowed investment, their new projects have actually slowed."
Inventories surge, orders drop
Unsold goods piled up, except in autos. Orders for domestic consumption and overseas export mostly fell in the second quarter from the first. Orders for textiles and chemicals processing were among the hardest-hit.
The only standout domestically was IT and consumer electronics, which saw orders rise during that time. Orders for export grew in three of seven manufacturing categories: electronics, automotive and food and beverage processing.
"Weak domestic orders and expanding inventories indicate the presumed second-half improvement will be unpleasantly modest," the report said.
The authors noted the services sector saw the greatest reversal. After accelerating in growth in the first quarter, services businesses saw revenue, sales volumes, capex and profits drop in the second quarter.
Across China, only the property sector and the manufacturing hub of Guangdong saw any year-on-year improvement, the China Beige Book said.
Official second-quarter gross domestic product figures are due out July 15. GDP grew by 4.8% in the first quarter from a year ago.
U.S. Economy Shrank Worse-Than-Expected 1.6% Last Quarter As Recession Fears Grow – Forbes
Topline
The economy last quarter posted its worst annualized showing since the pandemic-induced recession in 2020, the government said in an updated release Wednesday, blaming an unexpected decline in economic activity on the omicron variant of Covid-19 and decreased government assistance.
Key Facts
The U.S. economy shrank at an annual rate of 1.6% in the first quarter of 2022—the first decline since the second quarter of 2020, the Bureau of Economic Analysis reported Wednesday in a worse-than-expected update to last month's figure, which showed a decline of 1.5%.
The update primarily reflected softer-than-expected spending on business inventories and residential investments, which was only partially offset by an uptick in consumer spending, the government said.
In the first quarter, a record wave of Covid-19 cases spurred by the omicron variant resulted in continued restrictions and business disruptions, while government assistance programs including forgivable loans to businesses and social benefits to households expired or tapered off—further preventing growth, according to the release.
Broad declines in exports, government spending and business inventories, along with increased imports, spurred the overall decline, the government said.
The overall drop stands in stark contrast to the economy's better-than-expected growth of 6.9% in the fourth quarter, the fastest rate in nearly 40 years, thanks in part to a jump in exports and increased inventory investments by car dealers.
What To Watch For
Economists are widely calling for a return to growth this quarter, thereby avoiding the two consecutive quarters of negative GDP growth that constitute a technical recession, but a growing wave of experts have warned odds of a recession next year are growing. In a research note on Monday, analysts at S&P Global Ratings said aggressive Federal Reserve policy to combat ongoing price spikes will usher in low economic growth this year and potentially risk a recession, warning: "What's around the bend next year is the bigger worry." S&P put the odds of a recession in 2023 at 40%—more than the 35% odds Morgan Stanley issued last week.
Key Background
Though the economy quickly bounced back after the Covid recession in 2020, the Fed's withdrawal of pandemic stimulus measures, Russia's invasion of Ukraine and lingering Covid restrictions have heightened market uncertainty this year. Last quarter, the stock market posted its worst showing since the market crash in early 2020, with the S&P falling 5% and the tech-heavy Nasdaq 9%. "Recession risks are high—uncomfortably high—and rising," Mark Zandi, chief economist at Moody's Analytics, said in a recent note. "For the economy to navigate through without suffering a downturn, we need some very deft policymaking from the Fed and a bit of luck."
Crucial Quote
In an email after April's initial report, which estimated a 1.4% decline despite expectations for 1% growth, Bankrate analyst Mark Hamrick said the lackluster performance serves as a reminder of the "volatile and complicated times in which we live," but that the contraction is "less worrisome" because key drivers of economic growth, such as consumer and business spending, have been holding up despite the widening trade deficit and big swings in business inventories.
Further Reading
Cathie Wood Claims Economy Already In A Recession—Warns Inflation And Inventories Pose 'Big Problem' (Forbes)
Unemployment Will Rise And 'Extreme' Price Pressures Continue As Fed Hikes Risk Recession, S&P Warns (Forbes)
Major Bank Is First To Forecast A Recession—More Could Follow (Forbes)
Sudan's economy dominated by military interests: Report – Al Jazeera English
C4ADS report says crackdown on patronage networks was a contributing factor to last October's coup.
The Sudanese military and security forces have a sprawling monopoly over the country's economy, a system that must be tackled to restore the country's transition to democracy, a report has concluded.
The report, by the Center for Advanced Defense Studies (C4ADS), was published on Wednesday alongside a database that identifies 408 entities controlled by security elites, including agricultural conglomerates, banks, and medical import companies.
Under Sudan's former civilian-military transitional government, which was tasked with guiding Sudan's transition towards democracy, an anti-corruption committee was formed to confiscate assets from figures who made a fortune under the former President Omar al-Bashir.
Observers have argued that the confiscations struck at the core of the military's patronage networks and played a significant role in compelling senior officers to topple the civilian administration in a coup last October, which has been followed by months of protests.
But C4ADS said that countries that seek to support democracy in Sudan have the tools to weaken the country's "deep state".
"Governments, non-governmental organizations (NGOs), and private companies have a role in dismantling Sudan's deep state through economic sanctions, de-risked aid, and increased due diligence around private investments," the authors of the report said.
[embedded content]
Economic Monopoly
The report zoomed in on two major banks, Omdurman National Bank (ONB) and Khaleej Bank, which the military and security forces use to access global financial networks, respectively.
The military – through a web of front charities – owned 86 percent of the shares in the former, according to the report.
Khaleej Bank, meanwhile, was controlled mainly by joint ventures that belong to the United Arab Emirates and the Rapid Support Forces (RSF) – two players that have strong political and economic relations.
The latter is a paramilitary force that evolved out of tribal militias that rebel forces called the Janjaweed, which committed massacres in the western province of Darfur.
The report estimated that the family of RSF leader Mohamad Hamdan Dagalo – better known as Hemeti – controls 28.35 percent of the shares in Khaleej Bank.
The report also reviewed Zadna International Company for Investment Ltd, a majority-army-owned agricultural conglomerate, on whose board of directors Hemeti's brother, Abdel Rahim Dagalo, sits.
The company has run numerous irrigation schemes and leased out plots of land to private investors, according to Suleiman Baldo, an expert on the predatory economy in Sudan and the founding director of the Sudan Transparency and Policy Tracker.
"The story about Zadna is that it was a public company that was simply taken over by the military, which is monopolising its revenue and not giving the ministry of finance access to any of it. That's the problem with Zadna," Baldo said.
Reputational Damage
The spokesperson for Sudan's military, Nabil Abdullah, denied accusations that the army has a monopoly over civilian sectors in the economy, and said that Sudan's former civilian administration was unwilling to assume partial control of military-owned companies.
"[The army] has no economic control [of the country]. This is a lie and misleading," Abdullah told Al Jazeera.
The report by C4ADS said otherwise. The nonprofit followed policy experts, rights groups, and United States officials in calling for targeted sanctions on enterprises owned by the military and the RSF.
Baldo acknowledged that such a move could unintentionally hurt everyday civilians who are already struggling to survive after billions of dollars worth of development assistance and debt relief were halted in response to the coup.
He added that sanctions may not be necessary since the US has already released a business advisory that warns of reputational risks to Western companies that try to partner with military enterprises in Sudan. The findings published by C4ADS could further deter foreign companies and institutions from conducting business in the country.
"Even without the sanctions, the deterrence effect that sanctions cause already exists," Baldo said.
[embedded content]