CFL's $30M federal government loan request denied: reports – CBC.ca
The CFL's board of governors will meet Monday to determine the fate of the 2020 season after the league was unable to secure financial assistance from the federal government.
The CFL presented Ottawa with a $30-million, interest-free loan request Aug. 3 to stage an abbreviated 2020 season during the COVID-19 pandemic. But two sources familiar with the situation said Sunday night the plan fell through when the assistance couldn't be provided to the league under the terms it sought.
The sources were granted anonymity because neither the CFL nor the federal government had divulged details of the loan request. CBC Sports contacted a league source but was unable to confirm the reports.
It wasn't the first time the CFL had been unable to reach a deal for government assistance. Last month, the league ruled out a loan from the Business Development Bank of Canada because it felt the interest rate was too high.
The $30-million, interest-free loan request was essentially seen as the league's last-ditch effort to secure government support for an abbreviated 2020 season
Federal source says government has denied <a href="https://twitter.com/CFL?ref_src=twsrc%5Etfw">@CFL</a>'s request for $30 million loan to be directed towards shortened 2020 season. It has committed to work with the league to see what role it can play in its viability beyond '20. CFL's BOG could determine fate of season on Mon. <a href="https://twitter.com/hashtag/CFL?src=hash&amp;ref_src=twsrc%5Etfw">#CFL</a>

&mdash;@TSNDaveNaylor
The CFL's board of governors will meet Monday to determine its next course of action. However, it's hard to see the league going ahead with a shortened season given the time of year and it stating repeatedly that government assistance was needed in order to stage an abbreviated campaign.
Earlier, a CFL source had told The Canadian Press that even with an abbreviated season the league would lose upwards of $50 million compared to between $60 and $80 million with no football at all.
The CFL sent Ottawa its $30-million loan request Aug. 3. It was a reduction from the $44-million amended requisition it presented last month.
Conversations with <a href="https://twitter.com/CFL?ref_src=twsrc%5Etfw">@CFL</a> sources over past several weeks have indicated it is unlikely owners would stage a shortened 2020 season without federal assistance. <a href="https://twitter.com/hashtag/CFL?src=hash&amp;ref_src=twsrc%5Etfw">#CFL</a>

&mdash;@TSNDaveNaylor
The CFL first approached the federal government in April for up to $150 million in assistance due to the pandemic.
Until Friday, the CFL's loan request rested firmly in the hands of the Public Health Agency of Canada, which had been in talks with the league and Manitoba health officials regarding the CFL's return-to-play safety plans. The league had previously chosen Winnipeg as a tentative hub city for a shortened season.
On Friday, Dr. Howard Njoo, Canada's deputy chief public health officer, reiterated he was encouraged about the CFL's health-and-safety protocols. However, he couldn't say when approval of the plan might come.
That painted a rather bleak picture for the CFL as a continued delay further diminishes chances for a season to be played.
Players would need to fulfil quarantine requirements and make their way to Winnipeg for training camps before a six-game season could begin. With a three-week playoff, the league is running out of time if it hopes to finish a season by early December.
Additional hurdle
A lack of government money isn't the only hurdle the league faces. It also has to reach an agreement with the CFL Players' Association on an amended collective bargaining agreement, something that hasn't happened yet.
The CFL regular season was supposed to kick off June 11. But many provincial governments had stated there would be no sports with large crowds over the summer due to the novel coronavirus outbreak.
That struck a serious blow to the CFL, a gate-driven league that relies heavily on ticket sales to operate.
Commissioner Randy Ambrosie had stated the earliest an abbreviated season could begin was September but added a reduced campaign remained a possibility.
2020 Tour de France stage 21 highlights – Video – Cyclingnews.com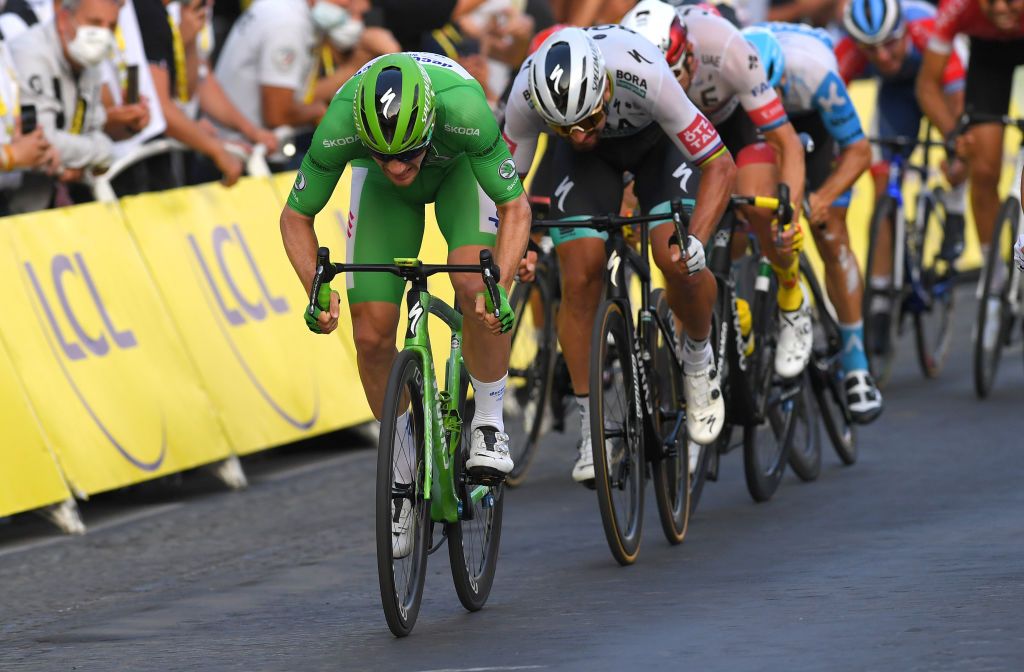 The peloton rolled out of Mantes-la-Jolie and into Paris for the final stage 21 of the Tour de France on Sunday with Tadej Pogačar (UAE Team Emirates) celebrating his overall victory and Sam Bennett (Deceuninck-QuickStep) claiming the sprint win on the Champs-Élysées.
B&B Hotels-Vital Concept's Kévin Reza, who is from Yvelines, started the final stage on the front of the race in support of the Black Lives Matter movement. The riders of the peloton come together in solidarity with the Reza, who was the only Black rider in the race, to denounce racism by wearing masks with "no to racism" written across them during the pre-stage ceremony.
Pogačar rode into Paris with an all-yellow kit surrounded by his UAE Team Emirates teammates and received congratulatory wishes from the riders in the peloton before the racing then turned toward the final sprint stage.
Greg Van Avermaet (CCC Team) led a four-rider breakaway that included Max Schachmann (Bora-Hansgrohe), Connor Swift (Arkea-Samsic), and Pierre-Luc Perichon (Cofidis), onto the circuits but they were brought back in time for Deceuninck-QuickStep to set up Bennett for the stage win.
Watch the highlights from the 2020 Tour de France and the final stage in the video above.
Tadej Pogačar crowns generational shift at Tour de France – VeloNews
Tadej Pogačar will ride into Paris to be crowned the 2020 Tour de France champion this afternoon. Tomorrow, Monday September 21, he will celebrate his 22nd birthday.
And you thought Egan Bernal was young when he was awarded the Tour's final maillot jaune last year at the age of 22.
Pogačar stole the show and the yellow jersey in the penultimate time trial of this year's race Saturday to set himself up to become the youngest Tour champion of the post-WWII era. The young Slovenian's incredible 36-kilometer ride into cycling's history books capped a Tour de France highlighted by youthful stars, including Neilson Powless, Sepp Kuss, Marc Hirschi, Daniel Martinez and Lennard Kämna.
Cycling's generational shift has been evolving through recent seasons with the rise of Bernal and Pogačar in 2019 and the consistent tide of youthful faces stepping up to the WorldTour.
"For several years, we have observed a shift in the age of maturity," Ag2r-La Mondiale performance director Jean-Baptiste Quiclet told AFP. "It's clear and clean. Not so long ago, a standard career among professionals ranged between 24 and 34 years old. Now the range is more like 20-30 years. The standard is for rejuvenation."
While Pogačar will seal the yellow, polka-dot and white jersey of best young rider in his debut Tour, not that far behind him is Spanish hopeful Enric Mas, who took fifth overall and claimed second in the youth category. The young Spaniard stepped up to lead Team Movistar in a year in which it was refocusing on youthful home talents after the exit of former leaders Nairo Quintana and Mikel Landa at the start of the season.
Team Sunweb epitomises the generational shift on display at this year's Tour and in the WorldTour as a whole. The German squad fielded the youngest team in the race, with its Tour eight averaging just over 26 years of age. Inexperience sure didn't hold them back, as the team rode aggressively and intelligently throughout to take three stage wins via 22-year-old Marc Hirschi and 26-year-old Søren Kragh Andersen.
"We do not specifically recruit young people," Sunweb boss Iwan Spekenbrink said. "But what we love are those who maintain a high level in the youth categories, a progression solid and linear."
Like Movistar, Sunweb is also looking to develop young talents with an eye to the future as it faces the exit of elder GC leaders, with Wilco Kelderman leaving the team in 2021, and grand tour star Tom Dumoulin moving to Jumbo-Visma last winter.
The Tour de France has a history of young winners that went on to dominate their era, with Fausto Coppi, Jacques Anquetil, Felice Gimondi and Laurent Fignon all winning a grand tour before their 24th birthday. However, back then the success of youth was more of a rarity.
Quiclet pointed out that the development in technologies and training methods, along with the multiplication of development teams, has a large part to play in the youthful new face of cycling.
"Even they [junior riders] have technicians, training facilities, nutritionists," points out the French coach.
Even weekend warriors are tech'd up to the max. If you go out on your local group ride in 2020 and don't have a power meter and heart rate monitor, you're off the back before you've even turned a pedal.
"Today the amateurs no longer have much to envy the pros thanks to increasing training methods," said Cofidis coach Samuel Bellenoue. "They have all the info on the preparation for WorldTour level."
Couple the advance in training science with what Quiclet called the "globalization of cycling," and developing riders from across the globe can be discovered and trained up with the sophistication afforded to WorldTour riders. South America in particular has become a mine of young talent, with the likes of Bernal, Sergio Higuita, Daniel Martinez and Ivan Sosa all being scouted out by European agents at a young age.
Tour rookies Kuss and Powless both played starring roles at this year's race. Coloradan rider Kuss marked himself as one of the best climbers and most valuable teammates in the peloton through his work for Primoz Roglic, while Powless made his way into countless breakaways through the three weeks of the Tour.
Together with the likes of Quinn Simmons and Ian Garrison, North America is quietly producing a new crop of young stars that will ensure it's not all Europeans and South Americans dominating racing in years to come.
Oh, and did we mention Remco Evenepoel?
Before the 20-year-old's dramatic crash at Il Lombardia last month, the Belgian wunderkind had dominated both the winter and summer racing blocks, and was targeting his grand tour debut at the Giro d'Italia. While Evenepoel is out of action for the rest of the season with a broken hip, he has time on his side, and could become a stage race rival to Pogačar and Bernal for years to come.
— AFP Contributed to this report
Khudobin proves resilient on road to Stanley Cup Final as Stars goalie – NHL.com
Now, after playing for 13 professional teams in five leagues and three countries over the past 14 seasons, Khudobin finds himself in the Stanley Cup Final with the Dallas Stars, three wins from his first championship.
"When I was growing up, I was thinking it was my dream to play in NHL. I didn't think that deep, to go and win the Stanley Cup," the Stars goalie said Friday. "When I got here, I realized it's not easy to get there, not easy to get to the Final. So, then I start thinking it would be a great accomplishment to get there at some point and win the Cup."
[RELATED: Complete Stanley Cup Final coverage]
The Stars lead the best-of-7 Cup Final against the Tampa Bay Lightning after a 4-1 win in Game 1 on Saturday. Game 2 is Monday at Rogers Place in Edmonton, the hub city for the Cup Final (8 p.m. ET; NBCSN, CBC, SN, TVAS).
After being a backup his entire NHL career, the 34-year-old is in a starring role this postseason. With No. 1 goalie Ben Bishop unfit to play for most of the Stanley Cup Playoffs, the Stars turned to Khudobin, who is 13-6 with a 2.54 goals-against average, .923 save percentage and one shutout in 20 games (19 starts) in the postseason. He was the difference in their Game 1 win, stopping 35 of 36 shots, including all 22 he faced in the third period. He is now 9-0 with a .934 save percentage in the last nine games in which he faced at least 30 shots.
It was certainly a long road from Kazakhstan to the Stanley Cup Final, but Khudobin has left his mark at his many stops, remembered as much for his big personality as his work in goal.
"This guy belongs on ["Late Night with David Letterman"], he belongs on all the shows," former Dallas Stars goalie and current president of the Stars Foundation Marty Turco said on the NHL @TheRink podcast Wednesday. "He's such a great interview. That doesn't make a great goalie, but he's also a consummate professional and fun and funny. He works so darn hard, he really does, and he's been on [short-term] deals his whole career."
Video: DAL@TBL, Gm1: Khudobin shines in Game 1 victory
Khudobin was selected by the Minnesota Wild in the seventh round (No. 206) of the 2004 NHL Draft. He was then chosen by Saskatoon of the Western Hockey League in the first round (No. 51) of the 2005 Canadian Hockey League Import Draft and played 44 games during the 2005-06 season, going 23-13-3 with a 2.90 GAA, .917 save percentage and four shutouts. Former Saskatoon coach Lorne Molleken said Khudobin was a popular addition on and off the ice.
"He went to school to take English classes, and the people who were picking him up and taking him to school every day, there were times they would pick him up in a limousine to take him to school, drop him off and bring him home," said Molleken, now director of coach development at Prairie Hockey Academy in Moose Jaw, Saskatchewan.
"He was a lot of fun and he was a great competitor. The first game he played for us was an exhibition game against Medicine Hat (2-1 shootout loss). He faced about 70 shots that night, because we played the whole third period basically facing a 5-on-3. That was his welcome to the Western Hockey League."
To ease Khudobin's transition to North America, Molleken arranged for him to live with a billet family, Anna and David Gersher, natives of Moldova, part of the USSR until 1991, who have lived in Canada for more than 30 years.
"He was sure of himself, I could tell that," Anna said of her first meeting with Khudobin. "People tell me that goalies are like that, they're always sure of themselves, and he was quite sure of himself. But he spoke only Russian, so we had very interesting conversations. He would come from games, or from meetings with the team, and he would ask me, 'What did they mean when they said, this or this?' So I had to figure out what they said first, and then what they mean. My husband and I only had girls, so with the boys, it was a different twist. But he had fun."
Video: DAL@TBL, Gm1: Khudobin shuts down Cirelli in front
The Gershers also supported Khudobin on tough days. David Gersher remembered Khudobin's disappointment after Saskatoon lost 4-3 in triple overtime to Medicine Hat in Game 2 of the 2006 WHL Eastern Conference Semifinal, when Khudobin saved 80 of 84 shots.
"I told him, 'Listen, not every day is going to be rain. There will be sun, too. Just keep going, do your thing,'" David said. "And here [he is], playing for the Stanley Cup. He put a lot of effort in himself and that's why he's where he is today."
After one season with Saskatoon, Khudobin played with Metallurg Magnitogorsk in the Russian Superleague in 2006-07 before returning to North America. He largely played in the minor leagues the next four seasons, with Houston and Providence in the American Hockey League, and Texas and Florida in the ECHL.
He played six games (four starts) for the Wild from 2010-11 before they traded him to the Boston Bruins on Feb. 28, 2011. Stars player development coordinator Rich Peverley, Khudobin's teammate in Boston from 2011-13, said the young goalie, a Black Ace in the 2011 playoffs when Boston won the Stanley Cup, learned a valuable lesson with the Bruins.
"He changed his approach on nutrition, and I remember the next year he came back and was in phenomenal shape," said Peverley, who became close with Khudobin and regularly played cards with him. "When you're around [defenseman Zdeno] Chara and [forward Patrice] Bergeron and knowing the way they ate, then you're a Black Ace and you see this and think, 'OK, I'm in the AHL, what can I do to get to the NHL?' Anton took that advice and transformed his game. Two years later, he was our backup and he was outstanding for us. Just like in Dallas, with him going in, you knew he was going to help you when you were going to battle."
Khudobin said he benefitted both from watching the Bruins' 2011 run and being the backup to Tuukka Rask when they lost the 2013 Stanley Cup Final to the Chicago Blackhawks in six games.
"I was learning from the practices, how they were preparing for the games," he said Friday. "That was an unbelievable experience. It was a time to realize how hard it is to get here, how hard it is to win the Cup."
Video: Khudobin, Stars take Game 1 vs. Lightning
Khudobin left the Bruins as an unrestricted free agent and signed a one-year contract with the Carolina Hurricanes on July 5, 2013 and then a two-year contract March 4, 2014. He was 27-31-7 with a 2.50 GAA, .914 save percentage and 11 shutouts in 70 games (66 starts) over two seasons with the Hurricanes.
Former Carolina goaltending coach David Marcoux said Khudobin was always competitive, be it playing Marcoux in Ping-Pong — "I didn't have too many wins against him," Marcoux said — or wanting more starts with the Hurricanes.
"He would be very vocal, even around Cam Ward, who was the No. 1 goalie for forever in Carolina, in terms of, 'Why don't I play more Dave? When am I going to play more?' This is facing myself and Cam Ward," said Marcoux, who now runs a goaltending school in Calgary. "[Ward] and I would look at each other and say, 'Well, this is kind of awkward.' He's a guy who you knew when he was around the room because you could hear him. He's not a quiet backup, never seeing himself as a simple backup. Back a few years ago, you had No. 1 goalies and you had backups, and he kind of bucked that trend."
Marcoux said most of his work with Khudobin in Carolina focused on improved communication with teammates and puck-handling skills around the trapezoid area.
"You can't win a Stanley Cup because of your puck-handling skills but you can lose a Stanley Cup because of your puck-handling skills. To do less sometimes, you can accomplish more," Marcoux said. "That aspect of his game was not something that was very used prior to him coming to Carolina, and I think we did a very good job at improving his puck-handling skills but at the same time improving his communication skills and reading the forecheck coming at him when he's behind the net."
Video: Khudobin shines in Game 1 of the Stanley Cup Final
Khudobin was traded to the Anaheim Ducks on June 27, 2015 and then returned to the Bruins to again back up Rask, signing a two-year contract as a UFA on July 1, 2016. He then signed another two-year contract, this time with the Stars, on July 1, 2018.
"I wish it was a five-year-deal now, it would've been nice," Stars general manager Jim Nill said Tuesday. "But good for Anton. He's earned this right and I hope we can get him back because he's a big part of our team, as we've witnessed. As far as his personality, it's infectious. He fits into any room, he's a battler and he never gives up."
Khudobin played an NHL career-high 41 games (37 starts) with the Stars in 2018-19. He was 16-8-4 with a 2.22 GAA and .930 save percentage in 30 games (26 starts) this season.
Stars forward Tyler Seguin, Khudobin's teammate with the Bruins from 2011-13, said the goalie reminds him of Tim Thomas, who helped the Bruins to the Stanley Cup in 2011 and won the Conn Smythe Trophy as most valuable player in those playoffs.
"[Khudobin] has always been that goalie in practice that you don't like shooting on, because you're not going to score much," Seguin said. "He has the experience from seeing all that, from us being together in that organization. There's a lot to learn from that organization. They're winners, they've been to the Final so many times. We were a part of that a couple of times, so [Khudobin has] got that experience. He's coming into his own. He's competitive, he works hard and he gets the job done."
Khudobin also has that big personality. After the Stars defeated the Vegas Golden Knights 3-2 in overtime in Game 5 to win the Western Conference Final on Sept. 14, Khudobin put a large, Stars-branded necklace on and screamed, "We're not going home!" After a 4-2 win against the Nashville Predators at the 2020 Bridgestone NHL Winter Classic at the Cotton Bowl on Jan. 1, Khudobin did a running slide into the team picture, landing on his right side and holding his left leg in the air.
Turco (5-foot-11, 184 pounds) also likes that Khudobin (5-11, 195) is "bringing back the shorter goalies."
"He's got some quick feet. I'd like to see us in our primes together, who's quicker," Turco said. "He's pretty stocky, super strong and really flexible. We've seen him do multiple splits. He battles for the ground he needs to have. I want him to flip his hand over and move the puck more efficiently, but I think I lost that fight a while ago. He's an old dog, but his game doesn't have too many flaws and holes. Once in a while, like we all do, you can't see the puck and you retreat a little bit. It's a subconscious thing that happens. Otherwise, he's out there battling."
He's battled his way to going 99-76-25 with a 2.46 GAA, .919 save percentage and eight shutouts in 218 NHL games, largely as a backup. And now as the starter, he is battling to win his first Stanley Cup championship, which would be the first for the Stars since a six-game victory against the Buffalo Sabres in 1999.
"[Khudobin's] time in now, and you just never know how long your career is going to keep up," Marcoux said. "At 34, you don't need a rocket scientist to know the down slope is near. But he's in extremely good shape. He's an undersized goalie by NHL standards, but in terms of belief, he's an oversized goalie."