Charting Global Economy: Latin America at Top of Inflation Wave – BNN
(Bloomberg) — Sign up for the New Economy Daily newsletter, follow us @economics and subscribe to our podcast.
While prices are rising all over the world, the increases are especially striking in Latin America, which has the highest inflation forecast for both this year and next.
U.S. and U.K. inflation metrics recorded multi-decade highs, while big price jumps in New Zealand led the central bank to raise interest rates for the second time in as many months. India's economy is showing signs of strengthening, while an increase in Covid-19 infections is denting business sentiment in Germany.
Here are some of the charts that appeared on Bloomberg this week on the latest developments in the global economy:
U.S.
Personal spending rose in October from a month earlier by the most since March, while a closely watched inflation measure posted the largest annual increase in three decades. The figures come as some Federal Reserve officials are advocating for a faster tapering of the central bank's asset-purchase program than initially planned.
The supply crunch that's helped drive inflation to multi-decade highs shows some signs of easing in the U.S. -– but it's still getting worse in Europe.
Applications for U.S. state unemployment benefits plunged last week to a level not seen since 1969, which if sustained would mark the next milestone in the labor market's uneven recovery. However, the larger-than-expected drop was largely explained by how the government adjusts the raw data for seasonal swings.
Europe
German business confidence took another hit in November, with a new wave of Covid-19 infections looming over the economy and rising inflationary pressures threatening to weigh on manufacturing. Expectations for the next half year also worsened.
U.K. companies reported the strongest inflation in more than two decades during November, adding to pressure on the Bank of England to lift interest rates as early as this month. IHS Markit Ltd. said 63% of purchasing managers reported increased cost burdens, driving the fastest growth in an index tracking inflation since the report started in 1998.
Asia
Singapore expects gross domestic product to expand 3% to 5% next year, a slower pace than this year as its rebound from the worst of the pandemic steadies. The first official forecast for 2022 compares with about 7% this year, the Ministry of Trade and Industry said Wednesday, reflecting the impact from easing pandemic restrictions and a stabilizing global economy.
China pulled back on its already halting progress toward meeting its U.S. trade deal targets, slowing purchases of all types of goods covered by the agreement despite calls from the Biden administration for Beijing to adhere to its commitments.
Emerging Markets
Price surges are busting through policy makers' targets in all of Latin America's major economies, with annual inflation prints this month of 6% in Chile, 10.7% in Brazil and a whopping 52% in Argentina. Consumer prices in Mexico rose 7.05% in the first half of November from a year prior, the highest in 20 years.
India's economy showed steady signs of strengthening in October as services, manufacturing and exports kept it on course to post the world's fastest growth.
World
New Zealand's central bank raised interest rates for the second time in two months and signaled it will need to tighten policy more quickly than previously expected to contain inflation.
©2021 Bloomberg L.P.
Poll suggests some Canadians are feeling brighter about the economy, own finances – Coast Reporter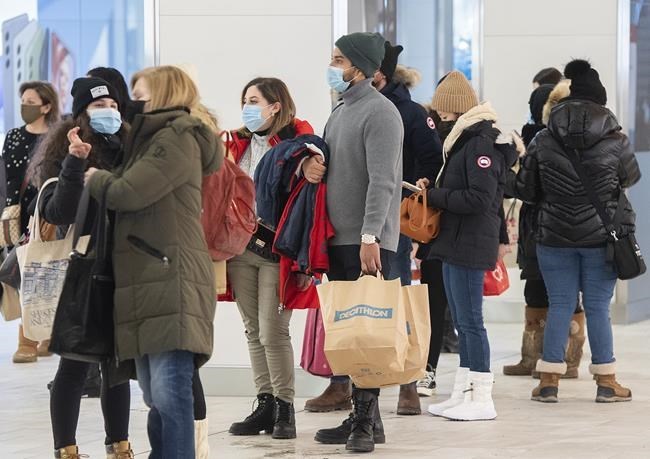 OTTAWA — A new poll suggests some Canadians are feeling more upbeat about the state of the domestic economy and their own pocketbooks, though not quite as positive as they were before the COVID-19 pandemic.
The annual Leger survey of economic confidence found that nearly two in every five respondents rated the economy as being good or very good, which was up from the same survey last February.
Still, just over half of respondents weren't as chipper on the state of the economy, with 54 per cent rating it as poor or very poor.
That figure was a drop from the 61 per cent of respondents in last year's survey, but still above the 36 per cent recorded in February 2020 just before the first wave of the pandemic.
About two-thirds of respondents also showed confidence in their personal finances, a figure that has remained steady through surveys in each of the previous two years.
The poll of 2,399 Canadians who took part in an online panel between Jan. 7 and 12 cannot be given a margin of error because internet panels are not considered to be truly random samples.
Christian Bourque, Leger's executive vice-president, said the results suggest respondents are more optimistic about the economy than markets and economists who have downshifted expectations for the year. The poll indicates that optimism also extends to their personal finances despite high inflation rates.
"People feel a little bit more upbeat than one would have thought and it's certainly an increase from what we saw over the past year in terms of overall optimism," Bourque said.
Downgrading expectations comes on the back of signals from central banks on both sides of the border that their rock-bottom interest rates will go up this year to combat high inflation. There are also supply-chain problems and the spread of the Omicron variant that have created economic headwinds to kick-start 2022.
On Wednesday, the Bank of Canada released its updated outlook for the economy.
The central bank estimated the economy grew by 4.6 per cent in 2021, down half a percentage point from its previous forecast in October, and now projects growth in real gross domestic product in 2022 at four per cent, down from 4.3 per cent.
The Bank of Canada said part of the downgrade this year is due to the impact of Omicron, hints from governments that spending is easing earlier than expected, and supply chain issues that will have "larger and more broad-based negative implications on economic activity" this year.
Canadians generally are fairly upbeat about the national economy, mixed with some level of prudence for what may come, which Bourque noted played out in regional results.
The biggest boost in optimism for the economy between last year and now came from respondents in Alberta. But the oil-producing province also had the largest percentage of respondents, at 61 per cent, who had the least confidence in the economy.
"For Premier Kenney, it's another 'what do I do about this now?'" Bourque said. "Let alone management of the pandemic, now he has to face up to a population that feels that things are not going Alberta's way."
Among the top financial worries cited by respondents were the value of their investments, the safety of their savings, and being able to pay their bills.
Those were the same top issues in the poll done last February, although the results suggest fewer respondents were worried about those issues overall.
This report by The Canadian Press was first published Jan. 26, 2022.
Jordan Press, The Canadian Press
The CLIC™ Chronicles: 10 ways to build a circular economy – Lombard Odier
Statistic cookies help website owners to understand how visitors interact with websites by collecting and reporting information
Marketing cookies are used to track visitors across websites. The intention is to display ads that are relevant and engaging for the individual user and thereby more valuable for publishers and third party advertisers. We work with third parties and make use of third party cookies to make advertising messaging more relevant to you both on and off this website.
To hike or not: It's a toss up ahead of Bank of Canada rate decision
Odds are split on whether or not the Bank of Canada will hike rates for the first time since 2018 on Wednesday, with Omicron's wrath seen potentially delaying the start of an aggressive tightening campaign geared at taming red-hot inflation.
Canada's central bank will make its first major policy decision of 2022 at a time when consumer prices are rising at their fastest clip in 30 years and a harsh Omicron-fueled wave of coronavirus infections is just beginning to ebb.
Money markets see a roughly 65% chance the Bank will boost the overnight rate to 0.5% from the current record low 0.25%. Analysts surveyed by Reuters are less certain, with 77% seeing the central bank holding until at least March. [BOCWATCH]
"It's a toss up really," said Stephen Brown, senior Canada economist at Capital Economics. "I mean, (the BoC) was clear it was getting more concerned about inflation. But in terms of the type of hints that a central bank might normally send when it's about to hike, we haven't quite had them."
Regardless of when the first increase comes, it is nearly certain to be the first of many this year. Brown sees four hikes in 2022, up to 1.25%. Money markets, meanwhile, are pricing in six to 1.75% to quell spiraling price gains on everything from housing to new appliances. [BOCWATCH]
Canada's inflation rate hit 4.8% in December, the highest since September 1991 and the ninth month in a row above the Bank of Canada's 1-3% control range. Inflation has not been this high for this long since the central bank set its 2% target in 1991.
The BoC renewed that target in December. Two days later, Governor Tiff Macklem said the slack in Canada's economy was "substantially diminished" and the Bank was "not comfortable" with the current path of inflation.
That was a clear signal a tightening was imminent, said Derek Holt, head of capital markets economics at Scotiabank, further bolstered by new survey data showing inflation expectations continue to mount for consumers and businesses.
"At this point in the cycle, the risks to choosing the wrong fork in the road are exceptionally high," said Holt, who expects multiple hikes this year to get the benchmark to 2%.
"Tighten too much and the curve inverts and the economy tanks. Don't tighten enough and the economy eventually tanks on rising imbalances anyway given the dangerous combination of runaway inflation and house prices," he said.
But the potential wrinkle is the Omicron variant. Canada has seen a huge surge in daily cases, outstripping testing capacity and forcing provinces to reimpose restrictions, which is set to weigh on January job data.
Still, for some Bank watchers the risk is overblown.
"Omicron is the obvious get out of jail free card for monetary policymakers," said Simon Harvey, head of FX analysis for Monex Europe and Monex Canada.
"Near-term growth risks don't offset the need to combat rising inflationary pressures, especially if they're accompanied with downside risks to potential growth."
The U.S. Federal Reserve also meets on Wednesday and investors expect it to signal a first rate hike in March.
(Reporting by Julie Gordon in Ottawa; Editing by Chizu Nomiyama)