Check out this Vancouver man's amazing, ephemeral leaf art (PHOTOS) – Pique Newsmagazine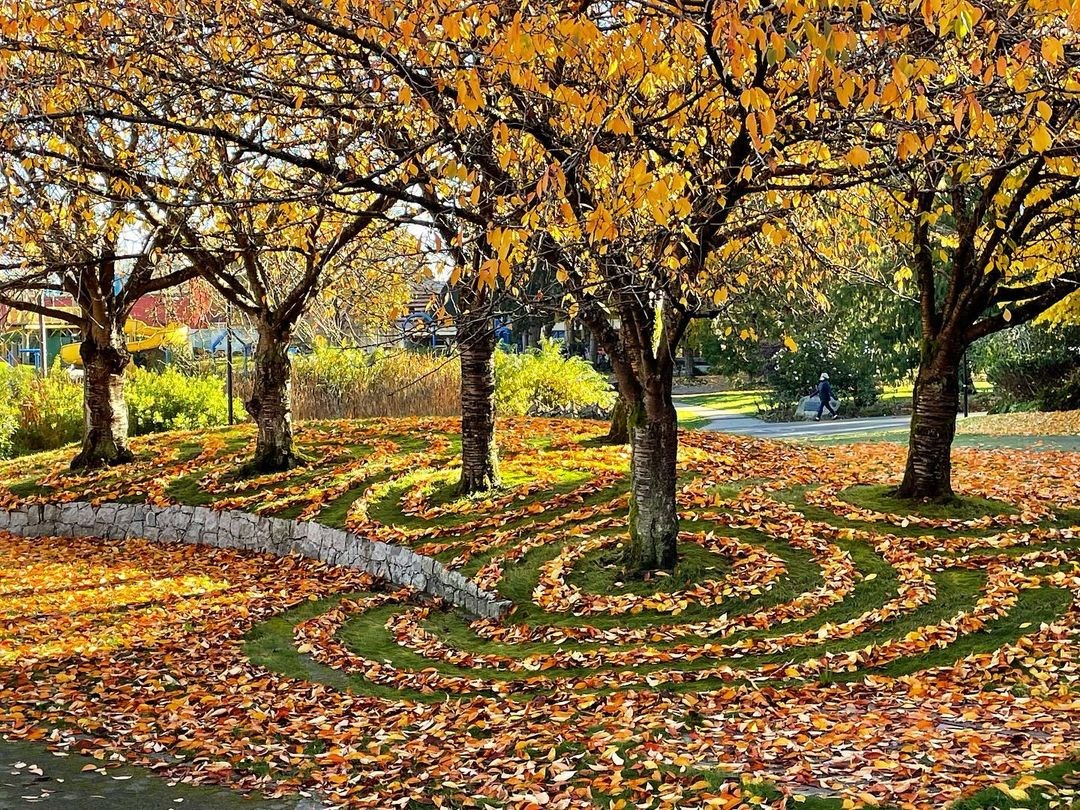 It's only at a specific time of year you'll see the foliage-based work of Nik Rust.
The local designer is behind some of the unique, intricate designs left in some of Vancouver's parts and public areas this past fall. Going by the handle @rakemob on Instagram, he raked leaves into simple but precise circles around the trees they fell from, creating patterns of concentric circles like ripples of water or sound waves emanating from deciduous trunks.
"The idea has been bouncing around in my head for at least a decade," he tells Vancouver Is Awesome. "Falls would come and go and wouldn't get to it."
But, like many people, the parks were the place to be with the pandemic in play in 2020, and he finally put rake to leaf and got to work.
"Everything was kind of different as far the day-to-day," he says. "Parks were being used in ways they never had before."
He goes out early to create his art, so as people head out at the start of their day the designs are already in place, having appeared as if out of nowhere. While the majority of people who see his art have no idea how it got there, some early risers do catch him.
"Tons of people come up and approach me," Rust says. "Some people are baffled, and want to know why it's happening, and some people super stoked."
The trees and leaves, he says, offered up the chance to be creative, like paint with no brush.
"I've always noticed these beautiful pools of leaves under trees before wind comes through," he says, "almost like a colour shadow of the tree. They invited some sort of design."
He was, in part, inspired by zen gardens and the patterns that are created in the little, stony landscapes. Another piece is the temporary nature of the designs.
"It's important that it's ephemeral," he says. "I'm a huge fan of ephemeral art, from seasonal things like sandcastles, snowmen, jack-o-lanterns."
The interaction of the creator with natural world as it's in flux is a big part of the leafy designs. By the time he's done a design it may already be getting destroyed a little, as the wind starts moving leaves about. Maybe it'll last a little longer; it depends on the environment.
This years season is almost over he says, though it wasn't as good as 2020. The weather put a literal damper on things. However, he's keeping his eye out for a little longer after having a good experience with a gingko tree recently, that was still shedding some leaves.
He likes looking for a couple of essential things. One is a good viewing location, so that people can see the design properly. That either means the piece needs to be on a slope or there needs to be a vantage point for people to look down on the (essentially) 2D piece of work.
The other important factor is contrast. Raking up brown leaves on brown dirt doesn't make a very good design, but bright red on deep green grass catches eyes.
How many leaves are around is also important. To many and he's making big lumps. Too small and it doesn't really work.
Next year he intends on continuing his art, with Vancouver parks his template. Typically he hits areas in English Bay, Stanley Park, and south of False Creek, so it might worth keeping an eye out in 11 months.
And next year might bring a new twist; he's considering leaving a rake at a site after he's started a design.
"Then I can come back later to see what became of it," he says. "So people can either choose to add to it or help maintain it."
Northern Arts Review: Why art is smart investment – Alaska Highway News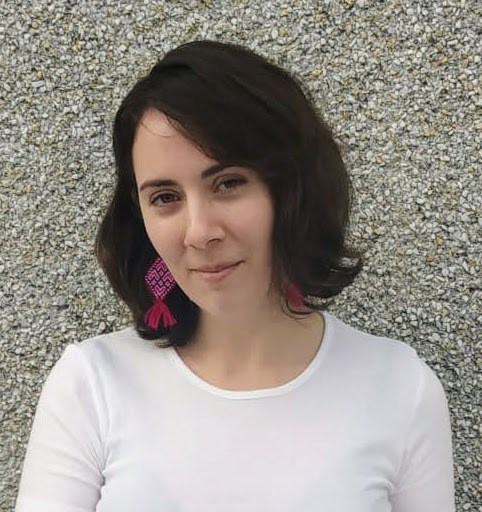 Hello, dear reader. This week, I will cover a big announcement from the BC Arts Council, as well as some ins and outs of the arts grant–writing system, and argue for stronger relationships between local governments and arts organizations for the betterment of the community.
On November 12th, the BC Arts Council announced its Arts Infrastructure Program, with awards up to $250,000, more than three times the usual amount made available through this program. The purpose of this funding is for arts organizations to acquire, construct, or renovate an arts space that will enhance the cultural capacity of the community. There are two other streams for funding as well, worth up to $25,000 for planning and research and $40,000 for acquiring specialized equipment. The deadline is 11:59 PM on Jan. 14, 2022.
The BC Arts Council will host a virtual information session for communities and organizations in the Peace-Liard Region about this program at noon on Dec. 2. This session will include insight on the AIP from Program Officers Erin Macklem and Sarah Todd, as well as a Q&A section.
This grant is a great opportunity that can make a major difference in the region. If successful, it could finance the new arts hub in Fort St. John, a permanent gallery space in Chetwynd, or much needed renovations for the Dawson Creek Art Gallery. This is the second year in a row that BCAC has released funding through this program. However, it is unclear whether it will be offered again, so it is important to seize this opportunity now.
The BC Arts Council has been working to serve rural communities better in recent years, which is why the grant qualifications are slightly relaxed for northern communities. This grant may be up to 90% of the total budget for projects based in rural and remote areas with a small population. As an example, for applicant organizations based in Dawson Creek or Fort St. John, only 10% of the budget needs to come from an additional source. Meaning $25,000 can become $250,000, which is a great investment. On the other hand, the grant can only make up to 75% of the project budget for organizations in communities that don't qualify as rural or underserved.
These budget splits are often how arts funding works from granting bodies like the BC Arts Council, Canada Arts Council, First Peoples' Cultural Council, and Creative BC, although the funding component is not usually as high as 90%. Grant-based awards typically cover between 50% to 75% of a project total, which is still incredibly generous. Even with a 50% split, an applicant can double their project budget. The purpose of these splits is to show that the project is feasible, and has support from more than one source. This is something that arts administrators know well, as navigating this grant system is a large part of what they do. However, this point is often lost on local governments, who don't have close working relationships with these funding sources.
The drawback with opportunities like the the AIP is that it often requires cooperation from municipal governments, who are slow to respond. Often arts spaces are publicly owned, but operated by a non-profit. For example, the Dawson Creek Art Gallery building is owned by the City of Dawson Creek, meaning that the gallery cannot go ahead with an application like this without the city's support. Historically, the arts have been a blind spot for our local leaders, and this oversight is leaving money on the table, to the detriment of the community.
Understandably, at any given time there are many other pressing needs demanding the attention of local politicians—the pandemic, for example. The cultural revitalization of our communities slips lower down the priority list. However, this needn't be the case. What is needed to allocate funds efficiently is simply an understanding that the arts and its funding system is a complex industry with many opportunities that require specific expertise and knowledge to capitalize on. This is why local governments need to work closely with arts organizations, and be more responsive to them, so that when opportunities like the Arts Infrastructure Program arise, both parties are prepared to make the best of them. That way, we can bet small and win big for the communities we serve.
---
Do you have an artistic endeavour you would like to promote? Is there a topic you would like me to discuss? I would love to hear from you! Please email me at programs@dcartgallery.ca.
44th annual Penticton Art Auction set for early December – Penticton Western News – Penticton Western News
After almost two years of adjusting on the fly and being forced to reschedule events, the Penticton Art Gallery is set to go ahead with the 44th annual art auction on Dec. 5.
The gallery is giving people the opportunity for a sneak peek on the evening of Dec. 3 so that they can explore all the art that is being sold.
The weekend-long event doesn't have to wait though. Online pre-bidding opened on July 26 and is set to end 24 hours prior to the start of the live auction.
This year's event will be conducted both in-person and virtually, via Zoom, and anyone attending the live auction at the gallery will be required to show proof of vaccination.
"If you don't have a vaccine passport and would like to arrange a private viewing, please contact the gallery and we can make alternative arrangements," said Penticton Art Gallery Director Paul Crawford.
Among the items available for auction include Andy Warhol pieces from his "Marilyn" series. The opening bid for the Warhol items was $1,500, with an estimated value of $5,000. After Marilyn Monroe's death in 1967, the artist began to work on his now-famous series.
This year's auction at the gallery will contain no shortage of historic items available for sale. James Irwin's NASA flight suit is also up for auction, with an opening bid of $4,500 and an estimated value that the gallery calls "priceless."
A woolly mammoth tusk rounds out the gallery's list of "priceless" items but in this case, the piece had an opening bid of $1,750.
To view the complete list of available items, the gallery asks that you visit pentictonartgallery.com/annual-art-auction.
"The Penticton Art Gallery champions the transformative power of the Arts through an annual program of thought-provoking exhibitions," said the gallery's director.
Crawford said in the latest bi-monthly gallery newsletter that they've seen a 60 per cent reduction in revenue over the last 18 months that they had previously earned through a number of fundraising programs, amid the COVID-19 pandemic.
Despite that, he told the Penticton Western News on Thursday that even though he doesn't know what to expect out of this year's auction, he's excited about the gallery's immediate future.
"As we come to the end of the year, I hope you can help support the Gallery through the purchase of one of our Soup Bowl packages, a work from our Under $500 Exhibition + Sale, Annual Art Auction, the purchase of a membership, early bird tickets to the 2022 Ignite the Arts Festival, or a charitable donation this year," he wrote in the letter.
Successful bidders will be notified via email within 48 hours of the auction's closing.
The live auction begins on Dec. 5 at 1 p.m., with the deadline for registration coming on Dec. 4 at 4 p.m.
As of Nov. 25, the auction has raised $8,295, which is 33 per cent of the gallery's goal for the event.
To register for the live auction, email info@pentictonartgallery.com.
In addition, to get in on the pre-bidding festivities virtually, you can visit 32auctions.com/PAG2021.
---
@lgllockhart
logan.lockhart@pentictonwesternnews.com
Like us on Facebook and follow us on Twitter.
Arts and cultureOkanaganPenticton
Black British painting, gay New York photography and Dr Eno will see you now – the week in art – The Guardian