Chiefs defeat Bills to set up meeting with Buccaneers in Super Bowl – Sportsnet.ca
KANSAS CITY, Mo. — It took the Kansas City Chiefs five frustrating decades to make their second Super Bowl appearance.
Now, the defending champs are headed there for the second straight year.
Showing no lingering effects from his concussion, Patrick Mahomes sliced up Buffalo's secondary with ruthless efficiency Sunday night, helping the Chiefs roll to a 38-24 victory over Josh Allen and the Bills in the AFC championship game.
The reigning Super Bowl MVP finished with 325 yards passing and three touchdowns, most of it to favourite targets Travis Kelce and Tyreek Hill, who complemented their star quarterback with a record-setting night of their own.
The Chiefs will face a familiar foe — Tom Brady — and the NFC champ Buccaneers in two weeks in Tampa, Florida.
"It was just trusting each other. The best thing about this team is we believe in each other," said Mahomes, who was also dealing with a toe injury. "But the job's not finished. We're going to Tampa; we're trying to run it back."
Kelce finished with 13 catches for 118 yards and two touchdowns, and Hill added nine catches for 172 yards, becoming the first duo in NFL history with consecutive games of at least 100 yards receiving each in a single post-season.
Clyde Edwards-Helaire and Darrel Williams added short TD runs for the Chiefs, who will try to become the eighth franchise and first team since the Brady-led New England Patriots in 2003 and '04 to defend the Lombardi Trophy.
"So glad to get to do it again," said Chiefs chairman Clark Hunt, whose father Lamar founded the franchise. "Thought a lot about my dad tonight, thought about my family and how excited my father would have been that we got to do it again in Arrowhead Stadium. That's what he would have liked the most about it."
Allen, who had his worst game of the season in a Week 6 loss to the Chiefs, again struggled against the blitzing Kansas City defence. He finished with 287 yards passing with two touchdowns and an interception, but a big chunk of his numbers came as the Bills tried to rally from a 38-15 deficit in the final minutes.
Their frustration boiled over with 3:19 to go, when Allen was getting sacked by Tanoh Kpassagnon. Alex Okafor finished off the tackle, and Allen pitched the ball in his face in resentment. Offensive linemen Jon Feliciano and Dion Dawkins rushed in and levelled Okafor, resulting in a flood of offsetting personal foul penalties.
"Obviously a lot of emotion," Allen said. "Any time you don't finish the season with a win, that's the type of emotion you're going to have. The way it ended doesn't sit right with me with how chippy and ticky-tack it got. I'm disappointed in myself. I let my emotions get to me there. That's not how you're supposed to play football."
It capped a bitter night for the Bills, who had reached their first AFC title game since beating Kansas City at home on Jan. 1, 1994. They had won 11 of 12 since their loss to the Chiefs earlier this season — in fact, they hadn't trailed in the second half since Week 8 — and were riding a wave of confidence that this might finally be their championship year.
Instead, after finally conquering the Patriots in the AFC East, the Bills have a new roadblock to the Super Bowl.
"It stings to get this far," said Bills coach Sean McDermott, who once worked under Chiefs counterpart Andy Reid in Philadelphia. "Sometimes the further you go, the harder it is to lose. It's a learning experience for us as an organization."
The Chiefs actually spotted the Bills a 9-0 lead, thanks in large part to Mecole Hardman's muffed punt inside their 5 that gifted Buffalo a touchdown. But the reigning champs were hardly rattled; the Chiefs, after all, rallied from double-digits in each of their post-season wins last season, including their Super Bowl triumph over San Francisco.
Mahomes and Kelce soon found their groove. And the rest of the Chiefs offence followed suit.
They surgically took apart Buffalo's defence on a 14-play, 80-yard drive that ended with a short TD throw to Hardman — no hard feelings over that fumble. Then, the Chiefs cruised 82 yards in just five plays, the big one Hardman's 50-yard end-around that set up Williams' touchdown tumble. Finally, they made it three TDs in three possessions when Edwards-Helaire — in his first game back from an ankle injury — capped a 77-yard drive with a short plunge.
The only answer from Buffalo was Tyler Bass's chip-shot field goal that made it 21-12 at the break.
You don't beat Kansas City by kicking field goals from the 3-yard line, though. Or from the 9, where the Bills settled for another one to close within 24-15 late in the third quarter.
That became painfully clear on the ensuing drive. Mahomes hit Hill in stride and the All-Pro wide receiver promptly made the Bills secondary look downright foolish. Weaving in and out of woebegone defenders, Hill was finally caught inside the 5-yard line after a 71-yard gain, ultimately setting up Kelce's short TD catch a few plays later.
"You watch him on film, you see what he's doing. It's like he's running at a different speed compared to everybody else," Bills safety Micah Hyde said. "And tonight, we saw first-hand for the second time. He's fast."
Any hopes the Bills had of a comeback were dashed when Rashad Fenton picked off a tipped pass deep in Kansas City territory. The Chiefs breezily marched the other direction, and Mahomes and Kelce kicked off the celebration of another trip to the Super Bowl when they connected for their second score of the game.
"I'm proud of these guys," said Reid, who moved into a tie with Joe Gibbs for fourth on the career list with his 17th playoff win. "They did a phenomenal job, and hats off to the Buffalo Bills and the great job they did all year, and most of all, listen, we have the Lamar Hunt Trophy back in Kansas City.
"Now we have to get the big one."
INJURIES
Chiefs: RG Andrew Wylie hurt his knee early in the second half and LT Eric Fisher limped off in the fourth quarter with an injury to his Achilles' tendon. … CB L'Jarius Sneed and SS Armani Watts were evaluated for concussions.
UP NEXT
The Chiefs and Buccaneers have only played 13 times, and Kansas City had lost five straight before a 27-24 win in Tampa on Nov. 29 — a game that wasn't as close as the final score. Brady is 5-5 in his career against the Chiefs, including an overtime victory with the Patriots in the AFC title game at Arrowhead Stadium two years ago.
Mitch Marner magic helps Toronto Maple Leafs navigate injury issues – TSN
TSN Toronto Reporter Mark Masters reports on the Maple Leafs, who held an optional skate in Edmonton on Monday ahead of their evening game against the Oilers.
---
Sheldon Keefe smiled when asked about potentially making changes to a winning lineup.
"Well, I think we'd always make room for Auston [Matthews]," the Leafs coach said.
Whether Keefe will be able to write No. 34 onto his lineup card tonight in Edmonton remains unclear. The National Hockey League's leading goal scorer missed Saturday's game with a wrist injury.
Matthews stayed out late at Monday's optional workout and skated hard, which is something only the projected scratches usually do. Toronto's No. 1 centre still doesn't appear to be shooting the puck particularly hard. Keefe referred to Matthews as a game-time decision.
The Leafs played extremely well without Matthews during a 4-0 win on Saturday.
"A really special player who's having an incredible year, so any time you have a guy like that out … the whole team has to step up," said winger Zach Hyman. "We did that."
The absence of Matthews may open up more shooting opportunities for crafty winger Mitch Marner, who scored his 10th goal of the season on Saturday.
"When you're playing with a guy like Auston you're always trying to find him in spots and not really thinking of shooting," Marner said after the game. "This year, now, my mindset is still to try and find Auston if I think I can get it to him but, if not, then it's trying to get it on net and realizing that sometimes a play off a goalie is better than a pass. I'm trying to do that more. I worked on my shot a lot this year and I just feel confident when I'm shooting nowadays."
The new-look line of Marner, John Tavares and Joe Thornton found instant chemistry. It was the first time Tavares and Thornton lined up together in a game this season. The trio all touched the puck on Marner's goal.
"Joe puts himself in a good spot and stretches the ice and [Morgan] Rielly finds him and he finds John in the space that Joe's created underneath," Keefe said. "John attacks the middle of the ice and kicks it back to Mitch and drives through the middle of the ice making it harder on the defence and the goalie and it leads to a goal so there's a lot of things that go into that."
Swish and flick 🪄#LeafsForever pic.twitter.com/kpHtGGHPBO

— Toronto Maple Leafs (@MapleLeafs) February 28, 2021
Marner also picked up an assist on the William Nylander power-play goal.
More impressive than the offence was the responsible two-way play. Toronto's top line outscored the Connor McDavid line 1-0 and kept the Oilers captain quiet most of the night.
"We didn't really over-complicate things," Marner said. "We were playing smart with the puck. When we were getting it down low we were talking to each other, finding exits out of corners and off the wall. We got to make sure we keep doing that. The communication throughout our D-zone and getting the puck in our hands to go up the ice with speed was very, very good."
The whole Leafs team was very good and very disciplined. Toronto didn't take a single penalty.
"They played such a good game," said McDavid, who managed just one shot on net. "They were so solid everywhere. They were never in a desperate situation where they needed to hook or hold a guy. Part of that is us not going hard enough to the net or making enough plays. Another part is them just playing so well and being in the right position all of the time."
—
Frederik Andersen and Jack Campbell are also listed as game-time decisions. Andersen, like Matthews, stayed out late at the morning skate. Keefe indicated yesterday it was unlikely Toronto's No. 1 goalie would be ready to return from a lower-body injury on Monday.
For the second straight day, Campbell wasn't on the ice. He returned from a leg injury on Saturday and stopped all 30 shots faced, but also looked to be in discomfort after being run into by Tyler Ennis in the first period.
Michael Hutchinson was in the starter's net at Monday's skate and also the first goalie off the ice. He's 2-1-0 with a .924 save percentage this season. Hutchinson was in net last season when McDavid scored a highlight-reel against the Leafs in Toronto.
—
The Leafs signed T.J. Brodie in the off-season with these type of matchups in mind. The veteran blueliner stared down McDavid and Leon Draisaitl on Saturday and didn't blink during 22 minutes and 15 seconds of work.
"He doesn't care who he's playing against," said Keefe. "It doesn't rattle him. It doesn't concern him. He's comfortable in his own game and realizes he's got to stay within his skill set and do what works for him. Even if he gets beat or makes a mistake, he's just going to go back and drink some water and go out and give his best shot the next time out and more often than not it works out for him. That's why he is who he is in the league."
Brodie picked up an assist and finished Saturday's game with a plus-2 rating. The former Flame sees a lot of similarities between current partner Rielly and former running mate Mark Giordano​.
"They're both great defensively and look to jump offensively," the 30-year-old observed. "They're the type of guys who know how to get open and be available for you to get that outlet pass and, at the same time, they make great, quick passes out of the zone so it's been a pretty easy transition."
—
Hyman is playing through some discomfort right now after blocking a couple of shots off his foot.
"You can battle through a little bit of pain," he said. "I feel like I am able to skate and do all the things that I can do otherwise. It's more painful not playing, to be honest, when you're out and you're watching games."
Hyman, who missed a couple games with the injury, blocked another shot on Saturday.
"It's part of the game," he said. "You don't have enough time to think, 'Oh, I should get out of the way on this one.' When you're out there playing, you're not hurt or injured or anything, you're just playing the game so you don't think about it. For me, just go out there and do my job and if there'​s an opportunity to block a shot then get in the lane."
Hyman wears plastic coverings on his skates, but the initial shot that hurt him hit him in a vulnerable spot.
"The second time I was lucky I was wearing shot blockers so that definitely helped," he said.
—
Jason Spezza snapped a 10-game goal drought in style on Saturday. The 37-year-old completely fooled veteran Oilers goalie Mike Smith.
"That was a sweet move," said linemate Travis Boyd. "We were joking a little bit about how that's his trusty, old go-to move from back in the day. He really got Smith to bite on that fake and that was a sweet move."
"Wow! What a treat it was to watch that," Campbell gushed after the game. "He does it in practice so it was nice to see it on our end."
It was career goal No. 346 for Spezza. How is he able to keep goalies guessing on his go-to move?
"He sells the shot really well," Boyd said. "A lot of people fake a shot, but it's kind of quick and it doesn't actually fake anyone out. You can kind of read that it's a fake. He sold the fake on the slap really hard and then just pushing it that few feet before he shot it gave him that whole side and really locked up Smith."
𝓥𝓲𝓷𝓽𝓪𝓰𝓮 top shelf strike 🔥#LeafsForever pic.twitter.com/EQO3QhXkm0

— Toronto Maple Leafs (@MapleLeafs) February 28, 2021
—
Leafs projected lines for Monday's game:

Thornton – Tavares – Marner
Barabanov – Kerfoot – Nylander
Mikheyev – Engvall – Hyman
Vesey – Boyd – Spezza

Rielly – Brodie
Muzzin – Holl
Dermott – Bogosian

Hutchinson
Woll
Watt to sign with Cardinals on reported 2-year, $31M deal – theScore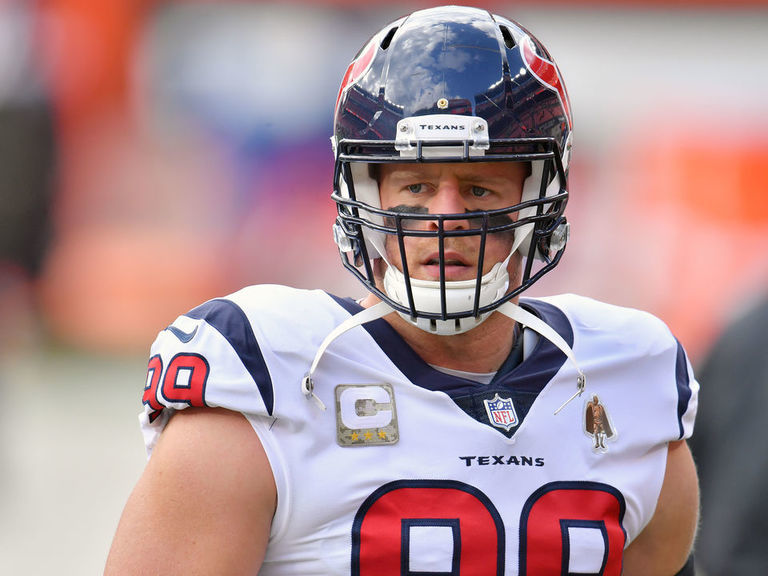 J.J. Watt is signing with the Arizona Cardinals, he announced Monday.
The three-time Defensive Player of the Year and former Houston Texans defensive lineman will ink a two-year pact worth $31 million, $23 million of which is guaranteed, a source told Ian Rapoport of NFL Network.
Watt hit free agency early because the Texans released him from his contract. The 31-year-old asked out of Houston after growing disgruntled with the organization's culture.
In the desert, Watt will join a squad that features former Texans co-star DeAndre Hopkins, who began recruiting him following his release. Arizona missed the playoffs for a fifth straight season in 2020 and is entering a pivotal third year under head coach Kliff Kingsbury.
The Cardinals now have a pair of high-profile pass-rushers in Watt and Chandler Jones, though the latter could become a casualty of the declining salary cap. General manager Steve Keim said recently that he won't cut Jones, but that was before he landed Watt.
Watt had only five sacks in 16 games last year, but he was still proficient in generating pressure. His 101 career sacks rank 31st in NFL history. Watt's greatest concern is the injury bug, which has limited him to eight games or fewer in three of the past five seasons.
The Cardinals were seldom mentioned as a possible landing spot for Watt, who reportedly drew offers from numerous teams. The Cleveland Browns, Green Bay Packers, Buffalo Bills, and Pittsburgh Steelers were speculated to be his top suitors.
Edmonton Oilers claim goalie Alex Stalock off waivers — a wise, wise, wise move – Edmonton Journal
Article content
This in, news that the Edmonton Oilers have claimed goalie Alex Stalock, 33, off of waivers. Bob Stauffer of Oilers Now has tweeted: "Stalock is in year 2 of a 3 year deal with a 785K AAV. He went 20-11-4, 2.67 GAA, .910 SVP last season in Minnesota. He started all 4 games in the Wild's Play-in Series. He missed the start of this season with an upper body injury."
My take
1. This is sharp move by the Edmonton Oilers, as there is no goalie in the organization who is ready to step in if either Mikko Koskinen or Mike Smith get injured.
2. To hold on to Stalock, Edmonton will have to keep waiving forwards who are outside the Top 12, but with the Top 12 solidified now that Jujhar Khaira and Gaetan Haas have stepped up as third and fourth line centres, this isn't such a chore. Players like Kyle Turris, Joakim Nygard, Devin Shore, Patrick Russell and James Neal will have to be waived regularly as they go in and out of the line-up but none of them are likely to be claimed by another team. And if one of them is claimed, it's not the end of the world. Not having an NHL quality starting goalie, on the other hand, just might be the end of the world when it comes to Edmonton's playoffs aspirations.
Article content
3. If Evan Bouchard is in the line-up, and if all other Oilers d-men are healthy, then two d-men, say Kris Russell and William Lagesson, will eventually take up the 20th and 21st roster spots, with Stalock taking up the 23rd spot. The Oilers can't waive Russell due to his limited No Movement Clause, and if they put Lagesson on waivers he will most certainly be claimed.
4. Stalock is an improvement over Troy Grosenick, the last goalie brought in under these circumstances. Grosenick had limited NHL experience, while Stalock has plenty. He'll do in a pinch, and that pinch will hit hard if Smith or Koskinen ever get hurt.
5. In four AHL games, Stuart Skinner has a fine .916 save percentage, while Olivier Rodrigue has an .873 percentage in three games. This is a strong start for Skinner, but he needs more AHL seasoning before he's ready for the NHL. The acquisition of Stalock means Skinner will get that necessary AHL time. And the loss of Slater Koekkoek to injury means the Oilers have a roster spot for Stalock.
6. The Journal's Jim Matheson notes: "Since Oilers keep losing goalies they claim suspect Stalock when he gets through quarantine would go on 23 man roster. Plus he qualifies as goalie to leave it available in expansion draft with next year at $785,000."
7. Sarah McLellan, Wild hockey writer for the StarTribune, reports: "The 33-year-old former Minnesota Duluth has been sidelined all season. He was on the COVID-19 protocols list, but has also been listed out because of an undisclosed upper body injury. Stalock recently had been back working on the ice with goalie coach Frederic Chabot."
At the Cult
STAPLES: Now we're talking! Bouchard back in against Leafs
STAPLES: If anything Edmonton Oilers power play is better this year
LEAVINS: For a Stanley Cup Playoff run, what starting lineup ingredient are Oilers missing the most?