Chilliwack children install outdoor art exhibition at Yarrow Pioneer Park – Chilliwack Progress
In the midst of nationwide gallery and museum closures, a new outdoor art exhibition has popped up in Yarrow.
The show, entitled Together, is a mix of self portraits done by children living in Yarrow and beyond and the pieces have been hung in the play structures at at Yarrow Pioneer Park.
The wood-canvas paintings are currently dangling above the yellow "caution" tape surrounding five different pieces of equipment at the playground.
"This beautiful art showcases the diversity and creativity of our Yarrow children, and offers a balm, a colourful burst of hope," Shari-Anne Vis said. "Where our portraits hang now, we will soon play together again."
Her children were some of many who took part in the show.
Although there was no opening reception, Together started yesterday (May 16) and will be on display for about 10 days.
Vis is hoping folks will visit and "delight with us in our children's ability to bring life, joy and goodness to a lonely park during this uncertain time."
---
Do you have something to add to this story, or something else we should report on?
Email: jenna.hauck@theprogress.com
Twitter: @PhotoJennalism
Art Gallery of Alberta offers pre-booked visits as it reopens during COVID-19 pandemic – Globalnews.ca
Another Alberta attraction is opening its doors with extra precautions to protect guests from the spread of COVID-19.
The Art Gallery of Alberta announced it would start welcoming members back on June 4 and all visitors the following week.
The gallery will be open Thursday to Saturday by "pre-booked tickets." The hours of 11 a.m. to 12 p.m. will be exclusively for vulnerable and at-risk people and all visitors will be welcome 12 p.m. to 5 p.m.
June 4 to 6 will be open only to AGA members for a preview and the wider opening will happen June 11.
Several increased health and safety measures have been put in place, including:
Reduced capacity in all spaces to ensure physical distancing
Guiding physical distancing with decals on the floor, directional markers and signage
Staff in public spaces will be wearing masks and/or face shields
Plexiglass barriers will be installed at key guest service areas
Handwashing or hand sanitizer stations will be put on every floor and at the main entrance
Increased cleaning and disinfecting throughout the AGA
Closing high-touch and interactive areas
Removing all furniture
Not providing wheelchairs at this time
Zinc Restaurant remains closed at this time
Art rental and sales are available by appointment only and with curb-side pickup
"Safety is our top priority and we are closely monitoring the situation each day and if warranted, may decide to take additional measures or close to the public," the AGA said in a statement on its website.
[ Sign up for our Health IQ newsletter for the latest coronavirus updates ]
Guests are asked to book their visit online in advance. Priority will be given to pre-booked visits with a small number of walk-ups allowed each hour.

2:07


Art Gallery of Alberta makes admission free for kids and students



Anyone with any COVID-19 symptoms — even minor — like fever, cough, sore throat, runny nose, chills, shortness of breath/difficulty breathing, aches, feeling unwell — must not visit.
Anyone who has been in contact with someone who had COVID-19 or had COVID-19 symptoms must not visit.
Anyone who has travelled outside Canada in the last 14 days or has been in contact with someone who has must not visit.
When visiting, guests are asked to wear a mask if they have one, stay two metres apart from other visitors, be patient while waiting their turn to see art and exhibits.
Guests are also asked to follow proper handwashing or hand sanitizing recommendations, avoid touching surfaces and following the direction indicators.
The AGA has also said it will be offering Pay what you May admission for the month of June to all essential service workers and those in the arts and culture sector.
People who aren't ready to visit in person can access #yourAGAfromhome online programming, with #AGAlive webinar events and hands-on art activities.
© 2020 Global News, a division of Corus Entertainment Inc.
Christo's place in art history is not without controversy – here's why – The Conversation UK
The history of art is written as if men of genius lead the rest of the world – us, the public – from an imagined position at the front of culture. Whenever another great man dies, his biography is fitted into the story of successive "great lives" and so the point is illustrated, furnished with examples of genius at the helm of progress. This is true of Christo.
Christo, who died aged 84 on May 31, is usually pictured as the quintessential genius. Most often he is pictured alone – the man with his monumental achievements. This has been the case throughout his career – as true of his most recent works as it was in the 1960s and 1970s: the solo man wrapping up nature and architecture (he also wrapped women in his earliest works).
But most of Christo's oeuvre was created working with his wife, the artist Jeanne-Claude, who died in 2009, as well as teams of experts. In all the reporting of the highly ambitious, eye-catching and popular interventions into urban and rural landscapes, his artist-wife collaborator is subsumed under his name. It exemplifies the cliché: "Behind every great man there stands a woman."
Christo and his wife produced a range of artistic experiments including piles of oil drums and miles of umbrellas in sculptural interventions. But their most famous artworks are impossibly large wrappers of urban monuments and rural environments. They wrapped a piece of Australian coast near Sydney in 1968-69, some islands in Miami in 1980-83, the Pont Neuf in Paris in 1985 and the Reichstag in Berlin in 1995, among other things.
Until plastic became justifiably unfashionable for environmental reasons, these artistic interventions were generally understood as aesthetically pleasing, a benign way of drawing attention to the adjacent and enveloped forms, namely the shoreline, the trees, the ancient bridge. The machismo of such large-scale work was fairly unexceptional in the context of "land art" staples at the time, such as Robert Smithson's Spiral Jetty (1970).
Christo's credentials as environmentalist lay in the fact that the work was temporary, and he and Jeanne-Claude went to lengths on their website to explain how the art is "clean". In the 20th century, their work was interpreted as environmentally sound and ecologically engaged, but in the 21st century the continued use of vast quantities of mined and man-made resources was met with criticism.
Context is everything
I note this to exemplify just one of the changes in the art's reception over time. Over Christo's long career, there have been other changes in how the work has been received and framed. Artists always work in contexts – and contexts change over time. Context informs how an artwork is understood. Once, Christo and other land artists were appreciated for their embodied anti-consumerism, anti-capitalist art practices – land art must be funded but it cannot be sold.
Today, this once integral part of its raison d'etre and context is eclipsed by a contemporary art world that embraces the market and the neoliberal idea that the market provides all that society and individuals need. Christo's anti-consumerism therefore is no longer part of his narrative. Changes in the accepted narrative are always worth pointing out.
"The past is a foreign country" is a cliché, but the idea that "they do things differently there" is often overlooked by art historians bent on furnishing a history with genius. For historians – and consequently for most members of the public – a great artwork is great because it is the embodiment of genius. This appears to be common sense, but it is worth noting that the idea of genius was defined at the birth of art history in the 18th century in reference to classical antiquity. Genius was the product of a particular location: Europe, and – notably – a particular gender: male.
Subsequently this narrow definition of genius was projected across the world and the rest of humanity was found lacking. The relationship between genius and progress is intertwined. Without genius we have no progress.
Art in a changing world
Achievements in art and science are driven by a notion of progress. Culture progresses, according to the narrative, from the primitive and unformed, the uninformed, towards enlightenment which, as this idea of progress is an Enlightenment one, is rather neat. Prior to the Modern period, there was a different understanding of progress. Progress was seen as being towards heaven and the value of human intellectual and artistic endeavour was to the glory of God.
The purpose of culture and art, its role and value in society, has changed over time. Cultures, attitudes – and even the very definition of words such as "art" – change. Yet, somehow today and since the invention of art history and the concept of aesthetics, our reception of an artwork is supposed not to change. We assume a great artwork is a great artwork forever and in all contexts, that it is universal and transcendent of time and space.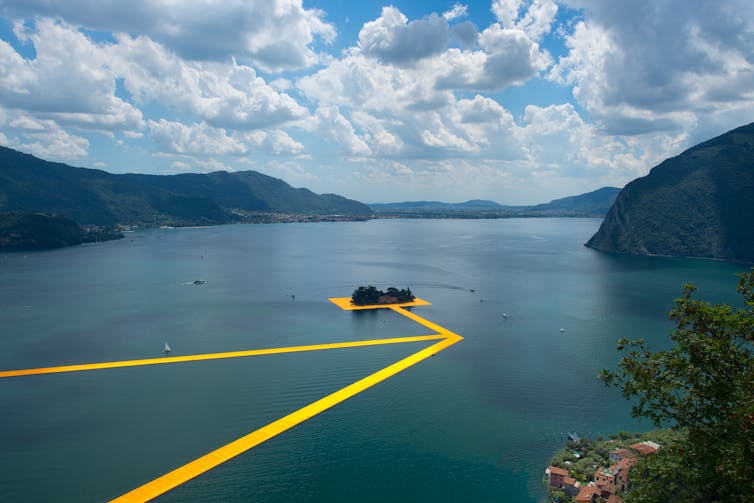 Christo's death serves as an example of how a history of progress is written. The genius of the artist exemplifies a given notion of progress. Progress is built on bigger, better, more expensive sole-authored achievements, a notion of genius that suppresses the collaborative and the complex.
In death, the artist is polished and their achievement is made glossy by smoothing out changes over time in the reception of the art and in the reasons for making art in the first place.
An impression is formed by the traditional art historian that, always and universally, the artist's contribution to cultural progress is fixed and unmistakable, a stable step forwards. In reality, it wasn't like that. It never is.
Incoming Nanaimo Art Gallery executive director excited for new role – Nanaimo News Bulletin
The Nanaimo Art Gallery's new executive director says she's looking forward to the challenge and opportunity to come to a new place, get to know people and make an impact.
On May 29 the Nanaimo Art Gallery announced that this summer Carolyn Holmes, who spent the past four and a half years as executive director of the Two Rivers Gallery in Prince George, will be taking the helm of the NAG.
Holmes said she's been following the NAG for years and that it has a reputation for being innovative and community-minded.
"I know that there's a great exhibition program there and also there's lots of ties to the local community and to the indigenous community as well, which is all important to me," she said. "I think not every art gallery should be the same. Each art gallery needs to respond to their community and work with the community and grow with the community."
Holmes was born in England but raised in Whitby, Ont. As a youth she made art "all the time," leading her to pursue a degree in fine arts at Queen's University and a masters in museum studies at the University of Toronto.
"I always knew I was going to do something with art," she said.
When she moved to P.G. 20 years ago to serve as the gallery's inaugural education programmer the building was still under construction. Holmes said she got to develop the gallery's programming from scratch and build a team around her vision. She said it's "bittersweet" to be leaving the TRG after two decades, but "it'll be nice to have some new ideas come into the organization."
"A lot has happened in that time, along with me having two children and growing a family, so it's been a big part of my life, the gallery, and Prince George as well, so it will be hard to leave," she said.
Before becoming executive director, Holmes served as the director of public programs. She said one of her proudest accomplishments is establishing the gallery's MakerLab, an education and workshop space meant to "connect the community with creativity and not just art."
"Sometimes people think, 'I'm never going to be a painter or a drawer,' or, 'These exhibitions aren't for me,' and so it was a way to have everybody embrace what they might be doing creatively…" she said. "We were trying to teach skills and share ideas and also get people who were making things in their houses, kitchen tables, in their wood shops and bringing them together to share ideas and building a community."
Holmes said moving to Nanaimo will bring her closer to her parents who live in Qualicum Beach. And while she said her familiarity with the Harbour City is limited to that of a summer tourist, Holmes is excited for her and her husband and teenage sons to "find our place" in Nanaimo.
Holmes expects the first few months of her directorship will be spent familiarizing herself with the gallery and getting a sense of what the NAG staff and board are working on, their priorities and their plans for the future.
"I know eventually the board would like to grow the gallery and that's exciting, I think, for everyone, but I think there's a lot of listening and learning that needs to take place," she said. "For me, engaging with the community is my priority. I want people to recognize that Nanaimo Art Gallery is their art gallery and feel a connection to that."
---

arts@nanaimobulletin.com
Like us on Facebook and follow us on Twitter