China rebounds with economic growth target above 6% – BBC News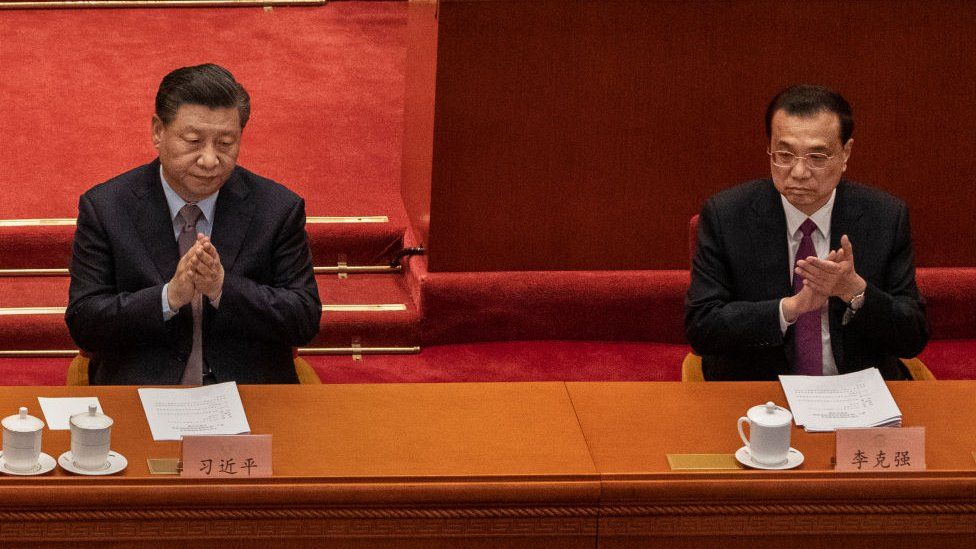 China is aiming for an economic growth rate above 6% in 2021, after scrapping its target last year.
China's Premier Li Keqiang announced the target on Friday at the opening of this year's National People's Congress.
The target marks a return to strong growth after the Covid-19 pandemic impacted the world's second largest economy.
Although China's economy grew last year, it only managed 2.3% growth, its weakest result in decades.
The new target highlights the Chinese economy's strong rebound after the pandemic shutdowns led to a sharp 6.8% contraction in the first quarter of 2020.
The economy grew in the second half of 2020, and China was the only major global economy to post gains for the year, although they were slender compared to previous years.
Now the government hopes to continue that rebound.
"A target of over 6% will enable all of us to devote full energy to promoting reform, innovation, and high-quality development," Premier Li Keqiang said.
"In setting this target, we have taken into account the recovery of economic activity."
By some measures the target appears modest, falling well below the International Monetary Fund's estimate of 8.1% growth for China's economy this year.
Other analysts are also tipping stronger growth.
"The consensus for the year is about 8%-9% but this is coming from a low base. The focus is still on the quality versus the quantity of growth," said Catherine Yeung, investment director at Fidelity International in Hong Kong.
In an analyst note, Bruce Pang from investment bank China Renaissance said the more flexible target leaves some room for structural reform and a transition to a more mature economy.
"We think it likely the target will be achieved, indicating that authorities are shifting focus to the quality of growth instead of speed," he said.
Mr Li also set a target urban unemployment rate of around 5.5%, with a goal of more than 11 million new urban jobs, up from nine million last year.
It also set a budget deficit goal of around 3.2% of gross domestic product.
However, the finance ministry expressed concern about the state of the government budget.
"The outlook for government revenue and expenditure in 2021 appears quite grave, with even greater difficulty in balancing the budget and risks in key areas such as debt that cannot be overlooked," it said in a report released at the start of the meeting.
Britain is 'bouncing back' into the same old economy – The Guardian
CANADA STOCKS – TSX ends flat at 19,228.03
* The Toronto Stock Exchange's TSX falls 0.00 percent to 19,228.03
* Leading the index were Corus Entertainment Inc <CJRb.TO​>, up 7.0%, Methanex Corp​, up 6.4%, and Canaccord Genuity Group Inc​, higher by 5.5%.
* Lagging shares were Denison Mines Corp​​, down 7.0%, Trillium Therapeutics Inc​, down 7.0%, and Nexgen Energy Ltd​, lower by 5.7%.
* On the TSX 93 issues rose and 128 fell as a 0.7-to-1 ratio favored decliners. There were 26 new highs and no new lows, with total volume of 183.7 million shares.
* The most heavily traded shares by volume were Toronto-dominion Bank, Nutrien Ltd and Organigram Holdings Inc.
* The TSX's energy group fell 1.61 points, or 1.4%, while the financials sector climbed 0.67 points, or 0.2%.
* West Texas Intermediate crude futures fell 0.44%, or $0.26, to $59.34 a barrel. Brent crude  fell 0.24%, or $0.15, to $63.05 [O/R]
* The TSX is up 10.3% for the year.
Canadian dollar outshines G10 peers, boosted by jobs surge
By Fergal Smith
TORONTO (Reuters) – The Canadian dollar advanced against its broadly stronger U.S. counterpart on Friday as data showing the economy added far more jobs than expected in March offset lower oil prices, with the loonie also gaining for the week.
Canada added 303,100 jobs in March, triple analyst expectations, driven by the recovery across sectors hit by shutdowns in December and January to curb the new coronavirus.
"The Canadian economy keeps beating expectations," said Michael Goshko, corporate risk manager at Western Union Business Solutions. "It seems like the economy is adapting to these closures and restrictions."
Stronger-than-expected economic growth could pull forward the timing of the first interest rate hike by the Bank of Canada, Goshko said.
The central bank has signaled that its benchmark rate will stay at a record low of 0.25% until 2023. It is due to update its economic forecasts on April 21, when some analysts expect it to cut bond purchases.
The Canadian dollar was trading 0.3% higher at 1.2530 to the greenback, or 79.81 U.S. cents, the biggest gain among G10 currencies. For the week, it was also up 0.3%.
Still, speculators have cut their bullish bets on the Canadian dollar to the lowest since December, data from the U.S. Commodity Futures Trading Commission showed. As of April 6, net long positions had fallen to 2,690 contracts from 6,518 in the prior week.
The price of oil, one of Canada's major exports, was pressured by rising supplies from major producers. U.S. crude prices settled 0.5% lower at $59.32 a barrel, while the U.S. dollar gained ground against a basket of major currencies, supported by higher U.S. Treasury yields.
Canadian government bond yields also climbed and the curve steepened, with the 10-year up 4.1 basis points at 1.502%.
(Reporting by Fergal Smith; Editing by Andrea Ricci)