China Widens Probe Beyond Didi, Roiling Global Investors – Yahoo Finance
(Bloomberg) — China expanded its latest crackdown on the technology industry beyond Didi Global Inc. to include two other companies that recently listed in New York, dealing a blow to global investors while tightening the government's grip on sensitive online data.
In a series of announcements that began on Friday and escalated over a holiday weekend in the U.S., Beijing ordered all three companies to halt new user registrations and told app stores to remove Didi's service from their platforms. The regulatory onslaught came just days after the ride-hailing giant completed one of the biggest U.S. listings of the past decade and within weeks of debuts by the other targeted companies — Full Truck Alliance Co. and Kanzhun Ltd.
Investors responded by dumping Chinese tech stocks in Hong Kong and sending shares of SoftBank Group Corp., a backer of both Didi and Full Truck, to a seven-month low in Tokyo. Didi, which tumbled 5.3% on Friday, could extend losses when trading resumes in the U.S. on Tuesday.
While China watchers have been on high alert for regulatory shocks since Beijing scuttled Jack Ma's IPO of Ant Group Co. in November, the move against Didi and its peers adds a new dimension — cybersecurity — to a clampdown that has so far focused on fintech and antitrust issues. The Communist Party-backed Global Times said in a Monday column that Didi's data hoard posed a threat to individual privacy as well as national security, particularly since its top two shareholders — SoftBank and Uber Technologies Inc. — were foreign.
Beijing's targeting of recent U.S. listings may chill the pipeline of overseas IPOs that have enriched Wall Street and private Chinese firms alike. That could in turn fuel concerns of an economic decoupling between China and the U.S., at least in sensitive areas like technology, as both Xi Jinping and Joe Biden take steps to limit the flow of capital and expertise between the two superpowers. Helping tech companies sell shares in New York has been a lucrative business for firms like Goldman Sachs Group Inc. and Morgan Stanley, both of which were key underwriters of the Didi IPO.
Among the questions still lingering for global investors, Chinese tech bosses and U.S. regulators: Which companies might enter Beijing's crosshairs next? And in Didi's case, should investors have been given more explicit warnings about China's clampdown before the IPO?
"Didi seems to have rushed up their IPO process, indicating that there might be early signs of upcoming government scrutiny," said Shen Meng, director of Beijing-based boutique investment bank Chanson & Co. "The Didi probe, together with the other investigations announced today, show how the tensions between China and the U.S. are spilling over into the capital markets. The incident will suppress Chinese companies' desire to go public in the U.S."
Didi said in an emailed statement on Monday that it was unaware of the Chinese watchdog's decision to suspend user registrations and remove Didi Chuxing from app stores ahead of its listing.
Didi undoubtedly has the most detailed travel information on individuals among large internet firms and appears to have the ability to conduct "big data analysis" of individual behaviors and habits, the Global Times wrote Monday. To protect personal data as well as national security, China must be even stricter in its oversight of Didi's data security, given that it's listed in the U.S. and its two largest shareholders are foreign companies, the newspaper added.
"We must never let any internet giant control a super database that has more detailed personal information than the state, let alone giving it the right to use the data at will," the Global Times said in the commentary. While it's not clear how Didi illegally collected personal data, companies should gather the least amount of information required for their services, it added.
The probe is part of a wider crackdown on China's largest internet corporations, as the government seeks to tighten the ownership and handling of the troves of information they gather daily from hundreds of millions of users. As part of the reviews, the Cyberspace Administration of China ordered Didi, Full Truck Alliance's Huochebang and Yunmanman platforms, as well as Kanzhun's Boss Zhipin to halt new registrations, though existing customers can continue to use their services.
For more on China's latest crackdown
What Is Didi and Why Is China Cracking Down on It?: QuickTakeChina Widens Security Probe to Two More U.S.-Listed FirmsBeijing's Blocking of Didi App Sends Peers Tumbling in Hong KongChina Blocks Didi From App Stores Days After Mega U.S. IPOXi's Next Target in Tech Crackdown Is China's Vast Reams of DataWhat Is Behind China's Crackdown on Its Tech Giants: QuickTake
On Sunday, Didi said on social media that it had already halted new user registrations as of July 3 and was now working to rectify its app in accordance with regulatory requirements. It offered its sincere thanks to authorities for their oversight. In a follow-up statement, Didi said the regulatory move may have "an adverse impact" on its revenue in China.
The investigation comes hot on the heels of Didi's float, which listed on Wednesday in New York after a $4.4 billion IPO — the largest by a Chinese firm in the U.S. after Alibaba. SoftBank owned roughly 20% of Didi following the listing, while Uber's stake was about 12%, according to an earlier Didi filing. Founder Cheng Wei owned about 6.5%, just ahead of the 6.4% held by Tencent. SoftBank sank 5.4% in Tokyo trading Monday to the lowest since Dec. 8.
Even before the CAC's crackdown, Didi had been under close scrutiny from regulators since a pair of murders in 2018 that founder Cheng has called the firm's "darkest days." It was among 34 firms told by the antitrust watchdog to conduct self-inspections and rectify abuses, while the transport ministry had ordered ride-hailing companies including Didi to review their practices relating to driver income and pricing.
Full Truck Alliance, backed by Tencent, is little changed since it raised $1.6 billion in a June 21 listing. Kanzhun, also part of Tencent's investment portfolio, has nearly doubled after its $912 million IPO. Other firms that listed in the U.S. last month as part of a boom in Chinese companies selling shares overseas include grocery services MissFresh Ltd. and DingDong Cayman Ltd.
Other tech stocks fell in Hong Kong trading Monday. Tencent retreated as much as 4.5%, touching its lowest level this year. Alibaba sank more than 3%, while Meituan and Kuaishou Technology, a short video streaming platform that listed in the Asian financial center earlier this year, tumbled more than 7%.
"It's clear that there's a regulatory overhang on China's tech giants at the moment and that may continue to weigh on sector valuations for the large internet platforms," according to Matthew Kanterman, an analyst at Bloomberg Intelligence.
(Updates with comment from Didi in eighth paragraph)
More stories like this are available on bloomberg.com
Subscribe now to stay ahead with the most trusted business news source.
©2021 Bloomberg L.P.
Credit Suisse top energy stock picks include two Canadian companies – The Globe and Mail
Daily roundup of research and analysis from The Globe and Mail's market strategist Scott Barlow
Like Scotiabank Monday, Credit Suisse analyst Manav Gupta thinks now is the time to add energy stocks.
Mr. Gupta also provided a list of top picks which includes two Canadian stocks,
"We continue to believe that in a post Russia-Ukraine conflict world, we are short of crude oil, refined products and natural gas. We estimate global oil market was undersupplied by ~1.5MMb/d in 2Q 22 and will remain undersupplied by ~0.8MMb/d in 2H 22 and this will continue to support higher prices in the near-term. While IEA still believes markets will be somewhat balanced in 2022/2023, in our opinion, IEA is overestimating supply growth from certain regions (including OPEC) and still underestimating total global demand… World is short of refining capacity and we expect US refiners will likely be one of the biggest beneficiaries of that as European peers struggle to source replacement of Russian barrels … Our favorite names… also highlight investment cases for our favorite names. Integrated oil – XOM, CVX, SU [Suncor Energy Inc.] and CVE [Cenovus Energy Inc.]. Upstream – COP, OVV and CHK. Midstream – LNG, PAA and TRGP. Refiners – VLO, MPC, DINO, PSX and VTNR."
***
Wells Fargo strategist Chris Haverland details what I think is the biggest short term equity market risk – earnings downgrades,
"After growing by 9% in the first quarter of 2022, S&P 500 Index earnings are expected to have grown by 5.7% in the second quarter of 2022 … It would be the slowest quarter for growth since the fourth quarter of 2020… The energy, industrials, and materials sectors should lead the way with energy earnings expected to growth by a remarkable 205%. Excluding the energy sector, overall S&P 500 Index earnings are expected to contract by 2%… Forward guidance will be key as many companies continue to deal with rising input prices, a tight labour market and continued global supply chain constraints."
"WF on Q2 earnings" – (research excerpt) Twitter
***
The longer-term outlook for copper stocks is bright because of electrification, but it would be hard to tell that as miners and the commodity price continue to fall. The RBC research team discussed the trend,
"The North American Base Metals have almost fully caught up to the copper price and are now down 6% year-to-date (copper -11.7% ytd) but are still outperforming the broader market (S&P 500 -18.7% ytd, TSX -9.4% ytd). The North American Base Metals stocks are trading at an 18% discount to NAV, above trough levels around a 40% discount but near the historical avg. discount of 22% (see page 6). While the volatility could continue, we believe this pull back creates an opportunity to add high quality names which stand to benefit from the positive copper fundamentals in the coming years.
***
Diversion: "9 Invasive Plants You Should Rip to Shreds" – Gizmodo
Tweet of the day:
e smart with your money. Get the latest investing insights delivered right to your inbox three times a week, with the Globe Investor newsletter. Sign up today.
Price cap on Russian oil could shake up the market – CNN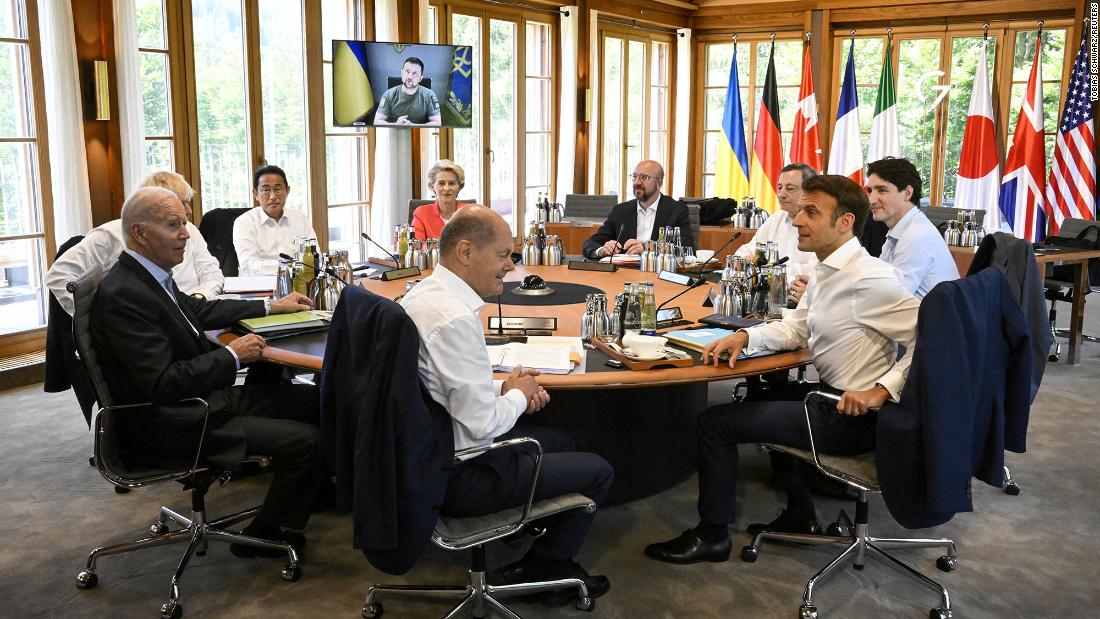 Russia's government is making just as much money from energy exports as it was before the invasion. Meanwhile, inflation is surging globally, adding to political pressure on heads of state such as US President Joe Biden, British Prime Minister Boris Johnson and French President Emmanuel Macron.
"The goal here is to starve Russia, starve Putin of his main source of cash and force down the price of Russian oil to help blunt the impact of Putin's war at the pump," a senior US administration official told CNN.
Why it's needed: European customers have pared imports from Russia even before the bloc's partial embargo takes effect. But an uptick in exports to Asia has helped make up for a large chunk of those losses. China — taking advantage of huge price discounts — imported 2 million barrels of Russian oil per day last month for the first time. India's imports also spiked, hovering near 900,000 barrels per day in May.
Review: Cadillac is making a comeback and the all-electric Lyriq SUV is set to play a key role – The Globe and Mail
As many auto manufactures have struggled during the past few years between the pandemic and a chip shortage, Cadillac is seeing success.
"Cadillac in Canada has been on a roll for the last few years. 2020 was the best year in our history from a sales perspective, said Shane Peever, managing director of Cadillac Canada during the recent test-drive event for the all-electric Lyriq compact SUV in Park City, Utah. "And then we did it again in 2021″ for back-to-back sales records.
In 2020, Cadillac sold 12,066 vehicles in Canada; in 2021, that rose to 12,743. And momentum appears to be building thanks to its first all-electric vehicle. In fact, if you want a 2023 Lyriq, you're out of luck – it's already sold out. More than 3,300 have been preordered in Canada, with production to begin in August. Cadillac is now accepting orders for the 2024 models with dual electric motors, 500 horsepower and all-wheel-drive. No other pricing or feature details are available.
Our test vehicle was a rear-wheel-drive Lyriq with a 12-module, 100 kilowatt-hour battery pack and a one-motor system that produces 340 horsepower and 325 lb-ft of torque, and has an estimated range of 502 kilometres. It rides on GM's new Ultium battery architecture – it's the same battery technology used in the GMC Hummer EV and all GM EVs moving forward. It's less expensive, more powerful and uses less cobalt than the batteries found in the Chevrolet Bolt.
With 457 kilometres of range to start, I travelled along highways, twisty mountain roads and through quaint little villages. The Lyriq felt smooth, composed and responsive. In sharp corners, it was surprisingly well-balanced. The default setting for the one-pedal felt overly sensitive and somewhat jarring, slowing down the vehicle abruptly and making my driving partner nauseous. Thankfully, you could turn off the system easily using an icon on the massive 33-inch curved LED display. Cadillac's so-called "Regen on Demand" system, accessed via a paddle shifter on the left side of the steering wheel, also improves efficiency by allowing the driver to adjust the regenerative braking level and control how quickly the vehicle slows down or comes to a complete stop. The pressure-sensitive paddle was a bit finicky at first, but once you got the hang of it, it created a more engaging drive and added an extra eight kilometres of range.
After several hours and nearly 120 kilometres, the range dropped 145 kilometres – not bad considering we blasted the air conditioning in the blazing 27-degree heat, turned on the ventilated front seats, pumped up the tunes on the AKG 19-speaker audio system, and drove it like a gas-powered vehicle.
When stopped, the Lyriq garnered attention and compliments constantly from pedestrians, cyclists and other drivers. No surprise – it looks sharp. Designers faced challenges creating a new, memorable brand identity for Cadillac now that it has no engine. "For so long, the car's design and face were defined by that big grille and the patterns and shapes that went into it. Now, everybody is rethinking, how do you have a clean brand identity that still feels unique in the marketplace," said Tristan Murphy, interior design manager of the Cadillac Lyriq.
For Murphy, the solution was simple – it was in the lighting. "What really separates the Lyriq [from the competition] is the whole light-up animation. We took lighting to a whole other level where it's not just about lighting the road and being functional, but being part of a beautiful walk-up sequence," said Murphy. It's stunning to witness – walk up to the vehicle with key fob in hand and the front lights come to life, starting with Cadillac's trademark centre crest and working outward to the slim, vertical LED headlamps before ending with the rear taillights. The lighting theme also extends inside with 26 customizable colour choices to alter the mood in the cabin.
Removing the engine eliminated other constraints for designers, too. With no transmission tunnel, for example, it opened up the floor plan and allowed for smart storage solutions including a spot to store your purse, within arm's reach. The bin is lined elegantly in juniper blue; the pattern is repeated above in a jewelrylike drawer perfect for hiding smaller items like cellphones or wallets. Intricate laser-etched patterns on the dark-ash wood highlight the craftsmanship and attention to detail in the cabin.
The Lyriq will be built at GM's Spring Hill manufacturing facility in Tennessee and delivery for Canadian customers is expected later this summer.
Tech specs
2023 Cadillac Lyriq
Base price: $69,898 (including Destination and Freight Charges)
Motors: one motor (2023); dual electric motors (to come for 2024)
Battery Pack: 100.4 kilowatt hours (rear-wheel drive); not announced (all-wheel drive)
Charging capability: Level 2 (240-volt) 6-10 hours; DC fast-charger, 122 kilometres in 10 minutes
Horsepower/torque (lb-ft): 340/324 (rear-wheel drive); 500/not announced (all-wheel drive)
Claimed Range: 502 km (rear-wheel drive); not announced (all-wheel drive)
Alternatives: Tesla Model Y, Audi Q4 e-tron, Jaguar I-Pace, Genesis GV60
Looks
Even though the Lyriq is electric, it still looks like a Cadillac. The new face is dramatic and bold with striking lighting details at the front and rear. I'm not a fan of the flush door handles, which make opening the door a two-step process – push the electronic button on the handle and grab the shark fin accent a few inches above.
Interior
In true Cadillac fashion, the cabin is upscale with a massive curved 33-inch LED display to access many items from the audio and navigation systems to the glove box compartment and ambient lighting choices. Many functions can also be controlled using a rotary dial on the centre control, but I prefer using the touch screen or better yet, Google's personal assistant – it's fast and works well.
Performance
The Lyriq is more engaging to drive than many competitors. Climbing up mountains was effortless and along sweeping roads it was sure footed. The ride was also whisper quiet with little road or wind noise in the cabin. The 2024 all-wheel-drive model is expected to tow up to 3,500 pounds.
Technology
The Lyriq is loaded-to-the-nines with safety technology and driving aids such as adaptive cruise control, advanced parking assist and Super Cruise, GM's semi-autonomous hands-free driver assistance system. It also has Google with Google Maps and a personal voice assistant, wireless Apple Car Play and Android Auto, a built-in WiFi hot spot, and over-the-air software update capabilities.
Cargo
Many competitors have front trunks, but the Lyriq doesn't. No biggie – the rear cargo is large with 793 litres of space. The rear seats fold down with the touch of two buttons in the cargo area. Drop the seats and the cargo expands to 1,723 litres.
The Verdict
Cadillac is making a comeback and the Lyriq will certainly help thanks to innovative design cues, long driving range and posh, tech-friendly interior.
The writer was a guest of the auto maker. Content was not subject to approval.
Shopping for a new car? Check out the new Globe Drive Build and Price Tool to see the latest discounts, rebates and rates on new cars, trucks and SUVs. Click here to get your price.