China's 2019 property investment up 9.9% year-on-year, sales fall – TheChronicleHerald.ca
BEIJING (Reuters) – China's property investment hit a two-year low in December even as it grew at a solid pace in 2019, adding to recent signs of a slackening in the sector and suggested Beijing might need to offer more stimulus to stabilize a cooling economy.
Real estate investment, which mainly focuses on the residential sector but includes commercial and office space, increased 9.9% in 2019 from the year-earlier period, down from 10.2% in the first 11 months but still outpaced a 9.5% gain in 2018.
In December alone, year-on-year growth slowed to 7.3% from 8.4% in November, the weakest pace since December 2017, according to Reuters calculations based on data released by National Bureau of Statistics (NBS) on Friday.
The reading was in line with other activity data out on Friday that showed the world's second-largest economy grew 6.1% in 2019, the slowest in 29 years, and was likely helped by looser monetary policy as it gave developers relatively easier access to credit.
New bank lending in China hit a record of 16.81 trillion yuan ($2.44 trillion) in 2019, while China's central bank has announced eight cuts in banks' reserve requirement ratio (RRR) since early 2018, freeing up more funds and driving down lending costs.
"There was some slowdown in December but we don't need to be too concerned with property because things are improving on the financing side," said Yang Yewei, a Beijing-based analyst with Southwest Securities, who noted an increase in mortgages in December.
Funds raised by China's property developers grew 7.6% in 2019 year-on-year, NBS data showed, faster than the 7% pace in the first eleven months.
Chinese property developers kicked off the new year with a strong pipeline of bond issuance, in particular for long-tenor notes, taking advantage of easier regulatory approvals and robust market demand.
But analysts say investment in actual construction has slowed notably as developers exercised caution, although they appear still eager to bid for land.
Measured by floor area, new construction starts rose 7.4% in December from a year earlier, recovering from a 2.9% decline in November when it hit the worst level seen in more than two years, according to Reuters calculations.
Land sales by floor area in 300 major cities tracked by China Index Academy fell 1% on-year in 2019, while transaction value surged 19%, providing a much needed boost to local government purse strings.
SLUGGISH SALES
The government is keen to defuse housing bubbles after years of supercharged price gains. However, since the real estate sector remains a key pillar of the economy, any more weakness could influence the pace and scope of fresh stimulus measures expected from Beijing this year.
Property sales by floor area, a major indicator of demand, fell 0.1% in 2019 from a year earlier, marking the first full-year decline in five years since the last downturn in 2014, when it slumped 7.6%, the NBS data showed on Friday.
In December, they fell 1.7%, compared with a modest increase of 1.1% in the previous month, ending five months of consecutive growth, Reuters calculated from official data.
Analysts say a continued downturn in sales on the back of government controls to curb speculation will constrain price growth in coming months, dampening developers' appetite for front-loading construction.
Data on Thursday showed China's new home prices grew at their weakest pace in 17 months in December, with broader curbs on the sector continuing to cool the market in a further blow to the sputtering economy.
Some analysts say the government could potentially dial back stimulus when economic growth stabilizes in order to lower debt risks.
"It is likely that the government could take the chance of an economic warm-up to consolidate local government finance and continue the property market control, which might set an up-limit for GDP growth in this year," J.P. Morgan Asset Management Global Market Strategist Chaoping Zhu wrote in a note.
(Reporting by Yawen Chen and Ryan Woo; Additional Reporting by Stella Qiu; Editing by Shri Navaratnam)
Foreign investment rules may be issued before omnibus laws: Senior minister – The Jakarta Post – Jakarta Post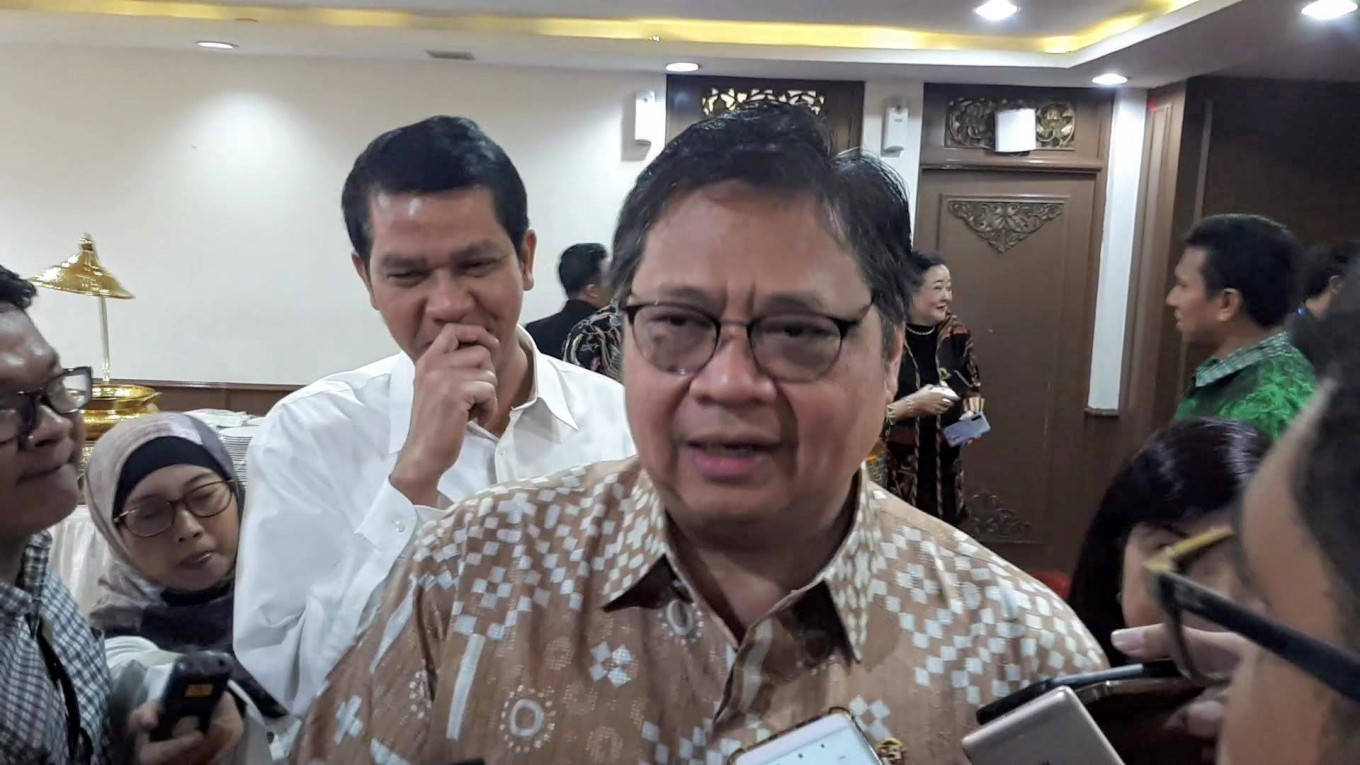 Coordinating Economic Minister Airlangga Hartarto has said that foreign investment rules – namely the priority investment list – may be issued by the government before the sweeping omnibus bills on job creation and taxation pass into law.
Airlangga said the priority list would allow certain business sectors to get fiscal incentives such as tax holidays and super tax deductions. The government would also prohibit 100 percent foreign ownership in small and medium businesses.
"We are still harmonizing [the investment list], and we will provide the priorities to investors so that during the list campaign we do not have to say, 'These are the sectors that you are not allowed to invest in,'" the minister said at a media briefing in Jakarta on Monday evening.
Read also: Government to liberalize investment in omnibus bill on job creation
The government has long floated the idea of changing the current negative investment list (DNI) to a so-called positive investment list. Currently, the DNI regulates which business sectors are open, prohibited or open with certain conditions to foreign investment.
In the omnibus bill on job creation, the government will open all business sectors to direct investment except those it explicitly declares prohibited from such activity or those that can only be handled by the government.
The prohibited areas are narcotics, gambling, chemical weapons, ozone-depleting substances, coral extraction and fishing for endangered species based on the Convention on International Trade in Endangered Species of Wild Fauna and Flora (CITES).
Further details on the investment policy will be regulated in a presidential regulation, the bill states.
The government expects the bill, if passed into law, to cut regulatory red tape and attract more investment into the country to help boost stagnant economic growth. Indonesia's economy grew by 5.02 percent last year, down from 5.17 percent in 2018, as investment and exports cooled.
Read also: Key points of labor reform in omnibus bill on job creation: What we know so far
President Joko "Jokowi" Widodo's administration has also submitted to the House of Representatives the omnibus bill on taxation, which will lower corporate income tax from the current 25 percent to 20 percent by 2023. The bill will also lower tax penalties, ease income tax regulations for expatriates and work toward taxing multinational digital firms that have no physical presence in Indonesia but that benefit from activities in the local market.
Airlangga said that labor-intensive industries would receive a tax holiday. "For instance, if a company wanted to build a garment factory with 2,000 workers, they would receive a tax holiday."
The minister added that large investments would also receive similar tax incentives, adding that an investment of US$750 million may allow a company to have a tax holiday for 15 years.
Leap in foreign direct investment expected in 2020, minister says – Daily Sabah
Turkey expects a strong acceleration in foreign direct investments this year, the country's technology and industry minister said Monday.
Turkey expects to see new investments in petrochemicals, transportation technology, integrated mining, defense and electronics in 2020, Mustafa Varank told the U.K. Technology Conference in the metropolis of Istanbul.
These investments will attract foreign investors, he added. "We want to move Turkey to the upper leagues and make it one of the best-developed countries in the world."
Varank said the country will reach its 2023 targets by taking steps in technology, innovation, digital transformation, entrepreneurship, human capital and infrastructure.
Turkey aims to boost the manufacturing industry's share of the gross domestic product (GDP) to 21% and raise the share of medium- and high-tech products to 50% of its exports, Varank said.
He added that the country targets having half a million software developers and creating 23 global smart products in the disruptive technology area.
Saying that the U.K. has critical importance in the technology area, he stressed that it is also one of Turkey's key trade and investment partners.
Varank called on U.K. tech companies to focus on business development and make investments to produce project-based and strategic products in technoparks across Turkey.
"I see this conference as a step for improving and deepening our relations much more after the Brexit period," he said.
Post-Brexit trade
The U.K. formally left the European Union on Jan. 31, 2020, after 47 years of membership and more than three years after Britons voted to leave in a referendum. However, the country will remain in a transition period with the EU until Dec. 31 this year.
During the year, the U.K. will continue to abide by the trade terms set by the EU but will also be free to strike new trade deals.
Turkey is expected to be one of Britain's top destinations for a trade deal, after the EU and the U.S.
Earlier this month, the Turkish Trade Ministry said Ankara and London will discuss a free trade deal through existing working groups between the two countries. The focus will be on minimizing friction on imports and exports flowing between the two countries.
Trade Minister Ruhsar Pekcan recently said a British delegation will be arriving in Turkey on Feb. 27 to discuss a post-Brexit trade deal, adding that they will try to formulate their own agreement parallel to the free trade agreement (FTA) the U.K. and EU will make between them.
On trade discussions between the two countries, Varank said, "We hope this process will conclude with a free trade agreement."
The trade volume between Turkey and the U.K. in 2018 was $18.5 billion – second only to Germany – with Turkey exporting $11.1 billion to the U.K. and receiving $7.4 billion in imports. This was a 15.7% increase in exports and a 13.7% increase in imports for Turkey compared to the previous year.
Also addressing the event, John Mahon, the director-general for exports in the U.K.'s Department for International Trade, said the U.K. wants to open and expand trade channels now that it has parted ways with the EU, stressing that Turkey is one of the target countries in this mission.
He noted that the U.K. is independent in its trade affairs for the first time and that a new path awaits the country.
The U.K. is after new free trade deals, Mahon said, adding that they would produce trade agreements and negotiations with the U.S. and other countries in Europe by the end of the year.
For his part, the U.K.'s Ambassador to Ankara Dominick Chilcott stressed the immense potential between Turkey and the U.K.
Ankara and London have agreed to firmly work not only on business affairs but also to further strengthen links between their people.
Elaborating on the U.K.'s exit from the EU, the ambassador said the country has now started to move on its own with respect to free trade and that it has become independent within the World Trade Organization (WTO).
"The trade between the U.K. and Turkey has great potential. It is of great importance to the British government. Turkey has a strong economy and trade between us is one of the important points," Chilcott noted.
British Consul-General to Istanbul and Trade Commissioner for Eastern Europe & Central Asia Judith Slater also stressed that the U.K. looks to further strengthen commercial ties with Turkey.
Braveheart"s investments focused on six-strong portfolio – Proactive Investors USA & Canada
What it does
Braveheart Investment Group PLC (LON:BRH) is an AIM-listed firm that provides funding and advisory services to small and medium-sized enterprises (SME).
Formed in 1997 as an investment syndicate, it now specialises in four areas – equity financing, debt financing, advisory services and fund management.
What it owns
Braveheart now holds six strategic investments in its portfolio alongside other historical investments.
These included biotechnology firm Kirkstall, UV light detection group Paraytec, propeller and rotating shaft monitoring group Gyrometric Systems, microscope imaging firm PhaseFocus and Sentinel Medical, a spin-out of Paraytec developing technology to detect cancer cells in urine.
The company also has a 51.72% stake in Pharm2Farm Limited (P2F), a plant nutrients specialist.
How it's doing
In a January, Braveheart said Paraytec (100%) has started the second round of user trials.
Paraytec is part of an Innovate UK funded R&D project (NEXUS) that includes Malvern Panalytical, the University of Central Lancashire, GSK, Medimmune and Fujifilm Diosynth.
Aggregates are an impurity that must be controlled and must stay within product specifications, so measurement is essential to ensure they meet the requirements of regulatory agencies.
Pharm 2 Farm (51.72%) has sent samples of silicon micronutrient and turf to potential customers.
Biotechnology company Kirkstall (64.67%) has appointed new distributors in South Korea and China.
Gyrometric Systems (19.95%) has developed shaft monitoring and measurement systems for revolutions as low as 0.25 revolutions per minute, which is useful for wind turbines.
Its ship drive monitoring systems, meanwhile, will be exhibited next year in September at SMM Hamburg, the world's largest exhibition for ship technology.
Phasefocus Holdings (21.20%) has recently been granted a new US patent for a fundamental improvement in its underlying ptychography imaging technology.
The method protected by the new patent has the potential to speed up Phasefocus's systems by a factor of 10 times.
Sentinel Medical (38.40%) is to revise the trial protocols for its prototype instrument to detect bladder cancer from urine after initial work at Sheffield University.
In the first half of the current financial year (to October) Braveheart made a loss of £122,000 ( £114,000 profit).
There was an interim dividend of 0.5p.
What the boss says: Trevor Brown
Progress continues across a broad front and we remain optimistic that this will eventually be reflected in enhanced returns to shareholders.
Inflexion points
New round of user trials for Paraytec
Commercial orders for Gyrometric
Pharm 2 Farm converts interest into orders