China's economy sees new pockets of growth in rising shopping trends – CNBC
A customer eyes the beverage section in a supermarket on June 9, 2021 in Handan, Hebei province.
Li Hao | Visual China Group | Getty Images
BEIJING — Chinese consumers spent less on daily necessities from foreign brands last year during the coronavirus pandemic, while those in smaller cities were more willing to spend than those in large ones, according to a report.
The report, co-authored by consultancy Bain & Company and analytics company Kantar Worldpanel, reflects pockets of growth in an economy that was already slowing its expansion before the pandemic.
The "China Shopper Report" — which the firms have conducted for 10 straight years — looks at a category called "fast-moving consumer goods" that includes food, beverages, personal care and home care. Items such as apparel are not included.
The volume of foreign brands sold in China last year fell 4.1%, while average selling price rose 1%, according to the report released on June 29.
As a result, the study said the foreign brands' value declined 3.1%, versus a 0.5% drop for domestic companies. Volume was measured by kilograms, liter or unit depending on the category, Bain said.
"Chinese brands, aided by their strong local supply chain, reacted more quickly to shifting consumer sentiments and captured more volume growth by lowering [average selling price]," the report said.
The Covid-19 pandemic disrupted global supply chains and trade channels as governments restricted business activity and international travel in an attempt to control the virus' spread. China has particularly limited the ability of foreigners to enter the country.
Simmering geopolitical tensions have also hampered the ability of some foreign brands to sell in China earlier this year.
For example, Swedish clothing brand H&M faced backlash in China in March over comments that resurfaced about its concerns over alleged forced labor in Xinjiang region. Management said on a July 1 call its situation in China remained "complex."
Meanwhile, executives for sportswear brands Nike and Adidas have been more optimistic about growth in the market in earnings call comments in the last two months.
The fact that this is a local brand versus an international brand may not be that much of an important criteria. What's more important, is this the right brand for me?

Bruno Lannes

partner, Bain & Company
The China Shopper Report does not cover clothing. In the category including personal and home care products, the report found that foreign brands were able to catch up and surpass local brands in terms of market value growth in 2019, before the pandemic.
"In general, when you talk about foreign brands, Chinese consumers know them, they understand them and they enjoy buying them and using them just like they enjoy buying and using local brands," said Bruno Lannes, Shanghai-based partner at Bain.
He said Chinese consumers are generally becoming less loyal and are buying from a greater variety of brands.
"The fact that this is a local brand versus an international brand may not be that much of an important criteria. What's more important, is this the right brand for me?" he said, pointing to factors like functionality and recommendations from friends.
Small cities grow faster
While total spending for fast-moving consumer goods dropped by more than 1% in China's largest cities, such as Beijing, spending rose in smaller ones, the report said.
"The smaller the city, the faster the growth in FMCG spending in 2020," said the report, referring to spending on the category of consumer goods that includes packaged food, juice and personal care items.
"The population in lower-tier cities continues to increase due to rural migration," the report said. "Also, because residents of lower-tier cities typically travel less, they were less impacted by Covid-19 outbreaks. Each household's purchased volume continued to grow relatively insulated from Covid-19 disruptions."
The divergence contrasts with reports in previous years, when growth rates were pretty similar across the country, Lannes said. He said many brands can still find new markets in less developed parts of China, while new internet-driven shopping trends like group or "community buying" have been able to attract older users outside of big cities.
Overall, people are willing to spend. That's why the volume is up… They're a bit more price sensitive than they were before.

Bruno Lannes

partner, Bain & Company
The report said another internet-driven trend, livestreaming e-commerce, will likely build on last year's massive growth for a total of 2 trillion yuan ($312.5 billion) in gross merchandise value this year. GMV refers to the value of goods sold over a period of time.
In fact, authors of the report expect livestreaming e-commerce to increase its share of China's retail sales to about 9% or 10% this year, up from a 6% to 7% range in 2020.
More price sensitive
However, many Chinese consumers are still reluctant to spend at pre-pandemic levels.
Retail sales fell last year, while growth in consumer spending has missed analysts' expectations for the last two months.
The subdued growth comes as the government tried to stimulate consumption with special promotions in May that saw a transaction value of 4.82 trillion yuan, up 22.8% from a year ago, according to the Ministry of Commerce.
"Overall, people are willing to spend. That's why the volume is up," said Bain's Lannes, pointing out that prices have been cut. "They're a bit more price sensitive than they were before."
Eurozone out of recession after economy grows 2% – BBC News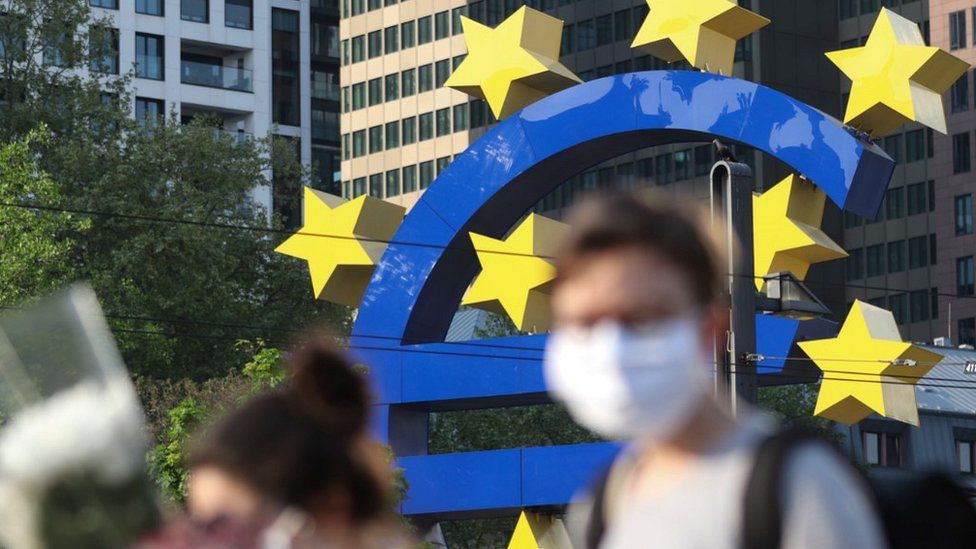 The eurozone's economy grew by 2% in the second three months of the year, taking the region out of recession.
New figures suggest there was growth in all the individual national economies which reported data.
However, the eurozone remains 3% down from its pre-pandemic level in late 2019.
A recovery is under way in the region after the surge in coronavirus infections in the winter.
In Italy and Spain, two countries whose economies were badly damaged by the pandemic, growth approached 3% in both.
There was an even stronger rebound in Austria and Portugal, with the latter reporting its economy had expanded by 4.9%.
Tourism benefits Portugal
The eurozone's two largest economies saw more moderate growth, 1.5% in Germany and 0.9% in France.
The growth statistics are first estimates, so there is little detail showing the breakdown of the pattern of recovery.
However, household spending made an important contribution in France, Germany and especially in Spain. In France there was a surge in the hotel and restaurant trade of 29%.
Andrew Kenningham, chief Europe economist at Capital Economics, said Portugal's rebound might reflect "a slightly less disastrous tourism season than Spain's".
He forecasted "another strong number for eurozone GDP" in the third quarter of the year, which "would bring the economy close to, but below, its pre-pandemic level".
In contrast, the US has closed that gap, however, US employment is still down and economic activity is below where it probably would have been had there not been the pandemic.
Other new eurozone figures showed the number of people unemployed fell by more than 400,000 in June, though it is still one million higher than the low it hit early last year.
Canada's economy shrank for 2nd month in a row in May – CBC.ca
Canada's gross domestic product shrank by 0.3 per cent in May, the second consecutive monthly contraction as most industries slowed down.
Statistics Canada reported Friday that most industries shrank, especially construction, manufacturing and retail.
Even Canada's red hot real estate sector shrank for the second month in a row. The real estate and rental and leasing sector was down 0.4 per cent in May after falling by 0.8 per cent in April. That's the first two-month streak of declines since March and April of 2020.
"As housing sales and construction levels gradually return to more sustainable levels, this area of the economy could be a drag on growth in coming months," TD Bank economist Sri Thanabalasingam said.
Agriculture and forestry, mining and oil and gas extraction, utilities and the public sector all expanded slightly.
All in all, the total value of all the goods and services produced by Canada's economy was just shy of $1.98 trillion during the month. That's still two per cent below the slightly more than $2 trillion that the economy was worth in February 2020.
The numbers for May come at the time when Canada's economy was on the downslope of the third wave of COVID-19, and much of society was on some sort of lockdown or reduced capacity. But there are signs that a rebound has happened since.
Preliminary data for June suggests the economy grew by 0.7 per cent during the month. And July may have been even better — credit and debit card data suggests that consumers returned to spending on high-contact services including in-person dining, recreation activities and travel that had long been restricted to them, Thanabalasingam said.
June's uptick means the economy will expand by about 0.6 per cent in the second quarter overall. That's about a 2.5 per cent annual pace — much slower than the 6.5 per cent pace the U.S. economy clocked in the same period, but much better than the 8.3 per cent contraction seen in countries that use the euro.
Thanabalasingam said the data for May and June show just how up and down the economy may go from here on out.
"It may not be smooth sailing for the rest of the recovery," he said.
"The delta variant is wreaking havoc around the world, leading to a retightening of restrictions in some countries. Canada has so far avoided the worst of this virus, but cases are rising in some provinces. A fourth wave could lead to another stalling in the recovery, though with relatively high rates of vaccination a full reversal appears less likely."
After Quickly Expanding, The Economy Is Expected To Slow – NPR
The U.S. economy likely grew 8% in the April-June quarter from a year prior, a blistering pace of growth. But the economy is expected to slow as the delta variant and other risks like inflation loom.
ARI SHAPIRO, HOST:
Today's discouraging news about the pandemic comes after a spring when the U.S. economy reawakened. Vaccines were widely available, people went out to eat, and they started traveling again. In April, May and June, the U.S. economy grew by a healthy 6.5%. NPR's David Gura joins us with more. Hi, David.
DAVID GURA, BYLINE: Hey, Ari.
SHAPIRO: So what does this 6.5% number actually tell us?
GURA: Well, it tells us the size of the economy is larger than it was before the pandemic, if you adjust for inflation. And that's good news. That means the economy is now expanding. I talked to James Sweeney. He's the chief economist at Credit Suisse. And I asked him how he interprets today's numbers. Sweeney says it wasn't as big as he expected it would be, but he's still happy with it.
JAMES SWEENEY: The economy's growing strongly, and we've got more growth ahead. This is the kind of negative miss (ph) that shouldn't panic anybody.
GURA: And I'll note here, it didn't seem to panic investors on Wall Street. In fact, today the stock market once again hit some new records, Ari.
SHAPIRO: Yeah, what is driving the stock market growth over these last few months?
GURA: Yeah, the growth in the stock market and the economy – it's been consumer spending, which is a huge part of the economy. The other day, I did some anecdotal research, anecdotal reporting – stopped by maybe a dozen small businesses near me just to see how they're doing. And Melissa Ocampo (ph) is the manager of a toy store in Brooklyn. She told me things have gotten much better.
MELISSA OCAMPO: People seem to be back and running around and shopping for the kids and birthday parties and balloons.
GURA: Business has been steady, Ocampo (ph) told me, but she hopes it picks up even more. In the second quarter of this year, this transition happened, Ari. People who had been buying stuff – TVs, computers, yes, toys as well – started spending money at restaurants and on trips as vaccines became more widely available. And today's GDP data reflect that big uptick in spending, which was larger than economists expected.
SHAPIRO: And yet this week there has been such a shift, largely driven by the delta variant – new mask mandates, vaccine mandates. What does the rest of the year look like?
GURA: Yeah, economists I talked to say they expect this growth to continue, but they are seeing potential risks to the recovery. So were small businesses. What worries Melissa Ocampo at my local toy store is the pandemic and the delta variant more specifically. She is afraid of what could happen to the store and to her if sales were to slow down again or if there were another shutdown. After the store closed temporarily last spring, Ari, Ocampo managed to find another job at a supermarket.
OCAMPO: I'm like, am I going to, like – am I not going to be with, like, a job towards the end of the year, or are we in, like, what's just – it's just uncertain and scary for sure.
GURA: Now, economists don't think we'll see the kind of shutdowns we saw at the beginning of the pandemic. For one thing, almost half the population now in the U.S. is fully vaccinated.
SHAPIRO: What else is keeping small-business owners up at night?
GURA: Well, inflation for one, how prices have gone up, problems with supply chains as well – that's another issue. It's gotten harder to get the products people want because of demand, and manufacturers are having trouble getting new materials. The supply chain issues show up in today's GDP data. It was a big drag on growth in the second quarter. And one other worry among small-business owners is the jobs market.
SHAPIRO: Yeah, tell us more about that specifically.
GURA: Well, employers say it's gotten harder for them to find workers. Some of them are worried about getting sick. Then there's the lack of reliable child care. That's a big issue. Ralph Elia owns a frame shop called KC Arts. He's been in the business for about four decades. And he told me he's had trouble hiring workers, which is something he blames on expanded unemployment benefits.
RALPH ELIA: I agree with it in the beginning, if you really needed it. But at some point, they should have slowed it down or cut it off, I'm sorry to say, because we need to hire people. People need to get out and work.
GURA: And that argument is what led about two dozen states to end those expanded benefits early, Ari. They'll expire for all the remaining states in just a couple months.
SHAPIRO: NPR's David Gura, thanks for the update.
GURA: Thank you.
NPR transcripts are created on a rush deadline by Verb8tm, Inc., an NPR contractor, and produced using a proprietary transcription process developed with NPR. This text may not be in its final form and may be updated or revised in the future. Accuracy and availability may vary. The authoritative record of NPR's programming is the audio record.