China's Lockdowns Wreak Havoc on Economy as Xi Pledges Support – BNN
(Bloomberg) — China's stringent lockdowns to curb Covid infections are taking a significant toll on the economy and roiling global supply chains, with President Xi Jinping under pressure to deliver on pledges to support growth.
The damage from shutdowns in April in major financial hub Shanghai, auto manufacturing center Changchun and elsewhere was laid bare by the first official data for the month released over the weekend. Both manufacturing and services activity plunged to their worst levels since February 2020, when the nation shut down to contain the first coronavirus outbreak, according to purchasing managers surveys.
Read more: China Maintains Covid Fight as Virus Lockdowns Pummel Economy
The strain on global supply chains is also becoming apparent, with the PMI data showing suppliers face the longest delays in more than two years in delivering raw materials to their manufacturing customers. Inventories of finished goods climbed to the highest level in more than a decade, while indexes for exports and imports slumped.
The figures came a day after the Communist Party's Politburo, led by Xi, promised to meet its economic targets while at the same time sticking with its Covid Zero policy to curb infections. Economists see the two goals as contradictory, with many cutting their growth projections to well below the government's official target of around 5.5%.
"I expect GDP growth in the second quarter to turn negative, as lockdowns will likely be on and off," said Zhang Zhiwei, chief economist at Pinpoint Asset Management. "The key issue going forward is how the government will fine-tune its 'zero tolerance' policy to mitigate the economic damage."
Nevertheless, the Politburo's comments — which were timed during the trading day — fueled a rally in stocks and the currency, with technology shares surging on signs of a possible easing of a regulatory crackdown on internet platform companies. Investors were also encouraged by comments suggesting a loosening of property restrictions and a push to boost infrastructure investment.
Xi appeared to soften his stance toward the private sector, telling the Politburo meeting that the healthy development of private capital should be encouraged. At the same time, he said capital must be regulated and shouldn't undermine the objectives of common prosperity.
The pledges by top leaders came as omicron virus outbreaks continue to spread, with growing fears of a lockdown in Beijing. The capital city tightened Covid requirements over the weekend after more infections were reported following rounds of mass testing of its 22 million population.
Citizens are now required to provide negative nucleic acid test results within 48 hours in order to enter any public venue during the five-day Labor Day holiday. Dining-in at restaurants is banned during the period, and indoor venues including theaters, internet cafes and gyms will suspend operations. The Universal Studios theme park in Beijing also announced it would temporarily close from Sunday to comply with epidemic prevention measures.
In Shanghai, where large swaths of the population have been locked down for a month or more, the government announced on Sunday that six districts met the criteria for zero community spread of Covid-19 and can loosen restrictions. Zero community spread means reporting no local Covid infections for three consecutive days and if the new daily case counts are less than 0.001% of the area's population for the same period.
As manufacturer to the world, the lockdowns in China mean possible shortages of goods and add another risk to global inflation. Despite repeated calls from the authorities to ensure smooth logistics, container goods were still left sitting at Shanghai's port for weeks.
"There was plenty of evidence of worsening supply pressures," Mitul Kotecha, head of emerging markets strategy at TD Securities, wrote in a note. "While there has been some gradual easing in some cities and provinces, manufacturing has struggled due to logistical and supply chain pressures."
The economy is also losing the one strong pillar that had helped drive its recovery from the 2020 lockdowns. The PMI survey released Saturday showed the new export order sub-index plunged deeper into contraction to its worst level in nearly two years, while the import sub-index was the lowest since February 2020.
Activity is likely to remain depressed throughout the second quarter as virus restrictions are tightened in several places. The fear of widespread outbreaks has ruined the prospect of a bump in consumption during the five-day Labor Day break, which is usually one of the busiest seasons for domestic tourism.
A 7.9% contraction in gross domestic product in Jilin province in the first quarter is also a warning sign on the kind of damage other regions can expect. The northeastern province of Jilin, of which Changchun is the capital, was locked down in March, and restrictions are only now starting to be lifted.
"We remain deeply concerned about growth," Nomura Holdings Inc. economists wrote in a note. "Despite the raft of policy measures announced by the Politburo meeting, we still believe markets should remain focused on the development of the pandemic and the corresponding Zero Covid strategy. All other polices are of secondary importance."
©2022 Bloomberg L.P.
Potential of Seaweed on Economy Being Explored in Upcoming Webinar – VOCM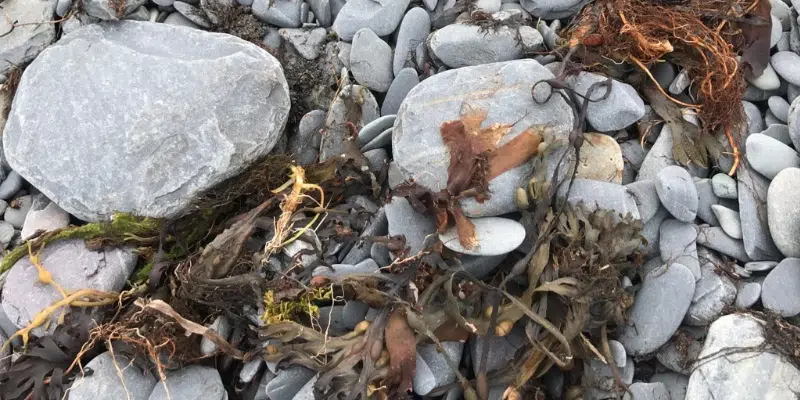 A webinar on the potential of seaweed as an economic driver is coming later this month.
The webinar, put together by The Laurentic Forum Consortium, will look at how coastal communities can use an abundance of seaweed to boost the economy, as seaweed is being used as fertilizer, diet supplements, bioplastics, animal feed, pharmaceutical products, and much more.
Webinar moderator and the executive director of the Canadian Centre for Fisheries Innovation, Keith Hutchings, says seaweed farming could provide opportunities in Newfoundland and Labrador.
He says if utilized correctly, communities and regions can add one more industry to help sustain them.
The webinar is taking place May 19.
The Laurentic Forum consortium invites you to join us on May 19, 2022, to discuss the tremendous opportunity and potential associated with the seaweed industry.

Info/Registration:https://t.co/gyQoIPHuCQ pic.twitter.com/ps1vuDLBvs

— Laurentic Forum (@ForumLaurentic) May 11, 2022
Charting the Global Economy: Growth Prospects Continue to Dim – BNN
(Bloomberg) — Sign up for the New Economy Daily newsletter, follow us @economics and subscribe to our podcast.
Prospects for the world economy are growing bleaker as Russia's war in Ukraine takes a toll on European businesses and consumers, China employs a heavy-handed approach toward Covid-19 and US financial conditions tighten, according to the Institute of International Finance.
Central banks around the world continue to boost interest rates to counter a surge in inflation. In the US, the closely watched consumer price index showed inflation remains well-elevated. The squeeze to household budgets is also being felt in the UK and France.
Here are some of the charts that appeared on Bloomberg this week on the latest developments in the global economy:
World
The world economy will essentially flatline this year as Europe falls into recession, China slows sharply and US financial conditions tighten significantly, according to a new forecast from the IIF, which counts more than 450 financial-services firms as members. The group forecasts 2.2% global GDP growth this year, markedly lower than the International Monetary Fund estimate of 3.6% on a purchasing power parity basis.
The gasoline market is starting to run out of control — just like diesel before it. US buyers are already sucking in more supplies from Europe as the summer driving season — which increases demand — gets underway. Add to that a loss of so-called secondary feedstocks from Russia that are critical in the production of the road fuel.
US
Americans got little respite from inflation in April, as prices for a range of necessities and discretionary-spending categories continued to climb at some of the fastest-ever rates. While annual measures of consumer prices cooled slightly from March — signaling a peak that economists expected — the details painted a more troubling picture as monthly figures advanced more than forecast.
US homebuyers are increasingly turning to adjustable-rate mortgages as overall borrowing costs soar. ARMs — which carry variable interest rates that reset based on the market at predetermined times — accounted for 10.8% of total home-loan applications last week. That's up from 3.1% of activity at the start of the year and is the largest share since 2008.
Europe
The French government pledged to increase social benefits and issue food vouchers to the poorest households as freshly re-elected President Emmanuel Macron seeks to avert panic over a cost-of-living crisis before legislative elections next month.
The UK economy unexpectedly contracted in March as the cost of living squeeze forced consumers to cut back on spending, throwing doubt on the Bank of England's ability to keep hiking interest rates and piling pressure on Prime Minister Boris Johnson's government to respond.
For many of Sweden's highly indebted consumers, the Riksbank's sudden interest-rate increase at the end of April marks the start of a new squeeze that officials have long fretted about.
Asia
China's exports and imports struggled in April as worsening Covid outbreaks cut demand, undermined production and disrupted logistics in the world's second-largest economy.
Japan's household spending climbed in March for the first time in three months as virus restrictions were lifted across the nation, offering some support for private consumption at the end of a bruising quarter for the economy.
Emerging Markets
Malaysia's central bank unexpectedly raised its benchmark interest rate in an effort to head off price pressures, while authorities in Argentina boosted borrowing costs for the fifth time this year.
Latin American central banks will likely extend their monetary tightening campaigns beyond what was originally expected after inflation surged past forecasts in April, with steep increases in food and fuel costs stinging policy makers.
South Africa is headed for a record year of power cuts if the rate of station breakdowns fails to improve, particularly at coal-fueled plants. Africa's most industrialized nation was already on track to exceed the annual record for energy shed from controlled blackouts, a practice locally known as loadshedding that's used to prevent the grid from a total collapse.
©2022 Bloomberg L.P.
Biden's Midterm Hopes Bedeviled by Signs of Economy in Distress – BNN
(Bloomberg) — President Joe Biden's hopes for a political reset have been overwhelmed by an unrelenting series of economic setbacks, adding to the challenges Democrats face as they court exhausted voters ahead of the crucial midterm election in November.
US gasoline prices are at historic highs. Inflation in April exceeded consensus forecasts. Technology stocks have plummeted, taking retirement accounts with them. A record low portion of Americans think it's a good time to buy a house.
On top of it all, a shortage of baby formula has left parents in the world's wealthiest country scrounging empty store shelves to feed their children. The crisis is drawing bipartisan condemnation on Capitol Hill, with lawmakers accusing the administration of moving too slowly after an Abbott Laboratories factory in Michigan was shut down over safety issues.
Cast against the backdrop of Russia's war in Ukraine and the ongoing pandemic — the US surpassed 1 million Covid-19 deaths this week — it's little wonder the nation's mood is grim. Biden's inability to assuage Americans' growing unease was highlighted as a US consumer sentiment measure released Friday hit its lowest reading since 2011, a six-point decline from April that was worse than any forecast in a Bloomberg survey of economists.
The nation's economic struggles and the administration's tepid response are striking at a core promise of the Biden presidency: that he would return competence to the White House. And there are clear signs Americans hold their president accountable. Just 38% approve of the job Biden is doing, according to a Monmouth University poll released Thursday.
Most respondents in the survey said it's currently difficult to pay for essentials like gas, grocery bills and health insurance deductibles.
"We understand there are challenges you're dealing with every day," White House Press Secretary Jen Psaki told reporters on Friday. "Costs are too high. It is too expensive to fill up your gas tank. Food is too expensive at the store. And our focus right now is on taking every step possible to address those issues."
Yet Biden has often sought to shift blame. He's said gasoline and food cost too much because of "Putin's price hike," in reference to the Russian president who ordered the Ukraine invasion, and he said this week that the Federal Reserve is primarily responsible for combating rising prices.
The baby formula crisis presents a particularly acute political risk. Democrats have looked to reorient their midterm strategy to wooing back female voters after the leak of a draft Supreme Court opinion that would overturn the landmark Roe v. Wade decision establishing abortion rights nationwide.
But Biden — a practicing Catholic whose congressional career was dotted with votes restricting federal abortion spending — has for now acted as a reluctant messenger, preferring sweeping legal and philosophical arguments for maintaining Roe rather than explicitly espousing his support for abortion rights.
Less than two weeks after the leak, television coverage has shifted to stories of mothers struggling to find the baby formula they need to feed their children.
"It's pretty amazing that with all the focus on global and economic insecurity, a life challenge so personal and individual could cut through — but it has," said Republican pollster Frank Luntz. "When young families think about whether they are better or worse off under Biden, life challenges like this make life more difficult for Democrats."
White House officials have argued that troubling indicators of an economy in distress should be weighed against other data that show strength. Payrolls beat consensus estimates in the past month, and unemployment is just 3.6%, offering a strong jobs picture. Year-over-year earnings were up 5.5%, and gross domestic product has grown at its fastest rate since 1984. And despite the recent stock market swoon, the S&P 500 remains up more than 5% since Biden took office.
Still, White House aides acknowledge that many Americans feel the costs of inflation more viscerally than news suggesting the overall economy is healthy — and that some trends are unfavorable. That explains why Biden in recent days has stepped up his efforts to shift responsibility for some of Americans' leading concerns.
Following Wednesday's inflation report, Biden called inflation "unacceptably high" but added that action to lower prices "starts with the Federal Reserve."
Biden has also sought to ratchet up pressure on Republicans. In a speech Tuesday at the White House, Biden said he understood Americans' frustration so much that he could "taste" it — but said the opposition party has yet to present a concrete plan to tackle high prices if the GOP captures Congress in November.
He has also said Republicans are pursuing an "ultra-MAGA agenda," referring to former President Donald Trump's "Make America Great Again" slogan, though Biden hardly ever uses his opponent's name.
And he's tried to spotlight a GOP proposal, written by Florida Senator Rick Scott, that would require all Americans to pay some income tax, including families that don't earn enough money to owe taxes now, and that would require reauthorizing all federal legislation after five years. Democrats say that would imperil entitlements like Social Security and Medicare.
Other Republicans including the Senate minority leader, Kentucky's Mitch McConnell, have distanced themselves from Scott's plan, and the Florida senator has said in response to Biden's attacks that the president should resign.
But Biden has also acknowledged the political vulnerability he faces.
"It's going to be hard, because inflation is going to scare the living hell out of everybody," he told Democratic donors in Chicago on Wednesday. "We have a problem we have to deal with. In the meantime, we can't take our eye off all that could happen if we do not prevail."
©2022 Bloomberg L.P.