Cineplex to open Metro Vancouver's first Rec Room entertainment centre
Construction on Metro Vancouver's first The Rec Room is on pace for an opening sometime this spring.
Cineplex provided Daily Hive Urbanized today with a behind-the-scenes tour of the construction progress of its new entertainment and dining hub at the new The Amazing Brentwood (TAB) shopping mall complex in Burnaby.
The 40,000-sq-ft attraction will be the company's ninth The Rec Room location, with a capacity to hold up to 1,300 guests.
One level above, Cineplex is also opening an adults-only VIP Cinemas location with five screens. This will be the company's first standalone VIP Cinemas location, which will open this spring as well, but at a later date after The Rec Room.
Within the separate The Rec Room space, there will be approximately 90 arcade and video game machines within the 8,400-sq-ft "The Yard" area, including classics and favourites such as Mario Kart, Pong, Space Invaders, Jurassic Park, The Walking Dad, and Marvel-themed games.
Other activities include state-of-the-art experiences like Halo and premium virtual reality. Pool and ping pong tables will be available too.
The games run on RFID wristbands, providing improved convenience over the traditional token system. Accumulated points can be redeemed at the "Trophy Case," where top prizes include Nintendo Switch consoles, Beats headphones, drones, and other nostalgia-inspired treats and toys.
"It's a very social space," said Christina Kuypers, the vice-president of operations and guest experience for Cineplex's The Rec Room and Playdium division. "We want many different people with different interests to find an activity or game that they like. But we also know people are going to share their expertise with other guests… we see hardcore and casual gamers interacting all the time."
Beyond the gaming, this The Rec Room has two main dining options — the casual sit-down dining restaurant called Three10, named after Canada's three territories and 10 provinces, and The Shed for quick bites and drinks.
The restaurant's dining area is on the edge of the floor-to-ceiling windows that overlook TAB's expansive fountain plaza below.
A large box-shaped bar is accessible from all of its sides, including "The Hall," which is the live entertainment venue, featuring programming such as live music, comedy, burlesque, drag shows, and even themed nights like Latin music and K-pop.
This space also offers regular live trivia and karaoke, except that instead of singing into a machine, guests will be performing with a live band on stage.
Over 70 television screens will be scattered across the entire The Rec Room, enabling guests to follow their favourite sports events from varying entertaining and dining environments.
Additionally, there are bookable flexible event spaces for corporate functions and social parties, like birthdays and graduation.
So how exactly does The Rec Room differ from Cineplex's other entertainment concept, Playdium?
Kuypers says the varying offering and programming mixes between both concepts are key differentiators. The Rec Room is a 50-50 split between food/beverage and amusement/entertainment, while Playdium is an 80-20 split between amusement/gaming and food/beverage.
Moreover, The Rec Room's dining options are elevated to a mid-market level, and it offers some mature game titles that are unavailable at Playdium.
"The Rec Room and Playdium really compliment each other really well, because The Rec Room is geared more towards millennials and boomers with kids, while Playdium is geared towards teenagers first and then families," she said.
For this particular location at TAB, The Rec Room provides theatregoers upstairs with an activity option before or after their movie. VIP Cinemas and The Rec Room combined are expected to be a significant foot traffic generator for the newly-built mall.
In late 2021, Cineplex will open its second The Rec Room location in the region at 855 Granville Street in downtown Vancouver, within the former Empire Granville 7 theatre complex it owns. The theatre shut down in 2012, and has been vacant ever since.
The 45,000-sq-ft, multi-level location will retrofit three interconnected buildings, dating as far back as 1893, with the construction work entailing the restoration and enhancement of the heritage building facades. This Rec Room location's live entertainment venue within the basement is far larger, spanning 11,000 sq. ft. with a capacity for up to 640 people.
"I think our Rec Room in downtown is really going to reshape Granville Street," said Kuypers.
Cineplex's last full-scale entertainment attraction in the region was its Playdium location at Metropolis at Metrotown. It was open between the late 1990s and 2005, until it was replaced by Winners.
The company has plans to open a new Playdium attraction in Metro Vancouver, with the location slated to be announced shortly.
Google releases location data to show if coronavirus lockdowns working in 131 countries – Deccan Herald
Alphabet Inc's Google on Thursday published reports for 131 countries showing whether visits to shops, parks and workplaces dropped in March, when many governments issued stay-at-home orders to rein the spread of the novel coronavirus.
Follow latest updates on the COVID-19 pandemic here
Google's analysis of location data from billions of users' phones is the largest public dataset available to help health authorities assess if people are abiding with shelter-in-place and similar orders issued across the world.
Its reports show charts that compare visits in recent weeks to subway, train and bus stations, grocery stores and other broad categories of places with a five-week period earlier this year. For some countries, Google charts regional data, such as at the county-level within the United States.
Facebook Inc, which like Google has billions of users, has shared location data with non-governmental researchers that are producing similar reports for authorities in several countries. But the social media giant has not published any findings.
The coronavirus has infected more than 1 million people globally, and COVID-19, the respiratory illness it causes, has killed 52,000, according to a Reuters tally.
Infectious disease specialists have said analyzing travel across groups by age, income and other demographics could help shape public service announcements.
Coronavirus India update: State-wise total number of confirmed cases, deaths
Google, which infers demographics from users' internet use as well as some data given when signing up to Google services, said it was not reporting demographic information. The company said, though, it was open to including additional information and countries in follow-up reports.
"These reports have been developed to be helpful while adhering to our stringent privacy protocols and policies," Dr. Karen DeSalvo, chief health officer for Google Health and Jen Fitzpatrick, senior vice president for Google Geo, wrote in a blog post.
Google said it published the reports to avoid any confusion about what it was providing to authorities, given the global debate that has emerged about balancing privacy-invasive tracking with the need to prevent further outbreaks.
China, Singapore, South Korea and other countries have asked residents to use apps and other technology to track their compliance with quarantines, but privacy activists argue such measures can compromise individual liberties.
Data in Google's reports come from users who enabled Google's "Location History" feature on their devices. The company said it adopted technical measures to ensure that no individual could be identified through the new reports.
Consultations with officials in California, Texas, the U.S. Centers for Disease Control and Prevention and the World Health Organization helped inform data shared, Google said.
The company declined to comment on whether it has received any legal requests to share more detailed data to help with efforts to tackle the pandemic.
Zoom will enable waiting rooms by default to stop Zoombombing – TechCrunch
Zoom is making some drastic changes to prevent rampant abuse as trolls attack publicly shared video calls. Starting April 5th, it will require passwords to enter calls via Meeting ID, as these may be guessed or reused. Meanwhile, it will change virtual waiting rooms to be on by default so hosts have to manually admit attendees.
The changes could prevent "Zoombombing," a term I coined two weeks ago to describe malicious actors entering Zoom calls and disrupting them by screensharing offensive imagery. New Zoombombing tactics have since emerged, like spamming the chat thread with terrible GIFs, using virtual backgrounds to spread hateful messages or just screaming profanities and slurs. Anonymous forums have now become breeding grounds for organized trolling efforts to raid calls.
The FBI has issued a warning about the Zoombombing problem after children's online classes, Alcoholics Anonymous meetings and private business calls were invaded by trolls. Security researchers have revealed many ways that attackers can infiltrate a call.
The problems stem from Zoom being designed for trusted enterprise use cases rather than cocktail hours, yoga classes, roundtable discussions and classes. But with Zoom struggling to scale its infrastructure as its daily user count has shot up from 10 million to 200 million over the past month due to coronavirus shelter-in-place orders, it's found itself caught off guard.
Zoom CEO Eric Yuan apologized for the security failures this week and vowed changes. But at the time, the company merely said it would default to making screensharing host-only and keeping waiting rooms on for its K-12 education users. Clearly it determined that wasn't sufficient, so now waiting rooms are on by default for everyone.
Zoom communicated the changes to users via an email sent this afternoon that explains "we've chosen to enable passwords on your meetings and turn on Waiting Rooms by default as additional security enhancements to protect your privacy."
The company also explained that "For meetings scheduled moving forward, the meeting password can be found in the invitation. For instant meetings, the password will be displayed in the Zoom client. The password can also be found in the meeting join URL." Some other precautions users can take include disabling file transfer, screensharing or rejoining by removed attendees.
The shift could cause some hassle for users. Hosts will be distracted by having to approve attendees out of the waiting room while they're trying to lead calls. Zoom recommends users resend invites with passwords attached for Meeting ID-based calls scheduled for after April 5th. Scrambling to find passwords could make people late to calls.
But that's a reasonable price to pay to keep people from being scarred by Zoombombing attacks. The rash of trolling threatened to sour many people's early experiences with the video chat platform just as it's been having its breakout moment. A single call marred by disturbing pornography can leave a stronger impression than 100 peaceful ones with friends and colleagues. The old settings made sense when it was merely an enterprise product, but it needed to embrace its own change of identity as it becomes a fundamental utility for everyone.
Technologists will need to grow better at anticipating worst-case scenarios as their products go mainstream and are adapted to new use cases. Assuming everyone will have the best intentions ignores the reality of human nature. There's always someone looking to generate a profit, score power or cause chaos from even the smallest opportunity. Building development teams that include skeptics and realists, rather than just visionary idealists, could keep ensure products get safeguarded from abuse before rather than after a scandal occurs.
Everything known about the 2020 'iPhone SE' – AppleInsider
The launch of the so-called 2020 "iPhone SE," largely expected to be an updated iPhone 8-style device, is imminent. Here's what's been discovered about the subject of rumors for the last three years.

The 'iPhone SE' is expected to have a design basically the same as the iPhone 8.
While rumors about a low-cost iPhone refresh have been circulating for years, it now appears that Apple will debut the device in early 2020. Here's everything that's been discovered about the upcoming 4.7-inch iPhone.
The 'iPhone SE 2' at a glance
According to the latest rumors and leaks, here are some key points about the "iPhone SE."
The same footprint as the 4.7-inch iPhone 8 footprint
Latest-generation A13 chip and 3GB of RAM
64, 128 and 256GB storage variants
Retain a Home button with Touch ID
Retail as low as $399
Larger 5.5-inch "iPhone SE Plus" model at some point
'iPhone SE 2' design
Despite the now possibly confirmed "iPhone SE" moniker, the device is more likely to be a spiritual successor to the iPhone 8 instead of the popular 4-inch form factor.
At this point, that 4.7-inch footprint is so likely that case makers are already going all-in on the size. In late March, cases for an affordable iPhone 8-style device began arriving at Best Buy.
There may also be a larger version of the "iPhone SE" available, according to leaked code strings within iOS 14. That device would be akin to the iPhone 8 Plus, just with the same updated internals.
We're not currently expecting any major design overhauls like an edge-to-edge display, OLED panel or a TrueDepth Face ID sensor suite. Like last year's stable of iPads, the device will continue to rely on older tech like Touch ID and will sport aging, bezeled designs. But its price point and internal upgrades, which we'll get to below, may make it a popular choice for many consumers.
'iPhone SE 2' specifications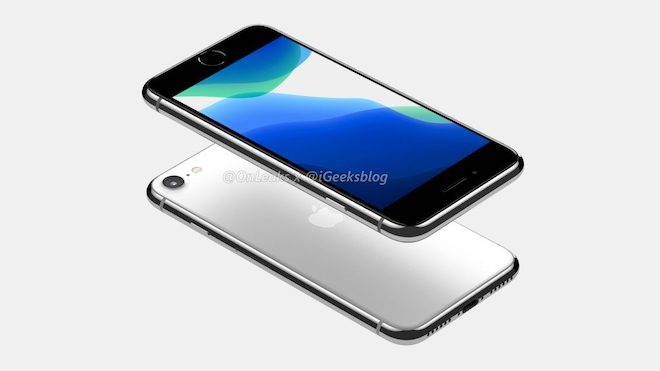 A concept render of what the 2020 "iPhone SE" will look like. Courtesy of OnLeaks and iGeeksblog.
Apple is definitely going to give the "iPhone SE" an overhaul in terms of its internal specifications. But users should expect incremental updates, not major ones.
Back in January 2018, well-connected analyst Ming-Chi Kuo suggested that the "iPhone SE 2" would sport an A13 processor — the same as the CPU in the iPhone 11 — and 3GB of RAM.
More minor updates could include a new Liquid Crystal Polymer antenna design, which would give the refreshed device better cellular reception and performance.
Leaked code in iOS 14 also suggests that the "iPhone SE" will retain a Touch ID fingerprint sensor, though it may support the so-called CarKey feature for locking, unlocking and starting compatible vehicles.
The latest information indicates that the 2020 "iPhone SE" will be available in 64GB, 128GB and 256GB storage configurations and will launch in white, black and PRODUCT(RED) variants.
All of this is to say that the new "iPhone SE" will an entry-level device that will lower the barrier of entry for Apple's latest advancements in silicon, making it an attractive choice for users who have been holding out on upgrading from older iPhones for reasons of price or familiarity.
iPhone SE availability
Rumors about the updated device's launch date have shifted drastically over the years. In summer 2017, reports suggested that a second-generation iPhone SE could debut in early 2018, for example. Now, it appears that the 2020 "iPhone SE" will launch sometime in April 2020.
While a credible tipster indicated that Apple would announce the device on Friday, April 3, another leaker said that the launch is slated for April 15.
More confusing are case maker leaks, with at least one manufacturer potentially tipping an April 5 release date.
At this point, we're comfortable saying that the "iPhone SE" will launch in the very near future. But an exact day is still up in the air.
As far as price, that's less clear. But a report from February 2020 suggests that it could start at $399, presumably for the base 64GB tier. That's about on-par with previous iterations of the iPhone SE, and cheaper than Apple's current lowest-cost iPhone, the $449 iPhone 8.
'iPhone SE 2' name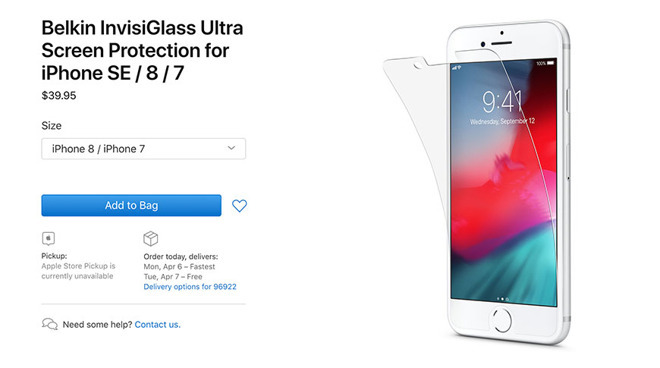 An iPhone 8-compatible screen protector was updated to reflect 'iPhone SE' compatibility on Apple's site.
The upcoming 4.7-inch device has been given several monikers by leakers, analysts and others in the Apple blogosphere. That includes "iPhone SE 2" and "iPhone 9."
At this point, it appears that the device will simply be dubbed the "iPhone SE," according to an apparent leak from an accessory on Apple's official online storefront.
The aforementioned tipster also suggested that Apple would differentiate the new model from past iPhone SE devices by referring to it specifically as an "iPhone SE 2020."
It isn't clear if the larger model — if it exists — will be dubbed the "iPhone SE Plus."
While an "iPhone 9" and "iPhone 9 Plus" moniker may make more sense to some consumers, the device is likely aimed at filling the gap that the original iPhone SE left. From that perspective, the "iPhone SE" name, in which the SE stands for "special edition," would be in-line with Apple's past low-cost iPhone strategy.