Climate activists divided on effectiveness of throwing soup at art – Axios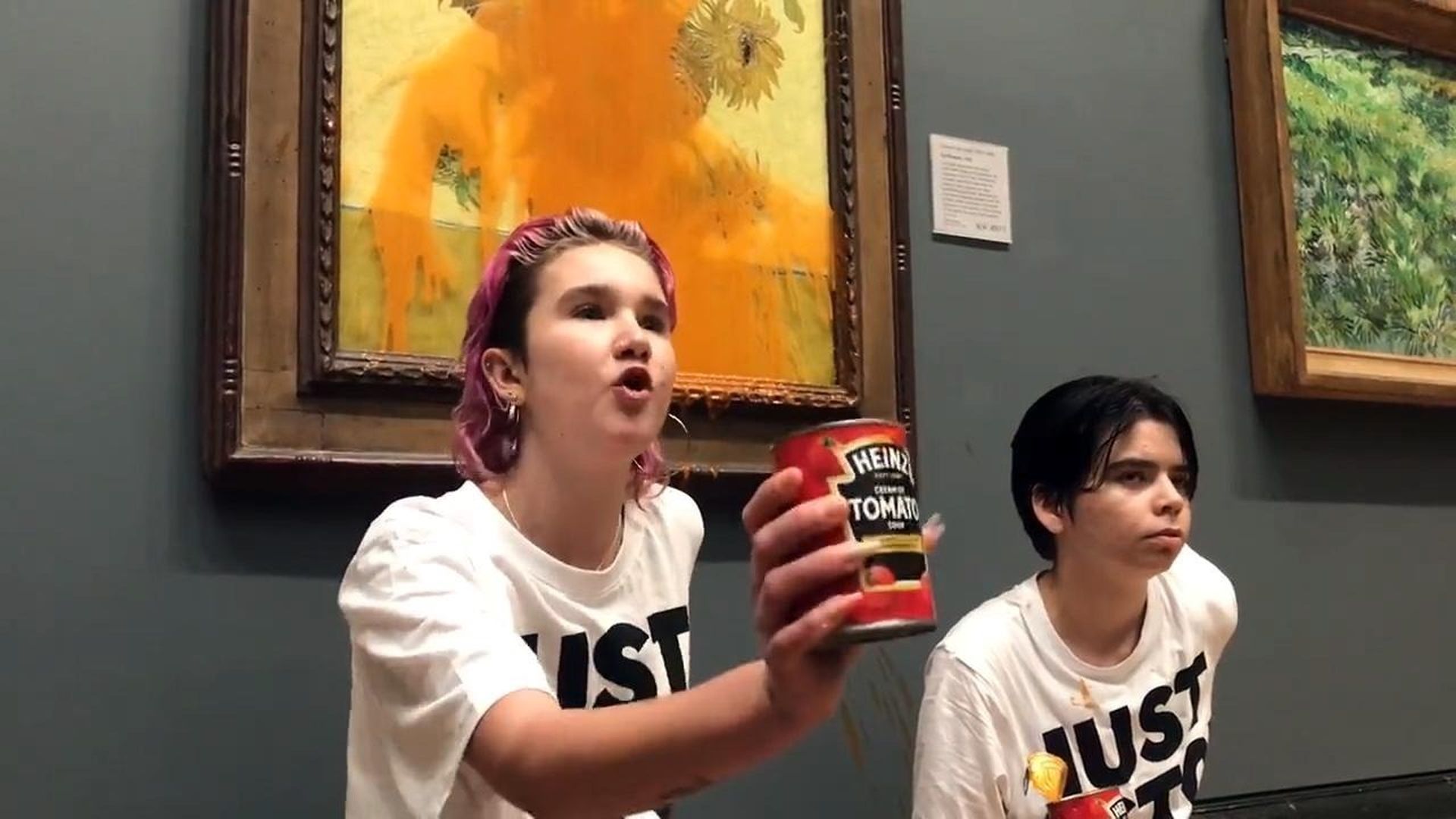 Just Stop Oil climate protesters after throwing soup on Vincent Van Gogh's Sunflowers at the National Gallery in London. Photo: Just Stop Oil / Handout/Anadolu Agency via Getty Images
From mashed potatoes à la Monet to cake thrown on a wax-imitation of King Charles and tomato soup splashed on a Van Gogh, protesters are targeting famous artworks with food to drum up action on climate change.
Why it matters: The highly publicized protests have spurred conflicting responses across the climate activism community, with some warning that the tactics are counterproductive while others respond with a careful silence.
What they're saying: 18-year-old climate activist Elijah McKenzie-Jackson, campaign coordinator for youth climate strike movement Fridays for Future International, told Axios in an email that history tells us civil protests like these are necessary for change.
"Although I can recognize these acts of justice may seem outrageous to people, I challenge them to feel the outrage of destruction, death, and murder all western governments and corporations are committing to our animals, neighbors in the south and ecosystems," wrote McKenzie-Jackson.
15-year-old Genesis Butler, founder of global organization Youth Climate Save, echoed that sentiment, writing in an email to Axios that "it's important for us all to make bold moves to raise awareness about the climate crisis."
The other side: Some don't see putting fabled art at the heart of disruptive protests as an effective path to advancing climate action.
Among those who spoke out against the Van Gogh soup stunt was climate scientist Michael Mann, who criticized the move, telling the Associated Press that people will "draw negative associations with climate advocacy."
Researchers and journalists alike have also since argued that these kind of viral activities don't mitigate climate polluting emissions — science and policy do.
Other youth climate organizations, like Defend Our Future, an advocacy nonprofit under the Environmental Defense Fund, are foregoing a stance.
"Defend Our Future is not taking a position on this particular tactic," Kyli Wagner, director of Defend Our Future, told Axios in an email. "However, young people have an understandable frustration when it comes to the climate crisis. We have seen the impacts of climate change worsen throughout our entire lifetimes."
Vanessa Nakate, a leading youth climate activist, told the BBC yesterday that she wishes people would stop discussing what "mode of action is right or not" and instead focus on the climate issues "happening right now."
Zoom out: Environmental protests have a long history of spectacle, according to Christina Limpert, a social scientist at SUNY College of Environmental Science and Forestry who has researched intergenerational climate activism.
"I see some of this as the urgency of the moment," Limpert told Axios. "They're panicking, their eco-anxiety is real, and they're trying to call attention to multiple things. It's just not easy for that message to get out because it's filtered by people who have power."
While performative protests where activists attach themselves to equipment — or in this case, glue themselves to walls below soup-splattered paintings — aren't novel, climate trends incorporating it are new to younger generations, according to Limpert.
"I'm not sure whether these actions are particularly effective because I'm not sure who the audience is," said Limpert. She says that people concerned about fossil fuel extraction are likely already listening, but warned that these types of protests may further alienate those who aren't.
"I think people in power can easily just go 'ugh,' and it kind of re-inscribes this idea of youth as a problem."
Yes, but: Phoebe Plummer, one half of the Just Stop Oil duo that lobbed soup on Van Gogh's Sunflowers, said in a video that what they did was intentionally "ridiculous" so that they could get media attention to "ask the questions that matter."
'What is worth more, art or life?' the activists chanted mid-stunt.
Footage of the protesters throwing soup on the glass-covered painting — which officials have confirmed was not damaged — has racked up 49.6 million views on Twitter alone, while coverage of it has made headlines across the world.
"Climate protests involving art [are] important because it is a bold move that gets attention from people," Youth Climate Save's Butler told Axios.
Go deeper:
Climate activists arrested for throwing soup on Van Gogh painting
Toronto Biennial of Art Appoints Curators – Galleries West
The Toronto Biennial of Art has appointed Montreal curator Dominique Fontaine and Peruvian curator Miguel A. López as co-curators of its 2024 edition.
Fontaine, who was born in Haiti, is a founding director of aposteriori, a non-profit curatorial platform that produces diverse and innovative contemporary art. Her projects include curating Between the earth and the sky, the possibility of everything for Scotiabank Nuit Blanche in Toronto in 2014, and co-curating the survey exhibition Here, We Are Here: Black Canadian Contemporary, which showed at the Royal Ontario Museum and the Montreal Museum of Fine Arts in 2018.
López worked as chief curator, and later as co-director, of TEOR/éTica in San José, Costa Rica, from 2015 to 2020. In 2019, he curated the retrospective exhibition Cecilia Vicuña: Seehearing the Enlightened Failure at the Witte de With (now Kunstinstituut Melly) in Rotterdam. The exhibition travelled to Mexico City, Madrid and Bogota.
Patrizia Libralato, the biennial's executive director, said the two curators will contribute scholarship, innovation and inspiration to deepen the event's connections to both local communities and global conversations.
"Together, we aim to create an event as uniquely diverse, responsive, challenging and engaging as the city itself," she said.
The biennial, which will run from Sept. 21 to Dec. 1, 2024, attracted more then 450,000 visitors to its first two editions, which featured free programming across the city.
It has featured work by artists such as AA Bronson, Judy Chicago, Brian Jungen, Tanya Lukin Linklater, Kapwani Kiwanga, Caroline Monnet, Denyse Thomasos and Camille Turner.
---
Source: Toronto Biennial of Art
Football and art come together in the first NFT exhibition of its kind
–  The King Abdulaziz Center for World Culture's From Strike to Stroke exhibit features 64 FIFA World Cup match results in a unique man-machine collaboration
DHAHRAN, Saudi Arabia, Dec. 6, 2022 /CNW/ — The King Abdulaziz Center for World Culture (Ithra) celebrates the art of the beautiful game in a unique exhibition at the 2022 FIFA World Cup in Qatar. From Strike to Stroke features 64 NFTs by 32 artists from the competing nations, while Artificial Intelligence (AI) fuses the pieces from the contending two countries in each of the 64 matches into a unique piece based on the match outcome. The result will be a singular collection of one-of-a-kind NFTs created through a collaboration of man and machine. Strike to Stroke runs at the Msheireb Galleria Doha, Qatar until December 23.
Ithra, a cultural bridge between Saudi Arabia and the rest of the world, channels the world's passion for football into its infatuation with the arts as the world comes together for the World Cup. The exhibition melds the man-made with the machine-made, and combines art, sport and technology in an innovative fashion.
It features the work of 32 emerging and established artists, each tasked with creating a piece representing their country and using their respective team's jersey colors. After each match, the AI-powered algorithm combines the artists' creations with match statistics to generate unique pieces that represent each game. The collection will be a unique set of pieces presented as NFTs – non-fungible tokens. These cryptographic assets are based on blockchain technology, and created in a process similar to cryptocurrencies.
From Strike to Stroke includes artists who have never created NFTs and NFT artists who had not worked within traditional fine art.
"The passion shared by football fans for the love of the beautiful game can be tangential to the passion shared by art aesthetes," said Dr. Shurooq Amin in her curator's brief to the exhibition. "By connecting 32 artists from both the traditional and digital arenas, Ithra not only bridges the gap between Web2 to Web3, and between football and art, but furthermore between human and machine, as the artists collaborate with AI generation technology to create unique NFTs that combine art, football and technology."
Visit www.striketostroke.com.
Images and exhibition catalogue can be found here.
For more information on Ithra and its programs, visit www.ithra.com.
Photo – https://mma.prnewswire.com/media/1961775/Ithra_World_Cup_NFTs.jpg
SOURCE King Abdul Aziz Center for World Culture (Ithra)
For further information: Media contacts: Nour Aldajani, [email protected], +966-583268120, Nora Al Harthi, [email protected], Domia Abdi, [email protected], Hadeel Eisa, [email protected]
Richard Serra's art installation hard to miss in Qatar desert, once you get there
Art stands tall in the desert some 75 kilometres northwest of Doha.
You need a rugged vehicle and no small resolve to find it, given signage is almost non-existent. The last few kilometres take time as you cross the desert on a slightly flattened but irregular path well away from the closest blacktop. Proceed with caution.
But East-West/West-East by American sculptor Richard Serra is worth the effort.
Completed in 2014, the installation comprises four giant steel plates – the outer two stand 16.7 metres high and the inner two 14.7 metres – and span more than a kilometre. Slightly different in height, to compensate for the difference in ground level, they line up like enormous fence posts in the barren desert flanked by gypsum plateaus at some points.
If not the middle of nowhere, it's well on the way.
Possibly the last place on earth you'd expect to see "one of the most significant artists of his generation," as Serra is dubbed by the Gagosian Gallery which has showcased his work in both New York and France.
"Taking art to the people," is how Qatar Museums, the country's arts and culture arm, explains it.
Depending on the direction you approach, you see only part of the art. As you get closer, the dark plates get bigger and bigger and you get to see all four.
"After the perceptual bombardment of Doha, with its architecture dominated by idiosyncratic shapes and kitschy facades, the sensuous experience prompted by the rigorous abstraction of the (desert) sculpture is at once bracing and sensitizing," wrote Artforum magazine.
"Serra reminds the viewer, like 19th-century German Romantic artists such as Caspar David Friedrich, of man's frailty in the face of nature's omnipotence," added Numero magazine.
For non art-critics, imagine the monolith in 2001: A Space Odyssey on steroids and times four in the desert. Stand next to one and you feel like an ant – a very hot ant under the blazing Qatari sun.
You'll also likely be alone, albeit under review from what seemed like security in a nearby pickup truck.
The 84-year-old Serra, who worked in steel mills during college, is known for his large-scale abstract steel sculptures.
There is another in Doha itself. A sculpture called 7 – the number seven has spiritual significance in Islamic culture – was commissioned by Qatar Museums.
Built out of seven steel plates, it faces the sea at MIA Park, adjacent to the Museum of Islamic Art.
Like a billionaire stocking his mansion with objets d'art, the government of Qatar has dug deep into its oil-filled coffers to decorate the country with world-class art.
There are big-ticket art works all over.
In 2013, Qatar Museums Authority head Sheikha al-Mayassa al-Thani, the daughter of the emir of Qatar, was listed atop ArtReview magazine's annual Power 100 list "on account of her organization's vast purchasing power and willingness to spend at a rate estimated to be US$1-billion a year – in order to get top works of art for its Doha museums," ArtReview said.
Le Pouce, a giant golden thumb by French artist Cesar Baldaccini, is front and centre in Doha's Souq Waqif market. French-American artist Louise Bourgeois' Maman, a giant spider that can also be found outside Ottawa's National Gallery of Canada, stands inside the Qatar National Convention Center (QNCC), which doubles as the World Cup's main press centre.
Another edition of Maman, one of seven, was sold for US$32-million by Christie's in 2019.
"The Miraculous Journey" by English artist Damien Hirst is hard to miss outside Sidra Medicine centre just down the street from the QNCC. The 14 monumental bronze sculptures chronicle the gestation of a fetus inside a uterus, from conception to birth – ending with a statue of a 14-metre-tall anatomically correct baby boy.
–-
Follow @NeilMDavidson on Twitter
This report by The Canadian Press was first published Dec. 5, 2022